We have all had a shot at some point, the small strong drink that we neck simultaneously as a group. Served in tiny glasses, one gulp and they are gone. They are normally a strong spirit or liquor, so we know not to have too many. At least we know we are only drinking 1oz ( 30ml) of alcohol, or do we? Are all shot glasses the same size?
Just as a home bar will have a set of cocktail glasses, wine glasses or champagne glasses. It is also a good idea to have a set of shot glasses too. One thing to consider is what size shot glasses to get for your home bar. They do come in different sizes, and this could make the difference between a gathering getting messy or not.
Are All Shot Glasses The Same Size?
No they are not. Shot glasses vary in size from 0.6oz (20ml) to 3.38oz (100ml) which is a big range. So the amount of alcohol you consume can differ considerably depending on the size of your shot glass. Having a set of the larger shot glasses might not be the best idea for you and your guests. Better to go small when we are talking about strong shots.
Just to put it into perspective. If you have two 0.6oz (20ml) shots of tequila, you will only consume 1.2oz (40ml)in total. Two large shots however and you are consuming a total of 6.76oz (200ml). That's a lot of tequila.
Shot Glass Size By Country
The size of a shot glass or measurement differs from country to country. So where we are in the world may determine what a standard shot looks like. However that does not mean that if your countries standard shot is say 1.5oz (44ml), that you will be served that.
In a bar you may think you are getting a standard shot, whereas for profit reasons the bar might only serve a smaller shot of 1oz (30ml). Unless you check the size, you wouldn't know how much you are really drinking.
It would be a long list to include the shot measurements for every country. However here are some measurements from a few different countries. This based on a single shot.
Australia is 1oz (30ml)
Bulgaria 3.38 oz (100ml)
Canada 1.5oz (44ml)
Denmark 1.35oz (40ml)
Estonia 1.35oz (40ml)
Finland 1.35oz (40ml)
Germany 1oz (30ml)
Hungary 1.7oz (50ml)
India 1oz (30ml)
Japan 2oz (60ml)
Korea 1.7oz (50ml)
Norway 1.35oz (40ml)
Poland 1.7oz (50ml)
Romania 3.38oz (100ml)
Sweden 1.35oz (40ml)
United Kingdom 1.2oz (35ml)
United States 1.5oz (44ml)
Out of this small list we can see it varies a fair bit, with Bulgaria and Romania measuring a whopping 3.38oz (100ml) per shot. The majority average 1oz (30ml) to 1.35oz (40ml) per shot. When a vacation is on the cards, it is a good idea to check the shot measurement of the country you are visiting. If nothing else, but to keep you on your feet.
At least with your home bar you can determine the size of shot glasses you use. So to keep your guests from becoming inebriated it is wise to go for the smaller shot glasses.
**As an Amazon Associate, I earn from qualifying purchases with no extra cost to you.
Coolest Shot Glasses I have Ever Seen
I have searched for some shot glasses that are just, well cool. From the colorful to the unusual, from the small to the giants. There is a shot glass for everyone.
Light Up Shot Glass Set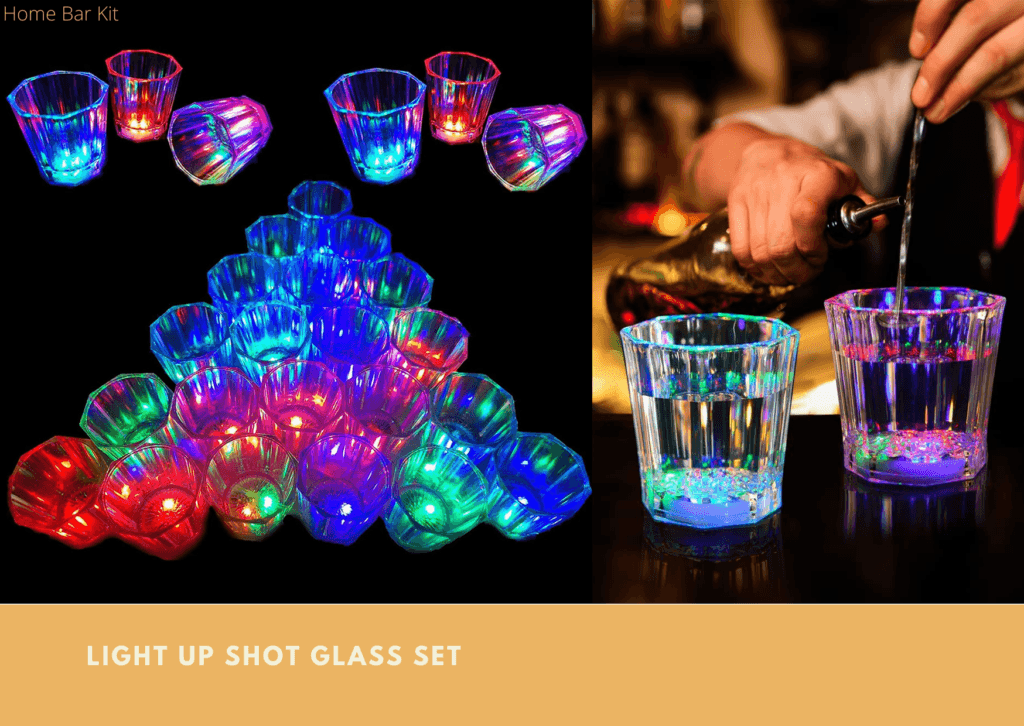 Check Latest Price
Starting with the coloful, and I mean colorful, these shot glasses actually light up. A constant light or if you prefer then slow or fast flashing light. A bit of a novelty, but great fun, especially if you want to light up the night with some shots.
At 2.1 inches (5.3cm) in height and a 2 inch (5cm) diameter these glasses hold a large 2oz (60ml) shot. So not the smallest of shots, your night could get more colorful than you thought. One down side is that they are not actual glass, instead a food grade BPA free plastic. However an upside is there are 24 glasses in this set, so you won't run out of shot glasses in a hurry.
Each glass comes with a small lighting disc unit that fits onto the base and is powered by batteries. Bear in mind these have to be removed before washing, which is hand wash only.
Like I said these are novelty glasses, but probably good fun too.
Himalayan Salt Rock Shot Glass Set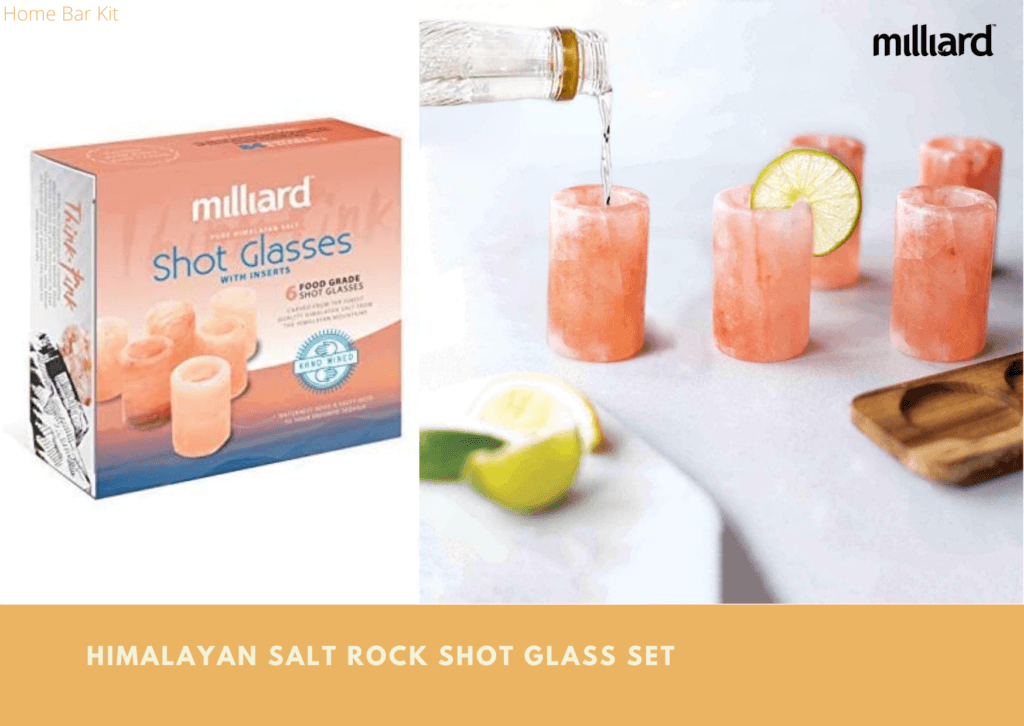 Check Latest Price
How about serving your shots in a salt rock. Ideal for tequila shots, but equally good for other shots too. These natural hand carved shot vessels add to the flavor of your drinks, as well as looking totally cool too. Each one is hand carved from a block of Himalayan Salt Rock. Also because these are made from a natural product, each one will have its own unique characteristics.
These come in a set of six, each one being 3 inches (7.6cm) tall and 2 inches (5cm) in diameter. They stand solid and again are on the large side with a 3oz (88ml) capacity. Obviously being a natural product these may break down over time. However with the right care they can last for 100 uses or more.
Definitely an unusual shot glass, but one that I am sure will impress your guests. No need for adding salt to the rim of the glass when pouring a tequila.
50 Caliber Shot Glass Set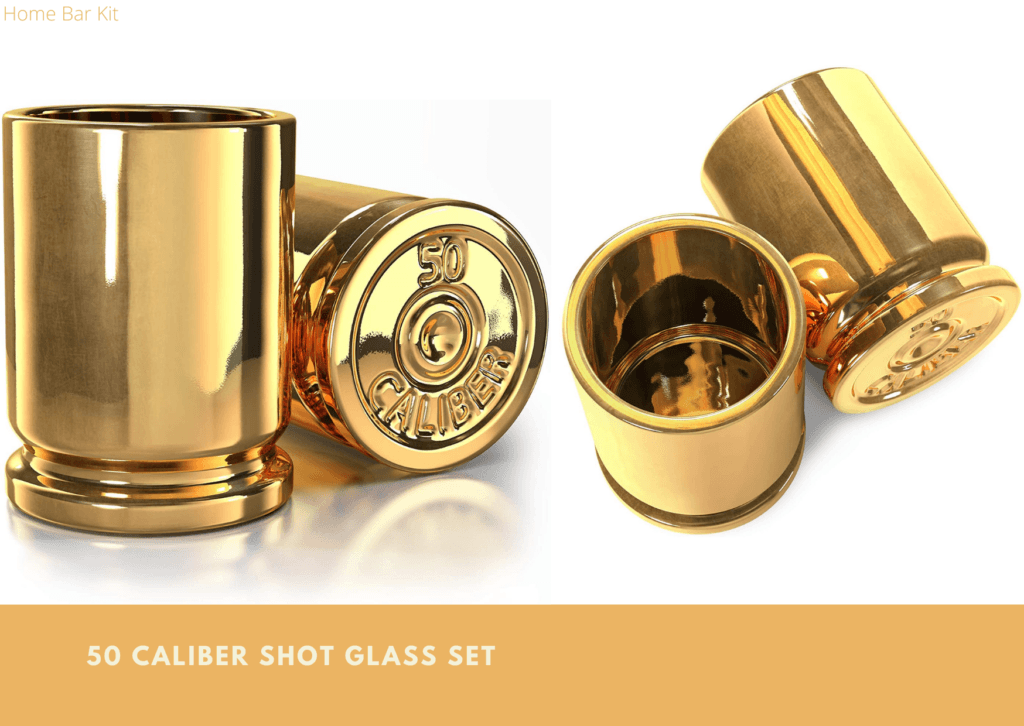 Check Latest Price
Another really cool set of shot glasses for your home bar. They only come in a set of two and are modelled from the 50 caliber shell casing. Ideal present for the gun enthusiast and very decorative. Made from ceramic with a brass look finish, they have the 50 caliber stamp design on the base.
At 2.5 inches (6.35cm) high and 2 inches (5cm) diameter they will hold 2oz (60ml) of drink. So at least they are on the smaller end of the shot scale. Bear in mind that these have a painted surface which could wear. Therefore it is a good idea to hand wash these, a dishwasher may be a bit harsh on the coating.
A great set of shot glasses for those into shooting.
Skull Shot Glass Set
Check Latest Price
A great set of shot glasses that are modelled on the skull. Ideal as a regular shot glass, or for a themed party, like Halloween. These would look great if your home bar is a tiki bar. Made from thick glass these are strong and durable, ideal for regular use.
The skull design is very well detailed on each glass, and they are wide and short making them really sturdy.. As a set of six these little skull shots will hold 1.75oz (51ml) so not to big. Great for adding a little drama to your home bar.
If you like to get a bit ghoulish, then these are a great shot glass.
Small Shot Glass Set And Tray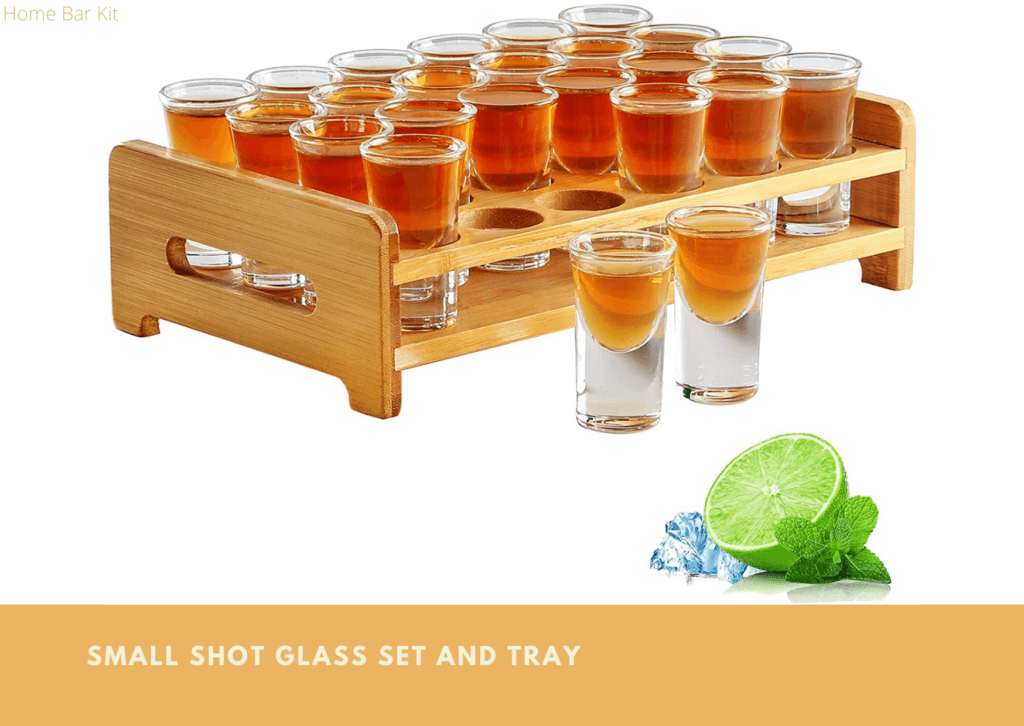 Check Latest Price
These shot glasses are ideal for a home bar, being the smallest of the bunch. A couple of shots from these and you won't be falling over. At just 2.3 inches (5.8cm) high, only half of that is for drink, the other half being a tall base. This gives a small capacity of just 0.5oz (15ml) making it an easy shot to drink. Great for tasting drinks too.
With 24 glasses, not only are these small and stylish, they also come with a Bamboo tray too. Load your tray with the 24 glasses and fill with your favorite shot. Easy to pass around and carry all glasses at once. Made from thick glass, these are strong and sturdy. Easy to store glasses with the tray holding them in place.
A great set of shot glasses with a nicely designed tray that will look good on any home bar.
Mason Jar Shot Glass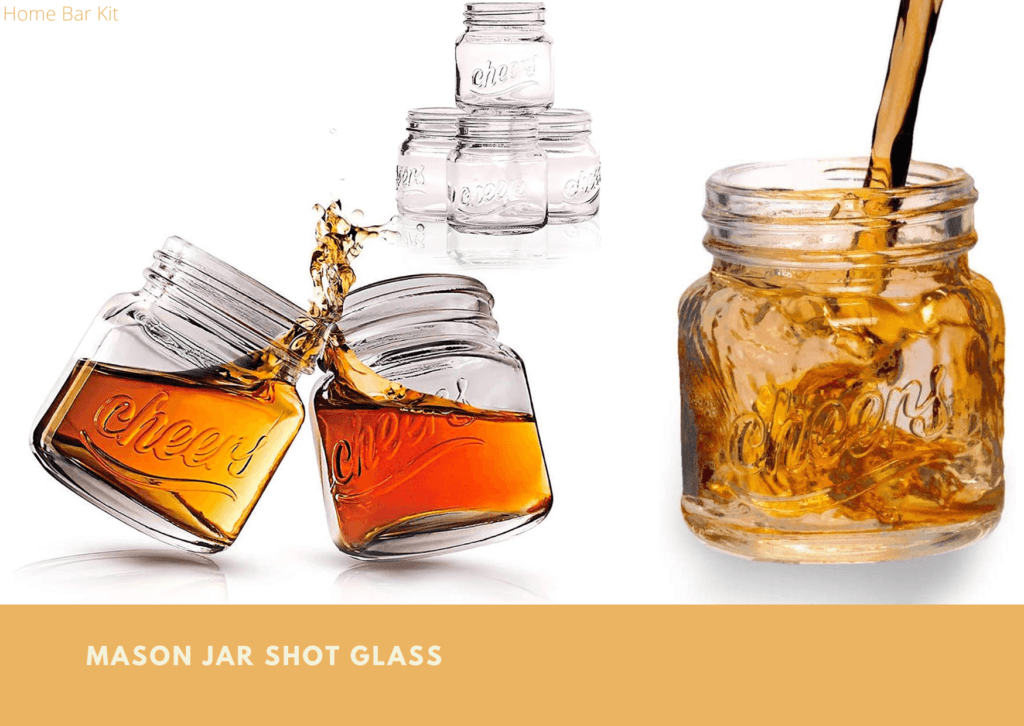 Check Latest Price
For the perfect fun but cool shot glass, then these Mason Jars are the ticket. A perfect Mason Jar design with 'Cheers' embossed on the side. Following the Mason Jar trend, these mini ones are super cute and will impress any of your home bar guests.
Made from glass they are dishwasher safe for ease of cleaning. Although small jars, they are on the bigger end of the scale for shot glasses. Each glass holds a generous 2oz (60ml) of your favorite drink. There are six to the set, which come without lids. However there is a set that do have lids if you prefer.
When you are not using them as shot glasses, why not fill them with candy for the kids. A versatile trendy set of shot glasses for any home bar.
Final Thoughts
It is evident that not all shot glasses are the same size. However where you may not have control over the size in a bar, at least at your home bar you can choose the size you use. From the colorful to the novelty type glasses, all will do the job of serving shots.
It is a good idea to think about pairing your shot glasses with a tray too. So too a pourer for your bottles is a good investment too. A pourer helps to control the drink more, as opposed to pouring straight from the bottle mouth.
Whichever shot glasses you go for, big or small, make sure you drink responsibly, but at the same time enjoy yourself.