We all love a little garnish in our cocktails or long drink's, from the common lemon through the more exotic pineapple or watermelon. Preparing the garnish for a drink can slow you down, so preparing some of your favorite garnishes in advance is a good idea.
Then you have to think how to store your garnishes to keep them fresh, but at the same time keeping them close for ease of use. This is where a bar condiment caddy or garnish server become a must have home bar accessory.
Garnish Dispenser
Also known as a bar dispenser or garnish station they are perfect for keeping your garnishes clean and fresh for hours. A condiment caddy is a rectangle box with a lid and several internal trays that can easily be removed and hold a decent amount of garnish.
Each tray would probably hold a whole sliced lemon or lime, but they can also hold sauces or dips. They normally have a small compartment under the trays to put ice to keep your produce chilled and fresh.
Although I am looking at this product for the use at a home bar for garnishes, they are also great as a salad bar or taco bar. A versatile product that is ideal for any home bar or kitchen.
Cocktailor Serving Station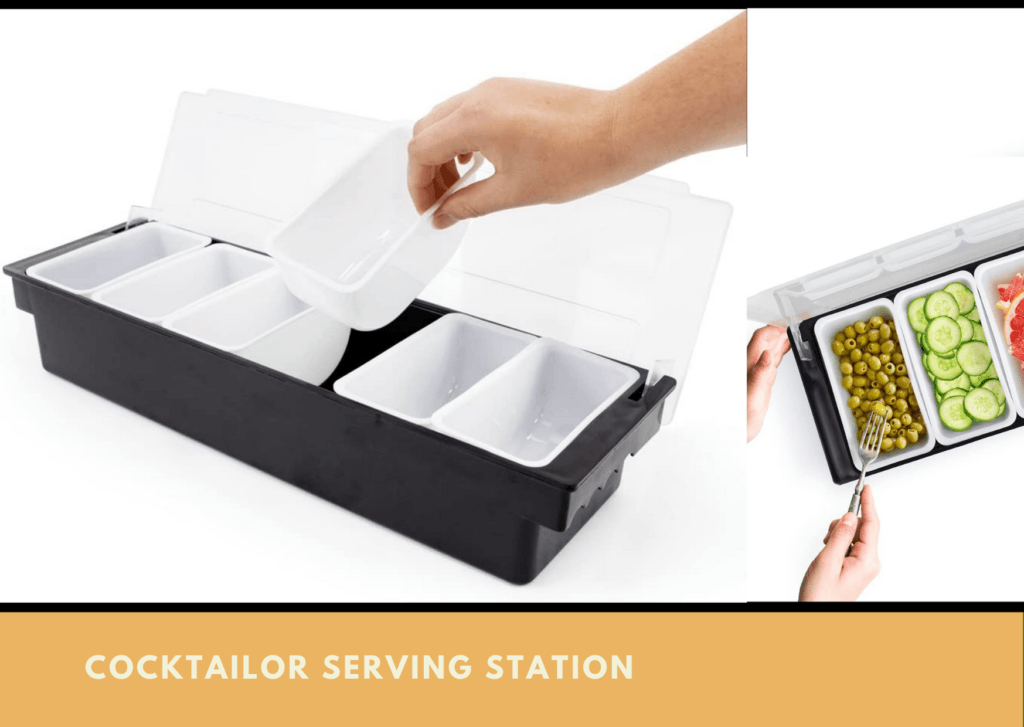 This condiment dispenser from cocktailor is simple but effective, with 6 large 16oz trays that will hold a good amount of garnish. There is enough room underneath the trays for a layer of ice to keep contents chilled. It has a black body with a slightly frosted lid and finger handles at each end to make it easy and comfortable to carry.
The unit is 19″/48cm long, 5.5″/14cm wide and 3.5″/9cm high making it compact but spacious. Easy lift out trays make it easy to clean after use.
MJM Condiment Server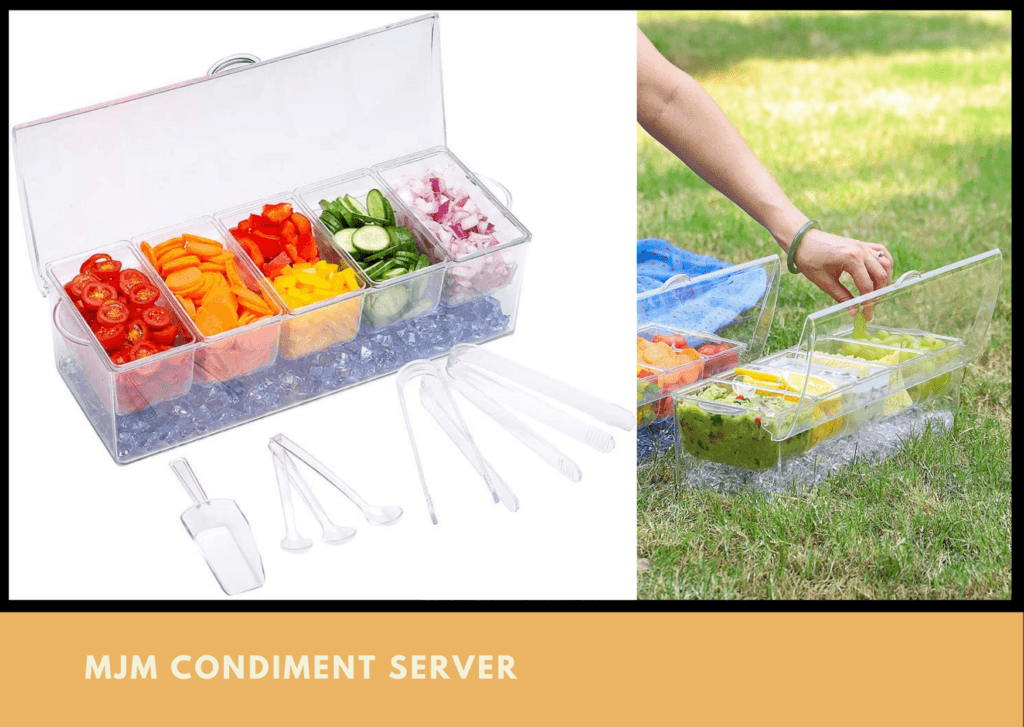 The MJM condiment server is a little smaller, and only has 5 containers, which are a good size at 16oz and will hold plenty of produce. Again there is room for ice underneath the trays to keep your favorite garnishes fresh. This one is made from a food grade clear plastic, the body is clear, the lid is clear and the trays are clear, so your contents can easily be seen.
There is a small handle at each end, but they are small, almost like just a little tab. The unit is 16″/40cm long, 6″/15cm wide and 5″/13cm high. Easy to take trays out and clean both them and the main body. You even get 3 tongs, 3 spoons and a scoop with this one, which is a nice touch.
New Star Foodservice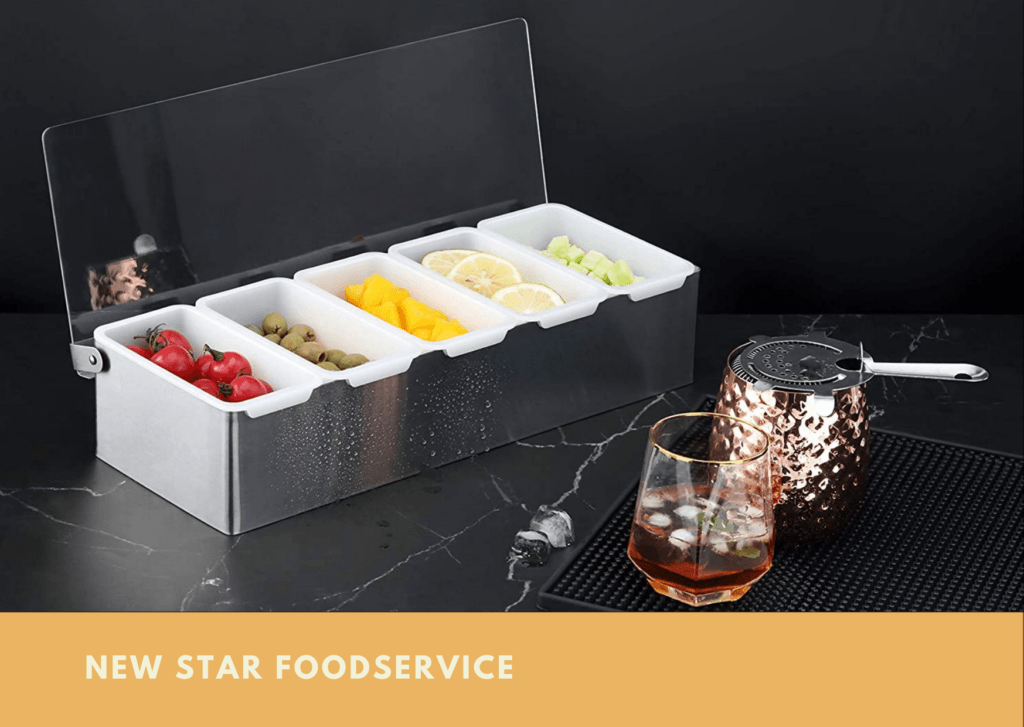 This condiment dispenser from New Star Foodservice is a stainless steel body with an acrylic lid which is clear so the contents are visible. There are individual plastic containers that are easily removed for filling and cleaning. This particular condiment caddy is available with 3, 4, 5 or 6 trays dependent on your needs.
The 3 tray version is actually larger than the 6 tray version, and although there are only 3 trays they are bigger meaning they can hold more produce. The 5 tray one shown does not have room for ice under the trays, so you can't keep your garnishes cool.
The 5 tray version shown is 15″/38cm long, 6″/15cm wide and 4″/10cm high and could be a little more robust being stainless steel, but having no room for ice could be its downfall.
Pikanty Condiment Server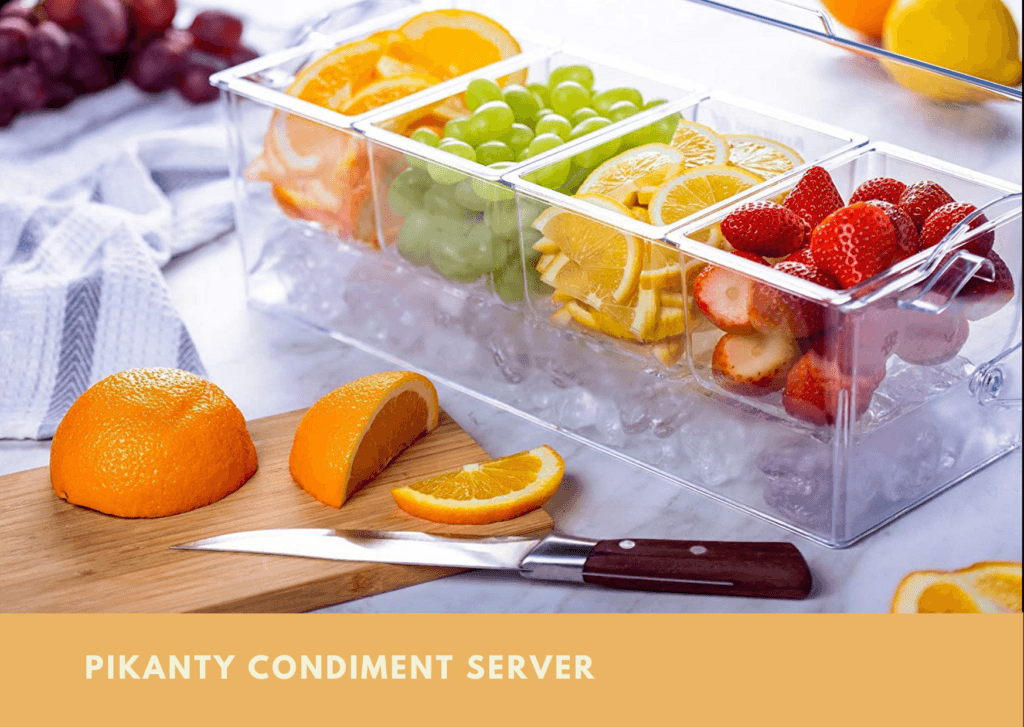 A different design and some different ideas with this condiment server from Pikanty. The body, lid and trays are clear plastic, but this has a different style lid, it folds back rather than lifting up. There are only 4 trays, but they are large holding 25oz of produce.
There is enough room for ice in the bottom of this unit, and it has a drink's tray too. When you are not using it for garnishes, you can take the 4 trays out and replace them with a tray that holds 6 drink's. So it turns into an ice bucket, which is a neat feature.
The unit is 16″/40cm long, 6″/15cm wide and 5.5″/14cm high and also comes with 4 pairs of tongs for serving. A nicely designed condiment server with a difference.
San Jamar Garnish Center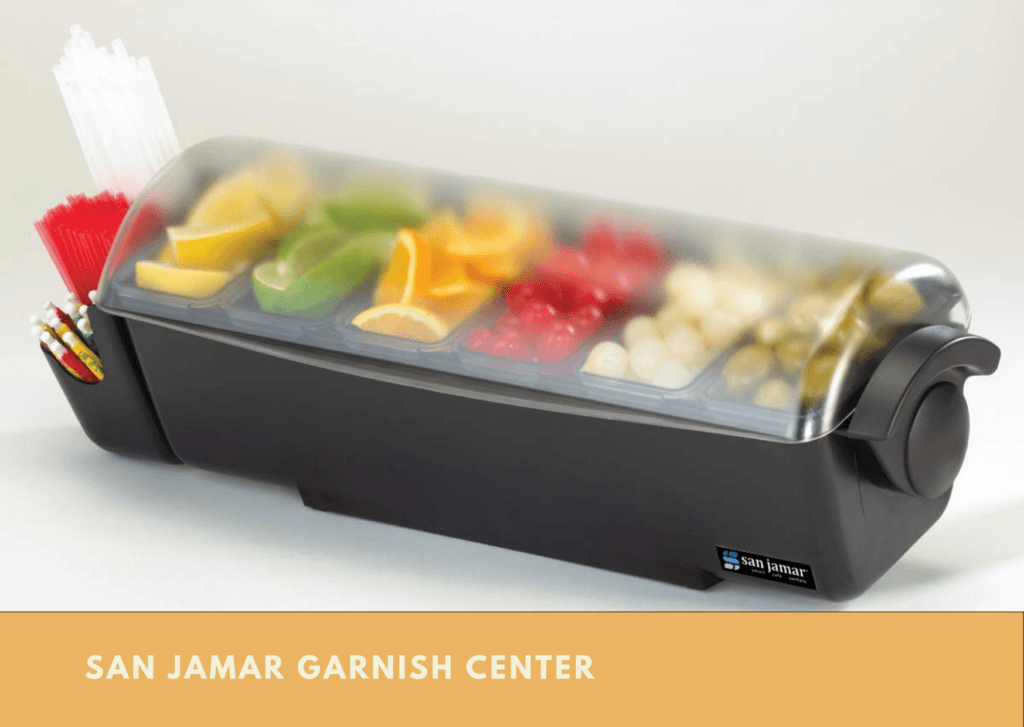 This garnish center from Carlisle Paddles is a little different again with the added compartment for storing straws, umbrellas or napkins. It has a dome lid that slides back rather than lift up, and contains 6 trays or 4 trays and 1 double tray for larger capacity or to accommodate larger produce.
The trays are easily lifted out for filling or cleaning and can accommodate EZ-Chill ice packs or the use of ice to keep produce cool. As well as the 4-6 trays on the inside, there is a compartment at one end on the outside that can store napkins or straws.
The unit has a black body and a transparent lid and comes in at a long 22″/55cm, a width of 7.5″/19cm and a height of 8.5″/21cm, so is the largest unit so far.
Impirilux Condiment Boxes
Here are 6 individual condiment boxes with lids and serving spoons, they are clear food safe plastic and hold around 6oz, so are on the small size. They come with a 4 box tray and a 2 box tray for carrying and keeping tidy. They can be used as single units on their own or as a set in the trays.
There is no room for any ice, so will not keep your garnishes cool, but they are a nice design and would work for other produce as well as garnishes.
Each individual box is 3.25″/8cm long, 2.25″/6cm wide and 2.75″/7cm high. They are a nice design and because they have their own lids it is handy that they can be used on their own instead of a set.
Prodyne Condiment Bar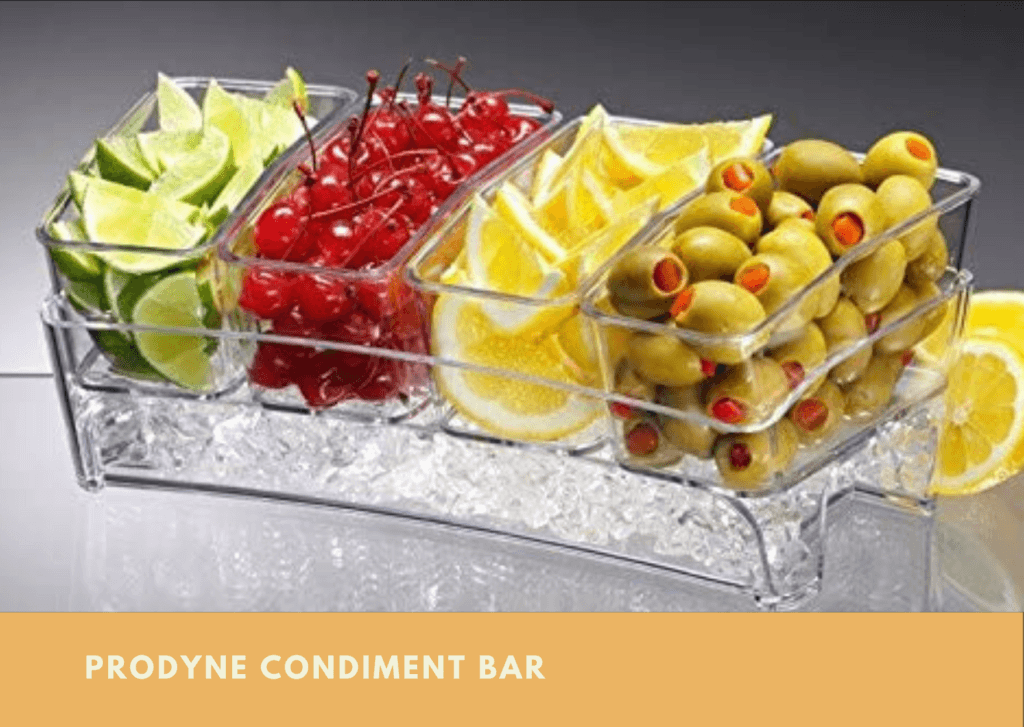 The Prodyne condiment bar looks good and can accommodate an ice bed below the containers, but there are no lids for the garnish containers. Made from food safe clear plastic, the curved design is really stylish and if you are not worried about a lid, then it would look great on any bar.
Each container has a 2 cup capacity and the unit as a whole measures around 12″/cm in length, 7″/18cm wide and 4.5″/12cm in height. An attractive condiment bar, but not for everyone because of the lack of a lid.
Condiment Server Stand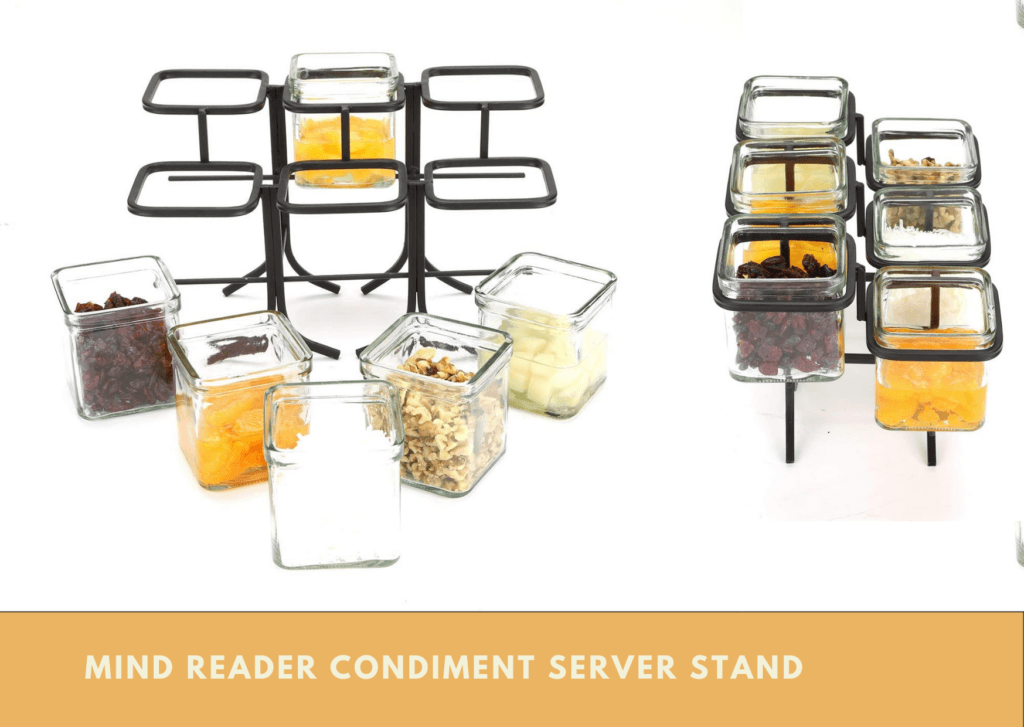 This condiment Server stand from Mind Reader comes with 6 individual containers for your garnishes or other produce. Each container sits in its own frame and together the 6 square jars form a 2 tier garnish rack.
The black frame is metal and the 6 jars are glass, and as the previous condiment bar do no have lids. The jars lift out of their frame easily for cleaning and when all together form a sturdy tiered condiment server.
The unit is around 9.5″/24cm in length, 6″/15cm in width and 7.25″/18cm in height, with each jar having an 8oz capacity.
Prodyne Appetizer On Ice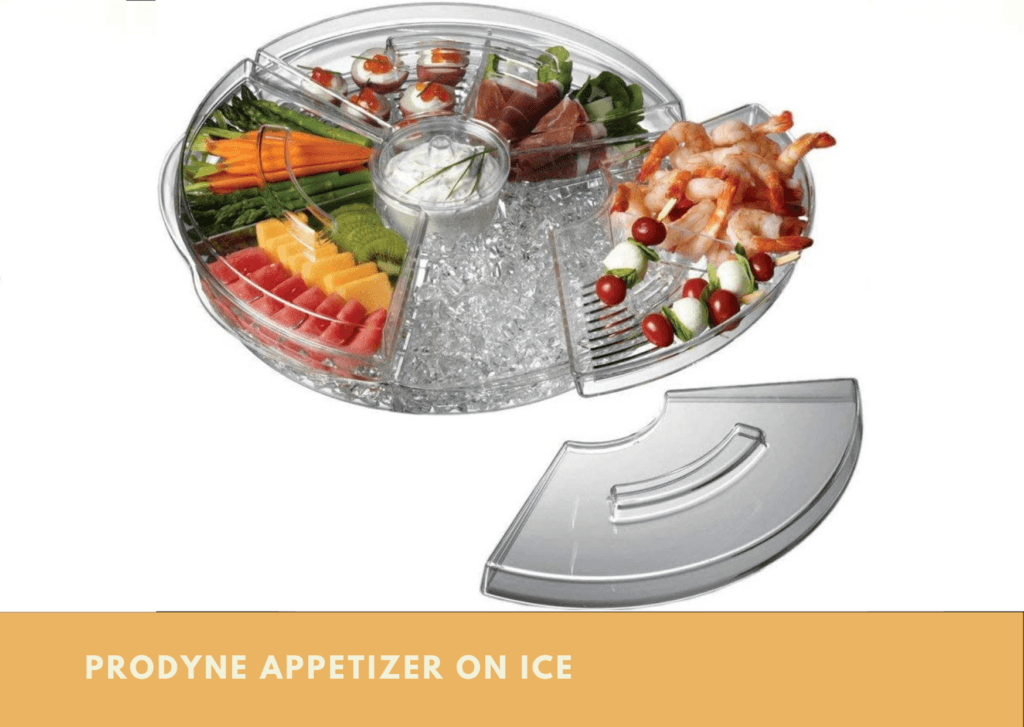 Another product from Prodyne, this one is primarily seen as a server for appetizers, but that does not mean you can't use it to keep your garnishes in on your home bar. Being round it is a little different from the rest and has 3 double compartments that have lids.
Each compartment has a vented bottom to allow the chill from the ice bed underneath to keep the produce cool. In the middle is a small round container for a dip or sauce.
Made from clear food safe plastic this unit is 16.5″/42cm in diameter and 5″/13cm High. If you prefer curves to angles, then this would serve as a great garnish server for your bar, or kitchen.
Bar Condiment Dispenser
There are a good range of condiment dispensers for all your garnishes at your home bar. It is best to prepare garnishes in advance instead of cutting and serving whilst making a drink. What better way to keep those garnishes chilled and fresh than with one of these products.
There are some without ice trays, and some without lids, but they are all functional and they all do the job they were designed to do, plus they look good too. I do prefer the ones with lids and room for ice because they are doing a complete job.
The Cocktailor Serving Station which was the first one is probably my favorite as it has large 16oz garnish containers, room for ice underneath and a lid to keep the produce protected from insects and dust. It also looks good too, and has decent carry handles.
You may prefer one of the others that are featured, whichever one you like best share it below, or if you have a different one to share, then let us know about that too.