We are a world of beer lovers, I know not everyone in the world like's beer, but there are a large number of us that just loves the stuff. We all have our favorite beers, but it is good to try new beers, you never know there may be a new favorite just waiting to be discovered.
What about brewing your own beer. Making your own beer at home could be the start of something beautiful, perhaps your new favorite beer is one you brewed yourself.
The thing is where do we start with home brew? What equipment do we need? How do we know what ingredients to buy and how do we put them all together to produce a decent beer?
That is a lot of questions and we will get to the bottom of all of them, we will look at how to get started and what we need to make it at home. We will also look at beer brewing recipes, because once you know how to brew, then you are going to want to perfect different beers.
As the world begins to slowly open up again and get back to some normality, many people would have done things that they may never have got around to if the world had not been shut down and we were all ordered to stay at home.
The Perfect Hobby
As the world begins to slowly open up again and get back to some normality, many people would have done things that they may never have got around to if the world had not been shut down and we were all ordered to stay at home.
If you are reading this in the long distant future, it really did happen, it was a pandemic called Covid 19.
During this time there was a lot of home improvements happening, people were sprucing up their homes because they had to spend so much time in them. The rise of home bars was big on the list of improvements, as well as improvements to our outside spaces.
We saw a big increase in home brewing, and if you have been left behind and didn't jump in a brew your own batch of beer, then it is never too late.
Why? Well it is the perfect hobby.
Get Ready To Brew
I have already covered the basics of getting started with brewing your own beer at home, so there is no point putting the same information in this article, you can find the basics about home brew and how to get started here.
It covers how to home brew, the basic equipment you will need to get you started, as well as the easiest beer to brew and the hardest beer to brew. Also, there is a heads up on how to source ingredients easily to get you up and running with your first brew, so it is worth a read.
Once you have a brew or two under your belt, the next step is to start experimenting with beer recipes. One of the best ways to do this is through books.
A book is a great resource that we can refer to again and again, so is a perfect way to learn and perfect new brewing recipes.
Having said that, there are also some great online resources that are worth looking at too.
The great website brewers friend has a growing list of beer recipes, they include some pretty good information, including how many people have brewed each recipe and their star rating.
If you are just starting out, then it will be a little to advanced to attempt any of the recipes, but worth a visit and worth book marking the site for future reference.
Back to the books, I have listed some worthy contenders to help produce some delicious home-brewed beer.
Clone Your Favorite Beer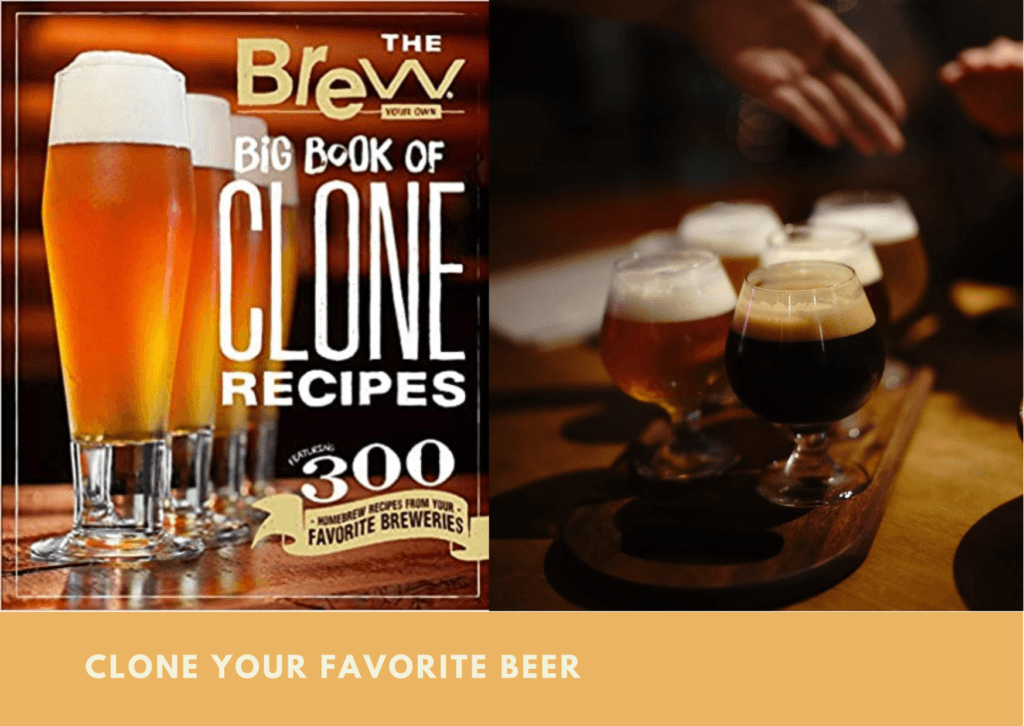 [maxbutton id="3″ url="https://amzn.to/3xSJc2J" window="new" ]
Imagine that you could actually make your favorite beer, well now you can. This book 'The Brew Your Own Big Book Of Clone Recipes' is not only a very long title, but a big book of recipes covering top beers and top breweries.
What a book, it covers all types of beer, including amber ales, brown ales, IPA's, porters, stouts, pilsners and many more. These recipes come from top breweries and it is hard to believe that on the page right in front of you there is the recipe, with instructions on how to brew the beer you love.
Here are a few that are in the book.
Lagunitas Brewing Company – New Dogtown Pale Ale
Firestone Walker Brewing Company – Union Jack
Dogfish Head Brewery – 60 Minute IPA
Bear Republic Brewing Company – Hot Rod Rye
I have only listed 4, but this book features 300 recipes from your favorite breweries that can be brewed at home.
If you have followed a recipe from a cook book, then this is a similar format, it includes the ingredients you need and a step by step guide to producing the right end result.
A bumper of a book, it's a winner, it has to be your favorite beer might be in there and now you can actually brew it yourself at home.
Yea, that's a winner.
The Recipe Bible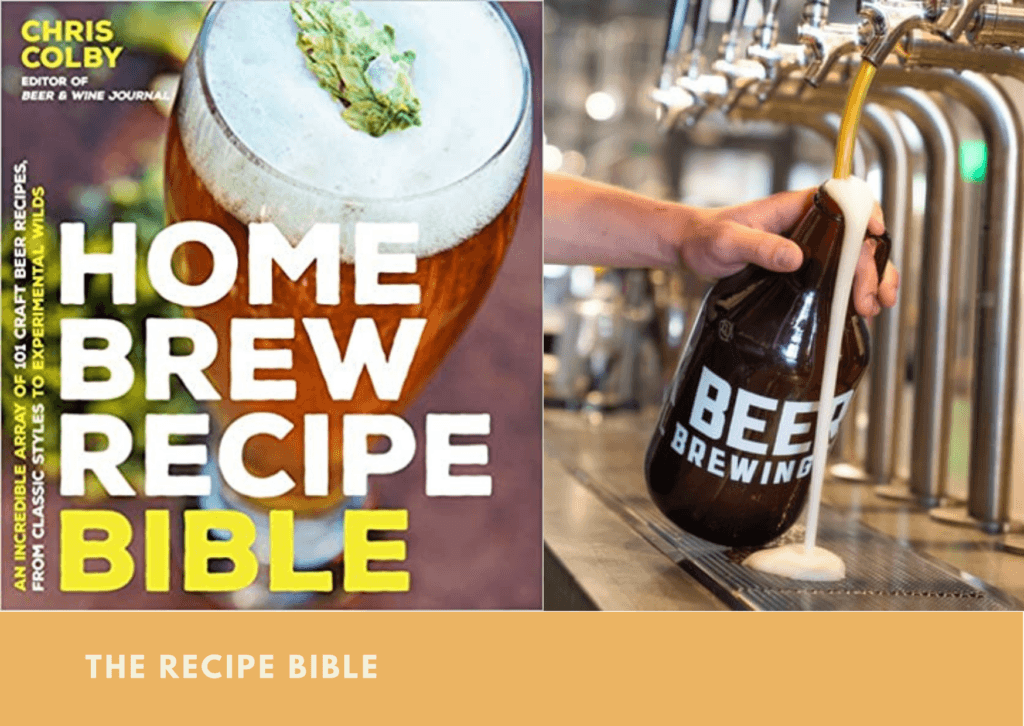 [maxbutton id="3″ url="https://amzn.to/3rpUc5j" window="new" ]
The home brew recipe bible is a go to book for brewing all your favorite types of beer, including IPA's, pales ales, porters and stouts. It comes from Chris Colby an award-winning home brewer and covers recipes for the beginner through to the advanced home brewer.
Included in the book are some unusual recipes like bacon-smoked porter and also how to modify a recipe to suit your own taste.
At the beginning Chris gives the low down on the most important things about home brewing, and it is the least liked part of the brewing process, but important all the same.
He explains ingredients, fermentation, aeration, Tannins and astringency and much more to prepare you for the delicious recipes ahead.
Here are few included in the book.
American Amber Ale
Blonde Ale
British Brown Ale
Australian Sparkling Ale
Imperial Stout
Oyster Stout
Peanut Butter Porter
As you may have noticed these go from the normal ales we love to some bonkers experimental beers with some crazy ingredients that you may not think of adding to your beer.
Whether you are brewing a standard beer or trying one of the more extravagant recipes in this book, you will get the right information to complete the job. The ingredients are list along with how to brew each recipe and some great tips for producing perfection.
A decent book that not only covers ours favorites, but hits us with some fun beer recipes too.
Homebrew Beer Book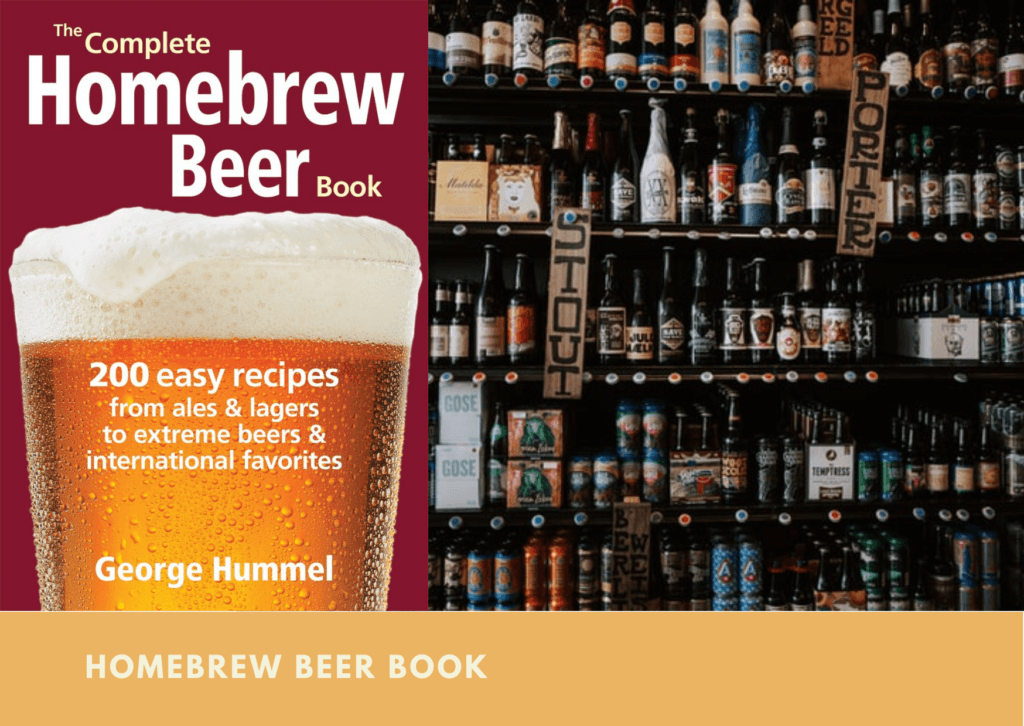 [maxbutton id="3″ url="https://amzn.to/3hTqK4y" window="new" ]
Apparently beer is as easy to brew as making soup, and we all know that soup is not hard to make.
'The Complete Homebrew Beer Book' comes from George Hummel who is an award-winning home brewer and lives Philadelphia, he writes a column for Mid-Alantic Brewing News, as well as having his own store Home Sweet Homebrew.
He knows a thing or two about brewing beer at home, and in this book he covers home brewing for beginners and taking your brewing skills to the next level.
There are beers from North America like West Coast Amber Ale, brews from Britain like Dark Mild, brews from Germany like Bohemian Pilsner and many more including how to brew meads too.
Here are a few brews included in the book.
Amber Mexican Lager
India Brown Ale
Irish Stout
Belgian Pale Ale
Dortmund Export
Weizenbock
Some interest beers there from America and across Europe, in fact there are 200 beer recipes to chose from, so you won't get bored. You get the full list of ingredients for each brew and a step by step process of brewing a decent beer each time.
A good brewing book that will keep you busy brewing for some time.
Modern Homebrew Recipes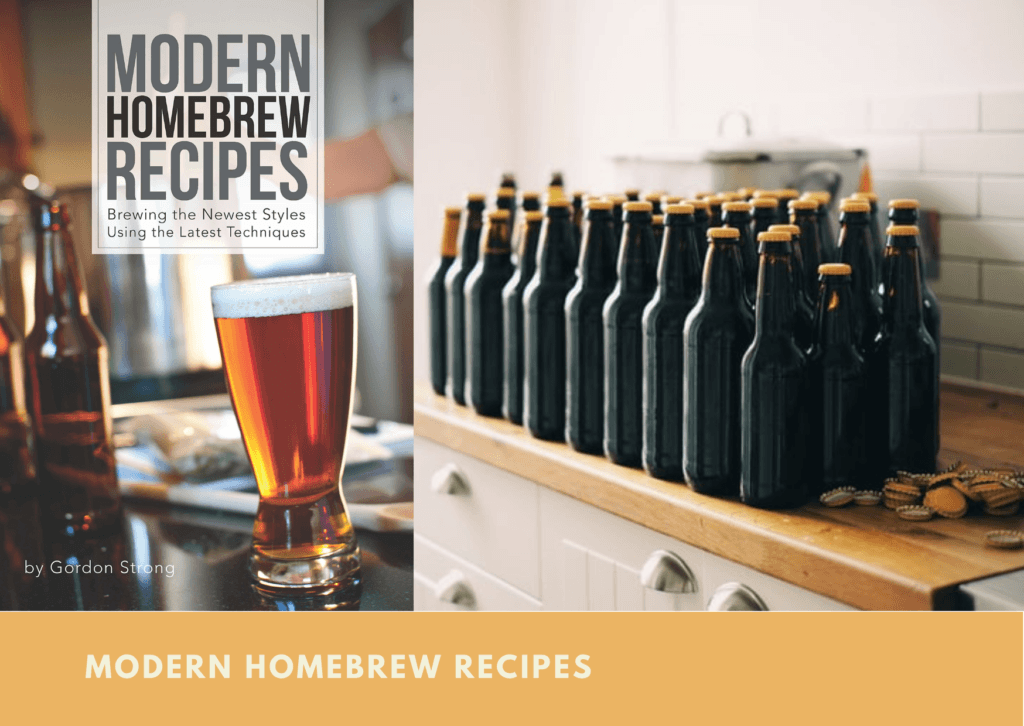 [maxbutton id="3″ url="https://amzn.to/3rwm2wD" window="new" ]
Another book from a well qualified home brewer Gordon Strong, who has won the Ninkasi Award ( prize give n by the American Homebrewers Association ) 3 times and is the president of the Beer Judge Certification Program.
His book covers 100 of his own recipes, so you know that when you try a recipe, then Gordon has already brewed it. Beyond this he not only gives you the recipe with the ingredients and how to's, but also the background of how he arrived at the recipe and what you should expect from it.
At the beginning of the book Gordon goes through the brewing process and visits a variety of techniques, including infusion mashing, wort hopping, hop bursting, whirlpool and steeping, plus more.
The book covers many types of brewing.
Pale Ale
Blonde Ale
Altbier
Brown Ales
Amber Ales
Vienna Lager
Oktoberfest
Maibock
Dark Milds
Porters
Stouts
On top of all these beers, there is included some strong stuff like barley wine and some great recipes for Belgian beer lovers. The information that Gordon covers with water and recipe formulation, this book will have you refining your techniques to brew better and more consistent brews.
A top book, with good techniques and insights into the brewing process, a worthy brewing book.
Beer Brewing 101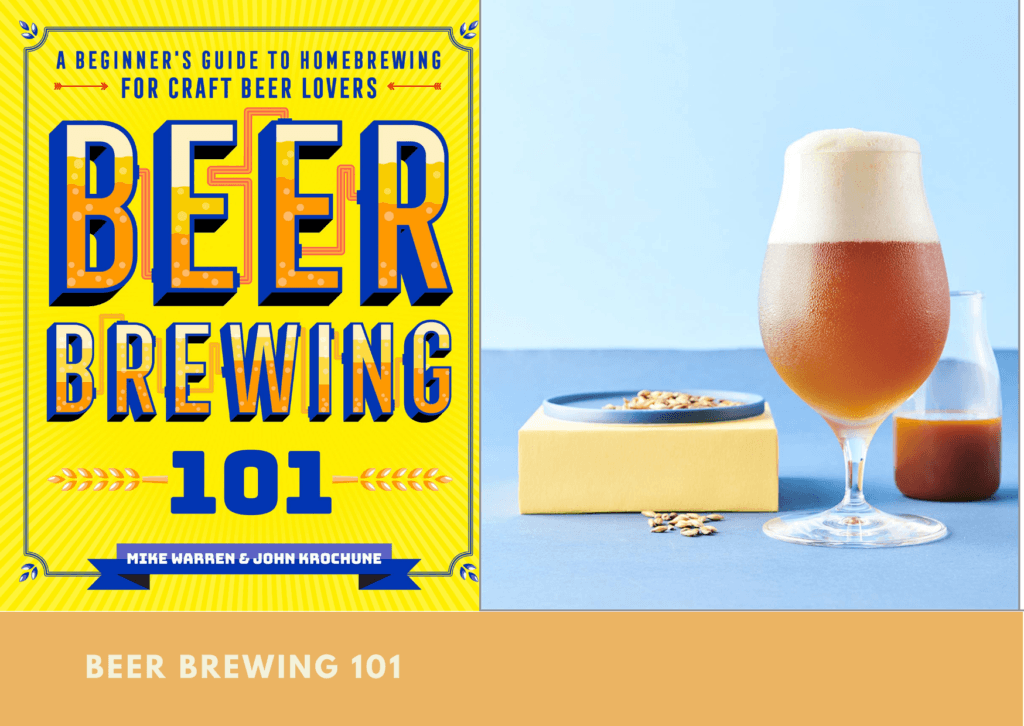 [maxbutton id="3″ url="https://amzn.to/3iyF9SN" window="new" ]
The book the beginners will love.
Authors Mike Warren and John Krochune take you through the basics of brewing and even get you started brewing by using a beer kit. It takes you step by step how to make fresh beer without complicating it with ingredients, by starting with a beer kit you get the hang of the brewing process.
Mike and John started brewing beer at home themselves and now seasoned veterans they know how to lay it out for those that do not have any brewing experience.
There is a glossary of home brewing terms because if you are new to brewing, then it just sounds like a load of jargon, this is a helpful touch. You get detailed equipment and supplies lists and charts of hop varieties and yeast strains. On top of that there is a handy trouble shooting section with the common problems of brewing.
Once you have learned the basic brewing techniques from beer brewing 101, you can get stuck in with one or more of the beer recipes, there are 30, including IPA's, Pilsners, German Hefeweizen and some popular craft beers.
Like the other books each recipe gives you the ingredients you will nee and a step by step guide to brewing that particular beer.
If you are new to brewing, then this book is a must and will get you off to a great brewing start.
Brewing With Cannabis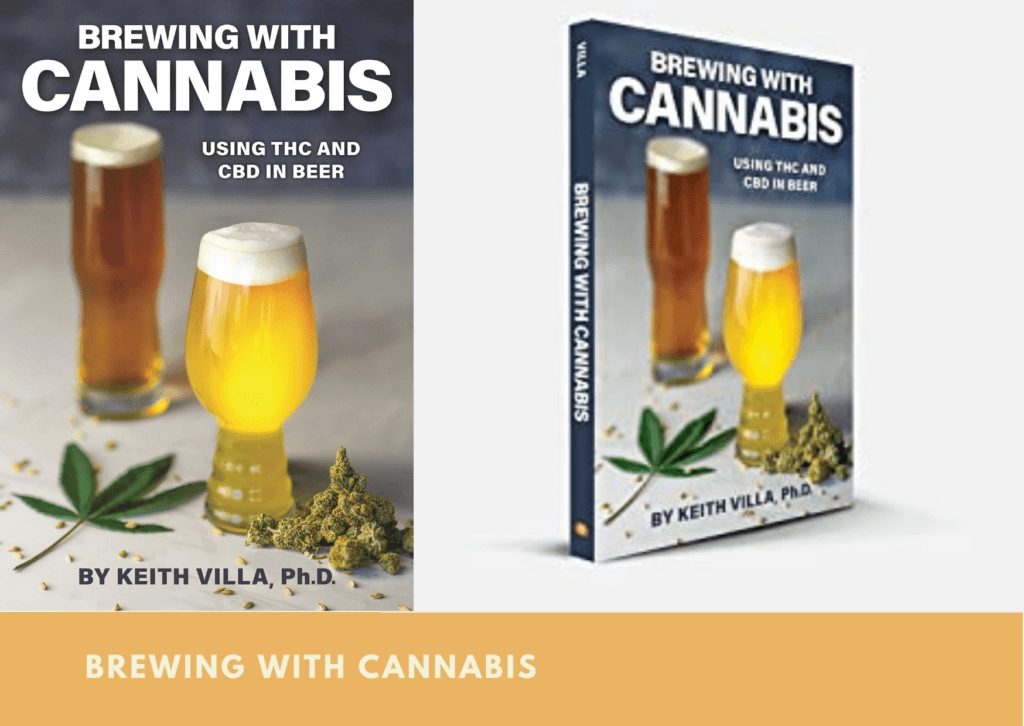 [maxbutton id="3″ url="https://amzn.to/3kIquaa" window="new" ]
Now that is a little controversial, and I am sure many will not be interested, but others will be, so I thought it was worthy of being in this beer recipe book list.
I myself would not be interested in brewing with Cannabis, but this book which at the time of writing this has not actually been released yet. It is due for release on August 1, 2021, but preorders are being taken.
The full title is 'Brewing With Cannabis Using THC And CBD IN Beer' comes from Keith Villa PhD a brew master and founder of the Ceria Brewing company. He is making his mark in the growing market of non-alcoholic – cannabis infused beers.
THC is the psychoactive part and is used for medical as well as recreational use. CBD is the non-psychoative part that can be used for supplements, oils and body care.
I won't pretend to know a lot about cannabis or THC and CBD, not really my thing, but they are getting popular for easing certain symptoms and as oils and creams for skin care. It seems like they are now becoming a part of craft beer brewing. Find out about the active parts of cannabis and how they interact with beer.
The interesting part of this book is the understanding you get about the biology of the cannabis plant and it's similarity with hop plants. You find out about the history of cannabis and the current laws and the legalities of this controversial plant.
Like I said it is not for everyone, but it is a well-thought-out and comes from and expert brewer. If anything else this book is great for pointing out the responsible and legal use of cannabis in brewing.
Brewing For Dummies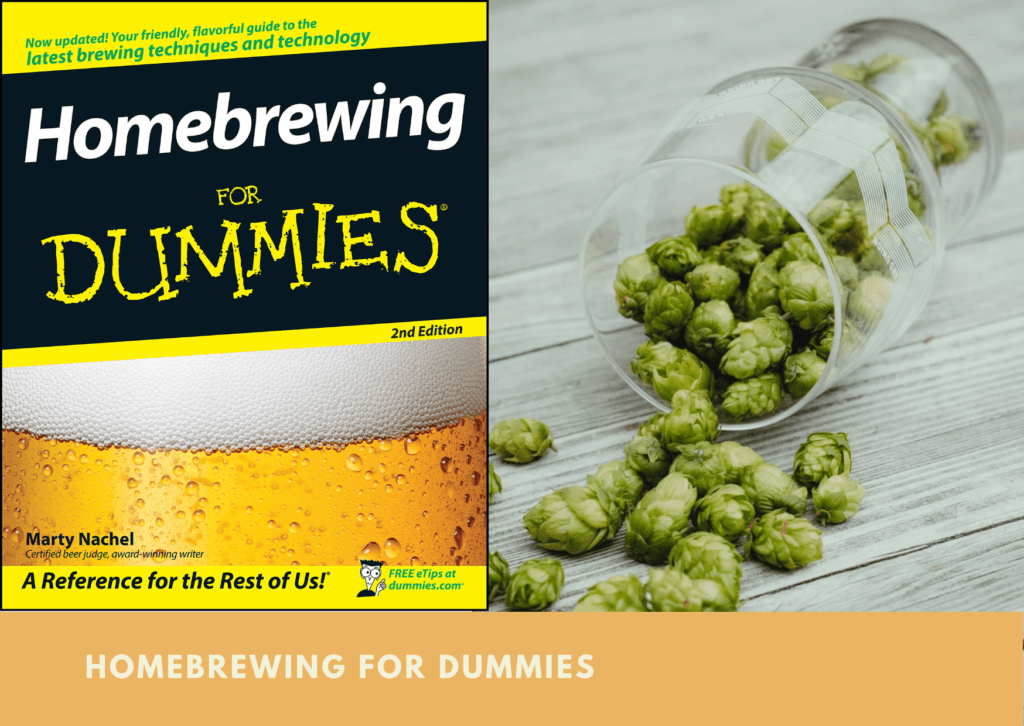 [maxbutton id="3″ url="https://amzn.to/2TsTeIR" window="new" ]
Just to settle things down a bit after all that talk about the C word and using it in brewing beer I thought I would add the Dummies book for brewing beer.
These books are a great resource and well set out for anyone to learn about pretty much any subject. The subject in hand is Home brewing and home brew recipes, and this book hits the spot, written by Marty Nachel and expert and been home brewing for some 35 years with 8 books under his belt.
Although this range of books is seen as an introduction for beginners, a lot of them do include intermediate and advanced sections of the book, this one is no exception.
It is an easy to follow guide of how to brew your first kit beer to brewing a whole batch from scratch. How to set up your home brewery, what equipment you need and how to keep it clean. How to select the best ingredients and what flavorings work with brewing beer.
There are recipes for lagers, cider, ales and craft beers, it won't take you long before you are producing great beer and ales.
An easy to follow book for beginners as well as more advanced brewers, and from an expert in this field.
Beer Making Book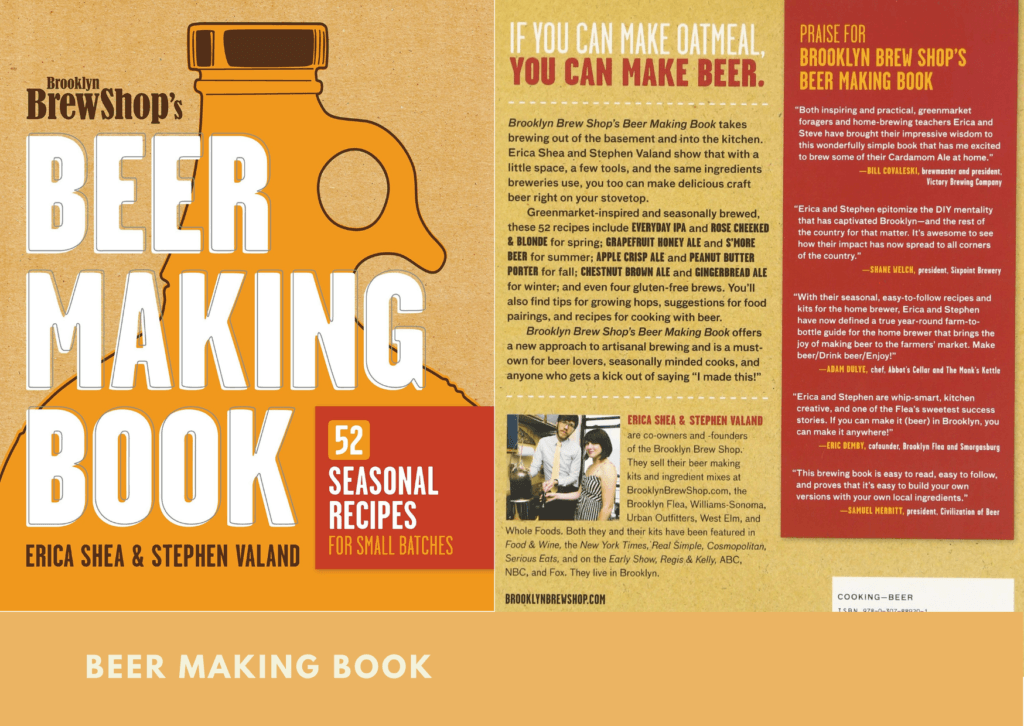 [maxbutton id="3″ url="https://amzn.to/3hV2te9″ window="new" ]
That's what we want, we want to make beer, so here is a book that is about making beer. Written by Erica Shea and Stephen Valand who are the co-owners of the Brooklyn Brew Shop, this book has 52 recipes.
It's about making small batches which you can do from your kitchen, and the 52 recipes are arranged into seasonal sections. For spring there is everyday IPA and blonde, for summer grapefruit honey ale, fall sees us hitting on peanut butter porter and winter warms us with a chestnut brown ale.
Obviously there is more that one for each season, about 13 for each season will see you experimenting with some great fun beer recipes. This is home brewing on a simple scale and even includes hop growing tips and recipes for cooking with beer.
It has a neat table of different hops and whee they are sourced from, their bitterness and the description of their flavors. Exploring the equipment you will need and how to bottle and contain your brews, it's a comprehensive small batch brewing book with plenty of recipes to try.
If you want to start off small or are not ready to go big on your home brew, then this book is perfect for small batch brewing and will serve you well.
The Joy Of Homebrewing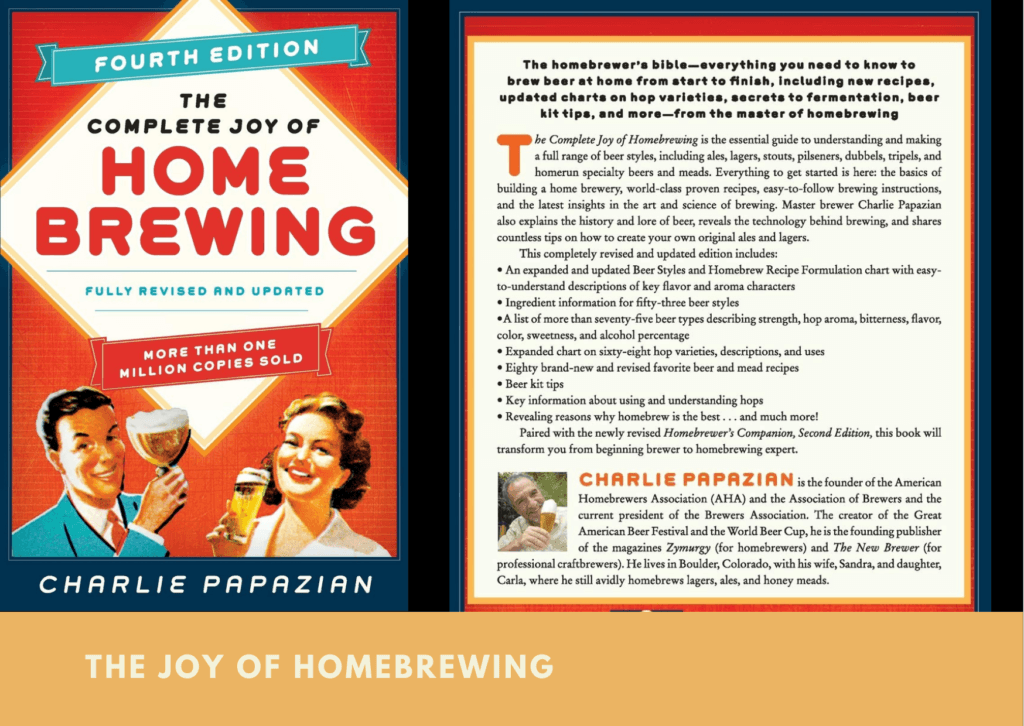 [maxbutton id="3″ url="https://amzn.to/3zpdMBw" window="new" ]
The book that brings joy to brewing, which is not strictly true, the joy has always been there, we love to brew, right?
A comprehensive book that some say is a little outdated now, but it comes from one of the most well know names in beer and brewing, Charlie Papazian who is the founder of the American Homebrewers Association and the Association of Brewers.
He knows his stuff and besides this is the fourth edition of this book, so it has been fully updated.
This book brings you everything you need to know about home brewing and sets it out from start to finish. It includes how to build your home brewery, the equipment needed and how to set it up.
There are tried and tested recipes with step by step instruction on how to brew traditional beers. There is the science behind brewing beer and how to develop your very own original ale, exciting stuff.
This book has everything with up to date recipe charts of how to brew 53 traditional beers, a list of 75 plus beer types, their strength and their key flavors. There are descriptions and uses of a variety of hop types and understanding them. Get some tips on beer kits, secrets to fermentation and some brand new beer recipes.
It is a very comprehensive book with nearly 500 pages you find everything you need to know about brewing beer at home and some great recipes too.
Craft Brew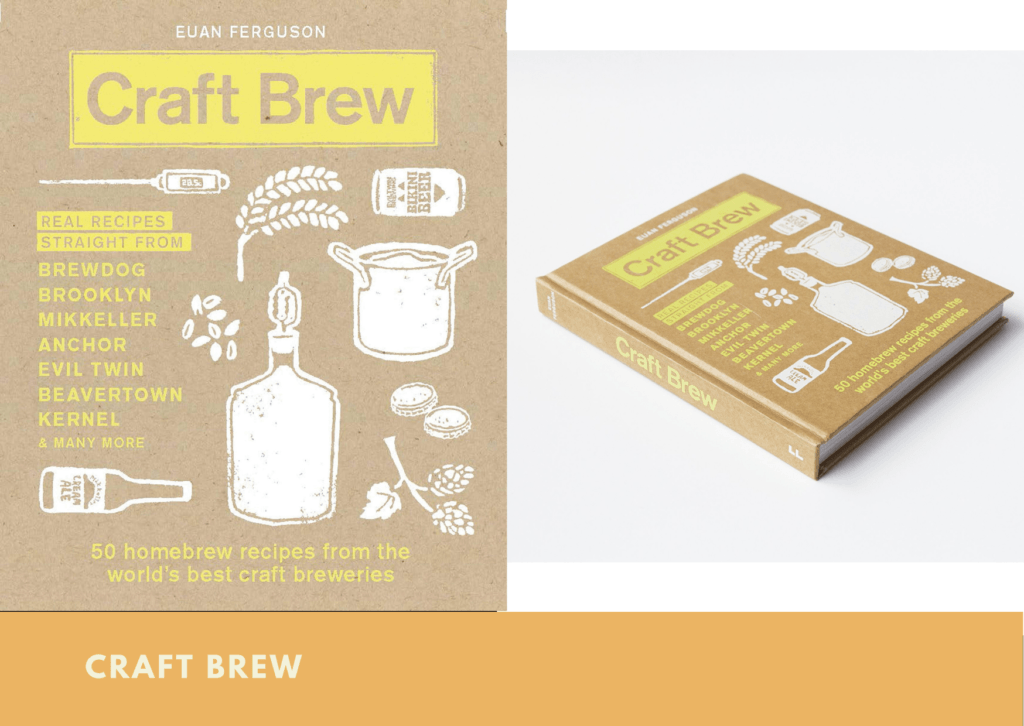 [maxbutton id="3″ url="https://amzn.to/370Axzf" window="new" ]
The book is about some popular craft breweries and the beers they produce, in short breweries such as Brew Dog, Mikkeller and Beavertown have shared recipes of their best beer for us home brewers to try out for ourselves, sweet.
Written by Euan Ferguson a freelance writer who wrote for Time Out London about anything bars and pubs. At the beginning it looks at ingredients and equipment and how the brewing process works, it is preparing you for the exciting recipes ahead from some top craft breweries.
After you have learnt about ingredients, equipment and the brewing process, it jumps into the recipe section highlighting breweries and a popular beer they produce. You can follow the ingredients and instructions and reproduce some of the best craft beers.
If you already know your stuff when it comes to brewing, then this is just a book about brewing your favorite craft beers, but if you are a beginner, then this does walk you through how to brew.
As a beginner I would be inclined to start with something like Beer Brewing 101 before delving into this book, it will better prepare you.
Become A Home Brewer
The home brew trend is ever climbing at the moment and there are a lot of people brewing and enjoying their efforts with some great beers. The flavor of beers is also ever expanding with experiments taking place in basements, garages, kitchens and breweries alike, all to bring us more variety in our love for beer.
These books symbolize just how many types of beer we can now brew ourselves and the types of flavors we can add to enhance them to our own liking and personal taste.
Is it time for you to become a home brewer? Of course, it is, there is no time for delay, pick your book and get your equipment and ingredients, then get to work on your first brew.
Whether you want to just brew a nice deep porter or a light blonde ale, or even if you want something with a more fun flavor, these books will have you covered and the amount of recipes available will keep you busy brewing for a long time.
You have here some of the best beer brewing recipes for you to get going. Enjoy the books and enjoy your brewing, and especially enjoy the beer when it is ready. Share your beer brewing stories below, and your favorite type of beer, happy brewing.
Rob is a passionate home bar and pub shed enthusiast with a passion for craft beer. With hands-on experience in designing and building his own home bar, Rob shares his knowledge, tips, and inspiration to help fellow enthusiasts create their own perfect space. Alongside the world of home bars and pub sheds, Rob also explores the diverse and exciting realm of craft beer, providing honest reviews to help you discover your next favorite brew. Join Rob on a journey of flavor, design, and craftsmanship right here on Home Bar Kit.