A beer tap handle is not the tap itself which is the valve that delivers your beer to the glass. The handle that is connected to the top of the tap is the part we are talking about here. It is the lever you pull to open the valve so the beer can flow.
You have the best set up in your home bar, with your favorite draft beer in your kegerator and the beer tap ready to pour. The finishing touch is to get a custom handle for your beer tap, it will give your home bar a unique feel. Why not have some beer tap fun and change the standard handle for one you like.
How To Change A Beer Tap Handle
You may never of thought about changing the handle on your beer tap before, which may pose a question. How do I change my beer tap handle?
Don't panic, it is not difficult, in fact it is an easy thing to do and only takes a few seconds. We are talking less than a minute, with no tools required. You shouldn't need tools, but one may be required if your locking nut is extremely tight.
The tap has a thread which the handle screws onto, it also has a locking nut. The locking nut is so you can get the handle in the right position. It wouldn't look great if your handle was not facing the right way, or was slightly off set.
If the lock nut is too tight to unscrew by hand, then a small wrench may be needed just to loosen it enough to release the handle.
The procedure is to loosen the locking nut, then unscrew the handle until it comes away from the tap. Screw your new handle on until it is hand tight, Adjust it back until you have it in the position required. Tighten the locking nut to the handle to lock it in place, then enjoy that new handle.
I know that your are now excited about getting a new handle for your home bar tap, who wouldn't be. You may already have a handle in mind, but if not, don't worry. I have compiled a short list to give you some ideas of what is available for your beer tap.
Chalkboard Tap Handle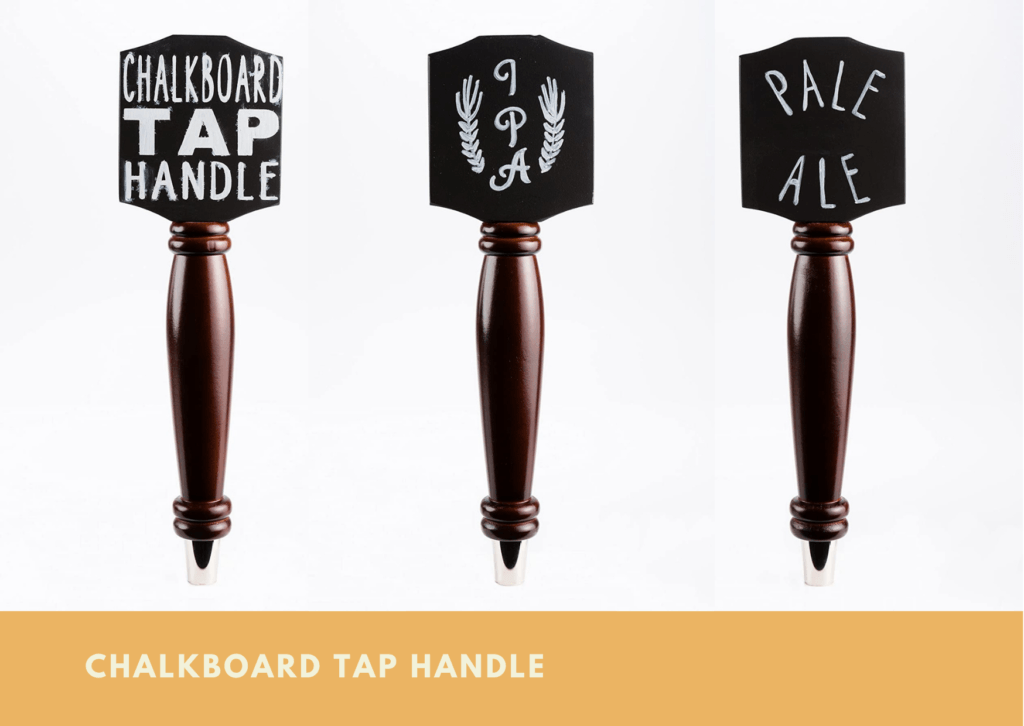 The chalkboard tap handle is a favorite with many people because you can display what you are serving from your keg. When you try a different beer it is easy to wipe off the old beer and write on the new beer. This saves you buying one for each beer you try, which could get expensive.
This is a simple design with a dark wooden handle shaped nicely for the hand, which makes it comfortable to use. On top of the wooden handle is the small chalkboard. Write the beer you are serving, draw a picture if you have an artistic flair, the choice is yours.
The chalkboard is not for chalk pens, it is near on impossible to wipe these off and can damage the blackboard paint. These are meant regular chalk which will stay on because the handle is below the board. The image included here shows 3 handles just to give an idea of what you can put on the chalkboard. They are sold separately.
A simple, but nice design, with a reasonable price tag.
Check Latest Price
Chalk pen Handle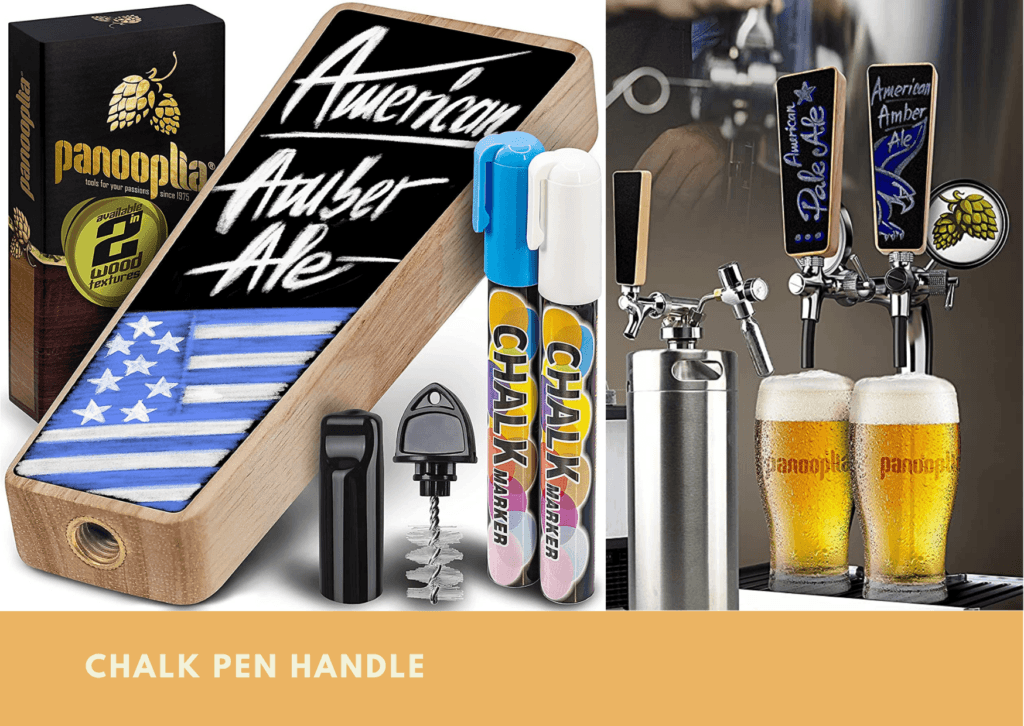 This is another chalkboard tap handle with the added advantage of using chalk pens instead of regular chalk. The blackboard is the actual handle, this means that you actually touch it when pouring. It will not be suitable for regular chalk because you will rub the chalk off with your hands when pouring.
Just as well then that this handle is for chalk pens, and the bonus is that you get two thrown in with the handle. You also get a faucet cleaning brush and sanitary cover, we all like those little extras.
Made from a light wood with an inset blackboard for your beer names or designs. The blackboard space is pretty generous, so you don't have to write in tiny letters that no one can see.
A larger chalkboard design making it a visual delight.
Check Latest Price
Stainless Steel Tap handle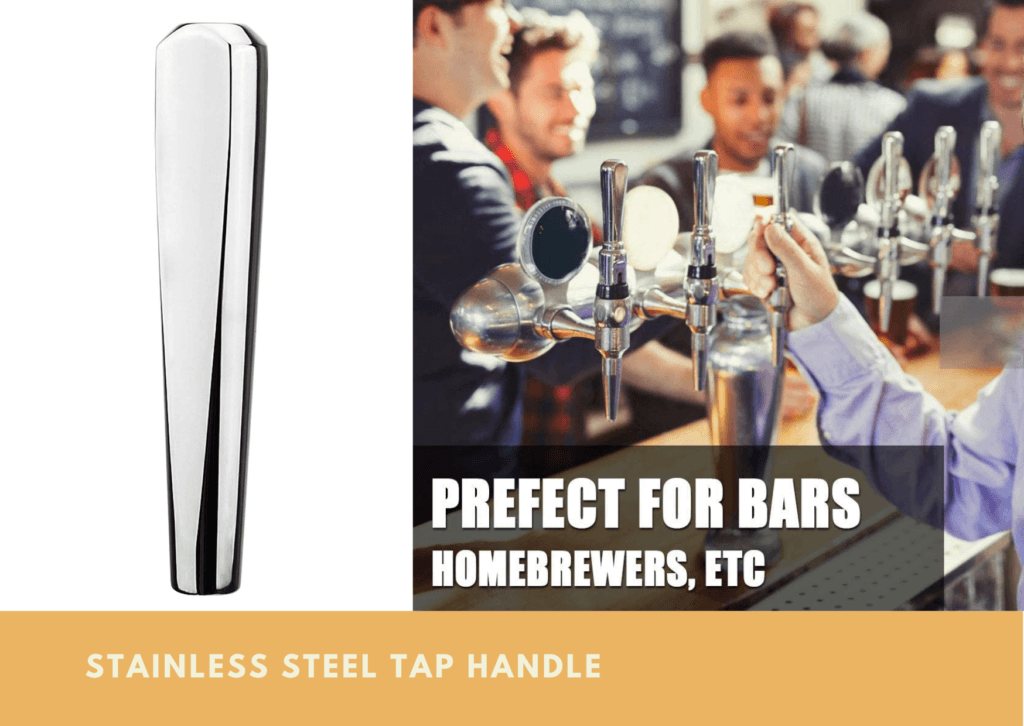 The chalkboard handles are great for displaying what beer you have on tap, but if you may prefer something more subtle. This stainless steel tap handle is a simple design that adds a little class.
Made from heavy-duty 304 grade stainless steel, which is used for commercial, it will be hard wearing as well as looking great. There are no logos or manufacturers marks, just simple polished stainless steel. This means that you could have your name or your design engraved on this handle.
It is sleek, heavy-duty and looks great.
Check Latest Price
Piston Head Beer Tap Handle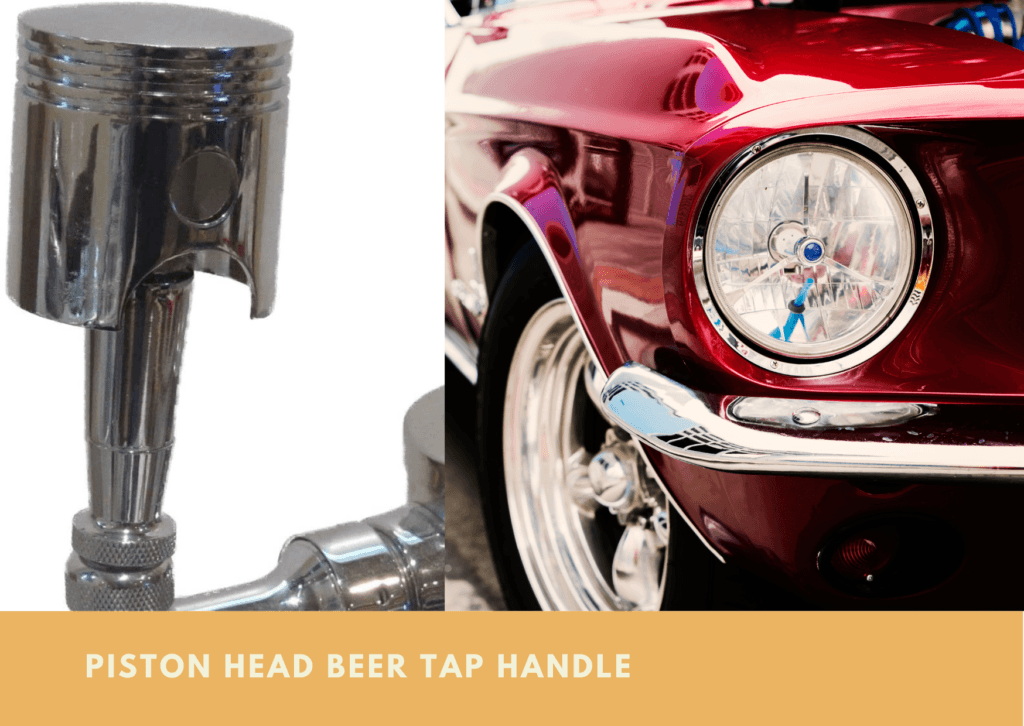 Plain and sleek is great, a chalkboard is practical, so what about something different. How about a novelty beer tap handle.
We know you like beer, but if cars are one of your passions too, then why not combine them. For you petrol heads we have the piston head handle for your on tap beer.
Finished in polished chrome, this piston head will look great on your beer tap. A great novelty item that will be enjoyed by those that love beer and cars.
Impress you family and friends with this piston head handle, or buy one as a gift for that beer loving petrol head in your life.
Check Latest Price
Patriotic Beer Tap handle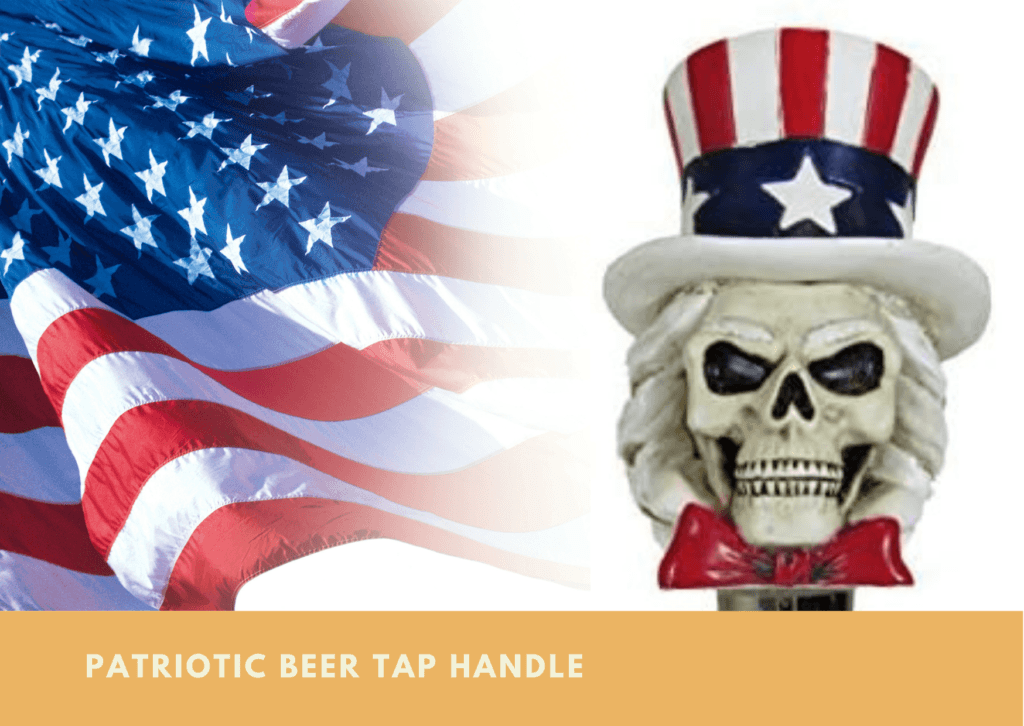 Imagine having a beer tap with an Uncle Sam theme, well now you can with this patriotic beer tap handle. It looks great and is a well-made product. Made from solid resin this will be hard wearing as well as a strong talking point with your friends.
Amazing detail with the skulls head a red tie and the stars and stripes hat this will set off any home bar. No one will miss this beauty sitting on your home bar.
It has great detail, is well-made and oozes quality, surely it's a must have beer tap handle.
Check Latest Price
Darth Vader Tap Handle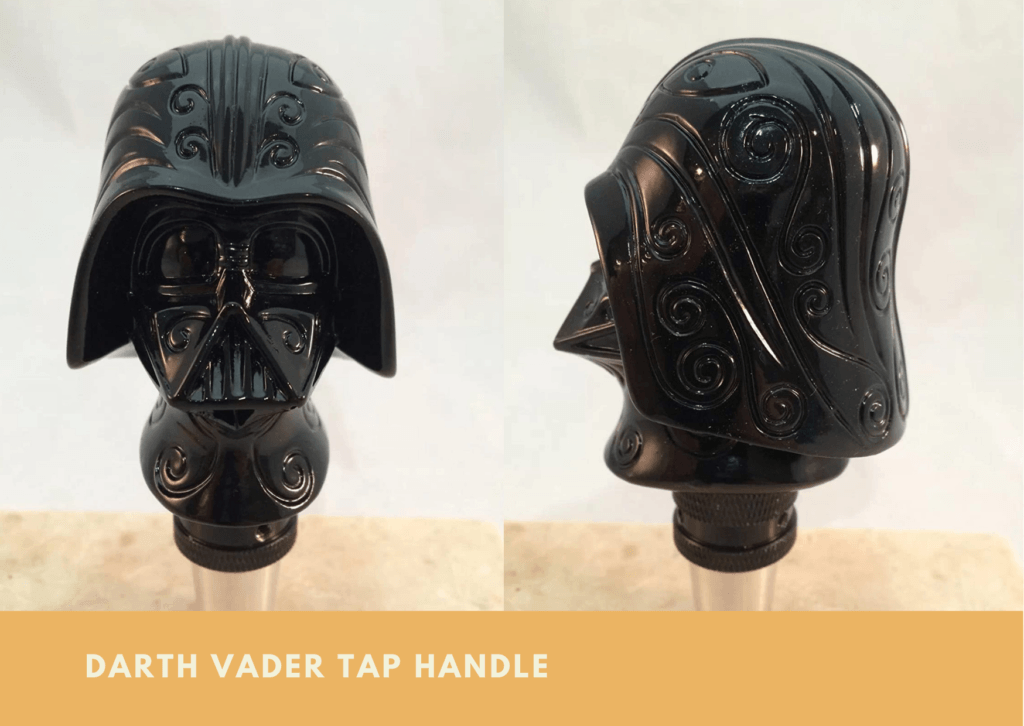 Drink your beer with the force behind you with this fantastic Darth Vader tap handle. This is the beer tap handle for all you Star Wars fans.
Finished in black (obviously), this handle has some great detail and will stand out on any beer tap. As a Star Wars fan, who likes a dark brew, this has got to be the ultimate marry up.
It might not be for everyone, but this well-made handle with great detail is a must have for any fan of Darth Vader or Star Wars in general.
Check Latest Price
Storm Trooper Tap Handle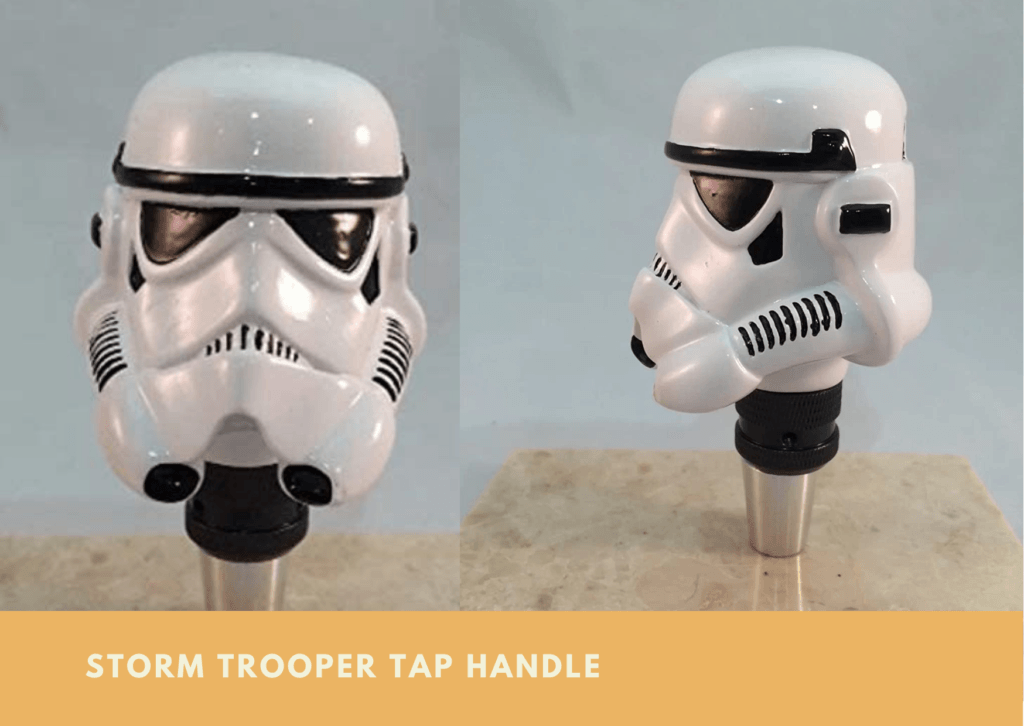 What can I say, I couldn't resist another little Star Wars handle. This one of course is a Storm Trooper and would look great alongside Darth Vader.
Almost worth getting another tap installed, imagine two taps side by side with these characters, it's just too cool. It comes from the same source and is made in the same way with the same great detail.
There is little else to say, except that these are not officially licensed items, but good quality all the same. Just get them and enjoy them.
Check Latest Price
Dragon Beer Tap Handle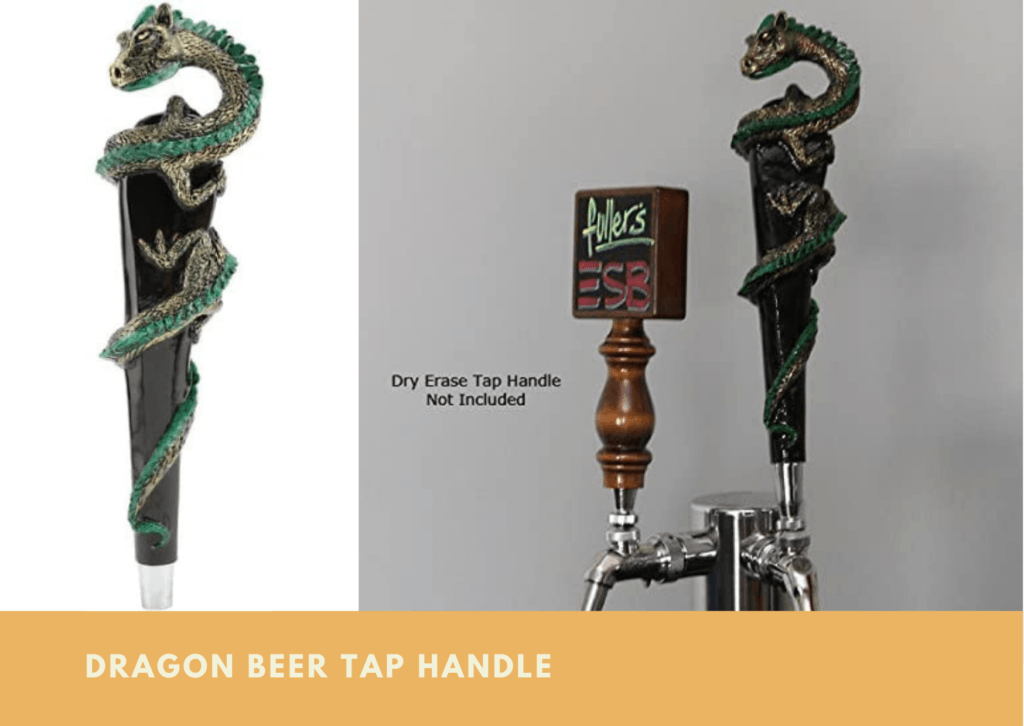 Dragons have appeared in literally hundreds of film and TV over the years, such as Shrek, The Hobbit and of course who can forget Game Of Thrones. The mythical dragon is always a draw, and this one is no exception.
This had painted solid resin beer tap handle has charm and flair, and will not go unnoticed. The black handle has the green and silver dragon draped around it, with the tail wrapped around its length.
If you love a dragon, then you can't miss out on this superb example. What a great way to liven up your beer tap.
Check Latest Price
Real Bullet Tap Handle
You read that right, this is a real bullet casing that has been adapted for a beer tap handle. What a great handle to have, what was once fired from a gun can now be in your hands pouring your favorite beer.
This may not be for everyone, but if you like guns, then this is going to be a top choice for you. The casing is a 50 Cal BMG, which is used in heavy machine guns.
Although the casing has been polished and lacquered, don't expect perfection. This is a casing that has been fired, so you are going to find blemishes and scratches, it adds to the authenticity.
A truly cool beer tap handle with a history.
Check Latest Price
Tiki Man Tap Handle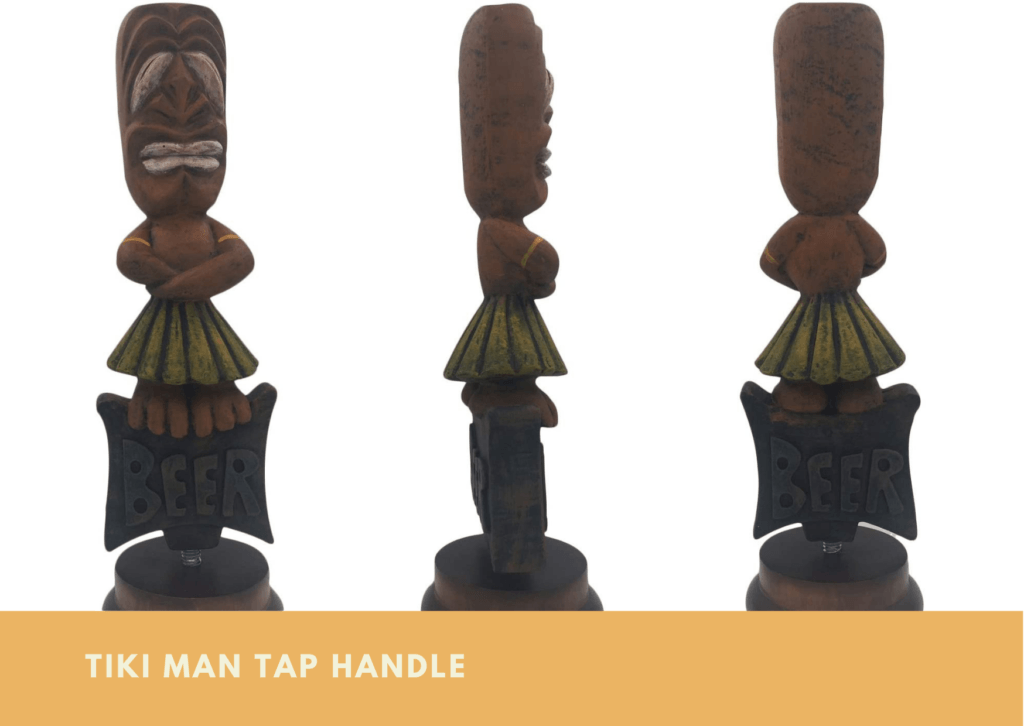 This Tiki Man is ideal for that outside Tiki style bar, or the Tiki themed indoor home bar. If you like Tiki then this is the beer tap handle for you.
This is 10 inches (25 cm) in height, so bear that in mind because that is quite tall. It is hand painted and said made of resin. The Tiki man stands on a plaque saying beer, what more could you ask.
This will be a great addition to a Tiki themed bar, if yours is, then go grab your Tiki man beer tap handle.
Check Latest Price
Final Thoughts
A beer on tap is a great thing to have in the home bar, but why settle for the boring standard tap handles. Why indeed, when you can upgrade and get yourself a stylish tap handle, or a novelty handle to match your bar theme.
There are literally hundreds of beer tap handles to choose from. Buy your favorite, or buy more, you could start your very own collection of tap handles.
Which ever handle you choose, or however large your collection gets, the main thing is to have beer tap fun.