A Welsh beer from Bragdy Lleu a craft brewery in Penygroes North Wales. Their beers are all named after mythical stories from Welsh folklore history. Bendigeidfran was one of those characters and the King of the Island of Britain. So that is all good, but what is Bendigeidfran Red IPA like?
This is one of four beers produced by this small craft brewery in Wales. However although they only produce four beers, this one is a little cracker.
What Is Bendigeidfran Red IPA Like?
Bendigeidfran Red IPA is a great beer, malty, hoppy and a great bitter finish. The nose is not in your face, but has a sweet malty aroma with citrus hoppy notes floating on top. Likewise the taste follows suit with a sweet caramel malty front, followed by a good hit of hoppy citrus. A good carbonation swirls around the mouth and it all ends with a satisfying bitter finish. A nice flavoursome beer which gets a rate my beer score of 4.6 – 5.0.
Its name may be a bit of a mouthful, but so is the beer, a flavoursome mouthful.
Bragdy Lleu
What is Bragdy Lleu?
Bragdy translates to brewery, and Lleu to moon, or light or shine. But is also connected to Lleu Llaw Gyffes a Welsh Mythology hero from the Mabinogion stories.
Seeing as the beers are named after characters from Mabinogi legends, then I guess the latter is where the name came from.
Anyway Bragdy Lleu was founded in 2013 by a group of volunteers in the community of Dyffryn Nantlle. The brewery supports the local community and is passionate about the history of the area.
The brewery has seen steady growth and is now getting its cask beers into pubs across North Wales. It also serves the rest of Wales and beyond with its bottled beers.
Of course it is nice to see a small micro brewery growing, which is the result of recent expansion.
Is Bendigeidfran Red IPA A Decent Beer?
Bendigeidfran himself the King of the Island of Britain sits menacingly on the label, spear in one hand and a crown on his head. Apparently he was a giant of a man who was brave and strong.
That is what the beer is like, brave and strong, and yes it is a decent beer. A good all round IPA full of flavour.
On the pour it settles to a deep brown beer with a one finger frothy top. But hold it up to the light and a beautiful red hue shines from the glass.
In the glass it looks a bold beer, and it is.
Drinking Bendigeidfran
The nose doesn't burst from the rim of the glass, its not in your face. It is more subtle than that, however a fragrant sweet malt wafts up carrying a little citrus hop with it. The red IPA smells like a real beer, you just know its is going to have a good body.
So to, the taste is a similar vibe, a sweet caramel malt shows its hand first, deep and almost creamy. The carbonation swirls the beer around the mouth. And the sweet malt fades as a hoppy citrus walks in without be overbearing.
That is all good in itself, but then a bitterness steals the show with a satisfying finale. That bitterness coats the aftertaste and lingers a while.
I like it, a proper beer with a full body, it's a no nonsense real ale. At 5.0% Vol it just holds on to a session beer status, so a second is fair game. The rate my beer score is a decent 4.6 – 5.0.
M'Lady likes it too saying "Sweet and malty followed by a bitter end. A little too bitter for me." Lou scored it slightly less with a straight 4.0 -5.0.
Bragdy Lleu Beer Range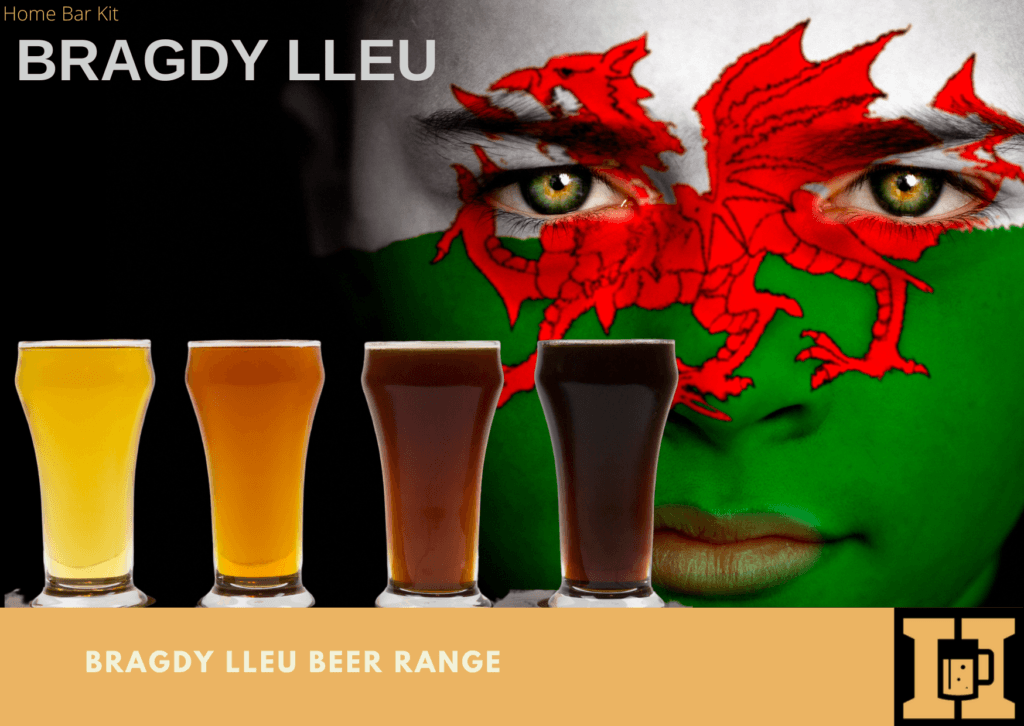 As I have already mentioned the range of beers from this brewery is small, there are only four beers. However if the Bendigeidfran Red IPA is anything to go by, then I look forward to trying the other three.
I am sure the brewery will add to their range over time, but there is nothing wrong with a small range. Especially if those beers are all quality beers.
Here is a preview of the other three beers, which I must hunt down.
Blodeuwedd
Blodeuwedd is a golden ale and inspired by Blodeuwedd a maiden from the legends of Mabinogi. Blodau meaning flower in Welsh and Gwedd meaning face.
This golden ale was created using a variety of meadow flowers, which makes sense and has an array of floral notes. At 3.6% Vol it is an easy drinker, light and smooth.
Sounds like an ideal barbecue beer on a sunny day.
Lleu
Lleu is an Amber ale and yes the beer is inspired by the Mabinogi tales, Lleu Llaw Gyffes was a warrior and a magician.
The beer though is said to be rich in malt with a hoppy blast that may carry a little spice too. At a straight 4.0% Vol it is another session beer to get stuck into.
Gwydion
Gwydion is a traditional ale and again inspired by the magician and trickster of the Mabinogi tales.
The ale being more traditional is heavier on the malt, then the hops. A darker beer with a creamy sweet malt flavour. It weighs in at 4.7% Vol, so fits with a decent strength traditional ale.
I like the sound of Gwydion.
Final Thoughts
So summing up then Bendigeidfran Red IPA is a decent beer, an old style IPA with a good balance of sweet malt and bitter hops.
Bragdy Lleu have done a great job with this beer, which inspires me to try their other brews, I just hope they are on the same level as this beer.
If you have had this red IPA or any of the other three in the Bragdy Lleu range. Then do share your thoughts below, let us know what you think.