The home bar like any bar will house a variety of drinks and these drinks normally have their own glasses in which to enjoy them. The fact that certain drinks have a certain glass design to go with them is not by accident or just a visual preference.
A lot of research and effort goes into finding the perfect glass to best enjoy the drink and the whiskey glass is no exception. Just like a brandy glass or martini glass, the whiskey glass has its own unique design to enjoy the many types of whiskies produced around the world.
Some say a certain type of design can change the taste of the drink and enhance the drinking experience, but I am not going to get into that, I will leave it to the experts. A home bar needs glasses to serve the drinks, and why not get the right glasses for the right drink. So Let's look at the right glasses for whiskey and pick the best whiskey tumblers for your home bar.
Whiskey Vs Bourbon Vs Scotch
Not all brandy is cognac, but all cognac is brandy and not all sparkling wine is champagne, but all champagne is sparkling wine. It's true that not all whiskey is bourbon, but all bourbon is whiskey, but what about scotch then.
I don't know why I started this.
It is also true that not all whiskey is scotch, but all scotch is whiskey, there's a pattern forming here. Okay, so scotch is a whisky made in Scotland, that's it, and don't say you have spotted that I have spelt it differently.
Now we have the whisky versus whiskey question too.
To put it quickly and simply whisky is made in Scotland, Japan, Australia, Canada and a few other countries. Whiskey spelt with the e is made in Ireland and America.
Back to whiskey and bourbon, well bourbon is a whiskey, but to be a bourbon it must meet a certain criteria. A bourbon must contain at least 51% of corn in its grain mixture (mash), be aged in new charred oak barrels and be distilled at 160 proof or less.
We could get into other differences between lots of whiskies and bourbons, but Let's just get on with looking at some great glasses for your whisky, whiskey, bourbon or scotch.
The Whiskey Glass
There are different types of glasses to house your favorite whiskey or bourbon.
Oh know, here we go again.
I will keep it brief and try to include at least one of each of the most popular whiskey glass designs.
We have the well-known whiskey tumbler, the highball, the snifter, the Glencairn and the tulip glass. If you want to know more about these different glasses then the website World Whiskey Day defines the differences between these glasses pretty well.
It also includes a newcomer to the glass world which was a result of a mistake in the glassblowing process. The NEAT glass which stands for naturally engineered aroma technology is a little odd, but is the newest way to appreciate your whiskey.
Enough now, get on with the glasses.
Premium Whiskey Glass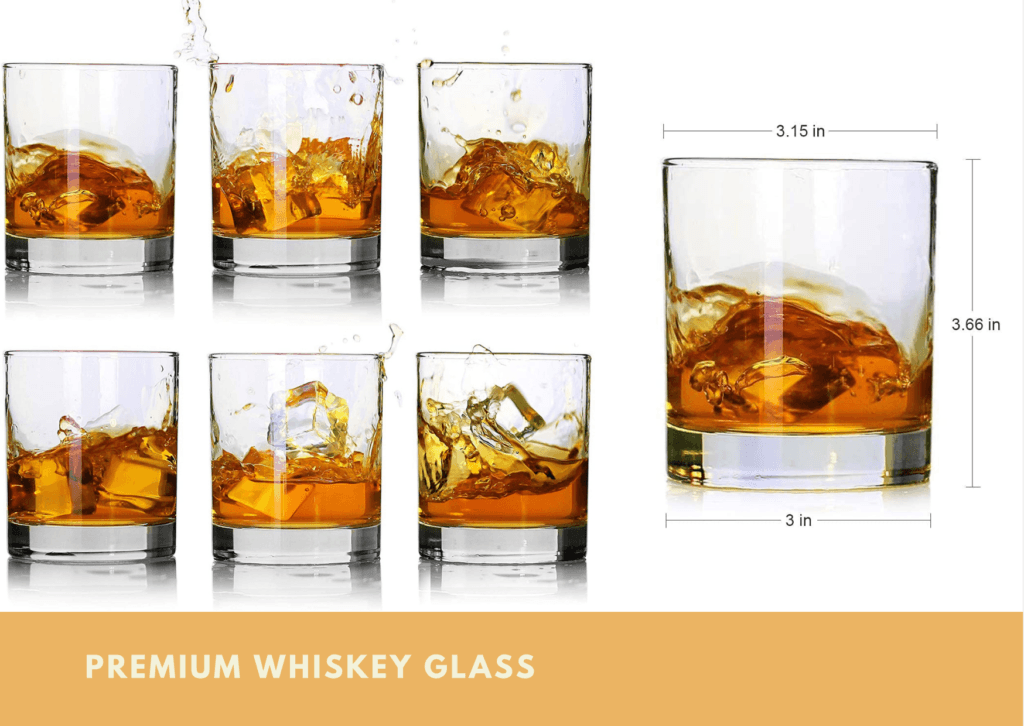 To kick us off we have the traditional style whiskey glass, it is simple in design and does the job perfectly. The low ball style tumbler is great for any scotch, whiskey or bourbon you like, or even short cocktails or water if you must.
These glasses stand around 3.5 inches high and will hold about 11 ounces, with a heavy base and clear glass they are the old style go to glass for your whiskey.
Whether you take your whiskey straight, with ice or with ice and soda these will do the job and look great doing it.
Square Whiskey Glass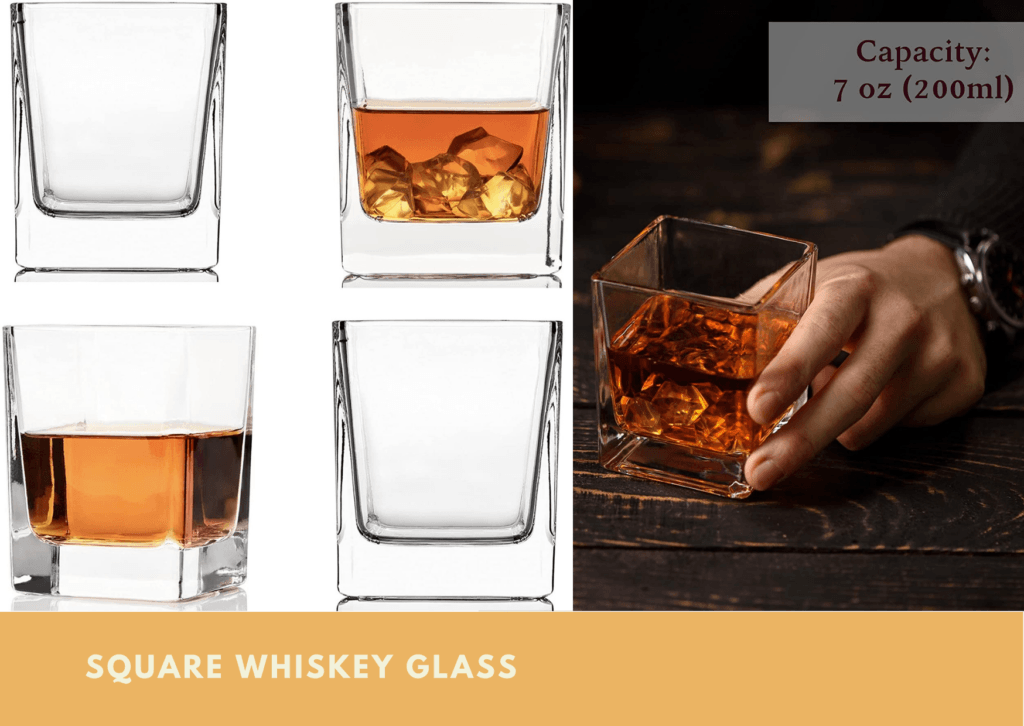 If you are not keen on a round glass, then go square with this stylish but sleek cube glass. It has a weighted bottom with clear glass and holds around 7 ounces.
These glasses are pretty sturdy on any counter because of the square base, they also store well on a shelf too. Although these would be a great addition to any bar, they won't blend with the other round glasses. You may have to go all square.
Highball Glass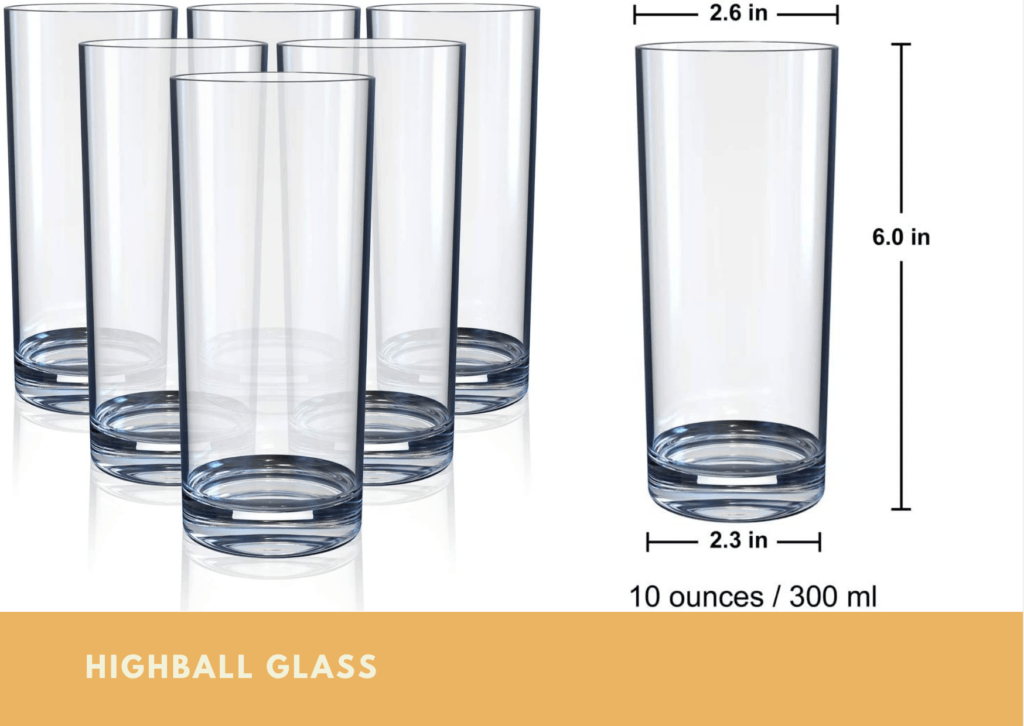 This is the big brother of the traditional whiskey glass like the first one, and a very versatile glass, serving the likes of water, beer and cocktails.
The glass is around 6 inches in height and has a 10 oz capacity, which makes it great for long whiskey drinks such as whiskey and soda. It gives room for more ice and more mixer for those that prefer a long whiskey drink.
These are staple glass for any home bar and everyone should have a set.
Glencairn Whiskey Glass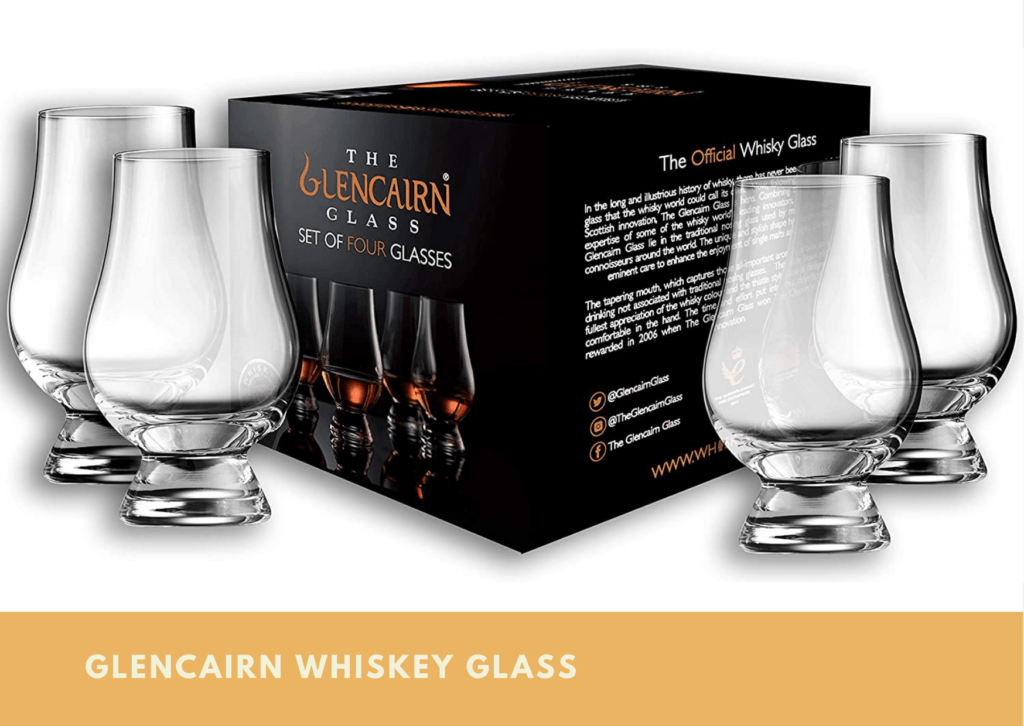 Now we get into something a little more serious, this Glencairn glass is the real deal when it comes to whiskey or bourbon. You may think it is an unusual shape for a whiskey glass, but it has been developed by experts exclusively for getting the best results with your whiskey.
The glass is used in distilleries and is ideal for nosing and tasting whiskeys with is wide bowl and tapering mouth. It has become the official whiskey glass.
If you are a keen whiskey lover, then this might be the glass for you, and you may well impress your family and friends with the glass and knowledge to go with it.
The NEAT Glass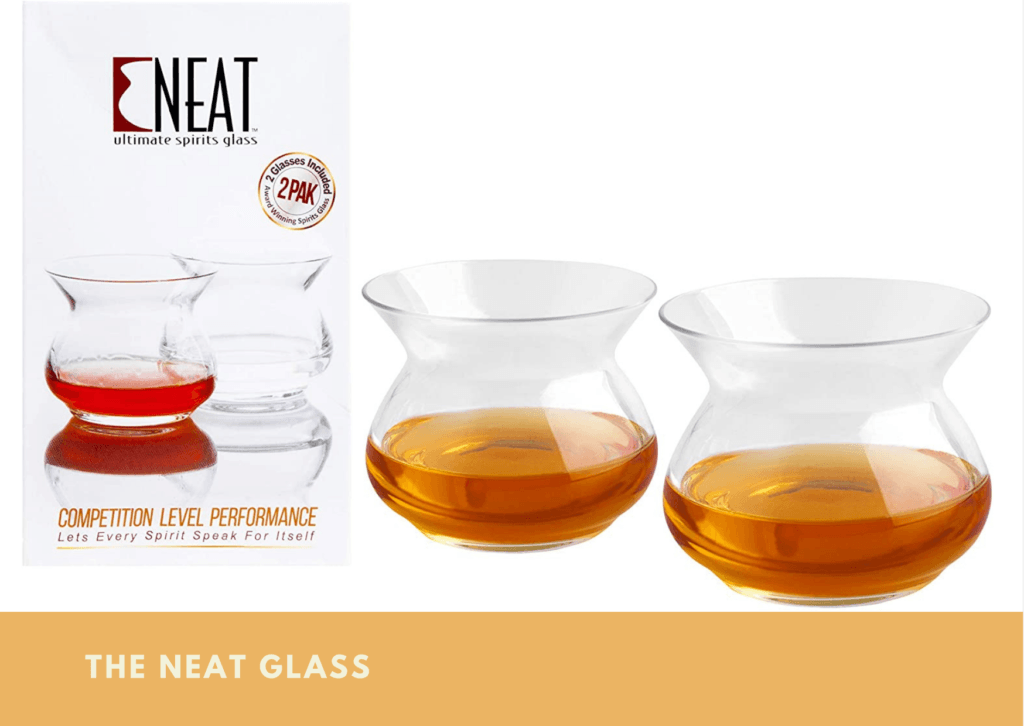 Here we go with the official competition judging glass that was conjured up by science through a simple glassblowing mistake. Not for whiskey alone, but a glass for all spirits it is shaped to enhance the nosing and taste experience.
It is apparently the widest used judging glass in the world and seen to be the best spirits glass by many experts. It is a little odd in shape, but that is what makes it a great glass for tasting the spirits without the nose burn.
I think if you are looking to find a new favorite whiskey and are going through a tasting period, then this would be a great glass to have in your collection, but for everyday use, I would go for a more traditional glass.
The Tulip Glass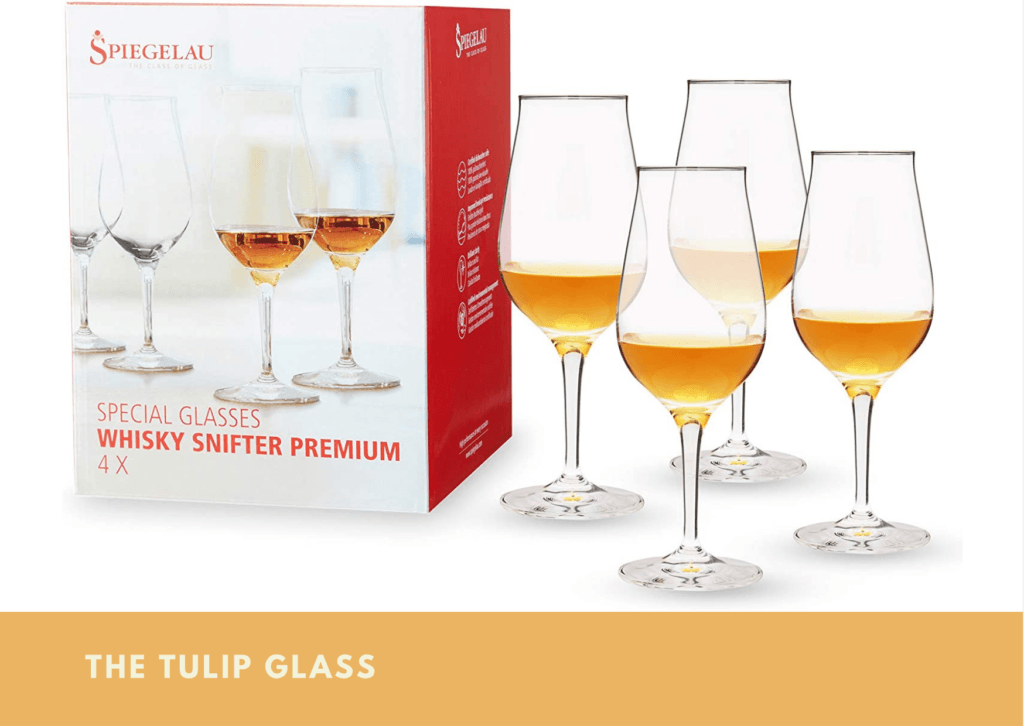 This tulip style glass is designed again for getting the most out of the aroma and therefore the taste of your whiskey. This style of glass is favored by distillers and blenders and those that appreciate the whiskey like a connoisseur.
The bowl is deep bowl and narrow neck make it perfect for nosing wines, and the long stem can be held for cool or cradle the bowl to warm.
A good-looking glass that also serves the purpose of tasting, which makes it a great glass for any bar collection.
Grand Canyon Whiskey Glass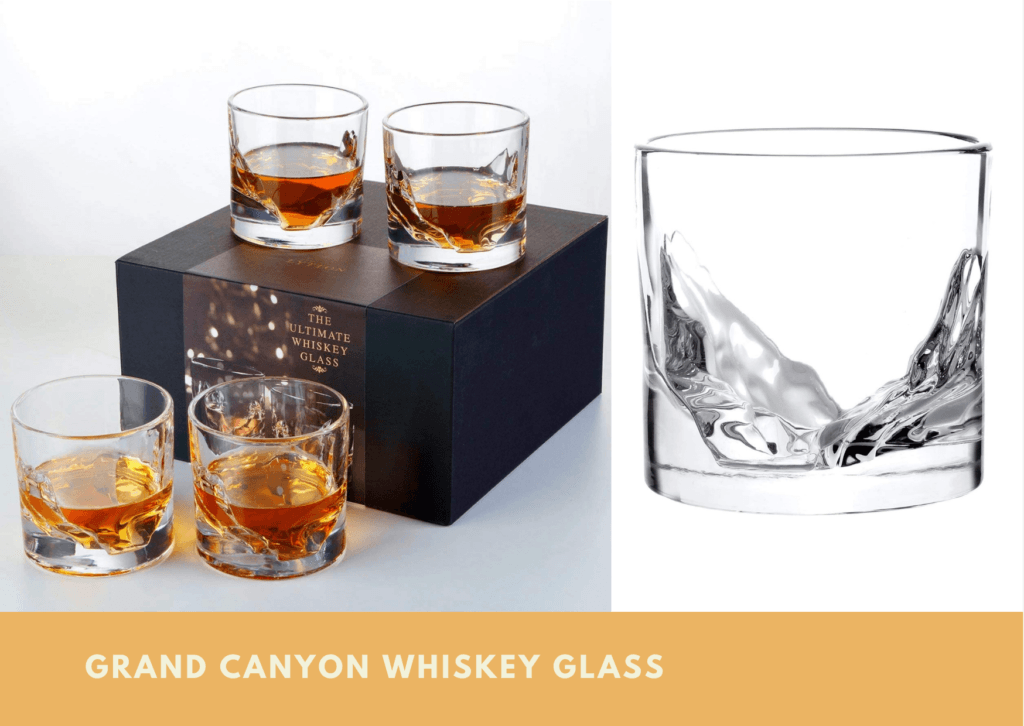 Now we have explored the different types of whiskey glasses and the ones that are good for tasting, it's time to just look at some great whiskey glasses. Although this grand canyon is a novel looking glass with its built in mountain range, it is said to aerate the whiskey by mixing with air.
Whether they do doesn't really matter, they just look damn good and have a decent weight to them which makes them feel substantial in the hand. Standard ice is no problem, but a bigger ice ball will not fit properly.
If you want a good-looking whiskey glass that is a little different, then these babies will suit.
Angled Whiskey Glass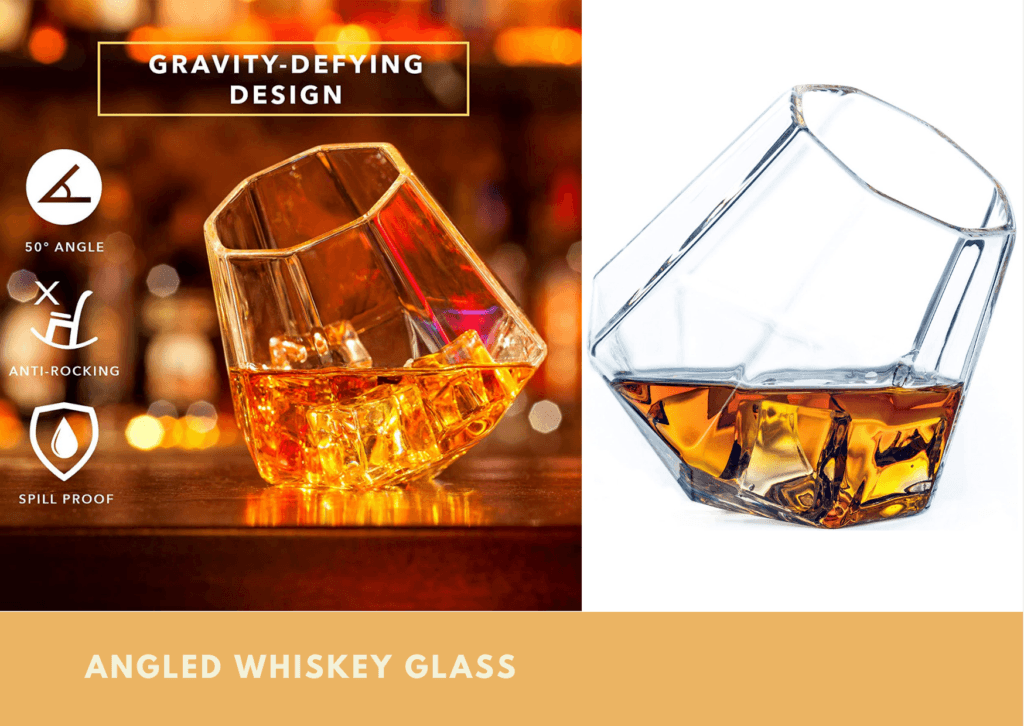 Another whiskey glass with a difference, these glasses are angled at 50 degrees and are anti rock and spill proof. A bit weird at first because it almost feels like you are laying your glass down, but they are really cool.
The rim is quite narrow so a large ice ball will not fit, just stick to standard ice. The glass that is inspired by diamonds also claims to aerate your drink when it is poured and swirled around the glass.
They may not be for everyone, but they are cool and they are definitely a talking point.
Unusual Whiskey Glass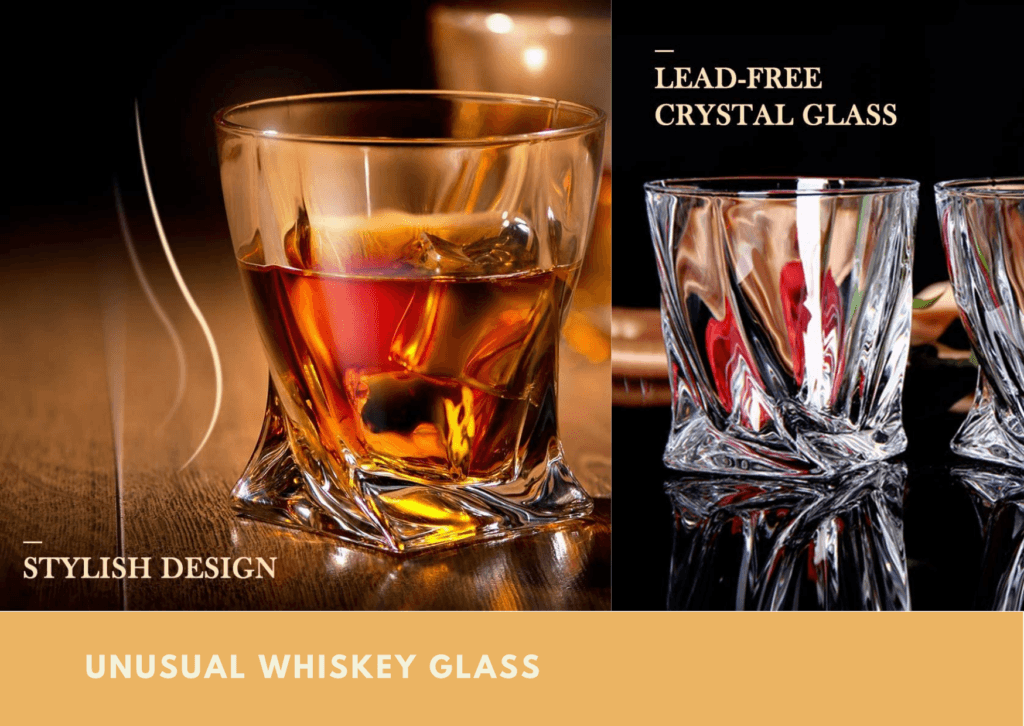 I say unusual because they are, with a kind of scrunched base and distorted wall, they look like no other whiskey glass. Boasting a 10 oz capacity these are a good size and a good weight too.
Made from lead free crystal they might not be to every ones taste, but do look great and fit in the hand nicely. There are no claims that these glasses aerate your drink, they are just good-looking whiskey glasses.
The unusual design will make them stand out on any bar top, and be a talking point too.
Hand Cut Whiskey Glass
To finish we have these special hand cut and crafted whiskey glasses which do look amazing and have a decent weight to them. They are pretty large with a 12 oz capacity and 4 inches in height, so plenty of room for ice.
The hand cut design is a diamond pattern and looks great when the light catches it.
These glasses have the traditional look, but with the diamond pattern just look a little more special and would fit into any bar setting.
The Best Glass
There are some great whiskey glasses here, amongst them may be the best glass or not. One thing is for sure, the glasses here either serve a purpose like nosing and tasting or just look great.
Whether you are drinking whisky, whiskey, scotch or bourbon this selection of glasses will do the job and do it well. Share your favorite glass from this selection below and enjoy a little tipple of whiskey at the same time.
I do like the angled whiskey glass, but you can't beat the traditional style, which do make the best whiskey tumblers.