A home bar is a place to have fun, enjoy yourself with family and friends and chill. What better place in the house to have some fun stuff to enjoy while you are entertaining at your home bar.
It doesn't matter what size your bar is or how much room you have to spare, there are some great small fun things to add to your bar, as well as some pretty big fun kit that can eat into your space.
Whether it is a cool item that is just for show, or something that you physically use, as long as it is fun then it is worth adding to your bar space. I have looked up the very best cool home bar ideas from the tiny to the giants, this is the fun stuff for your home bar.
Coolest Home Bars
The size of your bar does not dictate how cool and fun it is because there are products to suit every type of bar. So remember you don't have to have a whole room kitted out as a bar to make it the best, it would be nice to have a whole room for your bar, but not always possible.
A small cabinet on the wall can be just as exciting and fun as the biggest of bars, and there are ways to make the tiniest of home bars shine bright and bold.
Whether it be a bar mat or a jukebox, there will be something that will suit the bar you have and make the most of the space it forms.
Personalized Bar Runner
A great way to add a little fun to your home bar is to include a name for your bar, whether it be your own name or something a little more quirky. You can then add a few items that are personalized with your bars name, this could be a bar sign, a mirror, beer taps or some bar runners.
All these add the fun factor to any bar and are readily available so can be purchased easily. The one featured here is a basic bar mat that measures approximately 18 inches x 10 inches which is 450mm x 250mm and will just add that something extra to any bar top, plus it helps to protect your bar top from spills.
Just add what you want included on the mat when ordering and you will have your very own personalized bar runner that will sure to be a talking point with your guests. The best thing is, your bar runner is not going to take up a heap of space, neat tidy and looks great, a total winner.
Retro Style Jukebox
This one is going to take up some room, so may not be viable if your home bar is tight on space. If you have the room, then a jukebox is well worth thinking about, and this old style one will add nostalgia as well as fun to any bar.
Standing 48 inches tall, which is 1220mm and 59 inches/1500mm if you include the optional stand which can store CD's too, it is an awesome bit of kit.
It has a CD player, radio and Bluetooth, so you can connect with other devices to play your playlists. There are 4 lighting moods to suit and a remote control too.
This will light up your home bar and be the center of attention with you and your guests.
1950's Payphone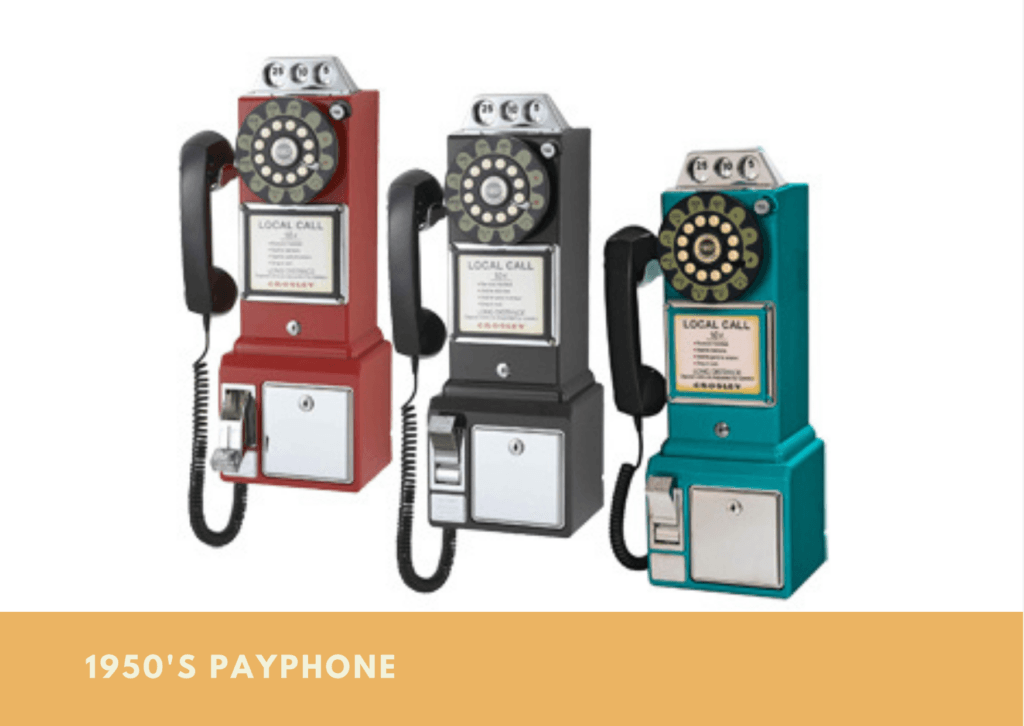 Sticking with retro, how about this really cool 1950s style payphone to enjoy in your bar, it works well and looks great too. Although it looks like it has a finger dial plate, it is actually a push button design making its operation modern and its looks old style.
The coin feature does work, although you don't need to put any coins into to make a phone call, the feature does work and adds to the fun factor of this product. It comes with a coin bank at the base, a good way of saving some money every time you make a phone call.
This cool retro payphone stands about 18 inches in height (460mm) and although most people would mount this on the wall, can be stood on a table-top, or of course a bar top. There are 3 colors to choose from, either red, blue or black.
A great fun product that is really cool and is bound to wow your guests.
The Star Projector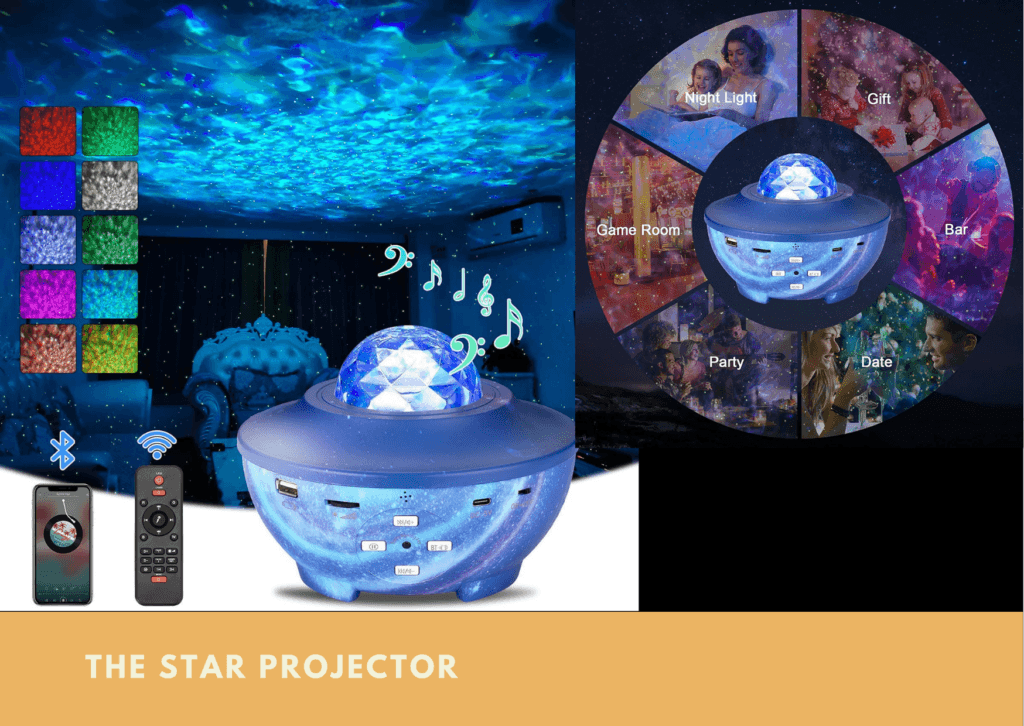 If you want to create a laid back ambiance in your home bar, then this star light projector can do just that with a music connection too.
Fill your bar with stars or waves, or a combination of the two, with 21 multi mode effects you can get the right atmosphere for your mood. There is a built in music speaker to connect to via Bluetooth which will work with the visual aspect, meaning the waves will change with the music beat.
It comes with a remote control and has 4 brightness settings as well as 6 color settings to get the right feel for your bar.
A nice bit of kit that will set a relaxing feel to a bar setting as well as reacting to the beat of the music.
Smart Golf Simulator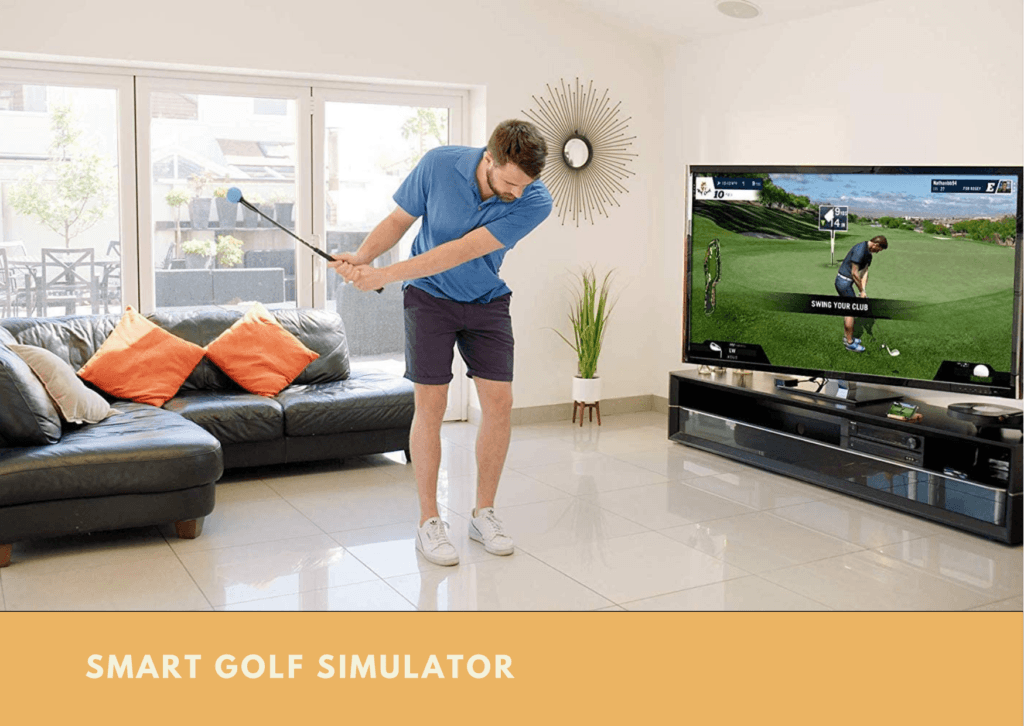 Check Latest Price
The golf fans among you may want to enjoy the smart golf game simulator, it is something you can play with your friends and family right in your bar. You will of course need a TV screen in your bar, but hey we all have one of them, what else would we watch sport on while enjoying a pint.
The golf game enables you to play some of the best golf courses in the world, such as Pebble Beach, St Andrews and Wolf Creek all from the comfort of your own home, or bar. It allows you to play head-to-head with your friends, or you can play by yourself just for the practice.
It is compatible to play on your smart phone, but a TV would give a better experience, especially if you are playing along with others.
A great way to enjoy your home bar, just be careful with the swing stick and those glasses of beer, we don't want any accidents..
Pop A Shot Basketball Game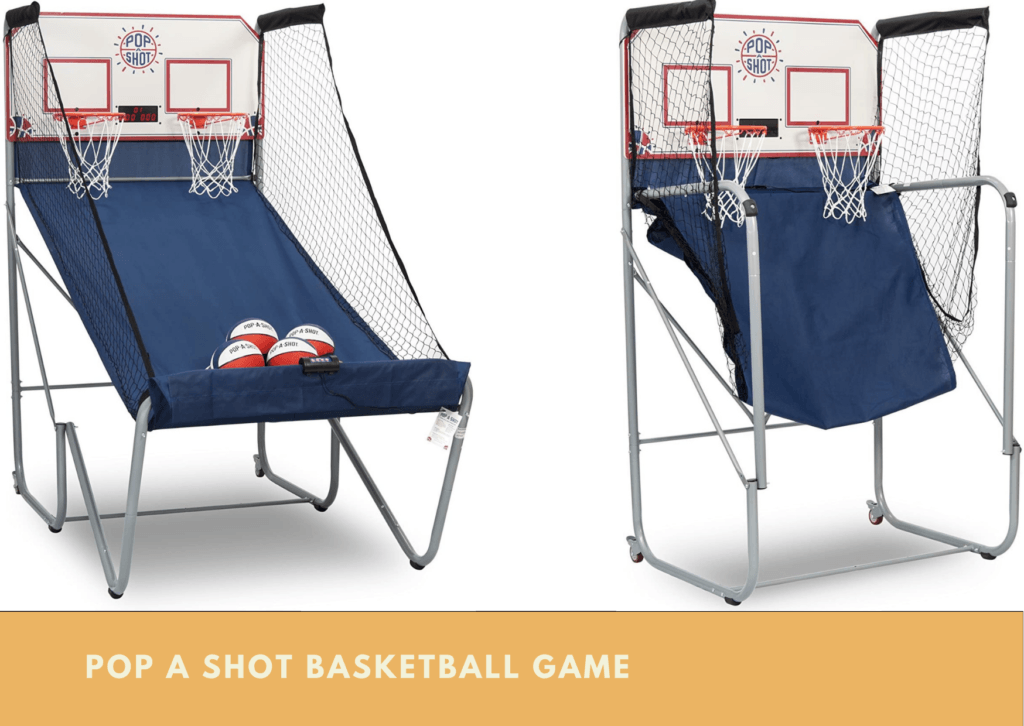 This is another cool game for your home bar, but it will require a bit of space with a width of 45 inches/1143mm, a depth of 88 inches/2235mm and a height that adjust from 82 inches/2082mm to 94 inches/2387mm, so bear that in mind.
There are 16 games to choose from and an accurate 3 digit scoreboard with an audio jack for external speakers, you will get 7 balls which means more play time. A good feature is how it can fold so you don't have to have the depth fully out when not in use.
A favorite game and if you have the room, then this would be a really cool game to have in your home bar.
Diamond Whiskey Decanter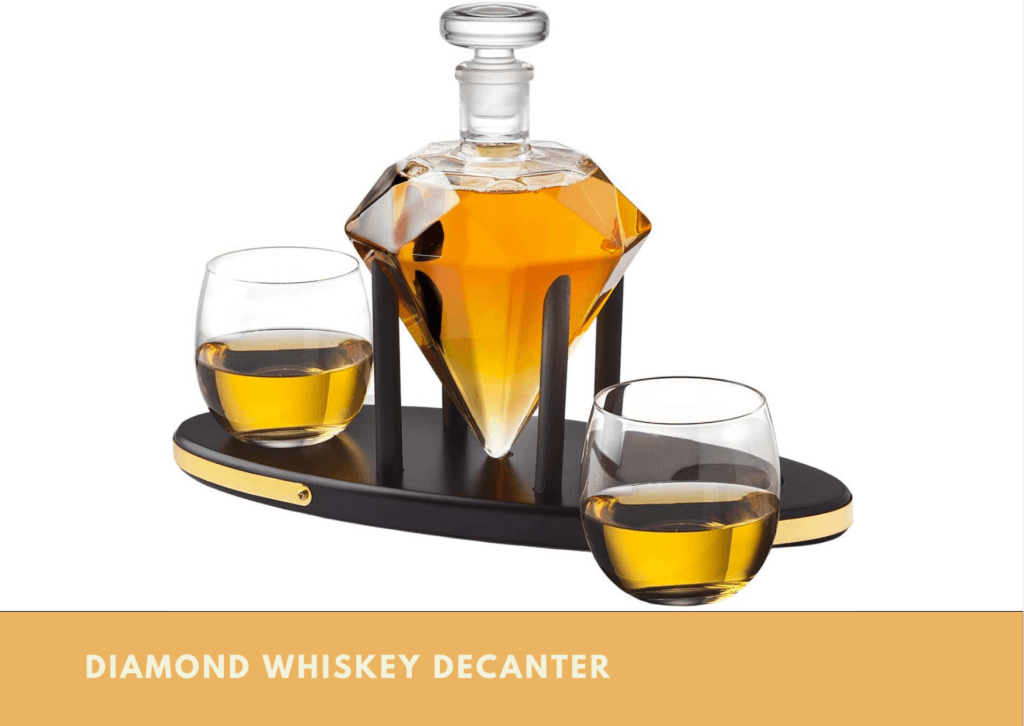 If this is not a really cool home bar idea, then I don't know what is, it is stunning and will look great on any bar. The diamond decanter on a wooden stand along with the 2 simple designed whiskey glasses are just so beautiful.
The decanter will hold around 850ml of your favorite whiskey or bourbon and you just know it is going to taste great when you pour it into the elegant glasses.
The glass is mouth blown lead-free and the stand/tray is wood with gold edging which just makes it look a luxury piece.
Just picture this classic stunning whiskey decanter set on your bar, if you like whiskey then its got to be a winner.
Neon Wall Clock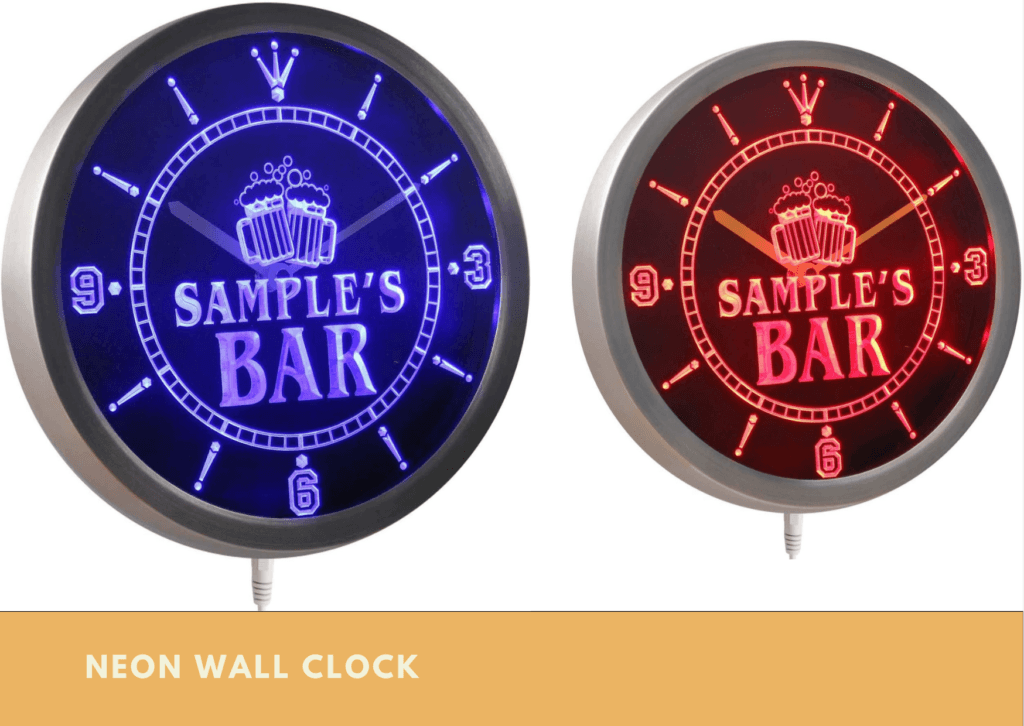 It is always handy to keep an eye on the time when you are having a little tipple in your home bar, and what better way than with this great neon sign wall clock. You can personalize this to have your name on it or anything else you would like it to say.
The clock is available in either red, green or blue and is 10 inches/250ml is diameter. The lights which are LED's are powered by AC power via the cord and the clock part is powered by one AA battery.
It's a cool looking clock that will brighten up a home bar perfectly.
The Cool Bar
When it comes to making your home bar the coolest of places, there are a lot of products to help you out. As we have seen you don't always need a lot of room to pull it off, just a simple bar runner or neon clock will do the trick.
An ultra fine jukebox or arcade game will fill empty voids for those that have a whole room or basement for their home bar. Varying space or varying budgets will all be accommodated by the amount of products available for your home bar project.
Share the coolest thing you have in your home bar below, and which of the ones I have featured is your favorite.
Enjoy your bar and keep it fun.