Wine, it's a beautiful thing, whether you favor white, red, or are an inbetweener and favor a nice rose. Whichever color you like, they all have a place at your home bar, and Just like Martini or Brandy they need an appropriate vessel to be enjoyed.
The history of wine goes back thousands of years with reports that China were producing it in 7000 BC, so it has been around for a while. All around the world we enjoy this amazing drink. Being produced all around the world, we all have our favorite producing country, mine being Chile.
We probably all agree that it is a great drink, so it must deserve a great glass to be consumed and enjoy perfectly. Any home bar then, needs the right glasses for the right drink. We look at some cool wine glass designs to add to your collection and do your wine justice.
Wine Glass Designs
There are some beautiful wine glass designs, some of them traditional and accepted, others unusual and controversial. Now you may be thinking, hang on I just want to buy some great wine glasses, what could be controversial about that?
I agree, but for the connoisseurs of this world the design and shape of a wine glass is of paramount importance. The basic parts of a wine glass are the bowl, stem and foot, but we now have wine glasses that have ditched the stem and foot. How dare they, it's sacrilege.
You see what I mean when I say wine glass designs can be controversial.
There are different types of designs for white wine glasses as opposed to red wine glasses, with the latter having a deep wider bowl for the allowance of oxidation for those all important aromas to be savored. It is an interesting concept that makes for a good read if you are interested in the shape of glasses and their relationship with flavor.
On the other hand there are those that form another camp saying that the size and shape of a wine glass has no bearing on the taste of the wine within it. Apparently there is no scientific proof that backs up the claims about glass shape and the taste of wine.
I guess the debate will continue, but I say lets not get bogged down with this when we are looking for some great wine glasses to grace the bars in our home. Why not just enjoy our wine in a glass we love, a glass that looks good and feels good.
Lets just take a look at these top picks and you decide for yourself, there are some beauties.
All Purpose Wine Glasses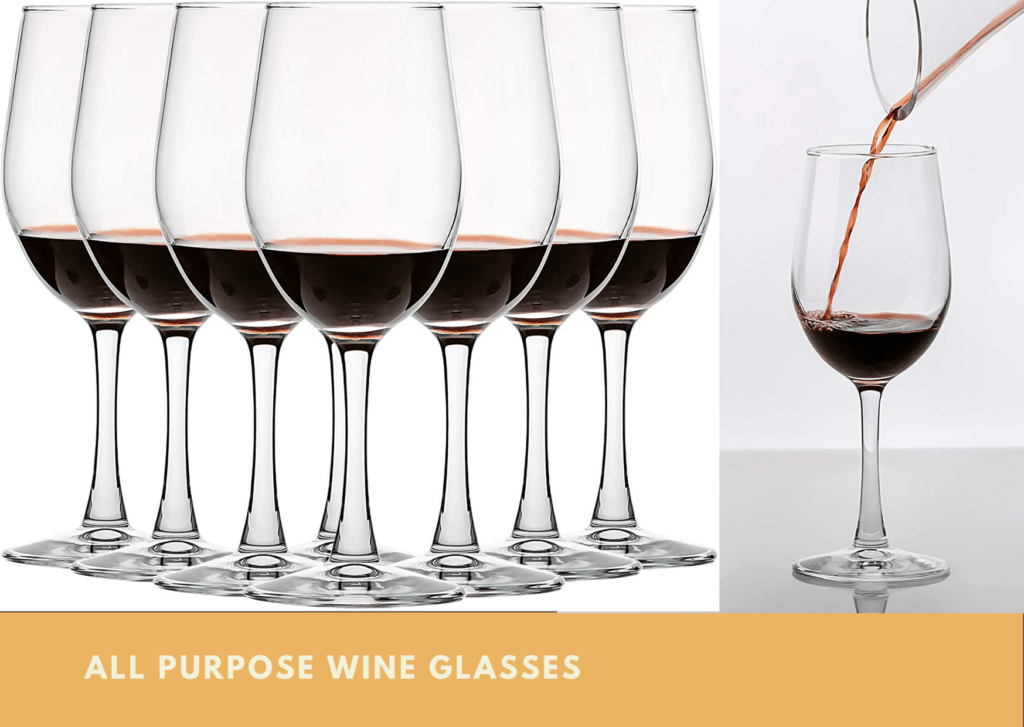 [maxbutton id="3″ url="https://amzn.to/3w9UrmE" window="new" ]
To kick things off we have gone traditional with these all-purpose wine glasses from C Crest, they look like wine glasses and have a good sized bowl sitting on a traditional stem and foot. These ought to keep everyone happy being of simple straightforward design.
Made from high quality glass which is lead-free and holding a decent 12 ounces, the simple yet elegant design will please any bar setting. They come in a set of 8 which is a decent amount of wine glasses for a home bar.
Whilst they may not be a fancy design or made of crystal, they are a good everyday wine glass that looks the part. Well worth the small investment needed for these high rated glasses.
Spirits Stemless Wine Glasses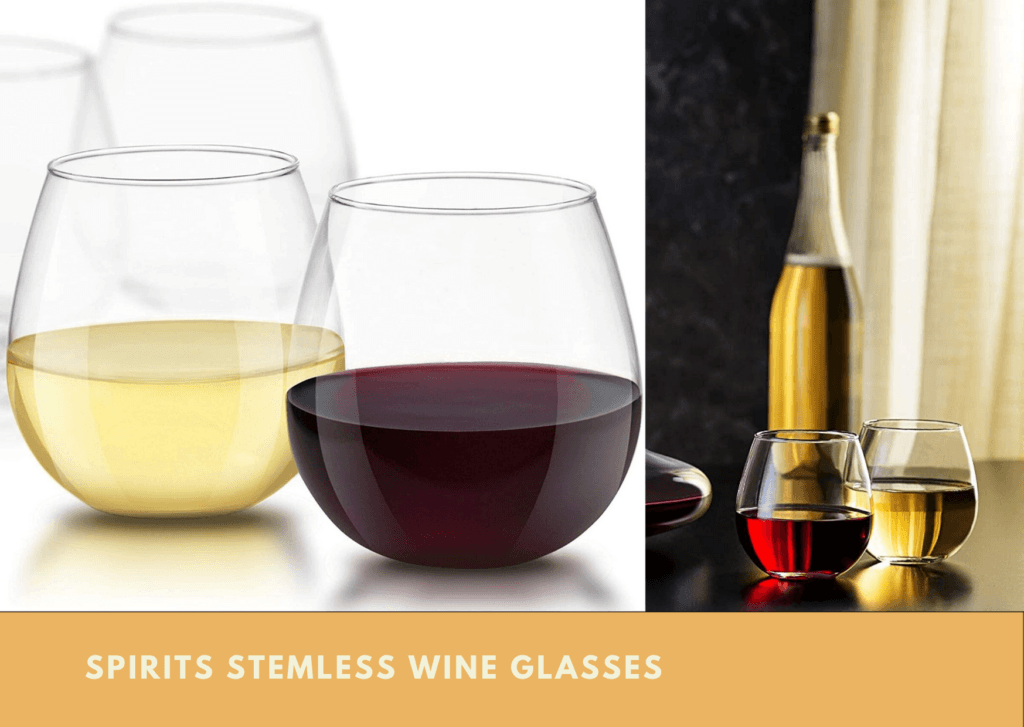 [maxbutton id="3″ url="https://amzn.to/3g6LKUm" window="new" ]
After first giving you the traditional option I have dived in early with the stemless wine glass from Joy Jolt that may spark off a debate with the connoisseurs among us. Don't go there, if you have to have a stem and foot on your wine glass then move on quickly, there is nothing to see here.
If you are open for change when it comes to a glass for your vino, then the modern design and the sheer stemlessness ( not sure that is a real word ) of these glasses may well be for you. These generous 15 ounce glasses are said to be shatterproof, but being glass I cannot see that.
I know they don't have the traditional stem and foot, but they do look good. They are elegant and fit in the hand beautifully, which could spark off a debate about how holding a traditional stem keeps your wine cooler for longer.
Let us not go there either.
Love them or hate them, these stemless wine glasses are highly rated by those that have bought and used them. If you are not a traditionalist, then they could be a contemporary option for your home bar.
Cylindrical Wine Glasses
[maxbutton id="3″ url="https://amzn.to/3vjz2WZ" window="new" ]
Here comes another non-traditional design for the more adventurous wine drinkers with these Cylindrical glasses from Gnimihz. Made from lead-free crystal and weighing in with a generous 16 ounces these contemporary glasses do look and feel so modern.
If that is the feel that you want for your home bar, then these will fit the bill perfectly. Apparently the unique bowl shape allows the wine to breathe and release it's beautiful aromas, who mentioned aromas?
All joking aside, these set of 4 hand blown glasses may not represent the wine glass tradition, but they look great with matching quality and style. The quality of these glasses shines through with their 100% star rating, you don't see that often.
Hand Blown Crystal Wine Glasses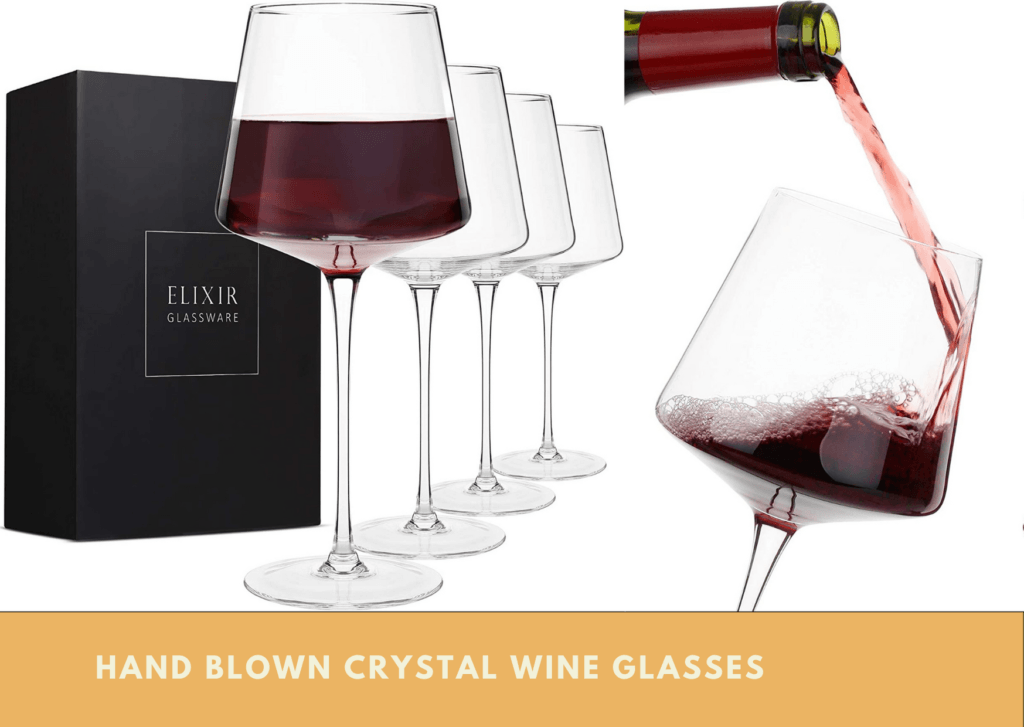 [maxbutton id="3″ url="https://amzn.to/3pMuKpS" window="new" ]
We are going upmarket with these classy hand blown crystal glasses from Elixir Glassware. They may not be completely traditional in their bowl shape, but at least they have the stem and foot intact.
These are lead-free crystal and do look exquisite, with a tall stem and a very generous 22 ounce bowl that is designed for red wine. I think we can get away with a white or rose served in these beauties.
These elegant but big glasses come in a set of 4 and carry a pretty high rating from those that have bought them.
White Wine Glasses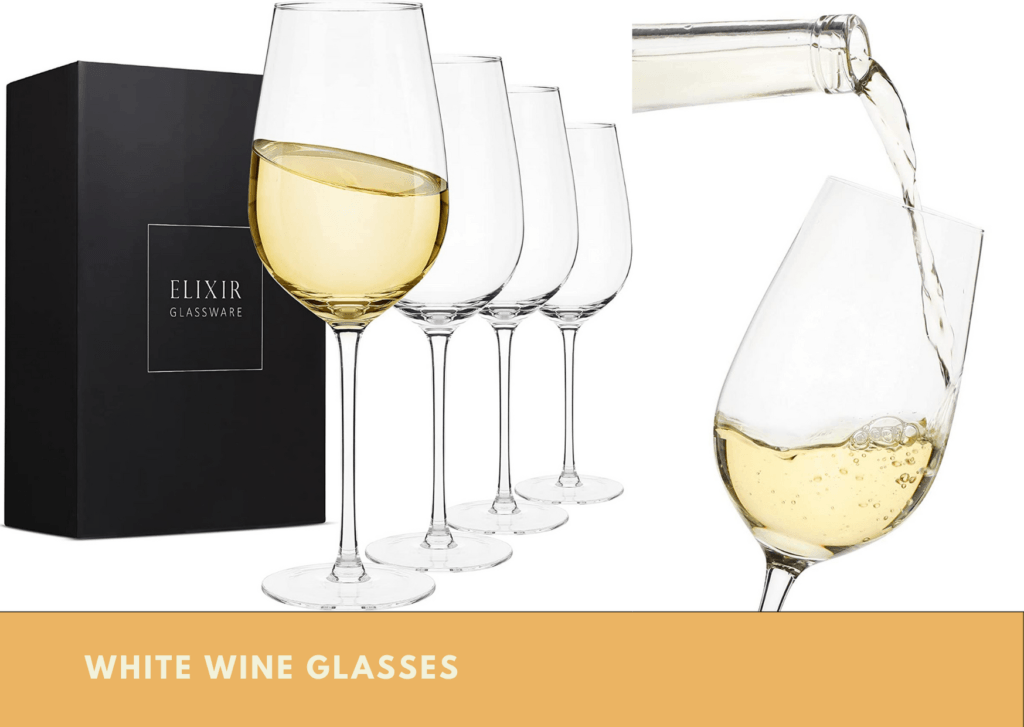 [maxbutton id="3″ url="https://amzn.to/3vcFqz3″ window="new" ]
The last wine glass was the traditional shape of a glass made for red wine, so I thought I would add a glass made for white wine. Again I don't think it really matters if you decide to enjoy a red wine from this glass made for white.
Another hand blown crystal glass from the same makers Elixir Glassware. The difference in shape is a taller more slender bowl, that's the part that suits white wine ( or rose), with a similar stem and foot.
The spec is almost the same as the red wine glasses above in respect of coming in a set of 4 and being lead-free crystal, but the bowl is smaller being only 18 ounces.
If you are buying glasses just for white wine then these would fit the bill, they are elegant and stylish.
Floating Wine Glasses
[maxbutton id="3″ url="https://amzn.to/3isKjRS" window="new" ]
I couldn't resist these, I just had to add them for the fun factor, the floating wine glasses from Mielisen are too cool. These are perfect if you have an outside bar and pool combination, not much point in a home bar without a pool. I don't think they would work in a hot tub either with all those bubbles.
They are made from Tritan plastic which makes them supposedly virtually unbreakable, not sure about that, but I guess they will be tough though. This set of 2 have the traditional bowl shape and a capacity of 21 ounces so no getting in and out of the pool every 5 minutes for a top up.
A novel idea and great fun too, just remember to drink responsibly, especially when a pool is involved.
Stainless Steel Wine Glasses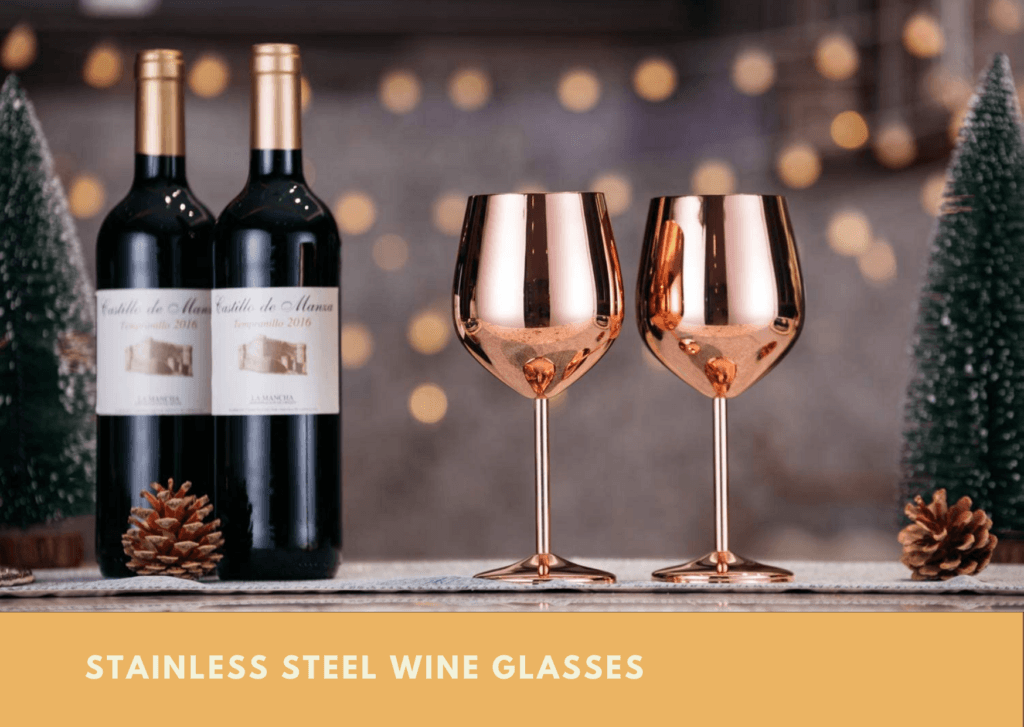 [maxbutton id="3″ url="https://amzn.to/3g7WWAg" window="new" ]
Something a little different from Jillmo, these have a traditional shape, but instead of glass they are copper coated stainless steel. They look good, are lightweight and durable and seem to keep white wine and rose cooler for longer. I don't know if there is any science in that, but I am not going to get into it.
Like plastic glasses these are durable and shatterproof, you are going to dent them if you drop them, rather than break them. If we are being picky, then we can't really call these glasses as they are not glass, I guess we can call them goblets.
They do have an air of medieval times about them and come in a set of 2 with a capacity of 18 ounces. Something different and cool for your home bar
Multi Color Wine Glasses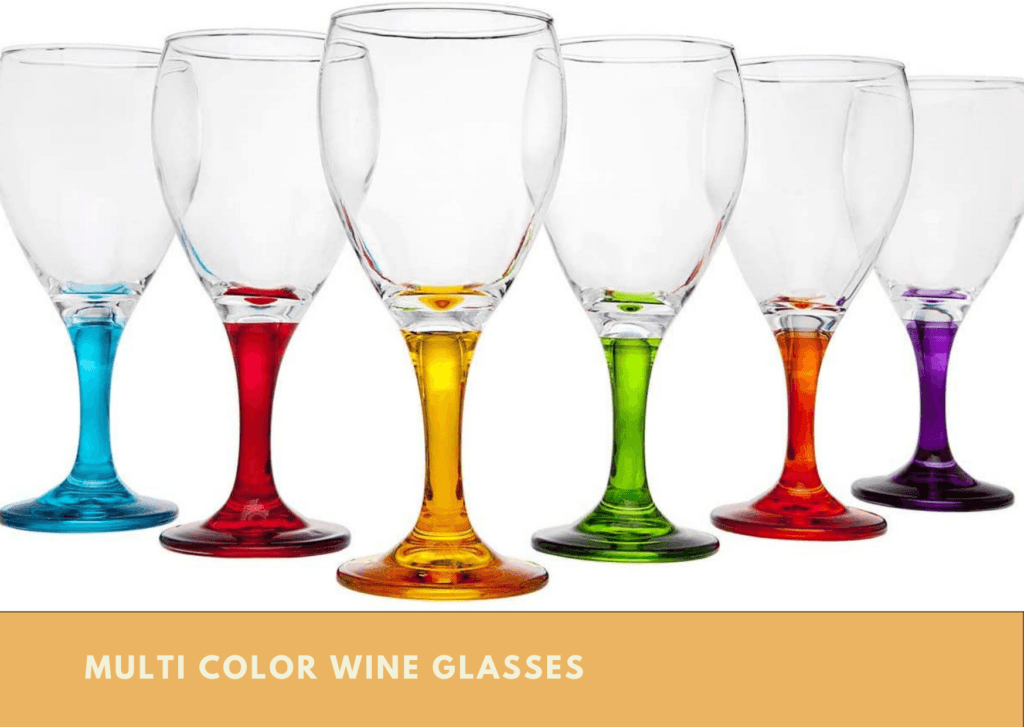 [maxbutton id="3″ url="https://amzn.to/2SnmEYp" window="new" ]
If you like a bit of color in your life and home bar, then these Studio Silversmith multi colored carnival stemmed wine glasses by Godinger may be your calling.
A traditional kind of bowl with a non-traditional stem which is thicker than normal, these glasses do stand out and would look good on any bar shelf. The stem and the foot is the part that is colored, the bowl is clear.
They come in a set of 6 and each one is a different color, they are not the biggest wine glass with a capacity of just under 10 ounces. A delightful rainbow colored glass set to serve your wine.
Black Wine Glasses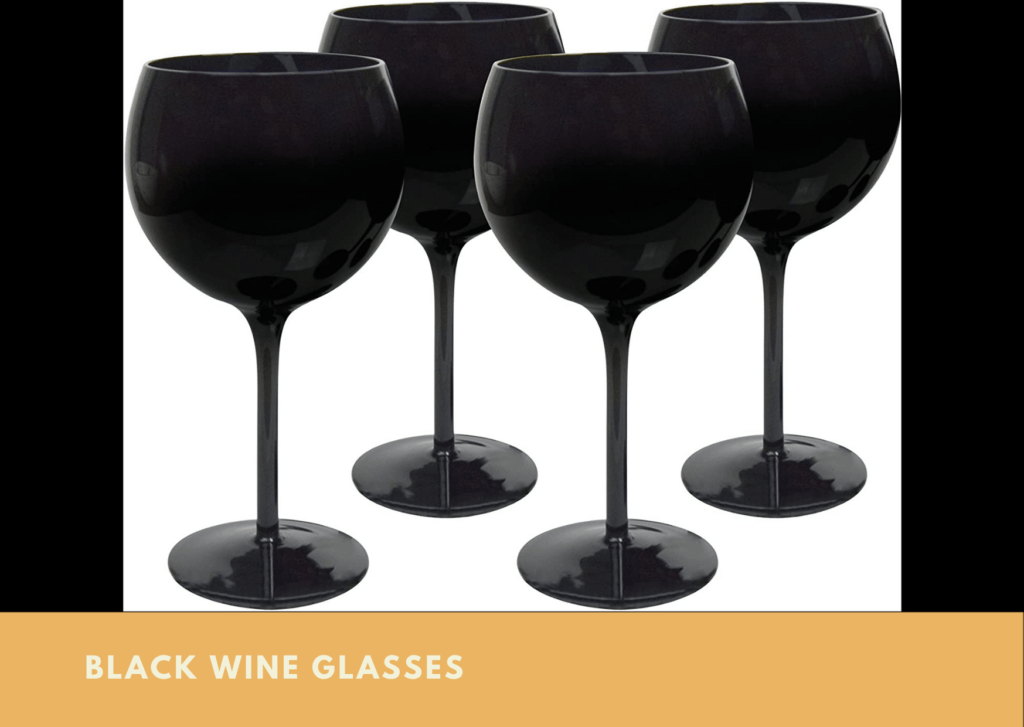 [maxbutton id="3″ url="https://amzn.to/3iARjvZ" window="new" ]
Really cool looking wine glasses from Artland with all the traditional shape, but without the traditional clear glass. They are hand blown and hold a generous 18 ounces.
Being black they stand out as a wine glass, or some might say they blend in to the background, I guess it depends on the color of the background.
They are good-looking sturdy wine glasses, but they do have their faults. If you prefer a dry white wine like me, and your partner prefers a sweet rose wine like mine, then remember which wine went into which glass. Once you pour the wine into these glasses you cannot tell if it's white, rose or red, and you end up having to taste it.
In my case I have had to do this on several occasions and had a sip of sweet rose 90% of the time. Another little niggle is the partical factor, I know, I just made that up.
What I am trying to say is that these glasses show everything little spec of dust that lands on them. Wash them up and dry them, and you can see the bits of fluff from your cloth, it's a headache to keep them polished.
That being said, I love them, and you might too.
Slanted Rim Wine Glasses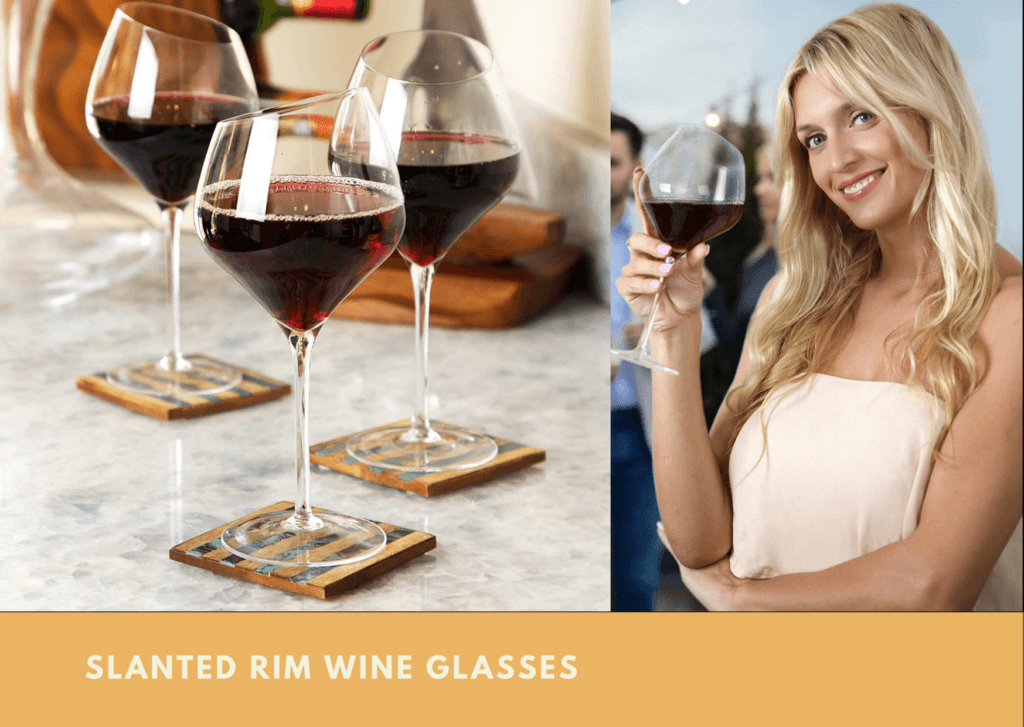 [maxbutton id="3″ url="https://amzn.to/357FS7a" window="new" ]
I have picked the angled rim from Devaso just for the different look these glasses offer, a truly stylish design. Slim stem and foot, these glasses have a nice deep rounded bowl with something a little different around the top.
I can't see that the slanted rim adds anything to the wine itself, but it does make for a very contemporary design. If you are one to fill your glass to near the top, make sure you only fill to near the top of the lower part of the angle, otherwise you will be wasting wine, and nobody wants that.
Made from lead-free premium crystal these glasses have a capacity of 19 ounces, I hope that is to the lower angle. Hinted towards being a red wine glass, I think these beautiful wine glasses should be allowed to serve any color wine.
If you want different, if you want contemporary, if you want elegant, and if you want sophistication, then these glasses will play the part perfectly.
Unusual Wine Glasses
The home bar glasses we use are important, they all play their role in our bar set up. Just like wine glasses, there are other glasses that have been designed with the drink in mind. Some glasses can serve several drinks, but you wouldn't want your beer in a Champagne flute, neither would you want your Champagne is a beer glass.
Once you decide to buy a set of glasses for your bar, whether it be Gin glasses, Whiskey glasses or Beer glasses the decision is based on personal choice. The standard design might be the go to glass, but as we have seen with these wine glasses I have picked, the standard can be tweaked.
These tweaks can produce some clever glasses that look great but still have their functionality at the heart of their design. I hope you have enjoyed discovering these cool wine glass designs as much as I have sharing them with you. Let me know your thoughts below and the glasses you picked for your home bar.
Rob is a passionate home bar and pub shed enthusiast with a passion for craft beer. With hands-on experience in designing and building his own home bar, Rob shares his knowledge, tips, and inspiration to help fellow enthusiasts create their own perfect space. Alongside the world of home bars and pub sheds, Rob also explores the diverse and exciting realm of craft beer, providing honest reviews to help you discover your next favorite brew. Join Rob on a journey of flavor, design, and craftsmanship right here on Home Bar Kit.