There are many drinks that just scream out for crushed ice. It is great for cocktails like a mint julep, or a frozen daiquiri. Crushed ice takes the edge off of strong spirits and adds texture to the drink. It will cool a drink much quicker, so serves a super cold refreshing drink every time. How though do you get crushed ice? Do I use a Lewis bag and mallet or an ice crusher machine?
At this point you may be wondering what a Lewis bag and mallet is. A Lewis bag is a small canvas type bag that you fill with standard ice cubes. By using the mallet you then crush the ice while it is contained within the bag.
Do I Use A Lewis Bag And Mallet Or An Ice Crusher Machine?
The answer is personal choice, both do the job well. A Lewis bag and mallet will need a strong surface and a bit of strength. Good for letting out any pent up frustration, so can be quite therapeutic. An ice crusher machine on the other hand will take a lot less effort and produce more uniform crushed ice. There is a cost difference between the two, with the latter normally being more expensive.
Want to bash your ice to bits or let the machine do the hard graft?
How To Use A Lewis Bag
It is not difficult to use a Lewis bag and mallet, just like I said pop the ice cubes into the bag. Close the bag, and bash away until the contents feels crushed. The bag will absorb any access water and the crushed ice can be poured into an ice bucket or similar container and kept in the fridge.
Make sure the surface you are crushing your ice in is a sturdy one. Take into account also that it can be quite noisy bashing ice with a mallet. It can also be fun too, a good ice bashing session at the end of a frustrating day might just give a sense of satisfaction. Never pack your Lewis bag to the brim, this will only put stress on the seams and cause damage.
When new a Lewis bag can be a little stiff, but will soon soften up after a few uses. It can be a good idea to wash your bag on a gentle cycle before use. And of course wash it regularly to keep it clean and hygienic. Storing you Lewis bag and mallet is simple and the bag takes up no room at all. Depending on the size of mallet you use, this may need a little draw space. Alternatively drill a hole in the end of the handle and hang it on a hook.
Cometh The Ice Crusher
A Lewis bag and mallet is not every ones cup of tea, the best alternative is an ice crushing machine. Let the machine take the strain while you contemplate the cocktail you are going to make. There is a choice too, the mechanical ice crusher or the electric one. Obviously a mechanical one is going to involve a little work.
Normally a mechanical version will have a container to hold the crushed ice. The mechanical part fits on top of the container and you feed the ice cubes into the top while winding a handle. Simple but effective and if you have a lot of ice to crush you work up a sweat. Perfect excuse to pour yourself a cocktail and make use of your crushed ice.
On the other hand an electric version will do all the work for you, well most will. There are those that only require you to load the ice. However some do have a lever press system. Once you load the ice you pull the lever down and the ice is forced into the crusher. It comes out shoot and into a bowl, all nicely crushed.
Again which version you choose is down to personal choice.
**As an Amazon Associate, I earn from qualifying purchases with no extra cost to you.
Viski Lewis Bag And Mallet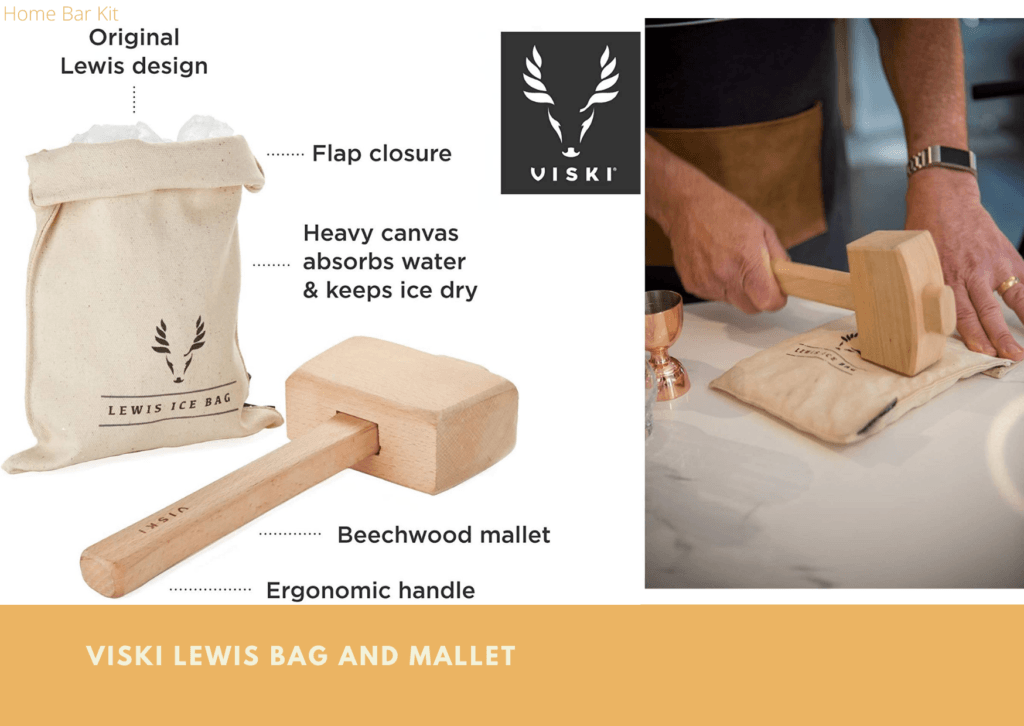 Check Latest Price
This is a typical Lewis bag and mallet with a heavy canvas bag that has a flap closure. The bag is 7.25 inches (18.4cm) wide and 12 inches (30.4cm) long. The heavy canvas will absorb any access water created by crushing the ice.
The mallet is made from beech wood and has a length of 12 inches (30.4cm) with a head of 4.75 inches (12cm) by 2 inches (5cm). You can determine how small you crush the ice by how much you use the mallet. The more you bash it the smaller the pieces, right down to snow.
An ideal bag and mallet to crush your ice, giving great results each time.
Manba Portable Ice crusher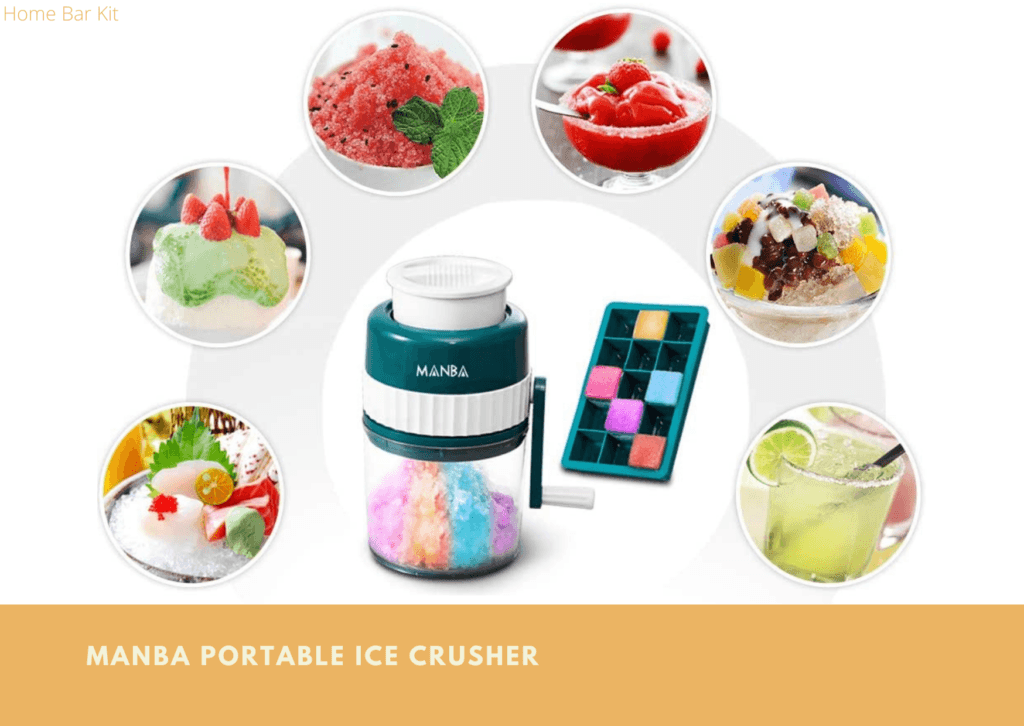 Check Latest Price
No mallet needed for this little gadget, just a simple manual ice crushing machine. The lower part is where the crushed ice collects. On top is the ice grinder with a crank handle. The ice is fed into the top and there is a detachable top that helps to push the ice into the crusher.
Three blades are housed in the head unit that shave the ice cubes into snow like ice. The crusher is a fairly compact unit and stands just 7.87 inches (20cm) high, with a diameter of 5.12 inches (13cm). It also comes with a 15 capacity flexible silicone ice cube tray, which is handy.
Ideal for a home bar as well as taking with you for camping trips or the beach.
OKF Electric Ice Crusher Machine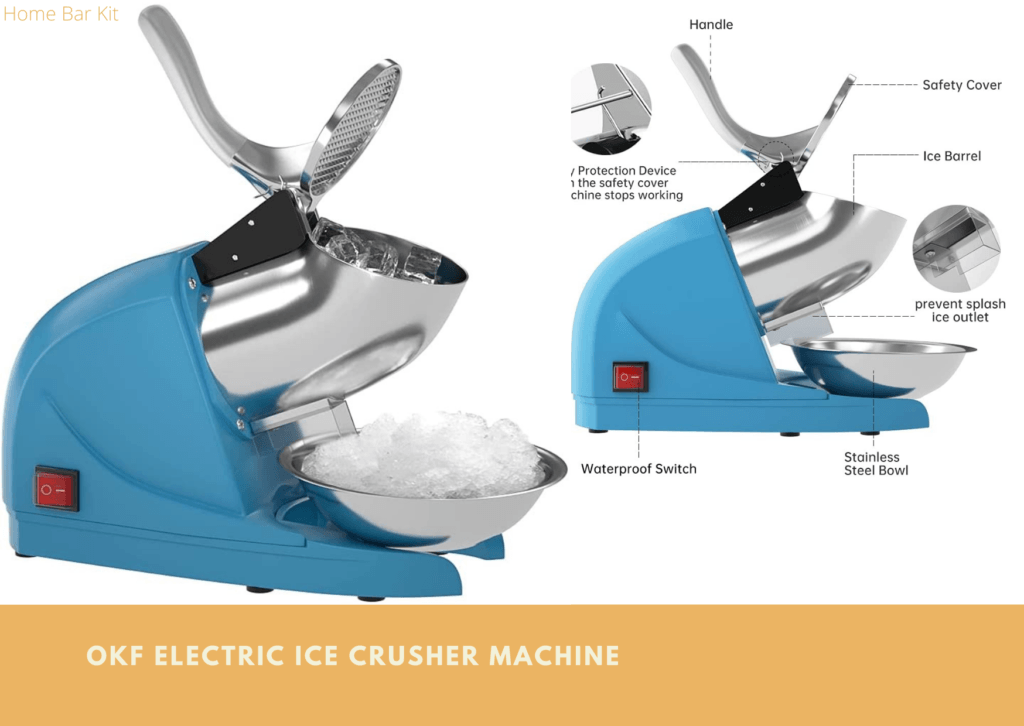 Check Latest Price
On to the electric ice crusher, but it still requires a little manual work too, just not much. The ice is loaded into the ice barrel and the handle is pulled down so the cover contacts the ice. With a little applied pressure the cover pushes the ice cubes into the 3 cutting blades.
The ice then comes out the lower shoot into the stainless steel bowl., which should be rotated. This prevents the ice building a mound on one side of the bowl. Features include a waterproof on/off switch, 6 anti slip feet, safety cover. When you lift the cover using the handle it will automatically shut the motor off.
The unit stands 8 inches (20.3cm) high, 14 inches (35.5cm) long, and 6 inches (15.2cm). Power is the name of the game, with a 380W motor it should deal with all your ice demands. A great efficient crusher that although electric does require your help to operate.
Vevor Electric Ice Crusher Machine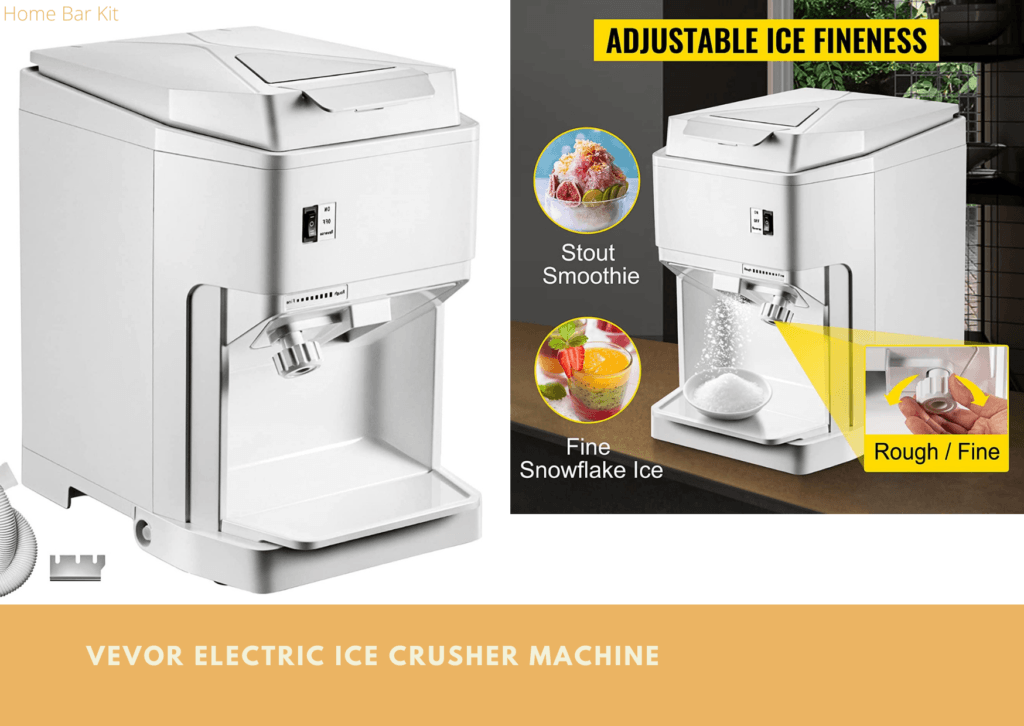 Check Latest Price
If you want to just load the ice and let the machine do all the work, then this one might be for you. Although saying that, you should not leave running machines unsupervised. But at least there is no manual labour involved in the production of crushed ice with this machine.
Features include 3 blades and a 250W motor a 5LB ice capacity tank, a lockable lid with a handy viewing window. A simple on/off switch with a reverse mode for any ice jamming, and an adjustable knob for fine to rough ice. There is a handy drainage outlet to drain any access water created from crushing.
Its a little bigger, standing at 17.5 inches (44.5cm) high, 11.8 inches (30cm) wide and a depth of 16.3 inches (41.5cm). A neatly design ice crusher that will look good on any counter top or bar.
Final Thoughts
Many cocktails benefit from crushed ice as well as many kids drinks, and kids love slushy drinks. The type of ice crusher you decide to get will depend not only on personal choice, but also the drinks you make. If you make a lot of snow cones, or cocktails then it may be worth investing in a decent electric machine to make life easy.
However if you only make these kind of drinks occasionally then a mechanical machine may serve better, or even a Lewis Bag and mallet. Whichever your choice, they all get the job done and you can enjoy crushed ice whenever you like.