Not so long ago I tried A Golden Opportunity from Craft Nation which is a German Pilsner style beer. It didn't blow my socks off, but it was okay. It just missed the mark on most counts really. However I am now drinking Easier Said Than Done IPA from the same brewery.
So does this cheeky little number from Craft Nation fair any better than my last experience. Well it is a different style of beer and I do like an IPA, so we will see. Was it easier said than done drinking this session IPA?
Drinking Easier Said Than Done IPA?
It pours a very light golden straw color with a generous foamy white head. The nose is faint, but hints of fruit and pine do waft through trying to get your attention. On the buds it is delicate, a moderate hoppy front with a hint of tropical fruit. It is either mango or pineapple that tingles the tongue, or maybe both. A medium carbonation ends with a slight bitter tang. It's not a big IPA, but it's an easy IPA and scores a rate my beer of 3.8 – 5.0.
It hasn't got the wow factor, it's just simple and safe.
Craft Nation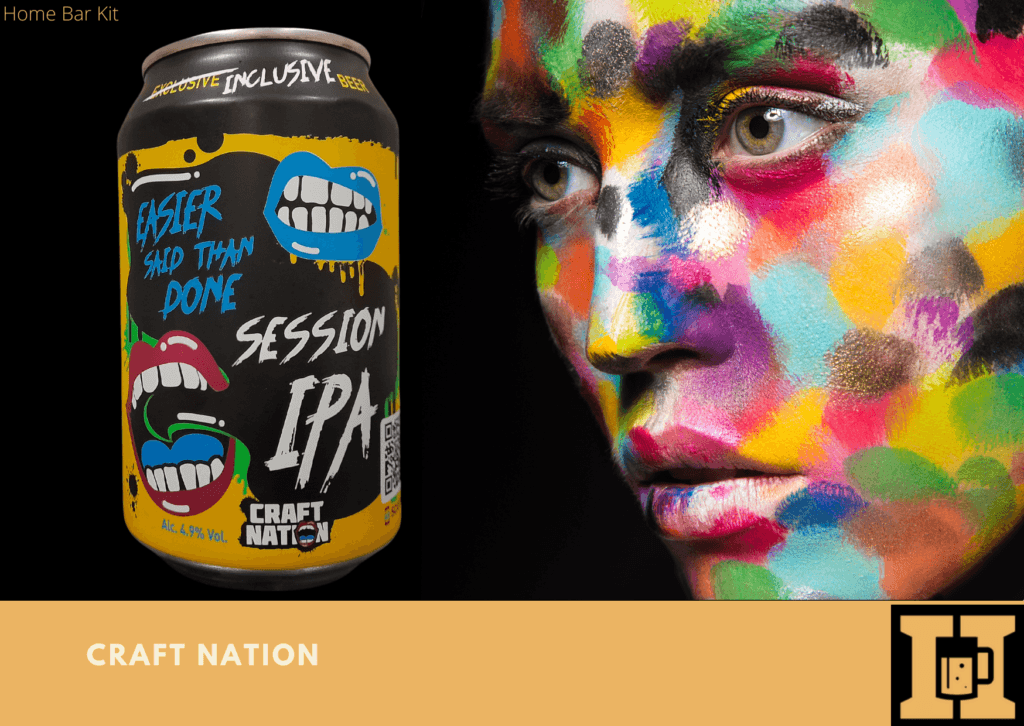 This brand is a new statement brand from United Dutch Breweries joining the craft beer trend. it's a homage to diversity and equality and the brand is about inspiring everyone to think about and talk about these subjects.
Their range of beers are not exclusive, but instead very inclusive. Beers for everyone, except for those under the legal drinking age I hope. You can understand the message they are trying to put forward, and it is a worthwhile message too.
A small range of craft beers including a non alcoholic IPA, a session Lager, A session IPA and a premium IPA. Craft Nation say they are passionate about brewing mind blowing beers. I have tried the lager and now the session IPA and I can tell you my mind isn't blown.
Using the finest ingredients and a state of the art brewery, they cater for beer lovers the world over. However I think they are falling short on the beer they are producing. You would expect more from a brewing giant like UDB and their history.
If the Craft Nation beer tasted like the cans looked, then they would be blowing minds all over. But that is not the case, I haven't heard any rave reviews about these beers yet, but I will continue to look.
My experience so far with their beers is being underwhelmed, which is a shame.
Easier Said Than Done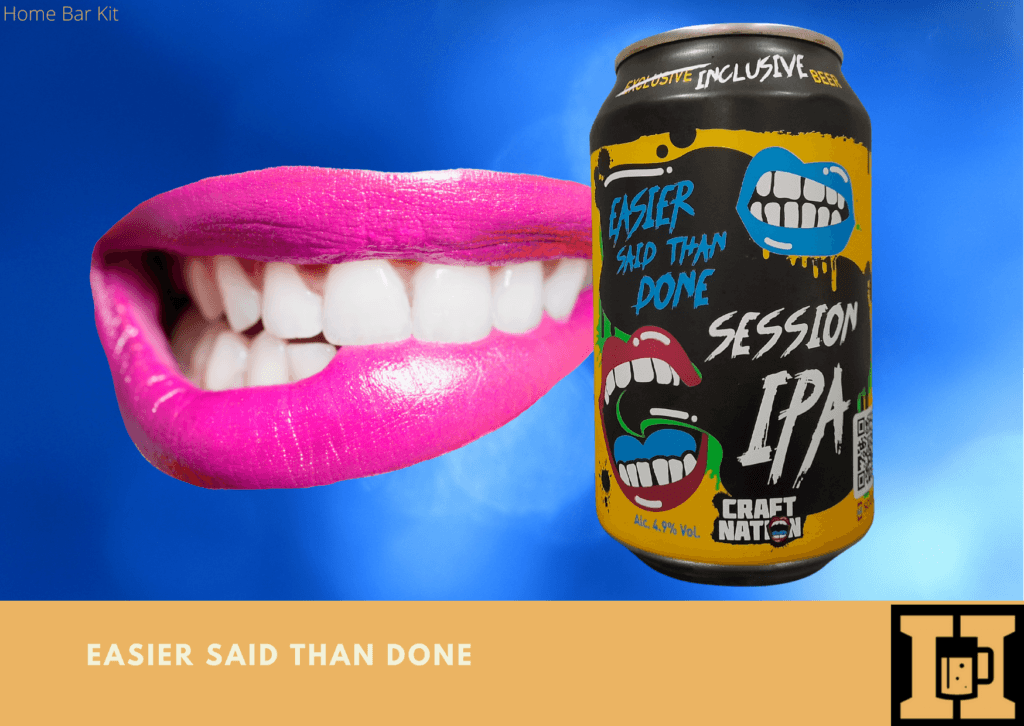 May be it is easier said than done to produce a mind blowing session IPA, because this isn't one. It is triple hopped and has a malt base. Vic Secret hops are used which have a a flavor profile of tropical fruits and tones of pine.
I get the tropical fruits coming through by way of pineapple and mango, but it is really subtle. They do describe this beer as light and crisp with a smooth edge. I guess they have achieved just that, but it is too light, it lacks a certain oomph.
The artwork on the can is a total win, it gets your attention, but that is where the wow factor ends. The contents don't really live up to the impact of the can design.
The Verdict
It is a really light golden pour that settles with an abundant crisp white foamy head. On the nose it is a vague affair with weak hints of tropical pineapple and mango. These and the lightest sprinkling of pine try to invade the senses but fail miserably.
Going in for a sip and the experience is similar, its all too slight. It's like the flavor is in there somewhere but it's just too distant. A meagre hop front fades to the most delicate pineapple/mango citrus hit you will ever get from this style beer. An adequate carbonation settles to an almost smoothness and the finale is just a hint of bitterness.
Although it is a session beer at 4.9% Vol it is at the higher end of the scale. But it doesn't feel like it, I know it is supposed to be a light crisp IPA, but for me it is too light. Having said that it will appeal to those that just want a light easy drinking IPA, because that is what it is.
Craft Nation have a good message, they have great artwork, but their beer falls short for me. Therefore the rate my beer score is a bit like the beer with an average 3.8 – 5.0.
I have high hopes for their Imperial IPA, which I am still going to try.
Craft Nation Beer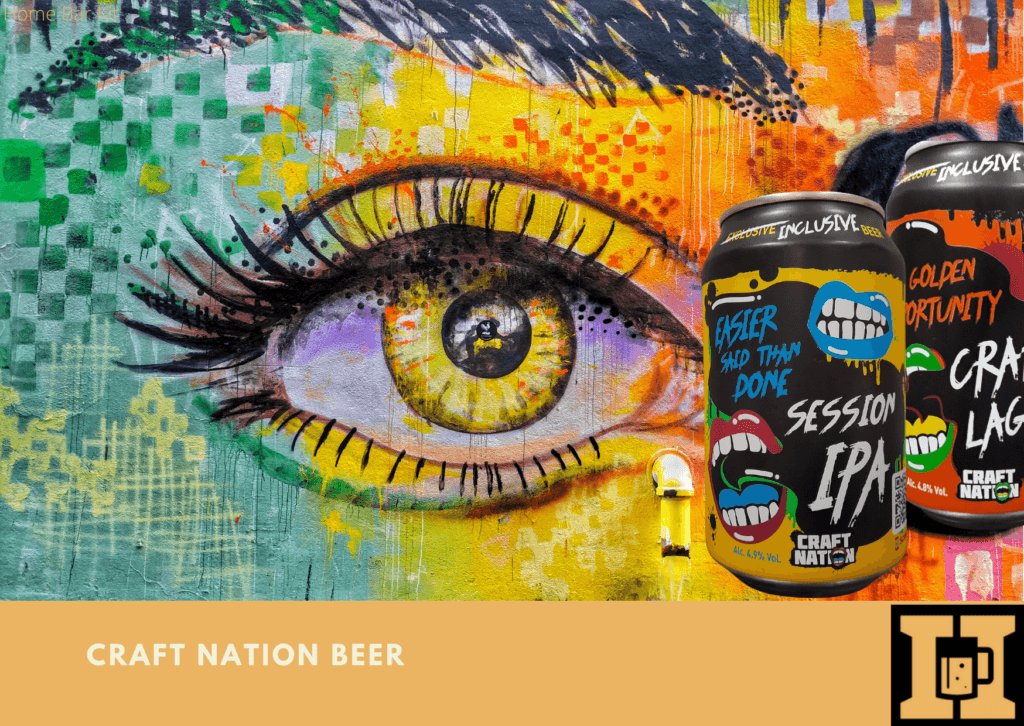 I love the intention of Craft Nation as a company and what they are trying to achieve. However I don't think they are there yet, and in my humble opinion the beer lets them down. If it had a little more guts and fire, they would be a force to be reckoned with.
Their range is small, but its hopeful to think it will grow, I just hope the flavors grow with it.
A Golden Opportunity
The description of this craft lager is far more exciting than its reality. Promising to be full of hop bitterness with a clean smoothness. It is said to be easy going but with a bit of bite. Having already tried this one, it didn't deliver for me.
It is definitely easy going, a bit too much, but there is no bite. Like the Easier Said Than Done IPA, its all too slight and does not excite. At 4.8% Vol its great for a session, but feels far less in strength.
Hope On The Band Wagon
I am still trying to get excited about Craft Nation, I don't give up easy. Therefore all my hopes are pinned on this Imperial IPA. With Mosaic and Yellow Sub hops it promises tropical fruits as you would expect with hits of floral and zest. I just hope they are big hits and not the faintness of the session IPA and lager.
Not for the session with its 7.8% Vol, but with the strength a beefy IPA deserves. It promises to be a hop lovers dream with a big punch of bitterness. Please don't let them be subtle, give me flavor.
Nothing Comes From Nothing
So this is Craft Nation's no alcohol IPA style beer. It is not completely alcohol free, they have left in 0.5% Vol. This is to give the best taste apparently. It is laced with grassy notes and a fruity freshness, all backed up by a malty background.
I know it is hard to expect too much from an AF beer. But with that tiny bit of alcohol left in, perhaps this will deliver on a higher level. I guess we will have to wait and see.
Final Thoughts
I have visited Craft Nation's beer twice now and both times I have been disappointed. I don't like highlighting bad points when it comes to beer, but they left me no choice. They have gone to light on everything, except the can design.
Make your beer taste the way the cans look, and you will hit the jackpot. Like I said I haven't given up, I am pinning my hops, I mean hopes on their Imperial IPA. But will it deliver?
I will let you know, but in the meantime if you have tried any of Craft Nation's brews then share your thoughts. Was your experience better than mine? Or will you confirm my experience?