A home bar is not complete without a few cocktails, and the best way to learn how to make cocktails is to learn about the ingredients needed and how to mix those ingredients together.
Even if you don't have a home bar and all your drinks are stored in a cupboard, it's still good to be able to make a cocktail or two when you have friends over.
You don't to start tossing bottles in the air and doing cocktail acrobatics, that takes a lot of practice and could get pretty messy. It's just about learning the basics and being able to put together some fun easy cocktail recipes that you can mix at home.
Become A Mixologist
How do you learn how to make cocktails?
There are courses you could take to learn bartending skills, some of which are just learning the basics, whilst others will take you to the point where you could get a job in the industry.
Video sites like Youtube and Dailymotion will give you plenty of information about how to make cocktails, and it is easy to follow someone actually doing it in front of you, albeit on a screen.
You could even get a machine that makes your cocktails for you, they are similar to the machines that will make your coffee, but surely that takes all the fun out of it.
Right here, right now though, we are going to look at how you can have a collective list of cocktail recipes at your fingertips, all in one neat little package. Of course, I am talking about a cocktail recipe book, or books.
Just like in your kitchen you will probably have a selection of cookbooks, so to it is ideal to have a selection of cocktail recipe books too for your home bar.
You don't have to be a professional to enjoy the art of mixology, from simple gin or vodka drinks to more complicated Tiki drinks, all can be found in recipe books for cocktails.
Here are my top picks.
Cocktails Made Simple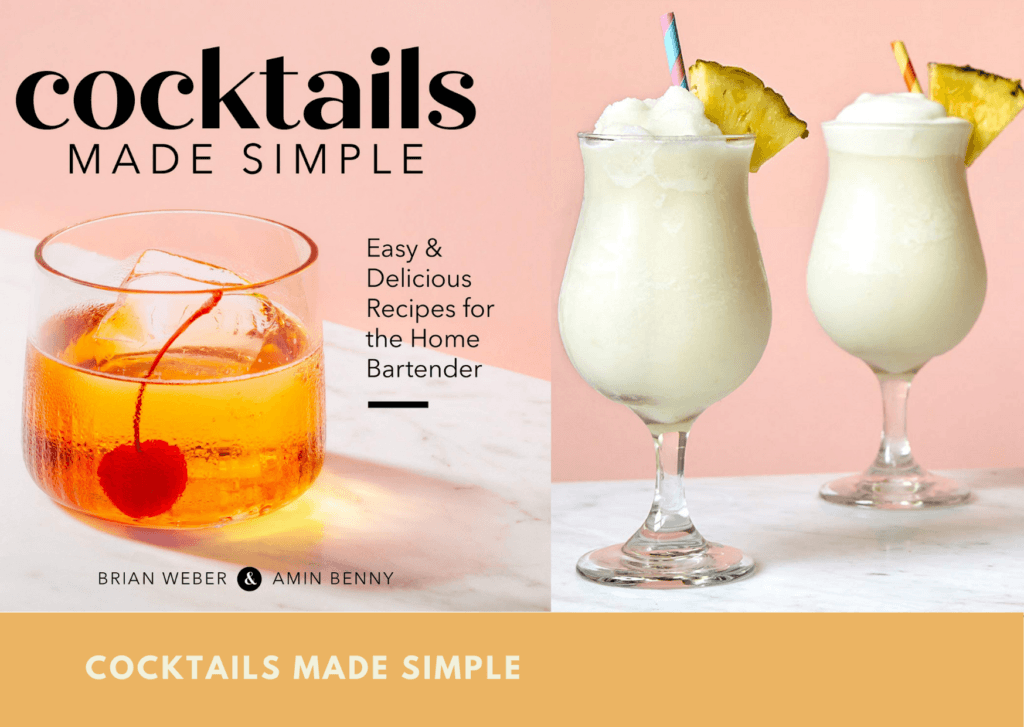 I thought it would be good to start with simple first, if you have not mixed a cocktail before, then this book is just the ticket. It is straightforward, easy to understand and will have you making cocktails in no time.
The book is published by Rockridge Press and is written by Brian Webber and Amin Benny. Brian has plenty of bartending experience and runs a podcast 'Bartender Journey'. Amin also has extensive experience in the bartending world and was the founder of the 'Orange County United States Bartenders Guild' and has a consulting company, The Bar Host.
Each cocktail covered has a clear picture so that you know what it is supposed to look like and a brief history of that drink. There is a list of tools you will need including the type of glass, you have an illustration of the ingredients and method, and clear instructions on how to make the cocktail.
Although this book gives you variations of cocktails, it only covers 40 cocktails, they are popular ones, but all the same there is only 40 of them, but it's a good starting point.
All in all this is a great book that keeps thing's simple, and will get you on the road to cocktail success without testing the brain cells too much.
The Home Bartender
Another book that is great for those that are new to mixology, again it is straightforward, simple to follow and on the most part has one cocktail recipe per page.
Published by Cider Mill Press this is the second edition and was written by Shane Carley a drink enthusiast that who has launched a series of cocktail books and works for a PR Agency.
There are 175 cocktails covered in this book and the novel thing's is, they all only require 4 ingredients or fewer, that keeps thing's simple and cheap. This book includes the popular classics like 'White Russian', Negroni and the 'Cuba Libre', it also includes some you may not know so well, like 'The Filthy assistant', 'Maple Creamer' and the 'Ginger Binger'.
The book is great, it covers the basics and gives you 368 pages of all thing's mixology. A definite cocktail book to have behind the bar or on a shelf near your favorite mixing point.
Bartenders Guide To Cocktails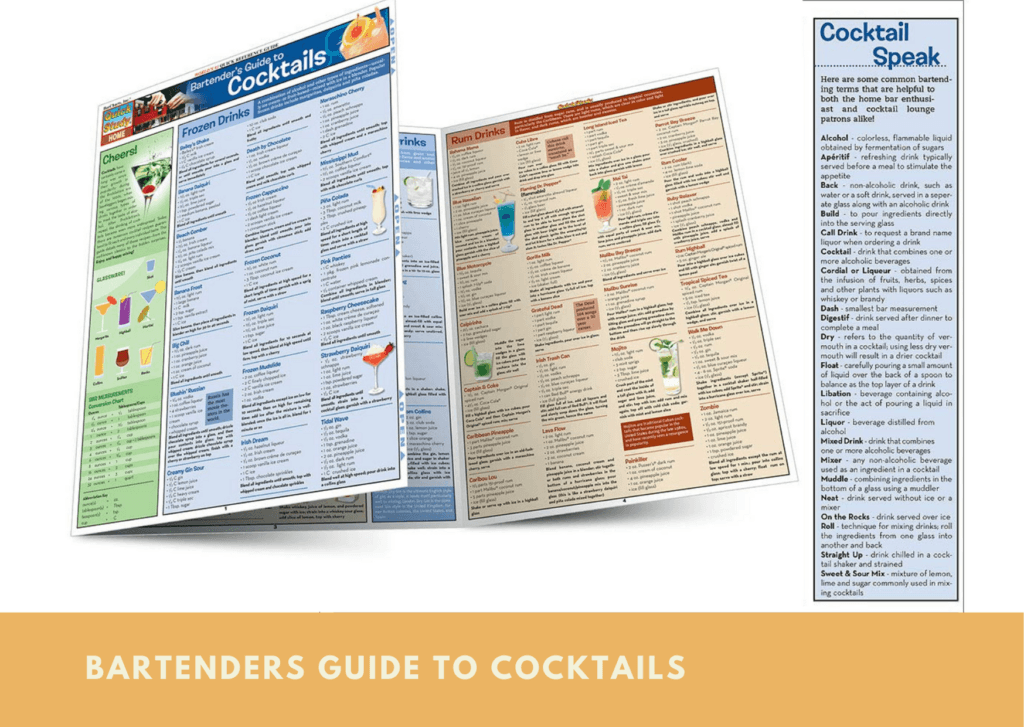 Okay, so it's not a book, but it is still a great resource for a reference to cocktails with clear recipes for a variety of drinks.
These cards are published by Quickstudy and part of the Bar Charts series, they are laminated and can be put on a wall, which is handy behind a bar. There are 6 cards in total and each card has around 12 cocktail recipes, including the ingredients needed and how to mix the drink.
Apart from the drinks recipes, there is also other information like glassware to be used and a bar measurement's conversion chart. The charts are laid out in order of the main alcoholic drink that goes into them, for example: Brandy Drinks, Rum Drinks, Tequila Drinks and so on.
There is a section that is headed 'Cocktail Speak which explains some common bartending terms. I know this is not a book, but it is a pretty handy product to have at your home bar.
How To Cocktail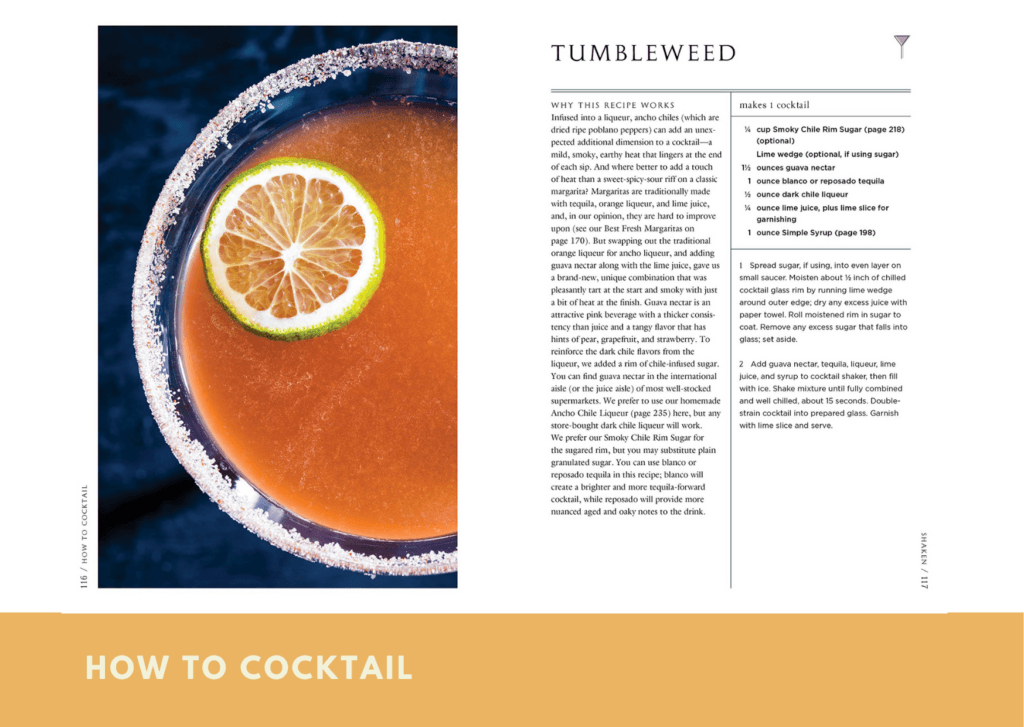 It's okay, we are back to books and this one is a ripper, well-thought-out, well laid out and just a top book for the art of cocktail making.
Published by America's Test Kitchen, which as you probably know are well-known for producing cookbooks and a TV show about cooking and testing reviews of kitchen equipment, with a website and even a cooking school. I think we can safely say that this book which is the first cocktail book from America's Test Kitchen will blow your socks off (not literally).
This book is well laid out and provides 150 recipes of the tried and testing classics as well as some great twists on established cocktails, there are even some of Test Kitchens own creations.
Each cocktail recipe will give you a large picture so you know what the drink looks like, there is a short description of why the recipe works and how the ingredients work together. You get a list of the ingredients and the quantities and then full instructions on how to mix the drink.
How to cocktail will show you how to cocktail, it's that simple.
Smugglers Cove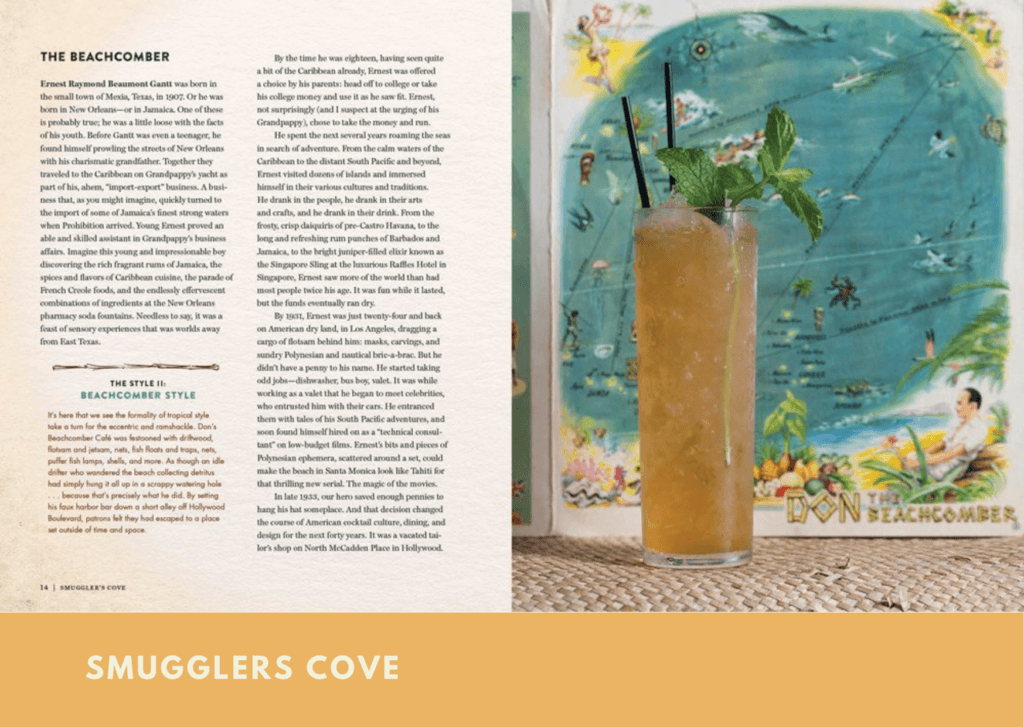 This book comes from the owners of the Smugglers Cove in San Francisco and is not just a recipe book for Tiki cocktails, but is everything Tiki, if you did not know anything about this culture, then it will be in this book.
Published by Ten Speed Press and written by Martin and Rebecca Cate who opened the Smugglers Cove in 2009 and have become renowned for their knowledge on the Tiki scene.
There are over 100 recipes that will take you into the Tiki world, from delicious drinks to tips and tricks, the right garnishes and rum. If you want to know about rum, then this book is for you because rum you will know about through the pages in this book, of which there are 352.
If you love Tiki, or want to get to know Tiki, then look no further.
Beach Cocktails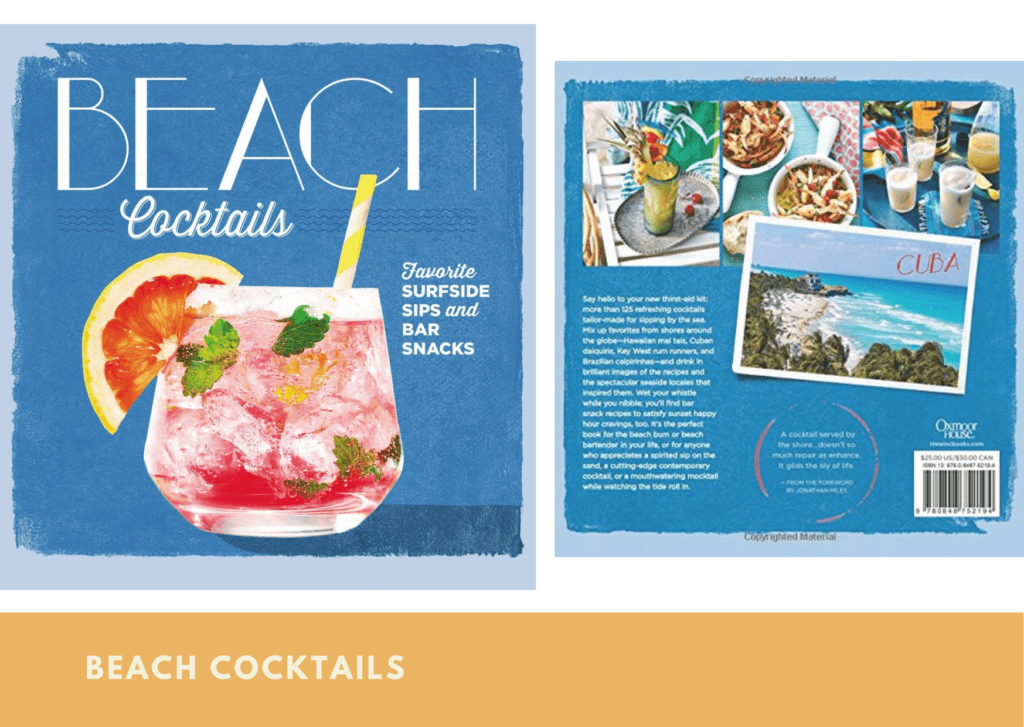 While we are on Tiki, I thought I would throw in this great beach cocktails book. There are some similar recipes, but this is a very different book to the Smugglers Cove.
Published by Tl inc. Books and authored by the editors of Coastal Living, this book is light, fun and packs a punch with the content. You get over 125 thirst quenching recipes from the Hawaiian Mai Tai recipes to the Brazilian Caipirinha recipes, this book has got the lot.
Inside this book there is not only the instructions for mixing great drinks to sip by the sea, but also some inspiring pictures to go with them. On top of that there are recipes for bar snacks and cocktail syrups.
If you like the beach and a cocktail, then this is the book, and the best thing of all is that they describe it as a Thirst Aid Kit.
So Cool!
Fancy AF Cocktails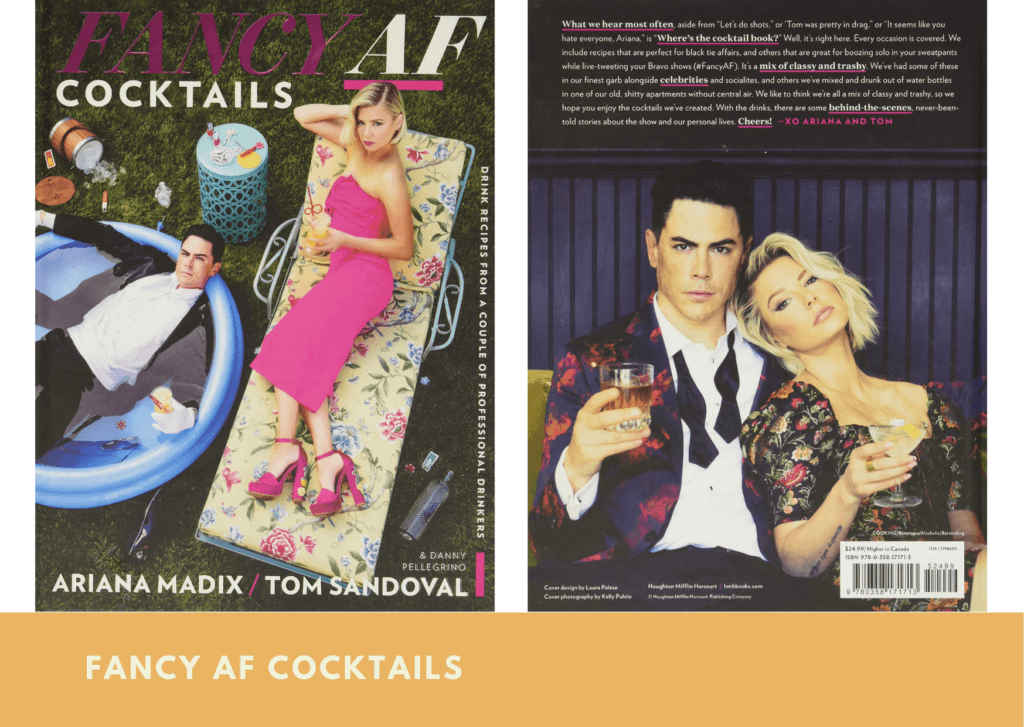 Here we have a little fun from the stars of the hit show Vanderpump Rules, Ariana and Tom have delivered their promised cocktail recipe book, and they have done it in style.
Published by Mariner Books and written by Ariana Madix and Tom Sandoval, with a bit of co-authoring from Danny Pellegrino, this book has drinks for every situation. There are classy cocktails for when only the best will do, and there are trashy cocktails for when anything will do.
There are shots covered in this book too, and even some recovery recipes for when thing's get a bit out of hand and you are feeling a little worse for ware.
I wouldn't take this book to serious or you may be disappointed, it's a bit of fun with some great cocktail recipes inside and some other stuff too.
Witchcraft Cocktails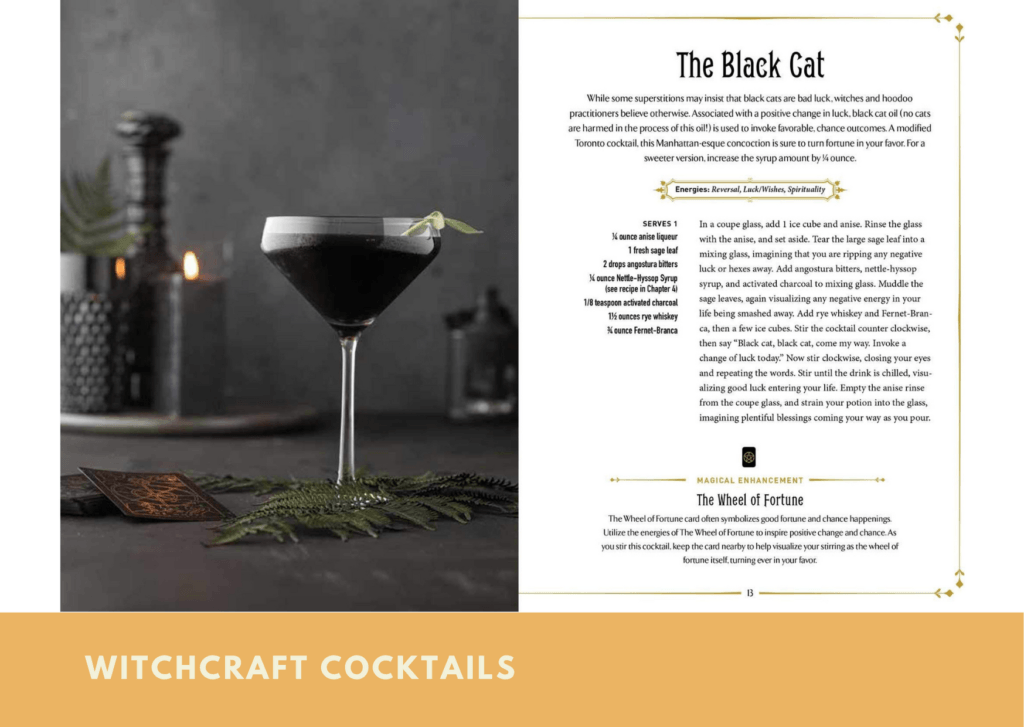 It's okay, I haven't gone all dark on you, or have I?
This cocktail book that infuses witchcraft with cocktails is a really fun book and has some great recipes from the author who is a practicing witch.
Published by Adams Media, the author Julia Halina, is not only a practicing witch, but also a cocktail enthusiast, a bartender and a mighty mixologist and holds a BA in anthropology, as well as a shamanic, reiki practitioner and a crystal healer.
Why would you not buy a cocktail book from this lady, it's a must have, surely?
There are cocktails you would expect too, with the likes of 'The Witches Cauldron', 'The Prosperous Pumpkin', 'The Jasmine Archer' and 'The Black Cat'. Each recipe explains about the cocktail, tells you what energies it gives and has the ingredients list as well as the instructions. It also includes a magical enhancement.
A great book that is fun and has some great cocktail recipes, this has to be a Halloween special.
Camp Cocktails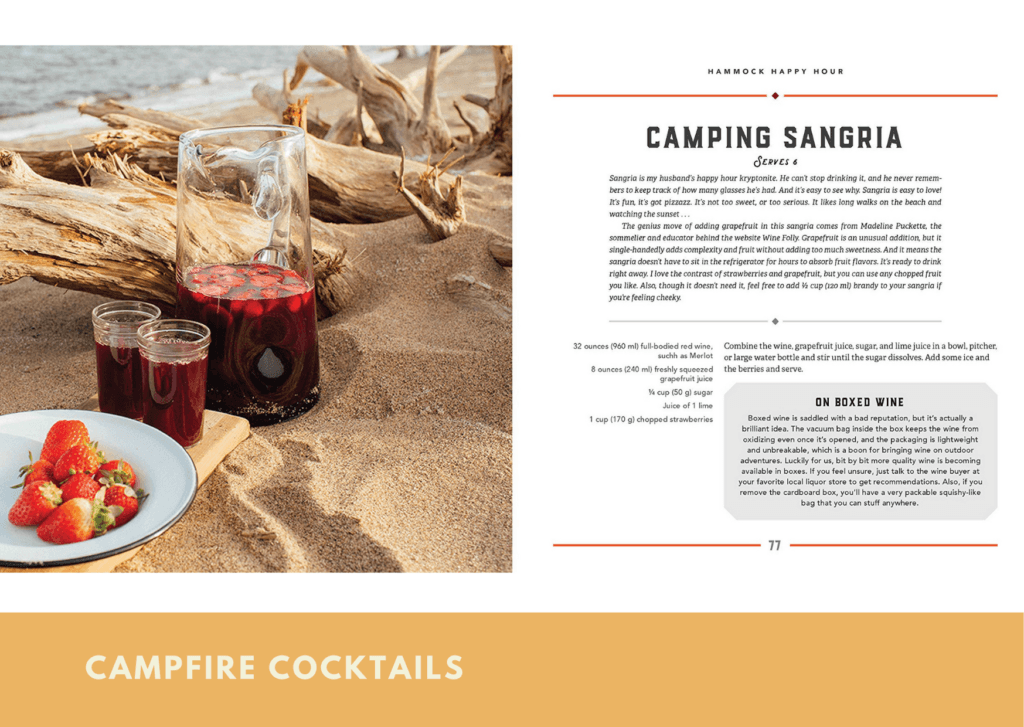 I have surprised you with something different again, this time we are going in the great outdoors, but we are not going to forget the cocktails. If you love the great outdoors and love cocktails too, then combine the two with this great cocktail recipe book.
Published by Harvard Common Press and written by Emily Vikre, who knows a thing or two about cocktails. Emily is the co-founder and co-owner of Vikre Distillery and she has won many awards and is a recognized food and drinks writer.
The book covers some great recipes for the outdoors, whether you are hiking, camping or are on a cabin trip, there will be plenty in this book for you to discover. Cocktails like the 'Great Dane', 'Blueberry Maple Bourbon' or the 'Pineapple Jalapeno Mezcalita' will have you enjoy any outdoor adventure.
To top that, there is information about camp cocktail basics, transporting spirits and a foraging section that brings nature right into your cocktails.
If you like the outdoors then this book could have you enjoying some great cocktails around the campfire.
The Art Of Mixology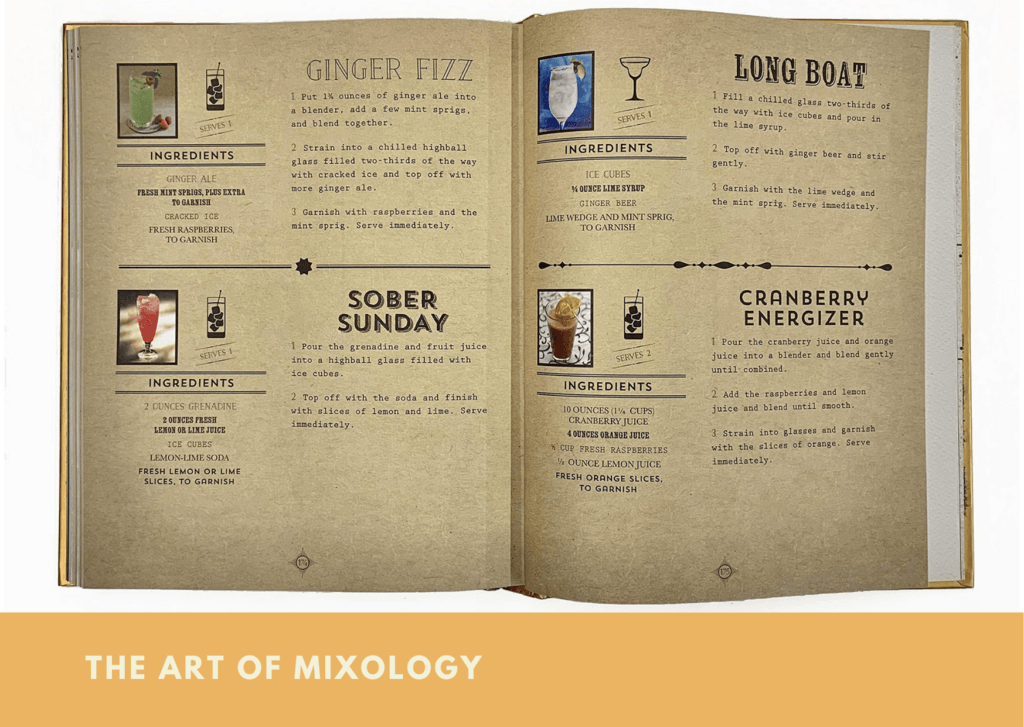 This is probably one of the most recognizable books, and it is a great cocktail book, with 200 recipes with the old classics as well as some more contemporary ones too.
Published by Parragon Books it has a place on any home bar, but does not deliver in the same way as many other books of its kind. You do not get a large clear picture of all the cocktails, some instead are quite small images. This book does not give you the background or any details about all of the drinks.
It does give you the ingredients list and how to make the cocktail. There are those that like to know a little about the cocktails they are making, this book is to the point and give you the information to make each cocktail.
It gives you some traditional mixology methods and also includes some mock tails for those that want to leave out the alcohol.
A great book that will get you making many cocktails, it is to the point and that's the beauty of it for some.
Essential Cocktail Books
The books I have included cover a wide range of interests that surround cocktails, from mixing the classics, Tiki cocktails, and even the great outdoors and witchcraft. There is something for everyone and all the books will have you mixing it up like a pro at your next gathering.
Just like you don't have to be a chef to cook some beautiful food, you don't need to be a bartender to make some great tasting cocktails. If you want to cook good food, then you start with some cook books to find the recipes that appeal to you. The same goes for cocktails, there are loads of recipes waiting for you to discover and you will find them in cocktail recipe books.
I hope you have found one or two that you like, as I said I have tried to accommodate different interests and hope you enjoy making some fun easy cocktail recipes. Share your books and the cocktails that you have made from them, its cocktail hour.