It can be hard to know what to buy friends and family at Christmas. But when you are buying for someone who has their own home bar, it's easy. Those that have a home bar are proud of it and love to use it, especially during the holidays.
Even when their bar is well kitted out, there are always some great holiday gifts to choose. Gifts that they will be itching to use at the festive gatherings.
Don't forget cocktails, they play a big part in festive parties and what a gift it would be to pass on a fresh new cocktail, or better still make it for you friends and family.
Great Festive Ideas For A Home Bar
The home bar at Christmas is a busy hub of activity, so the goal is to give something that is useful, fun and can save time. The best thought out gifts for the people you love. The best of new festive cocktails that bring freshness and decadence to your family gatherings.
Gift Ideas For A Home Bar
It is fun to buy a gift that represents Christmas and it will always come out as soon as the holiday season is upon us. It is also cool to buy a gift that doesn't just come out at Christmas, one that can be used all year round.
You don't have to spend a fortune either, some of the most practical gifts will not break the bank. If you have fun buying a gift, then the recipient will have fun using the gift. Let's have a look at these great gift ideas for the home bar.
It's Beginning To Look A Lot Like Cocktails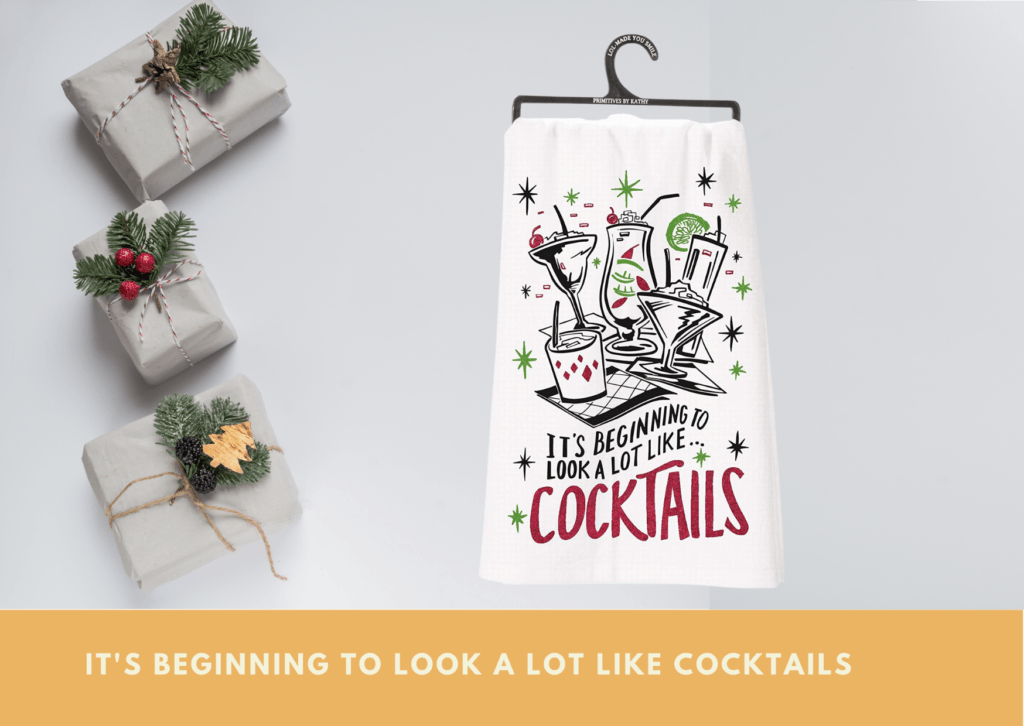 What is one of the most used things you can think of behind a bar? You may say glasses and you wouldn't be wrong, but when ever you pick up a glass to fill, you also pick up the bar towel. A bar towel is simple, but an important part of any bar, whether it be home or commercial.
This gift will not break the bank, but will be much appreciated and a gift with the fun factor that is functional too. It's a bar towel I know, but it's the perfect gift for the Christmas bartender.
Check Latest Price
25 Days Of Christmas Cocktails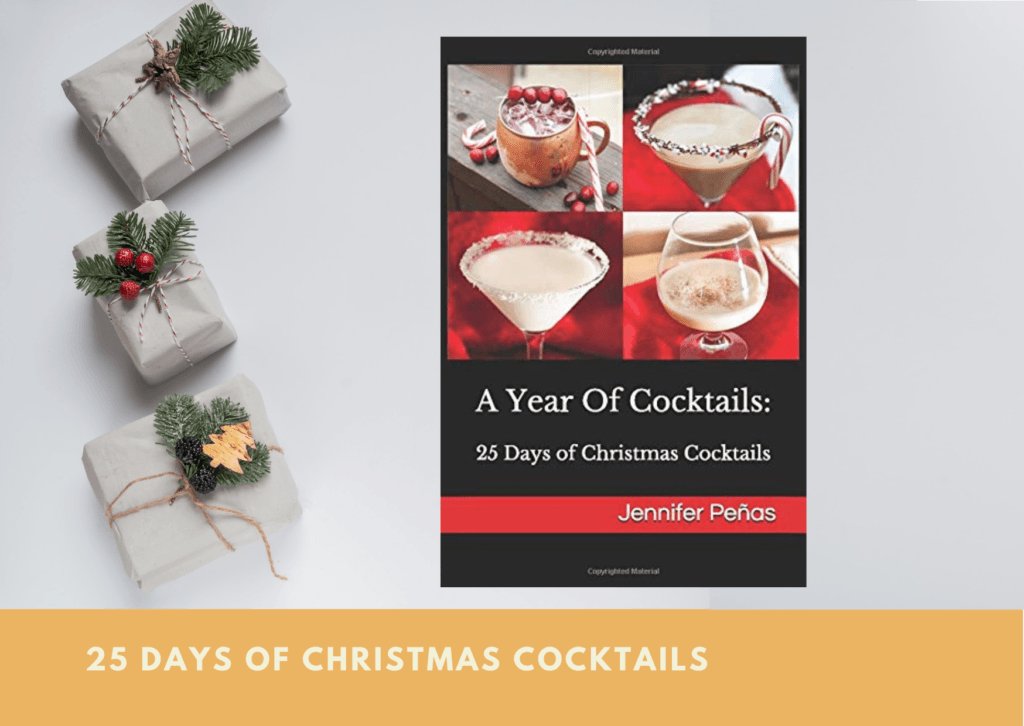 What goes well with the festive season? Cocktails of course, but what better cocktails than Christmas cocktails. A book that has a festive cocktail from the first day of December right through the holiday period. You don't have to have a cocktail for everyday leading up to the big day, but it will serve well for Christmas get togethers.
How cool will it be for the home bartender to mix up some great Christmas based cocktails for their guests. This great book with clear easy to follow directions will make the perfect gift for those with a home bar.
Check Latest Price
Mixology Bartender Kit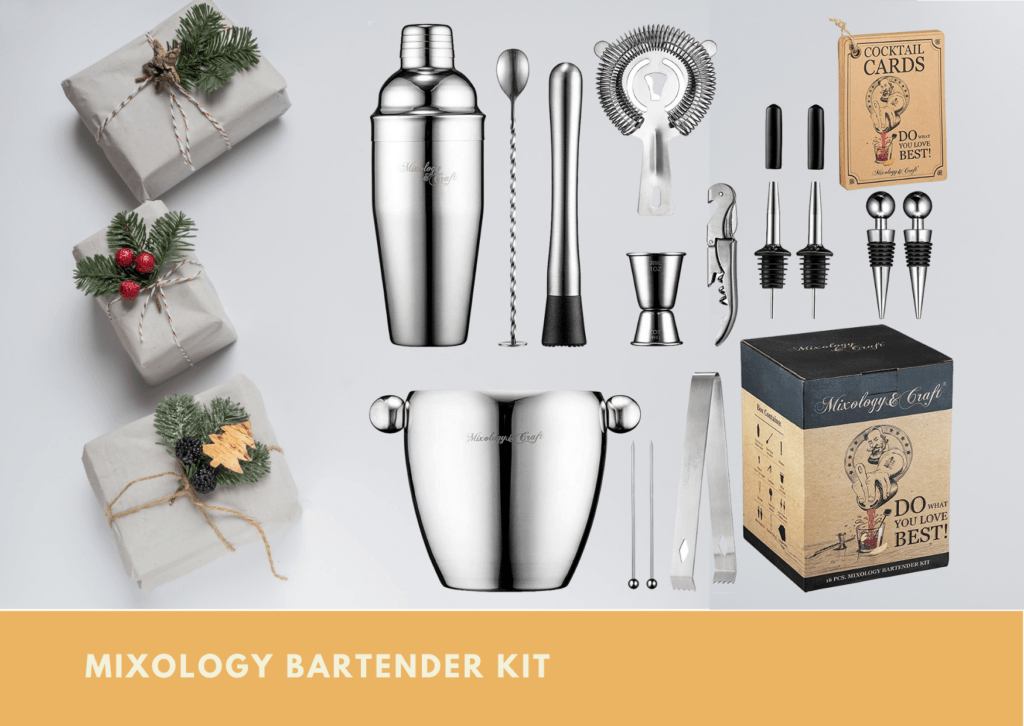 If Christmas is the perfect time for cocktails, then it is also the perfect time to give the home bar enthusiast this cocktail set. A comprehensive bartender tool kit which has everything needed to mix up the perfect cocktail every time.
The set contains 15 pieces and includes the all important 24oz cocktail shaker with a built in strainer, an ice bucket, 2 wine aerators and much more. All the tools are made from food grade 304 stainless steel, so are safe and will not rust.
It may be a great gift for Christmas, but it will be used all year round and will be poised and ready for every holiday season to come.
Check Latest Price
Glass Beverage Drink Dispensers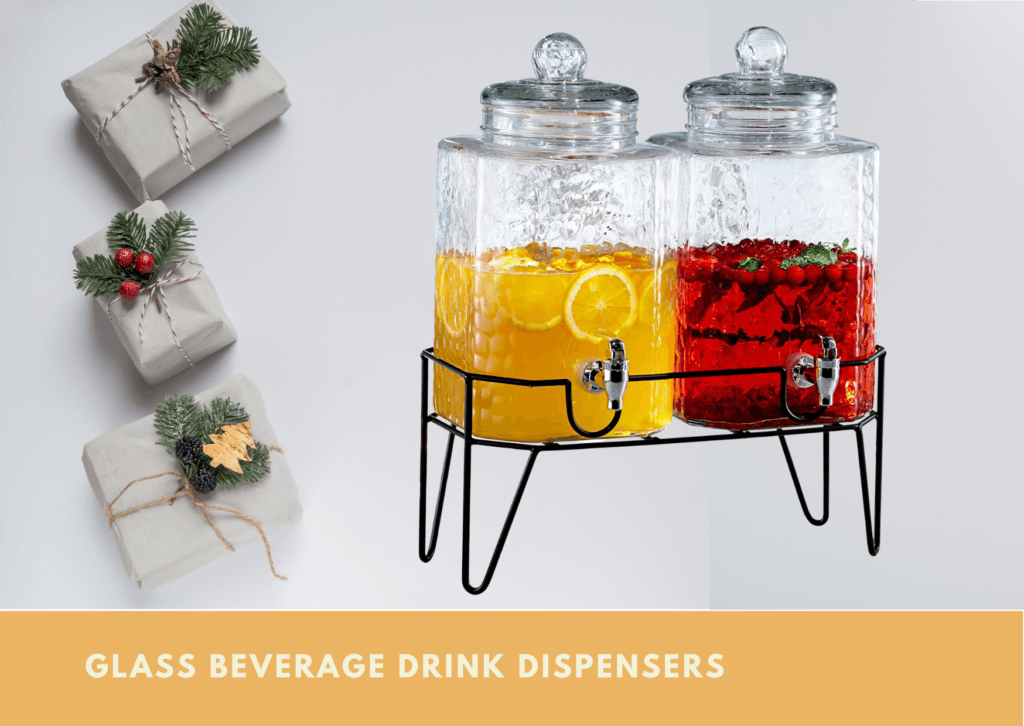 These are ideal for any party or family gathering, which means this gift is ideal at Christmas for the home bartender. This will be a real time saver, instead of mixing a popular cocktail individually, you can make a batch and dispense as needed.
Best of all there are two dispensers that sit on a sturdy stand to make it easy to dispense the drink. Each container holds 1.5 gallons and with large lids are easy to fill and easy to clean up after.
Fill one with a Christmas punch and the other with the cocktail of the day. The home bartender will thank you for this little beauty that will sit neatly on the bar ready to dish out those cocktails.
Check Latest Price
Candy Sweets Dispenser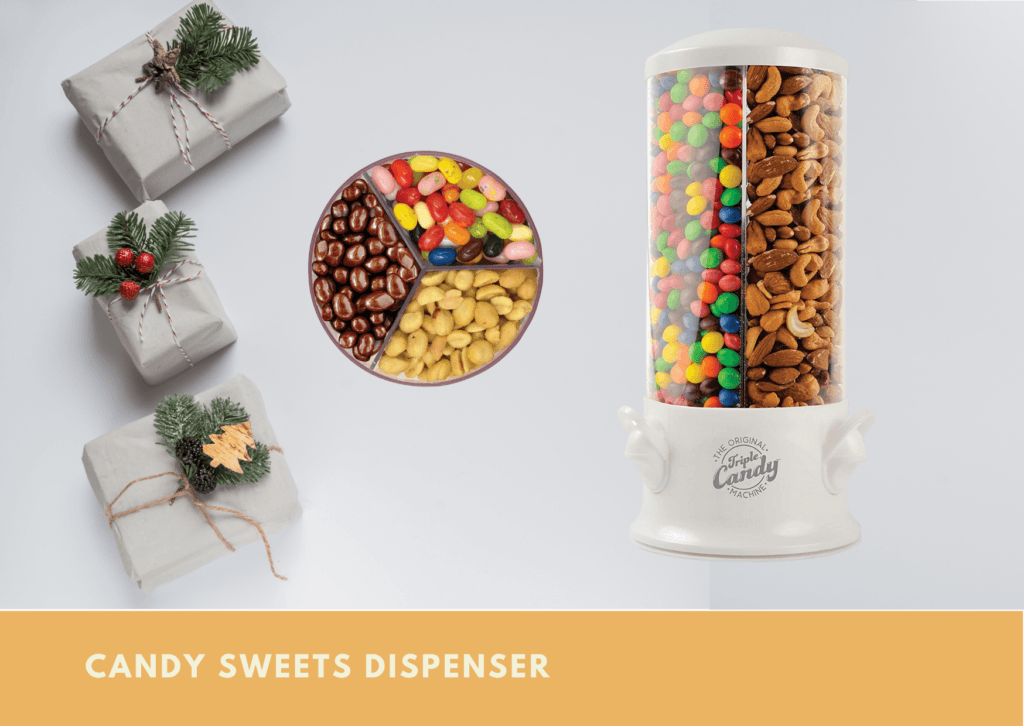 We have the Christmas cocktail book, we have the bartender tools and the drink dispenser, what about those all important snacks. We all love to have a few snacks at a gathering and what better than having a triple candy dispenser right there on the bar.
Three different snacks loaded into three containers with an easy push down lever to load your hand with your favorite sweet or savory snack. This candy dispenser also rotates for easy snack selection.
A great way to finish off a festive gift selection for the home bar.
Check Latest Price
Festive Cocktails For A Home Bar
We have had some great gift ideas for the home bar, but what about a few Christmas cocktail ideas. We have the popular Christmas punch
Christmas Punch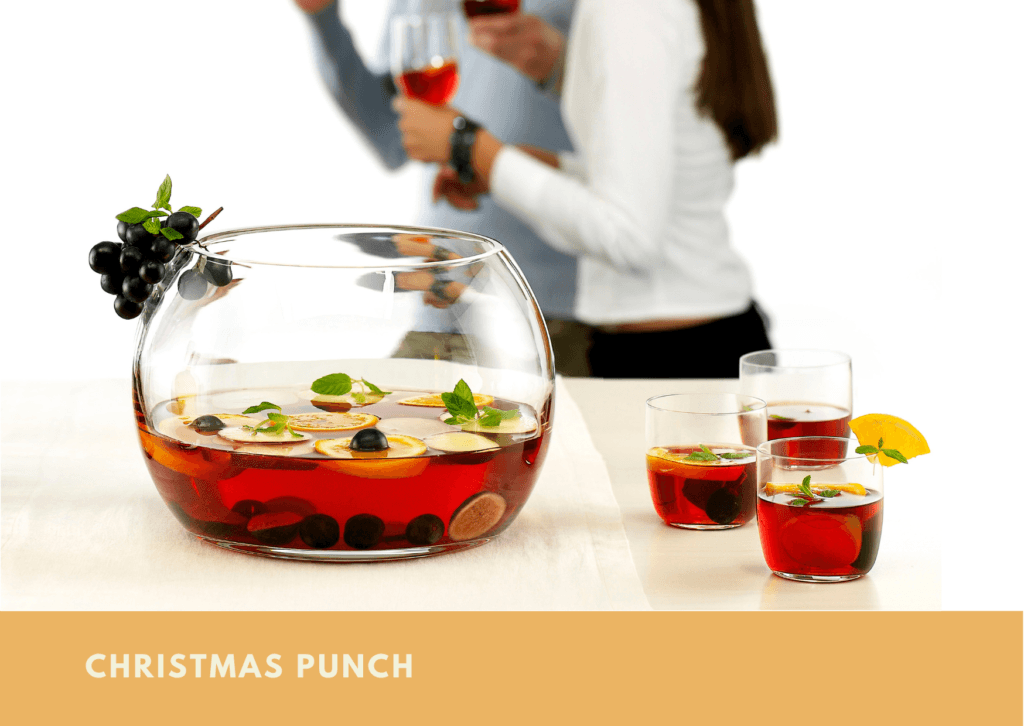 What could be better on Christmas day than a fresh festive tipple for everyone to enjoy. This simple Christmas punch can be for the adult's as well as the kids. The adult's version obviously has some alcohol, but you can make the non-alcoholic version too. Just don't get them mixed up.
The punch has some beautiful fresh fruit and the bubbles from Prosecco with the kick of Vodka that will hit the spot over the holiday period.
Ingredients
Limes sliced
Clementines Sliced
Cranberries
Pomegranate seeds
Mint leaves
Cranberry juice
Pomegranate juice
Orange juice
Prosecco
Vodka
Ice
Those are the ingredients and if you want to know the quantities and how to put it together, I got this great punch recipe from Nicky at the Kitchen Sanctuary. It can be mixed in a large bowl, or in the glass drink's dispenser.
It's a real festive winner, and your guests will love it.
Creamy Hot Buttered Rum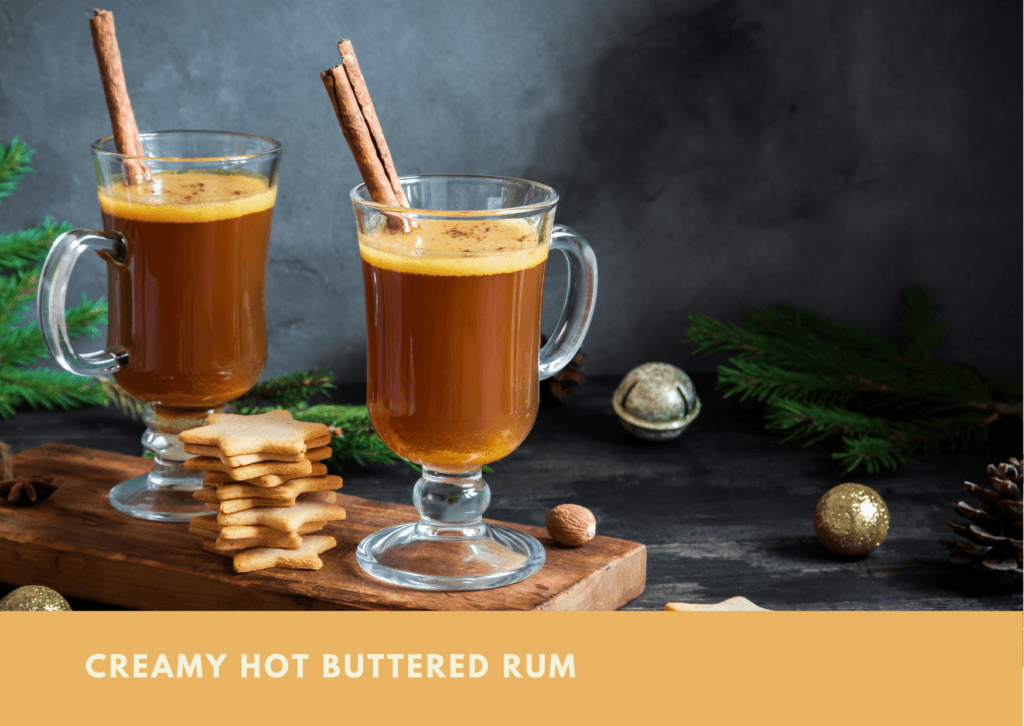 This one is a heart-warming treat on a cold festive night and is a great alternative to mulled wine. It's creamy, warm and spicy if you want it to be.
Ingredients
Dark Rum
Milk
Brown Sugar
Butter
Cinnamon
Nutmeg
You can garnish with a cinnamon stick and or star anise and use spicy rum for that extra kick. For quantities and how to make this winter warmer, I got this simple cocktail recipe from Amy at The Blond Cook.
Christmas Snowstorm Margarita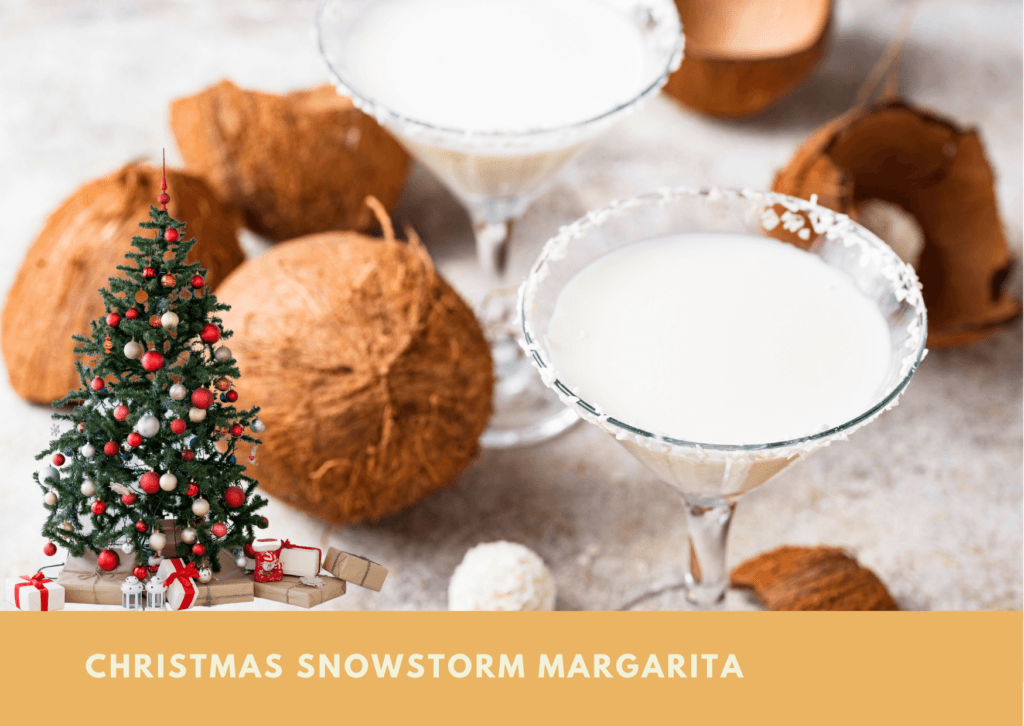 This Snowy version of the margarita gives you a popular cocktail, but with that wonderful Christmas twist. Combine the warm tropical with the cold snowy Christmas and you have this delicious, if not unusual festive cocktail.
Ingredients
Silver Tequila
Coconut Rum
Orange Liquor
Coconut Milk
Honey
Lime
Mint
This is garnished with fresh mint, but you can also add sugared cranberries as Tieghan from Half Baked Harvest suggests to give it that extra festive feel, which is where you will find quantities and how to mix this cocktail.
Christmas Alexander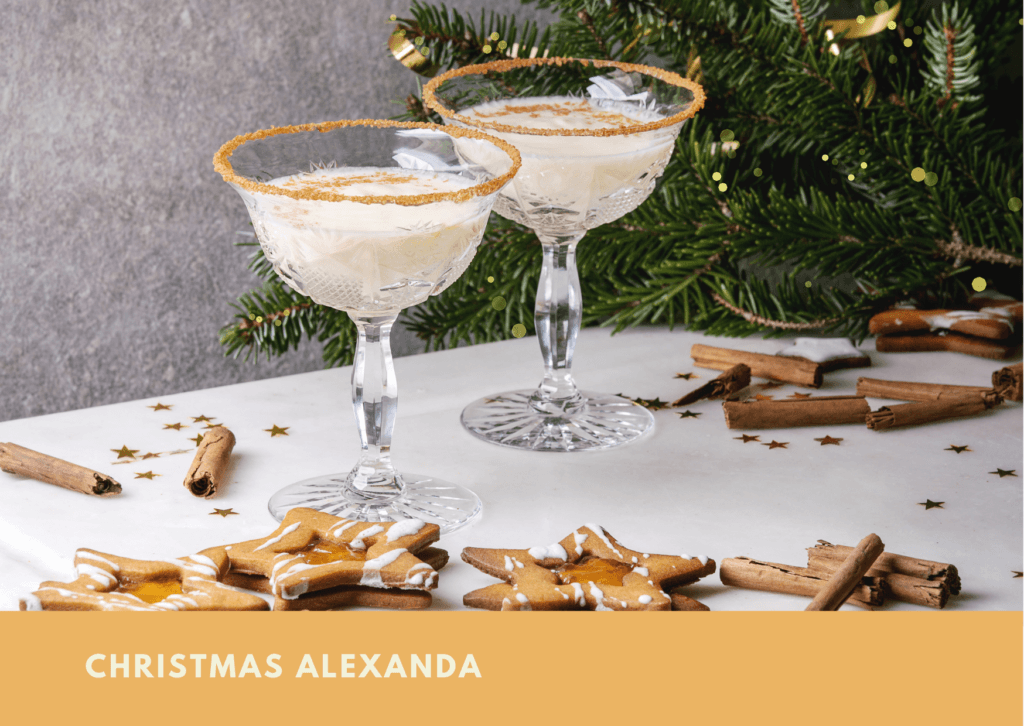 A beautiful indulgent Christmas cocktail that oozes luxury. If you like brandy, and you like cream, then this cheeky little cocktail is right up your street.
Ingredients
Brandy
Creme De Cacao
Heavy Cream
Almond milk
Pistachios
Star Anise
Mix all the liquids together in a cocktail shaker and strain into a glass, garnish with the star anise and nuts. A perfect festive cocktail to sip and savor. I quantities and instructions are at Jamie Oliver.
Make sure you don't miss out on this cocktail because you will kick yourself, it is delicious and so luxurious.
Christmas Champagne Cocktail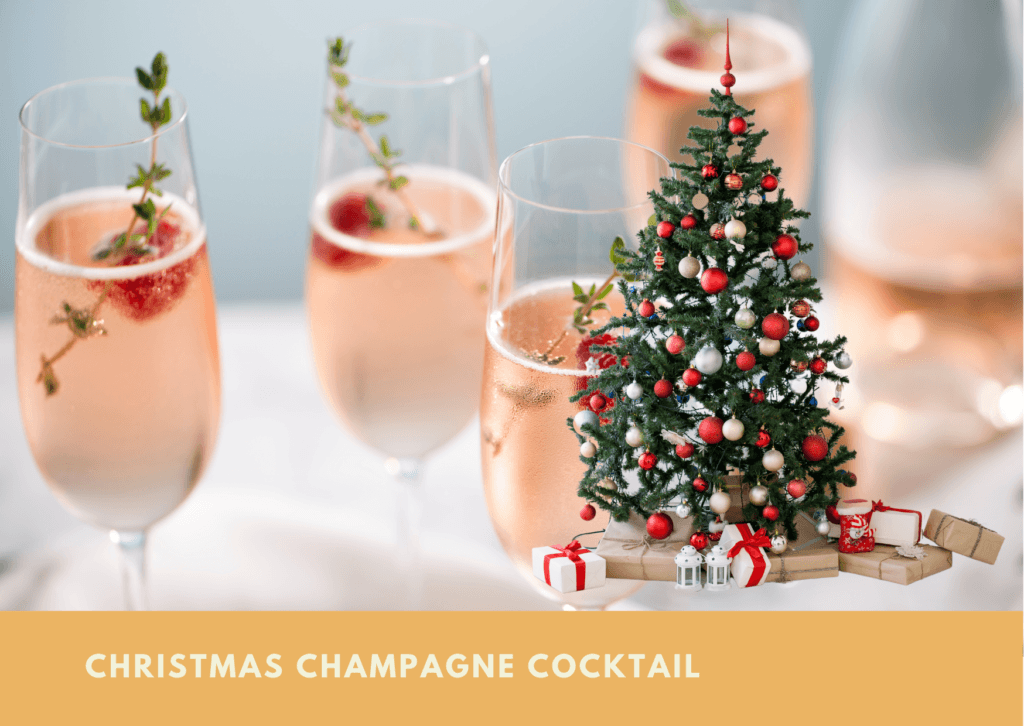 We could not forget the bubbly, we all love a bit of Champagne at Christmas, it is the ultimate toasting drink. As it is the festive season, why not jazz it up a bit and give it that extra edge for the holidays.
Ingredients
Champagne
Pomegranate juice
Simple Syrup
Pomegranate seeds
Green rimming sugar
This not only tastes fresh, but with the green sugar and the red pomegranate it gives off the festive vibes in truck loads.
This wonderful cocktail is from Janette and Jessica of Cook With Janica and that is where you will find the quantities and mixing instructions. A cocktail well worth making for Christmas morning or just for a toast at the table.
Final Thoughts
We have covered some great ideas for this festive season and I hope you love them. I have tried to steer away from the traditional Christmas cocktails like the mulled wine, eggnog and Tom and Jerry. These we know and love, but I wanted to bring you something fresh and new.
I had the same idea with the gifts and wanted to bring some great festive ideas for a home bar. They are geared for a fun festive gathering and will sure to impress any recipient, but you could also treat yourself too. Share your thoughts about these gifts and cocktails, and make sure you enjoy the coming holidays.