Buying a great gift for a home bar enthusiast is not as hard as you think, in fact it couldn't be easier. Checkout the coolest gifts on the planet for that special person with a home bar.
It is way too predictable to buy a nice bottle of cognac or bourbon, even though it would be appreciated. Instead, why not go for a unique gift that they haven't even thought of, and didn't know they needed.
Great Gift Ideas For A Home Bar
It has to be fun, it has to be functional, and it has to be so cool that it will be the talking point of any home bar party.
These specially picked gifts have the fun factor, they are totally functional, but most of all they are the coolest bar gifts ever and will be the talk of the town.
Home Bar Essentials
The first thing you do once you have built your home bar is kit it out with all the essential goods needed for a bar. Glasses, drinks, bar tools, furniture and a cocktail kit are all the basic things any home bar will need. It is the unusual and unique items that get overlooked.
We are talking about bar accessories that you can do without, but are fun to have and make the bar experience just that bit better and more unique.
While a set of personalized beer mats, or a funny bar sign are great ideas and will always go down well. They are probably the next things that get purchased once all the essentials are dealt with.
What if you came up with a bar gift that blew all other gifts out of the water, something so cool that it will be talked about until the end of time.
Okay, it might not be talked about until the end of time, but these gifts will definitely be a conversation point. They will be loved by those that receive them, lucky people.
Dive right in and check these beauties out, you can thank me later 🙂
As an Amazon Associate, I earn from qualifying purchases.
Gun Wine Bottle Opener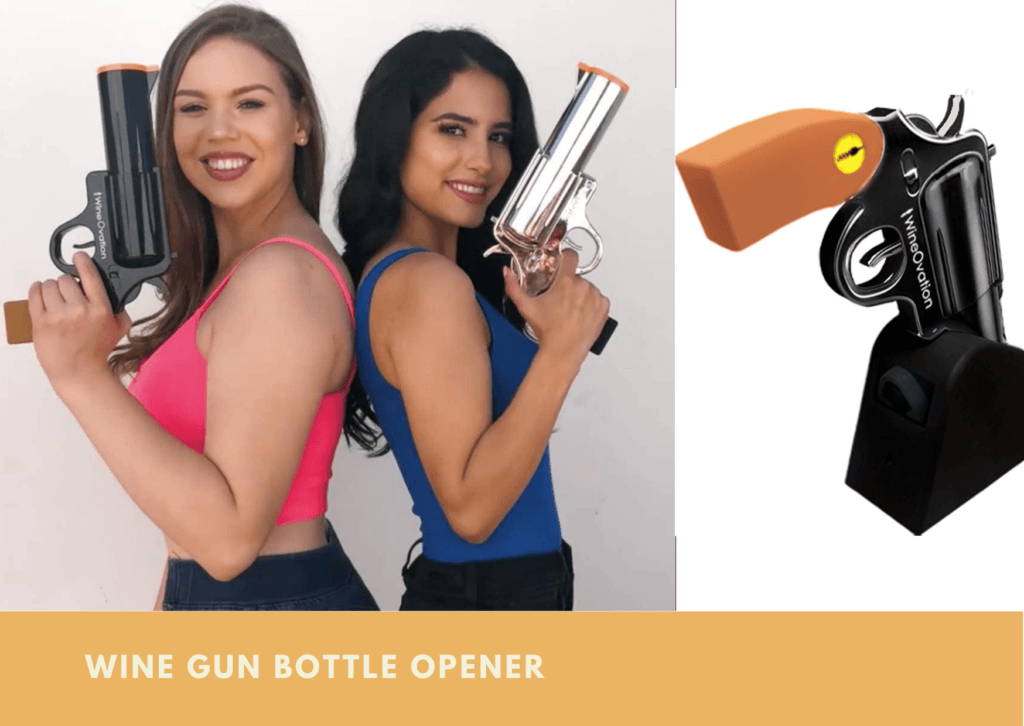 This is just the coolest bar gadget, an electric wine bottle opener that looks like a gun and sits in a bar top holster. There is nothing worse than struggling to open a wine bottle, especially when you have guests looking on. Now you can open those wine bottles with ease and look cool while you are doing it, you will want a crowd with this bar gadget.
This is made from strong durable plastic that feels sturdy in the hand. When not in use it will sit in its handy bar top charger and will sure to get a lot of attention. It comes with a foil cutter that sits neatly in the charging base unit. It comes in several colors, silver, black, chrome or pink.
This corker works by putting the barrel head over the wine bottle top and pulling the trigger, when the motor stops, the cork is fully extracted and transferred to the gun barrel. Push the trigger and the cork will be pushed out the end of the barrel. Checkout the video to watch it in action.
The wine gun will open around 30 bottles on a single charge, and can sit happily in its charger on the bar top. It is highly rated, with a 4.6 star rating out of nearly 2000 customers.
Come on, this has to be one cool gadget for the home bar.
Check Latest Price
Tequila Shot Tray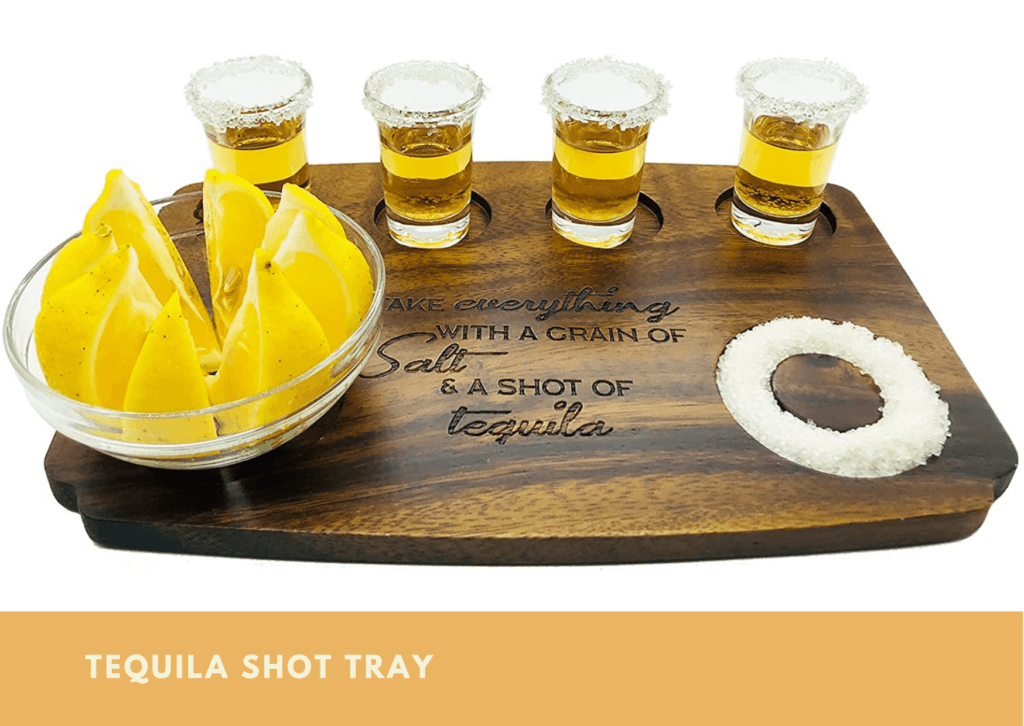 A bar is not complete without a bottle of Tequila, some shot glasses, a lemon and a bowl of salt. When a group get together at the bar, it is always fun to knock back a shot glass full of tequila with a salted rim and then suck on that lemon.
Those shot lovers will love this Tequila shot tray, with four cutouts for shot glasses, one cutout for a bowl to hold the lemon pieces and a salt rim cutout. The cutouts are done with a laser, so are clean and accurate, as is the engraved slogan which says.. 'Take everything with a grain of salt & a shot of tequila'.
The tray itself is a whole piece of walnut treated with protective oil and is mildew proof and waterproof. It is solid and looks great. The shot glasses, bowl and salt are not included, this is just for the wooden tequila tray.
It's your best shot at the perfect gift for any aspiring bartender.
Check Latest Price
Hot Dog Roller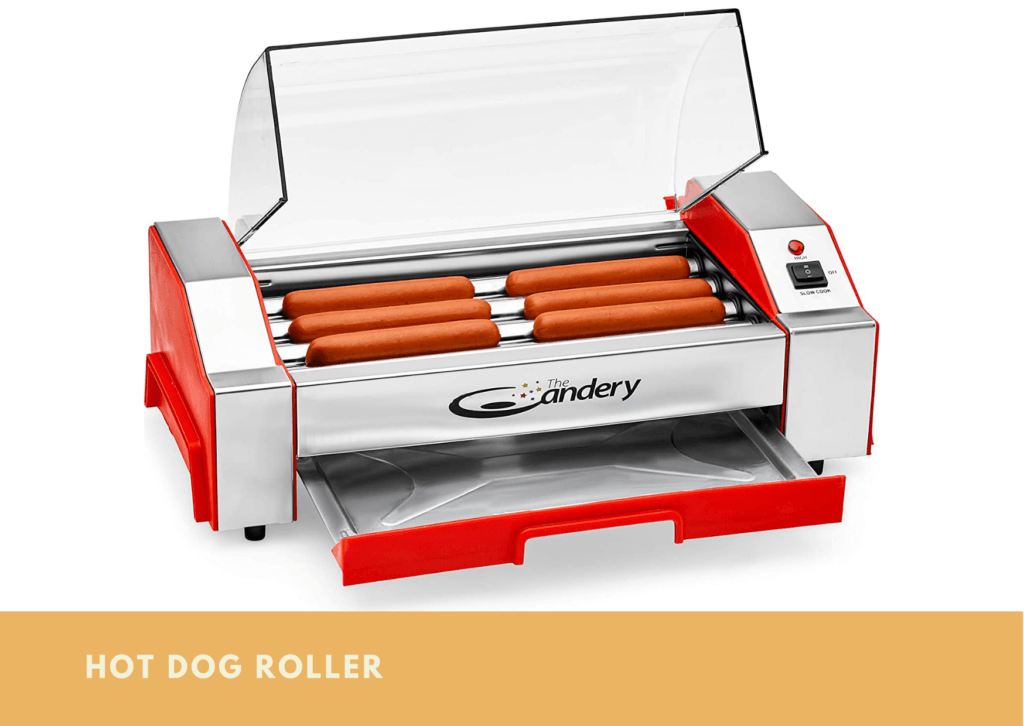 Nothing goes better with a beer than a good quality hog dog, so when your bar buddies get hungry, what better way to satisfy their hunger than with a hot dog. This hot dog roller and grill has a dual temperature control, high heat will cook your dogs perfectly and the low heat will keep them warm for hours without overcooking or burning.
It has a removable protective swing lid, a drip tray and just the coolest look ever. Imagine this on your bar top with those hot dogs rolling steadily for the perfect cook every time. The smell is going to drive your family and friends wild, this will definitely be a hit at your home bar.
An ideal bit of kit for when you are gathered at the home bar to watch the ball game, how cool would that be to serve hot dogs to your buddies at the big game.
But things just keep getting better, to go with this bad boy why not get the all in one hot dog accessory set. It includes mustard and ketchup squeeze bottles, a set of tongs and 50 hot dog trays to serve them the professional way.
This fabulous hot dog roller comes highly recommended by nearly 600 customers giving it a 4.6 rating.
Buy this as a gift and guess who will get the first hot dog off the roller.
Check Latest Price
Home Bar Liquor Dispenser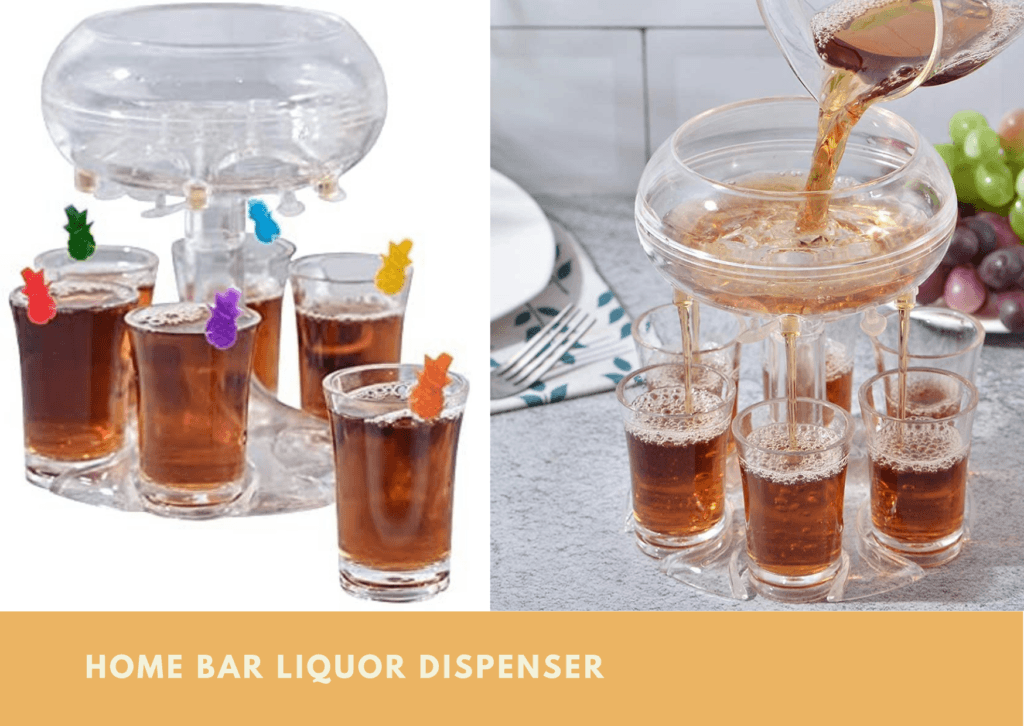 How about a shot delivery system designed to pour six drinks at the same time, how else would you be able to pull that trick off. Pick a bottle of your favorite liquor and pour it into the dispenser and it will fill six glasses up at the same time with the same amount of drink in each.
Made of a durable acrylic, this dispenser comes with six shot glasses and six different colored glass markers so peoples glasses do not get mixed up. The unit has a glass tray that the glasses fit into and each dispensing spout can be controlled individually, so you can use it for two shots or six.
This a great bit of kit to have handy for any party and will save time by pouring up to six shots in one go with the perfect amount in each glass.
It has to be a winning gift for any home bar.
Check Latest Price
The Champagne Shooter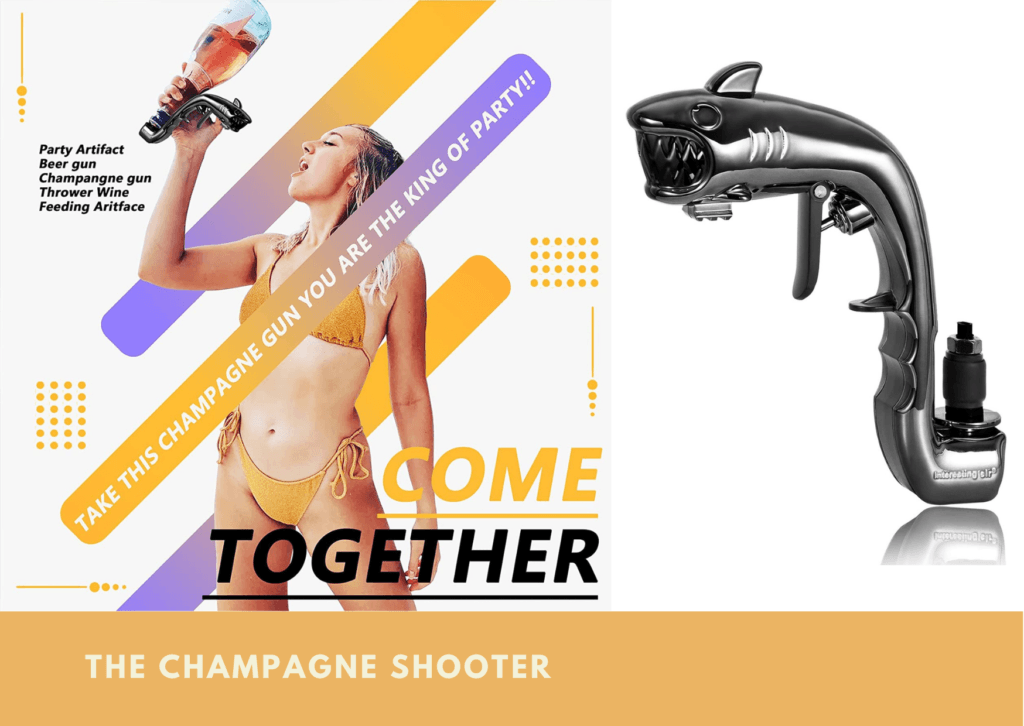 Have some extra fun at the party with this Champagne shooter, or beer shooter if you prefer, in fact load it with the drink of your choice (must be a drink that creates pressure in the bottle) and get the games rolling. It will take any 350 – 750 ml bottle, which once loaded will need a little shake to create pressure, then your good to shoot.
It is a unique shark design and comes in black, silver and gold, with a shoot range of around 10 to 15 feet (3 – 4.5 meters).
The bottle is loaded onto and plugged by a rubber bung, which can be adjusted for a snug fit, and then a clamp locks it in place. Turn it upside down and shoot, the drink will be shot out of the sharks mouth in an even stream.
If you know a bar person who is into party games, then this will be the coolest gift in town.
Check Latest Price
The Best Bar Gift
It can be a nightmare trying to think of, and find the perfect gift for your family and friends, especially those that have a well stocked home bar. I think though that we have pulled it off with this selection of bar gadgets. These are some of the coolest bar gifts you will find, they set themselves aside from the ordinary and will put a smile on the face of any home bar owner.
You will be thanked many times over, each one of these products will surprise people, sparking conversations and having fun times for all future parties and ball games.
I think these are great gift ideas for a home bar, but they are great gifts for anyone that likes to entertain guests and have parties. Let me know what you think by sharing your thoughts below.