So I went to Brewdog in Cardiff and ended up drinking a couple of Crafty Devil beers. The idea was a live gig, a little shopping, some good food and some good beer. A chilled out couple of days, which included a flight of beers to sample. One of those beers was Helles Bells By Crafty Devil, a pale go to lager.
The second beer on the flight was Fforest Haf a hazy New England Pale Ale from Crafty Devil. Next was Joe and Seph's Salted Caramel Milkshake IPA from Brewdog. Finally a Black Lager Zakur from Brewdog. Four beers for Lou and myself to sample, and then a cheeky Hazy Jane to finish.
Helles Bells By Crafty Devil
It pours a very pale almost clear light gold. As it was poured from the tap by the bartender there was the slightest of white tops. This completely disappeared and went topless. On the nose it is delicate with a malty front, laced with a subtle pine aroma. The taste is light and crisp with an earthy pine tang and slight lemon notes. A medium carbonation in the mouth leaves a smooth almost creamy end. It's and easy drinking lager that is a little too light. Rate My Beer of 3.8 – 5.0.
There is not enough oomph for me, but if light and crisp is your bag, then this is just that.
Crafty Devil Brewing Company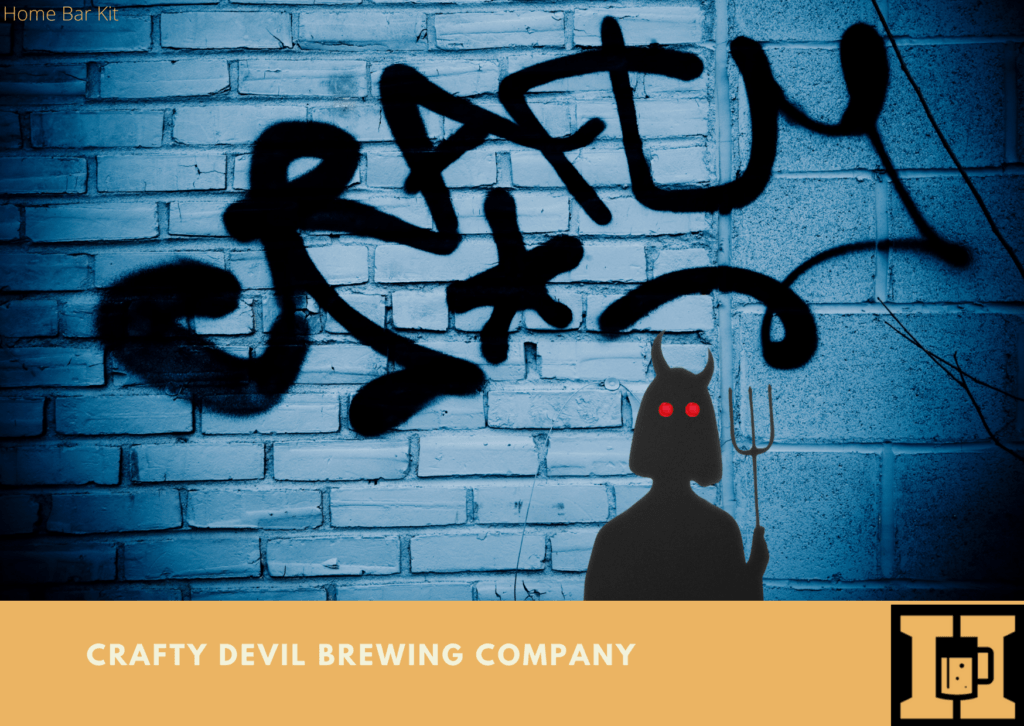 A relatively young brewery started in 2014 in Cardiff, Wales by two friends in a garden shed. Adam Edinborough and Rhy's Watkins decided to brew beer they want to drink and they have brewed some beers. Setting up in Rhy's garden shed they have taken Cardiff by storm and have a local loyal following of fans.
Fast forward to today and they have outgrown the shed and brew from a unit in Canton, Cardiff. On top of that they have two bars, one in Canton and the other in Penarth, Cardiff. Both bars serve good food and the Crafty Devil range of beers. Each bar has a beer garden and a shop attached for those handy takeout cans. There is also a bar in the center of Cardiff Beezlebub's.
Having enjoyed an impressive presence in Wales the boys are now on track to take of the rest of the UK and beyond. Their beers are exciting and fresh, the can designs are funky and cool as are the names of the beers. An inspiring craft brewery that is one to watch.
The Gig, The Food And The Beer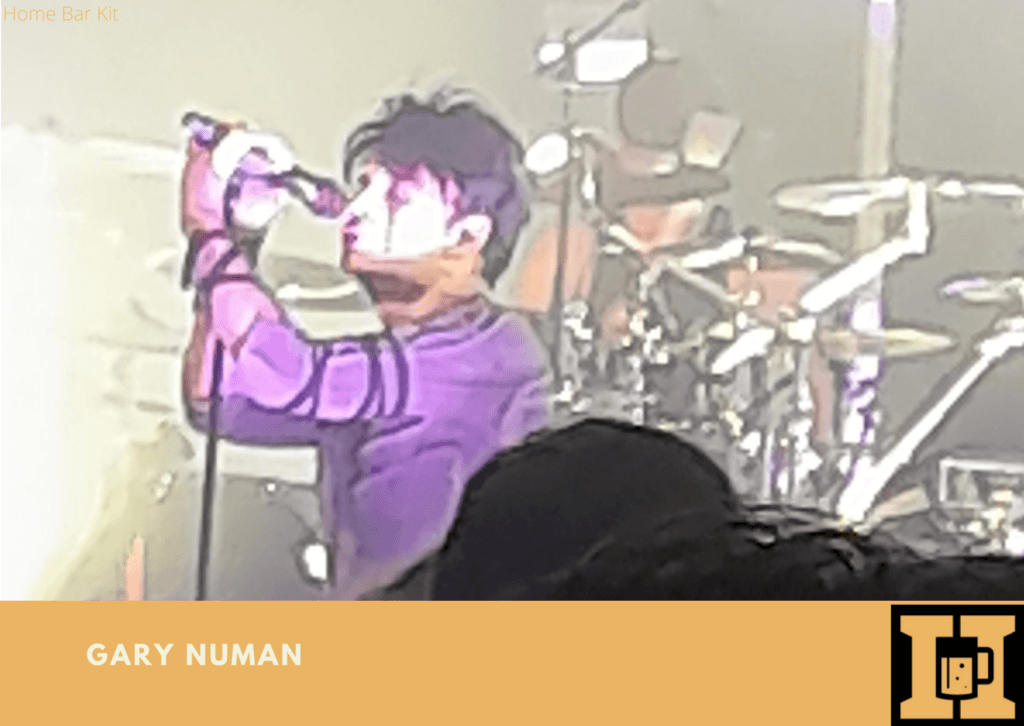 A few days in Cardiff is a recommendation of mine, a great city with a great vibe. Our trip started with a live gig, the great Gary Numan. I'm a big fan from his electronic days, but love his current heavy moody music too.
A drink before hand got me a pint of Brewdogs Planet Pale at Henry's Cafe Bar, then it was onto the gig, which was great. The following day saw some shopping, a trip to Brewdog Cardiff, then a great Tapa's Meal in the evening.
Brewdog Cardiff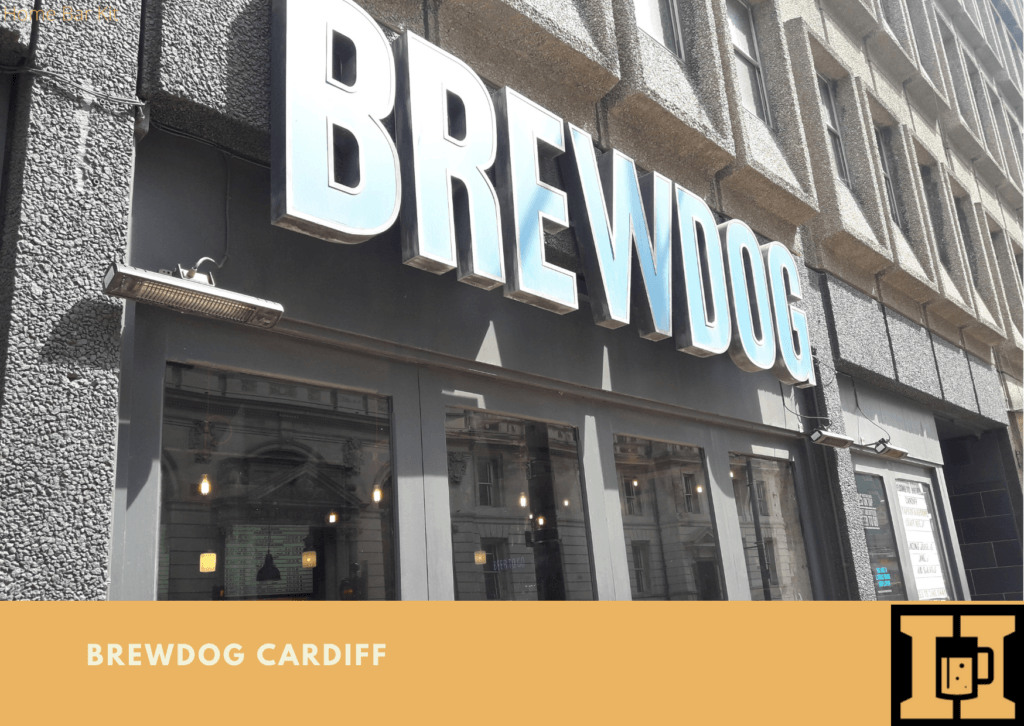 A great industrial style pub with 25 taps of fresh beer. The bar is a beer lovers delight with plenty of choice and plenty of styles. I decided to go for a flight of beers with the four I have already mentioned. Today I am going to look at the two Crafty Devil beers on the flight.
The pub and the staff are great, and the food good too, great quality pub grub.
Helles Bells Lager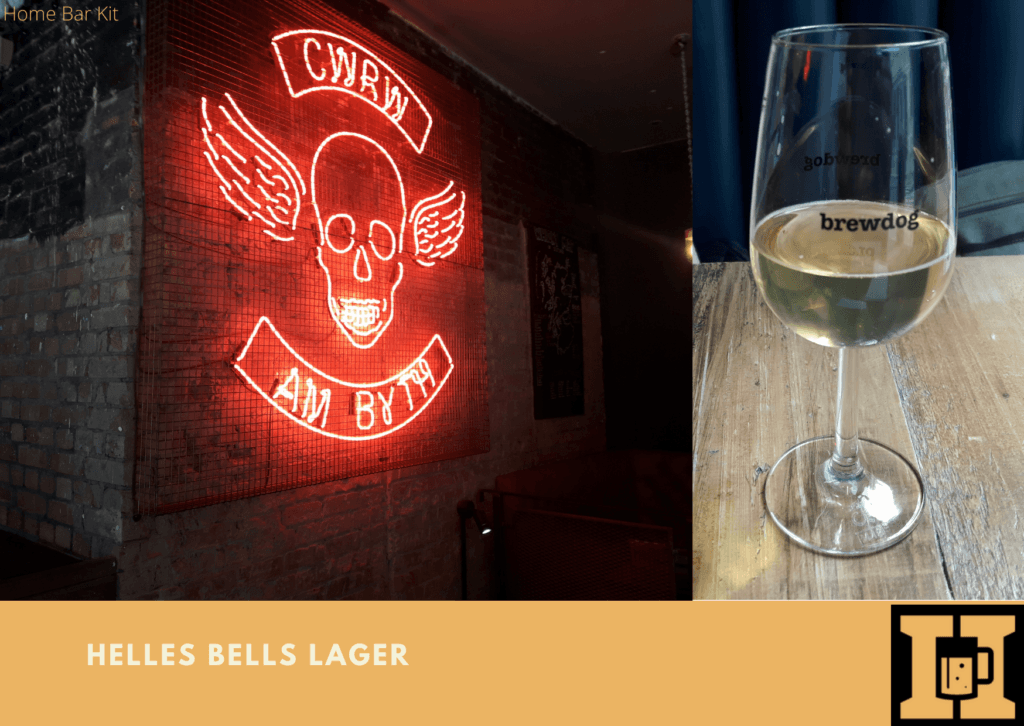 I knew this was going to be a light lager as the bartender spent a little time helping with my choices. A very informative guy that was very helpful, in fact all the staff were helpful with nothing being any trouble. The flight complete and some food ordered, mine hot buffalo wings and M'lady going for a kids size burger.
We began our beer sampling, starting with the Helles Bells as this looked like the lightest. It was too, and not just in taste. The color was so light it could have passed for a glass of white wine. The head was the thinnest of whispers which did disappear completely.
Just like the look, the nose is just as light with a malt base being the most noticeable aroma. In the background there's a hint of pine floating around. The taste is simple and light, with a crisp fresh mouthfeel. The base is an earthy pine with hints of lemon coming through. The finale is a smooth almost creamy end that is refreshing.
A great lager for a hot day, just a little to light for me. However at just 4.0% Vol it favors a few with friends. Easy to drink with a light fresh crispiness and a rate my beer of 3.8 – 5.0.
Fforest Haf NE Pale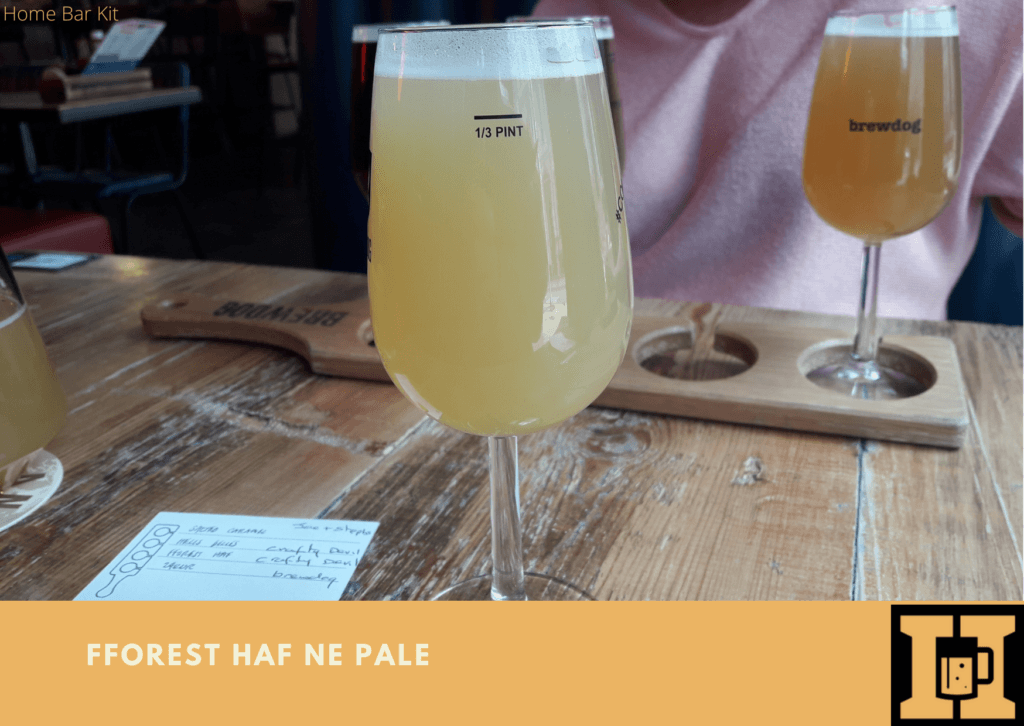 The other beer I wanted to look at from the flight is the Fforest Haf Hazy New England Pale Ale. A cheeky little citrus number that looked like a glass of pineapple juice. It is Crafty Devils collaboration with Fforest, an outdoor adventure with a variety of accommodation set in Cardigan, West Wales.
It looks great with its cloudy pineapple like color, but again has a thin top. However this top although thin did stick around a form a decent lacing around the glass. The aroma is a citrus circus with some tropical notes squeezing through.
The taste creates a wholesome mouthfeel with plenty of hops thrashing about a citrus tang. The tropical flavors seem to be of mango and pineapple which ride on top of the citrus hit. There is a slight bitter edge for the finish.
A lively little beer which at just 4.0% Vol, there is no need to be shy. A suitable cheeky session beer that hits a 4.1 – 5.0 rate my beer score.
A Little More From Crafty Devil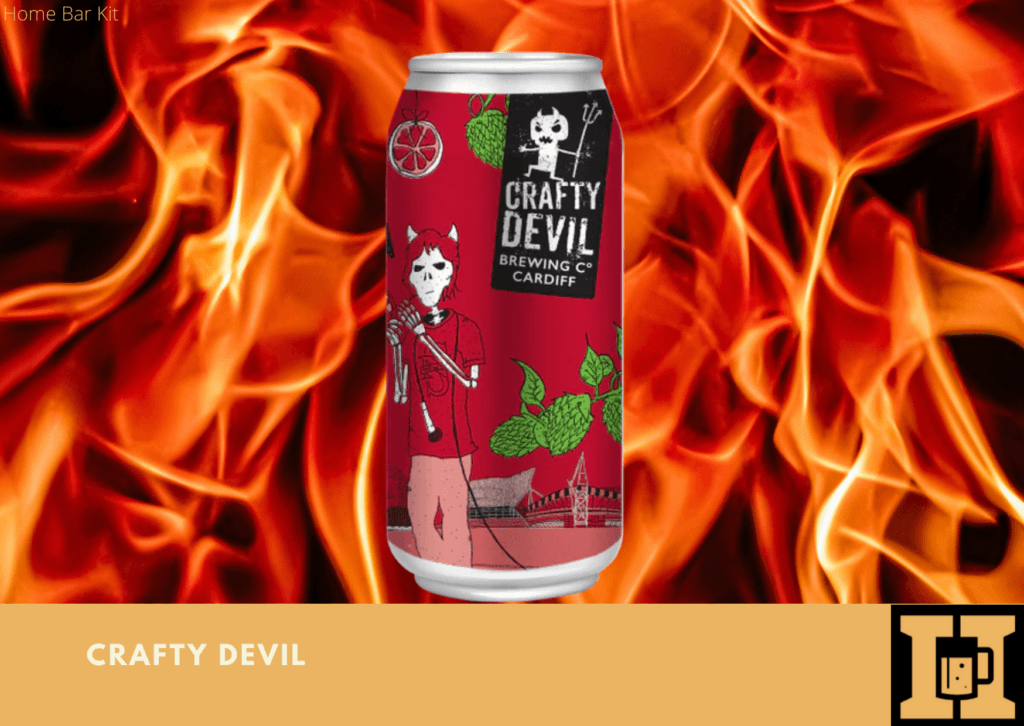 Well there is more than a little from this brewery, they do not stand still when it comes to knocking out beers. Although they might not all be available all of the time, they seem to come up with new brews all the time. They do revisit beers they have done before, so you never know what is going to be on tap or in can.
Having said that I am sure there are a few that simple stick around, like Mikey Rayer a session pale ale. An ever changing range of beers, that are exciting and fresh
Mikey Rayer
This is a beer that I think is available most of the time. Mikey Rayer All Dayer is a session pale ale with Citra and Cascade hops. It is Crafty Devils go to beer and with a 4.0% Vol its a popular number for a little sesh.
It promises a clean crisp drink with plenty of hoppiness and balance. I have got a feeling this is a crowd pleaser at their bars and online too. I will be sure to give it a go myself at some point.
Safe As Milk
I believe this to be an original Crafty Devil brew from back when they started. It's a coffee milk stout that still fits into the session bracket at 4.5% Vol. I haven't tried it yet, but will it be too rich for more than one?
A combination of roasted and caramel malts come together with lactose sugar to form what they describe as a luxurious milk stout. To top it off they add a little coffee too, its sounds interesting, but well have to see.
I Am The Resurrection
An amber ale that is another original beer from their first days and a favorite of the brewery. It has to be a good one for sure. Said to have Mosaic hops creating a hop forward beer supported by a deep malt base.
At 5.0% Vol it is on the fence of a session beer, but may well be another popular brew on tap in the bar and can at home. It sounds the business and is one to look out for.
Final Thoughts
The other two beers on the flight were both from Brewdog and they will feature in another post soon. After the sampling I ended up with a pint of Hazy Jane, which I have to say is a good IPA. I will feature that too in a future post.
Apart from the Brewdog pub I did get to try a couple of other beers in some other great pubs of Cardiff. Again these will occupy their own posts and will be popping up soon on rate my beer.
Cardiff really is a vibrant city with plenty of watering holes and restaurants. I have been before and I will no doubt be visiting again in the future. Next time I will try to get to one of the Crafty Devil's bars. Also on my radar is the Tiny Rebel Bar, another craft brewery. Until then it is back to bottles and cans.
Rob is a passionate home bar and pub shed enthusiast with a passion for craft beer. With hands-on experience in designing and building his own home bar, Rob shares his knowledge, tips, and inspiration to help fellow enthusiasts create their own perfect space. Alongside the world of home bars and pub sheds, Rob also explores the diverse and exciting realm of craft beer, providing honest reviews to help you discover your next favorite brew. Join Rob on a journey of flavor, design, and craftsmanship right here on Home Bar Kit.