Installing a ready made traditional type bar in your house is obviously a great thing and exciting too, there are sizes and designs available to suit many situations and budgets. But is there an alternative?
Home bar cabinets are a great alternative and can be very versatile too, from the tiny to the massive they can fit into those tight spaces or accommodate a larger area with combinations of more than one unit, they can even be used along with a traditional bar design.
Imagination is the tool when choosing a cabinet or combination of cabinets to make up your bar.
Small Bar Cabinets
The variety of small home bars available is almost endless from the tiniest hostess type trolley bar to the small solid cabinet, they are all compact and will accommodate glasses as well as bottles and cans, depending on how you personally set them up.
There are some unique fun designs popping up that offer something different for your home instead of the traditional looking bar. We have all seen the globe bar cabinets from the seventies which are still available, then there is the barrel kitted out as a bar, the telephone drinks cabinet looks great too, but I have also seen a Vespa scooter bar, its just so cool.
If you are looking for the fun factor or the cool factor, then it is worth looking around and exploring different designs for you home bar, because if space is a little tight, small cabinets can offer a lot of flare and a lot of fun.
Free Standing Cabinet
A freestanding drinks cabinet comes in many sizes and many combinations of layouts of doors and shelves, from a sideboard cabinet reaching around the waist height to a tall cabinet reaching towards the ceiling, and come in a variety of widths.
They are designed to fit against a wall, which makes even the biggest unit economical on space, although the sideboard design could stand alone away from a wall acting as a walk behind bar as an alternative to a pre-made bar. You can find corner cabinets too, which will take up even less space and will utilize the corner of any room.
The Wall Cabinet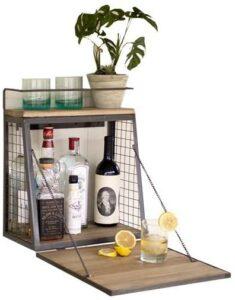 I have looked at wall cabinets for a compact outdoor home bar, but they can also be used indoors as a drinks bar too. If you have a free wall or a free area of wall in your house, then why not make use of it with a wall mounted bar, again there are lots of designs that come in many sizes, so the options are plenty.
The simplest wall bar would almost be like a shelving unit with no doors displaying your drinks and glasses, but you could go for a unit with doors, or a combination of open shelves and doors.
A neat idea is when the unit door opens downwards either on a chain or with fold out legs and becomes a bar top for preparing and serving your drinks, and then packs neatly away afterwards on your wall.
A wall cabinet is a definite contender for a home bar, and can fit anywhere there is a little free wall space.
The Double Cabinet
Why not have two cabinets, a sideboard cabinet with a wall cabinet above it will give a different look to one large tall freestanding cabinet against the wall and will provide a work top too. A tall freestanding cabinet with a sideboard cabinet in front of it with a decent gap for standing and serving drinks is another idea.
The double cabinet is obviously going to take up more room, but cabinets are not just about saving space, they can be for different looks and storage too.
The Cabinet Combination
Things are getting a little more complex now, we are mixing and matching cabinets like there is no tomorrow, but hey it's fun.
A combination of two or more cabinets can make for an interesting home bar. How about two tall freestanding units with a sideboard unit in between and a wall cabinet above it, then either a pre-made bar in front or another sideboard unit. This gives plenty of storage, a prep area with the sideboard against the wall, and a good sized bar top with the bar/sideboard unit in front for serving the drinks.
That is a good combination, but will take up a fair amount of room and will hit the pocket a little hard too, but if you have the room and the cash, then why not.
A tall corner unit, with a bar unit at an angle in front of it will take up less space, and cost less, the point is that whatever your situation when it comes to the space to accommodate your home bar, there will be a cabinet or combination of cabinets and bar units to suit.
The Versatility Of Cabinets
As we have discovered drinks cabinets can be pretty versatile, and be as simple as a small compact cabinet in a room with little space for a bar, or a network of cabinets that make for an interesting bar experience and can fill any space.
There are lots of fun bar designs too, like the Vespa scooter one I spoke about earlier, or the front of a car or truck bar unit which are cool and appealing too.
It has to be said that there must be a home bar for everyone and every space you can think of, it is just a matter of seeking the right one for you, and I will be featuring many weird and wonderful designs as I can find, along with the traditional bar designs too.
Do not dismiss having a home bar because you think you have not got the space for one, or that they are just too expensive for your budget. We now know there is a bar for every situation, every space and every pocket, and we will have fun discovering them together.