When it comes to home improvements a home bar is at the top of some peoples list, maybe not before the kitchen and bathroom, but it is an important aspect to some people.
There are many things to consider and it may feel daunting which puts many off actually getting started. This is a shame as it doesn't have to be difficult and anyone can create their own home bar, they just need to break it down into easy steps.
By breaking down what needs to be done to achieve your dream bar, it doesn't seem such a high mountain to climb. It is all about knowing how, from home bar design ideas to the plan and then the build, it doesn't have to be difficult.
The Best Place For My Bar
Before you even think about how you are going to build a bar, how big it will be or even what color it is going to be, think about where it is going to go. Don't look for ideas or inspiration, there will be a time for that, and now is not that time.
This has to be the first step because if you don't know where your bar is going, how will you know if you have the space to build one. It will be disappointing if you have spent time looking for ideas and found your perfect set up, only to then realize it is way to grand for the space you have available.
Inside Or Outside Bar
When you are thinking about where your home bar will go, the first question should be, will it be an inside or outside bar.
Inside Bar
The space you have available is going to be the biggest factor when you are looking at an inside bar. Decide if you want a separate room for your bar, or whether you prefer to have your bar in an existing room that you use a lot, such as your lounge.
If you want a separate room for your bar, then the easiest option is if you have a basement which you haven't converted in to a gym. If you have a basement and it is sitting idle, then you are on because it will be ideal.
A spare room is also a great option, many people have them and many are a dumping ground for junk. Clear out that room and visualize your bar. You can sell some things that may have been occupying your spare room, it will help fund your home bar.
If you have a study, or spare reception room, these would be another great option, but what about if a room dedicated to your home bar is out of the question.
There are so many types of bars that you don't need to replicate your favorite bar, you may want a bar for entertaining guests, that doesn't mean you need to have a mass of table and chairs.
Which room could you incorporate a bar in?
If your lounge is a good size, then maybe you could make room in one corner for a decent bar set up, or maybe your dining room would be more suitable. The kitchen is a great place too, tour your house with a beady eye and you will see space that you didn't realize you had that would make an ideal spot for your home bar.
Outside Bar
An outside bar is more appealing for some people, if you love spending time outdoors then it's an obvious choice. Keeping the bar separate from your living space maybe your reason for an outside bar, or maybe it feels more like going out when the bar is not indoors.
Whatever the reason you will obviously need some sort of outside space otherwise it is not going to work. The smallest of outside spaces could be capable of accommodating a bar, even a balcony could be an ideal spot for your bar.
An outside bar doesn't have to be open to the elements, it can be under cover or in it's own building. A shed or other out building can easily be converted into a bar, or a purpose built room would be ideal, the more space you have, the grander the plan might be.
Indoors or outdoors, this has to be the first step, and when you have determined where your bar is going, get that measuring tape out and measure the area.
Draw a plan of the space you have include the measurements and shape, then play around with a few drawings of the bar in different places within that area. Once you have a measured space and an idea of where your bar is going to be with in that space, then you will be able to work out how big your actual bar will be.
Once you have this information, you can move on to the next step.
Home Bar Design Ideas
It now starts to get exciting, this involves getting inspiration from other bars already out there and adapting them to fit your own space. Because you know where your bar is going and the size of your bar, this part will be easier, and you won't be looking at ideas that just won't work for you set up.
The internet is obviously a great place to find ideas for your home bar and one of the best places to see a vast collection of pictures is Pinterest. Pictures help us to visualize easily, we see the image in front of us and transfer it to our own situation.
We see things in images that can show us things we had not thought of, we may just have thought about a simple bar fixed a few feet from a wall, but see an image with a cabinet against the wall, then a bar fixed a few feet from the cabinet.
The tape measure will then confirm whether you would have space for this idea, and if you do then great.
There are so many scenarios of a bar set up and pictures not only give us options, but inspire us to come up with our own designs or build on something we have seen and love.
You can make a vision board to bring your ideas to life.
This is the fun part, but also an important part, so enjoy and be inspired.
The Bar Plan

You are inspired, you have the ideas, you know what your bar is going to be like and you are going to get on and build it.
If you are buying a bar, or cabinet and bar unit, then most of your planning is already done with your drawing and measurements, it will just be a case of finding a cabinet/bar that will fit and then ordering and installing when they arrive.
A few other things to consider though is, electrical outlets and lighting, possible water supply and drainage and floor surface.
If you are fitting a fridge within your bar then you may have to get some electric outlets fitted. An ice maker may need a water supply, although you can get models that don't, and a sink would need both a water supply and drainage.
If your bar is going to be part of another room like your lounge, and you have carpet, then you may want to change the floor surface around the bar area to make it easier for cleaning.
These are just a few things to consider before you go and install a bar you have bought. If you are constructing your own bar, then you will need to consider all of those things too, but your planning is a little more in depth.
Planning and working out material quantities and costs can be more daunting than the actual construction of a project. It is easy for a professional carpenter, or a competent diyer, but not always easy for those less familiar with construction. It is not impossible though and because you took measurements and drew a plan of where your bar is going, it will make it easier to complete this step.
You know how long your bar is and the width, so you can work out how many lengths of 4×2 or 6×2 you are going to need for the frame. A simple bar will have 4 lengths and 4 widths then 4 uprights to create the framework. Your bar top will probably be one piece, so again easy to work out the size, same goes for the bar front and ends.
This is the material needed for a simple bar construction, obviously you would need fixings on top.
Another option is to work off of a pre made plan, this will give you diagrams of the construction, measurements which you can adapt to your own, and list of materials and type of materials.
Basically it takes the planning out of planning and gives you a blueprint to work from, it's a worthy option if you have trouble doing the plan yourself. Buying a bar plan is not expensive which makes it a no brainer if you don't want to do this part yourself.
Plan complete, it's time to build.
Building Home Bar
The more simple your design, the easier it will be to construct, but if you are working from a blueprint, then this does not have to be difficult.
Safety should be your number one concern, so do not attempt to use power tools if you have no experience of using them before. To construct a bar does not really require a vast collection of tools and/or power tools, the basics, like a saw, set square, level, screwdriver and hammer maybe all that is needed, so don't over complicate it.
Building your own bar will not only teach you basic construction, but will be satisfying too, but if you are in any doubt at all, then employ a carpenter to construct it instead. If you do everything else and a carpenter literally comes in and constructs your bar from the blueprint you have supplied, then it will not cost the earth.
Build safely or get a professional to build it for you.
Home Bar Set Ups
You have seen the project through and there before you stands your new home bar, exciting stuff, the hard part is done and now is the time to set your bar up.
These are the basic things you might want to include when you set up your bar, well actually some of them are must haves, wants the point of a home bar without any drinks or glasses.
This part is the finishing touches, like adding the cherry on top of the cake, it's fun.
Enjoying Your Bar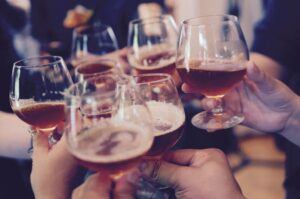 Whether you have purchased a small bar because room is tight or you have used a whole room and have tables and chairs and a pool table, maybe you have built a dedicated building outside to house your bar, which ever it is, well done.
You have done it, mission accomplished and bar stocked and ready, now all you have left to do is enjoy your bar. This is your new local bar where you can meet family and friends and enjoy a drink together, you now have your own bar.
If your dream is to have your own home bar, then I hope you have discovered a few tips and ideas that will bring your dream to life. Share your thoughts below by leaving a comment, or any home bar design ideas or insights you may have that could help others with their projects.