Just like beer, wine is an essential drink to be stocked in the home bar, whether you like white, rose or red, this beautiful liquid needs to be stored, and home wine storage racks are the perfect solution.
No matter your set up and available space, there will be a wine rack that is suitable, luckily they come in all shapes and sizes. They come in a variety of designs and materials, there are even wall mounted options and those that can also hold your wine glasses too.
Let's take a look and find you a cool wine rack for your home bar.
Home Wine Rack
Some might say a wine rack is a necessity for the health of your wine. Others will say it's just an ideal way of storing your wine bottles in a neat and tidy format.
Why store wine on its side?
The reason wine is best stored on its side is to keep the cork healthy which in turn keeps the wine healthy and we are all happy about that, so we store our wine on its side. If the wine bottle is stored upright, then the cork will dry out and shrink, letting air in and causing oxidation and you may be left with a bottle of vinegar.
The trouble is that not everyone agrees with this, science says that the humidity in the space between the wine and the cork is almost 100 o/o meaning the cork will not dry out if stored upright.
If this is true then we don't need a wine rack after all, or do we?
A Wine Rack Is A Good Idea
Whether wine should or shouldn't be stored on its side or not makes no difference to whether we need a wine rack or not. The reason a wine rack is a good idea for storing our wine stock is because it stores the wine neat and tidy with a smaller footprint.
If you stand 20 bottles of wine on a counter, they will take up a far larger area than the wine stacked neatly in a rack. That is the real reason a wine rack makes sense, so forget the debate and the science and get a wine rack for your own convenience.
The other fact to consider is the introduction of the screw cap and of course the plastic cork, which both eliminate the shrinking cork problem.
Anyway lets take a look at some great wine racks.
HB Design Counter Top Wine Rack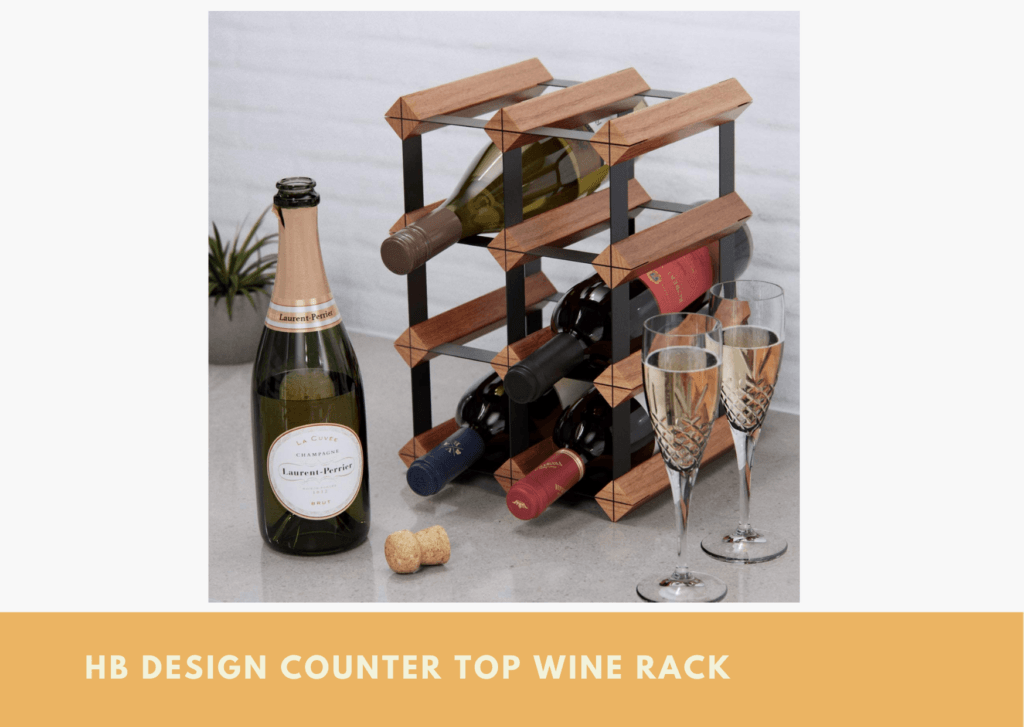 This counter top wine rack from HB Design Company is marketed as a 6 bottle rack, but can actually hold 8 bottles, and if you turn it on its side, then it will hold 9 bottles. A confusing start I know, but this is a great little rack and an ideal candidate to kick things off.
The design is natural wood bars that the bottles lay on with a metal frame in matte black which gives a simple but contemporary feel. It is a compact design that will only take up a 7″ x 8″ space or 8″ x 12″ space if laid on its side to accommodate that extra bottle.
There will be no assembly issues as this comes fully built and can be used straight out of the box. It is small but perfectly formed and a real looker too, ideal for any bar top or counter.
Le Bouchon Wine Rack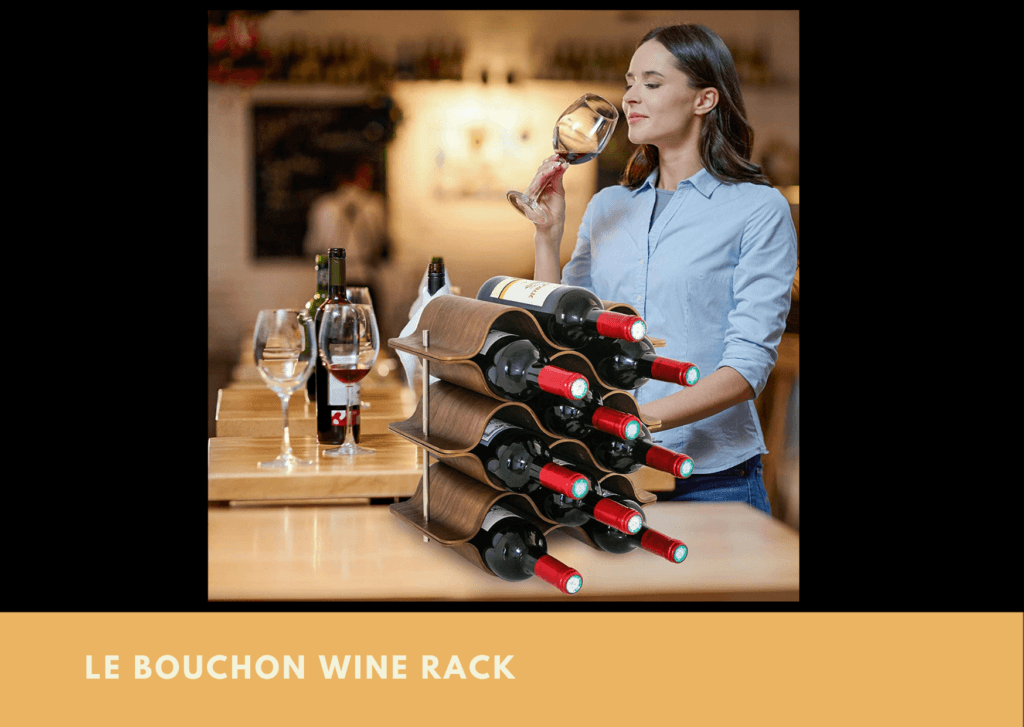 How about this contemporary piece of furniture to keep your wine bottles safe and tidy. Made from solid walnut wood this is a real design piece that will show off any bottle of wine.
Ideal for any counter or bar top this rack holds 9 wine bottles and will take up a space of 6.5″ x 13″ approximately. It doesn't come pre-assembled so will need to be put together, but no tools are necessary and it fits together in seconds with ease.
If design is important, then this rack ticks the box and will store your wine in style.
Simple Trending Wine Rack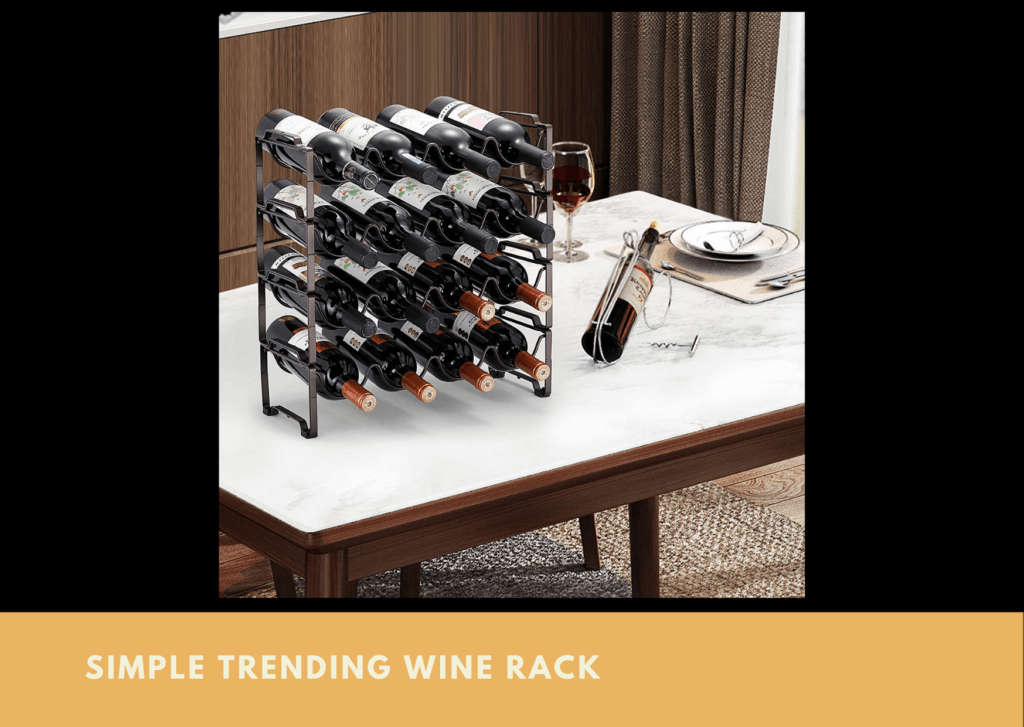 This wine rack sold by Simple Trending is bigger than the previous two and will hold 16 wine bottles in total. Although it is bigger it still doesn't take up to larger area coming in at less than 18″ wide and less than 7″ in depth, so can still fit on a counter top as well as the floor.
It is a metal construction with a bronze coating to help protect against corrosion, it also has anti slip feet too. Holding 16 bottles it is a decent size, but if you decide to increase your wine collection, then this unit is stackable, just get another one and it will stack on top doubling you wine bottle capacity.
Because it is a layered design that links together each row of four is a standalone unit, which makes this a versatile wine rack that can be added to or reduced to suit.
X-Cosrack Wine Rack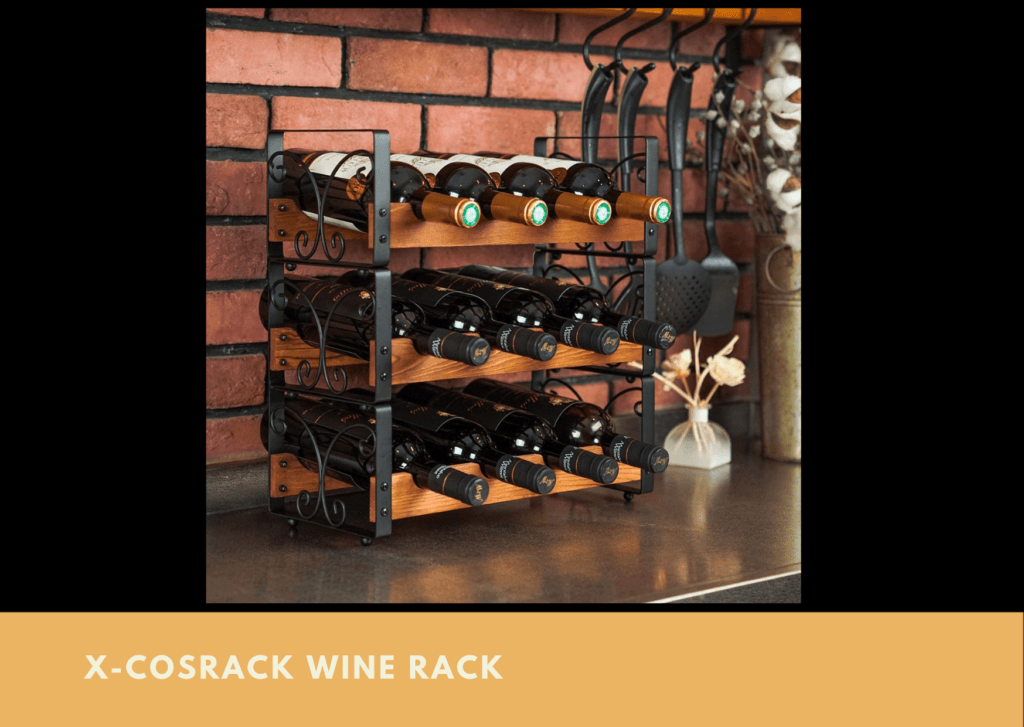 Dropping down in volume slightly we have the X-Cosack Rustic wine rack which holds 12 bottles in a 3 row format. Made from a combination of wood and metal this is a sturdy unit with decorative iron work design on the sides.
Like the previous one, this too is stackable so you can easily add rows to expand volume or use each 4 bottle row separately. It comes in with a 17″ width and a 7.2″ depth and each layer has a height of just under 6″, so the 3 stacks assembled will stand 16.5″ high.
This means it can still qualify as a counter top wine rack, as well as freestanding on the floor. A versatile rack with a traditional design makes this a great option for your wine storage.
Bordeaux Chateau Wine Rack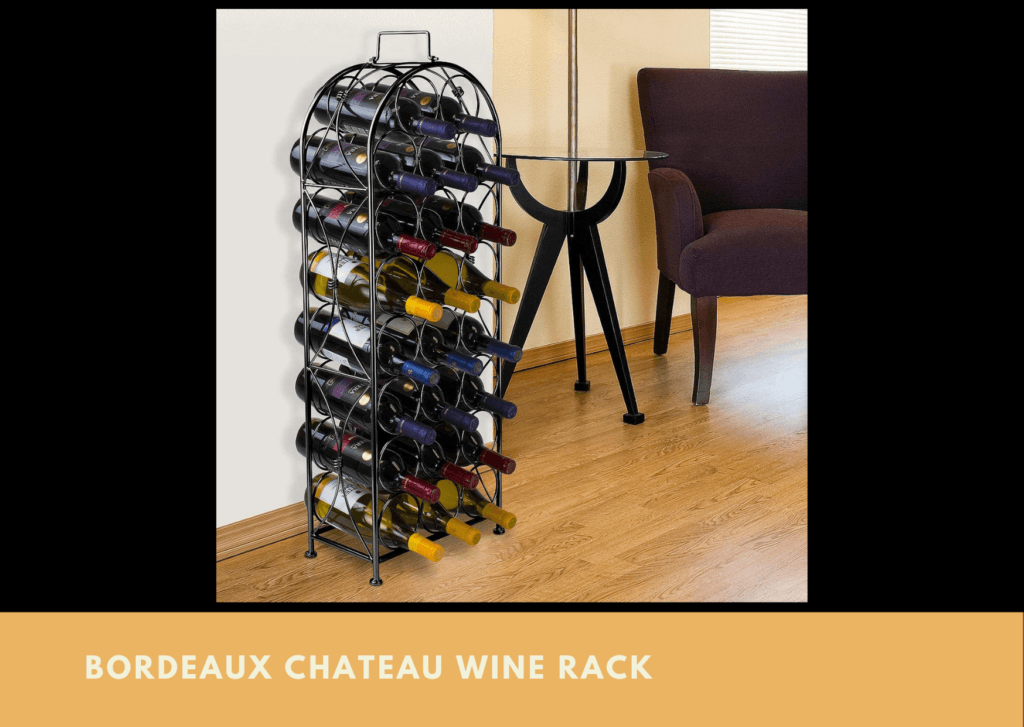 This stylish freestanding wine rack from Sorbus is a real head turner with its arched top design, it will add elegance to any room. Made from a sturdy metal frame coated in black this unit can hold up to 23 wine bottles.
It has a 7″ x 13″ footprint so although could technically stand on a counter without taking up too much area, it suits the floor better and stands 34″ high. As you would expect with its arched top design it is not stackable, but several of these side by side would not only look great, but would hold a lot of wine.
A perfect wine rack for the design conscious.
Mango Steam Wine Rack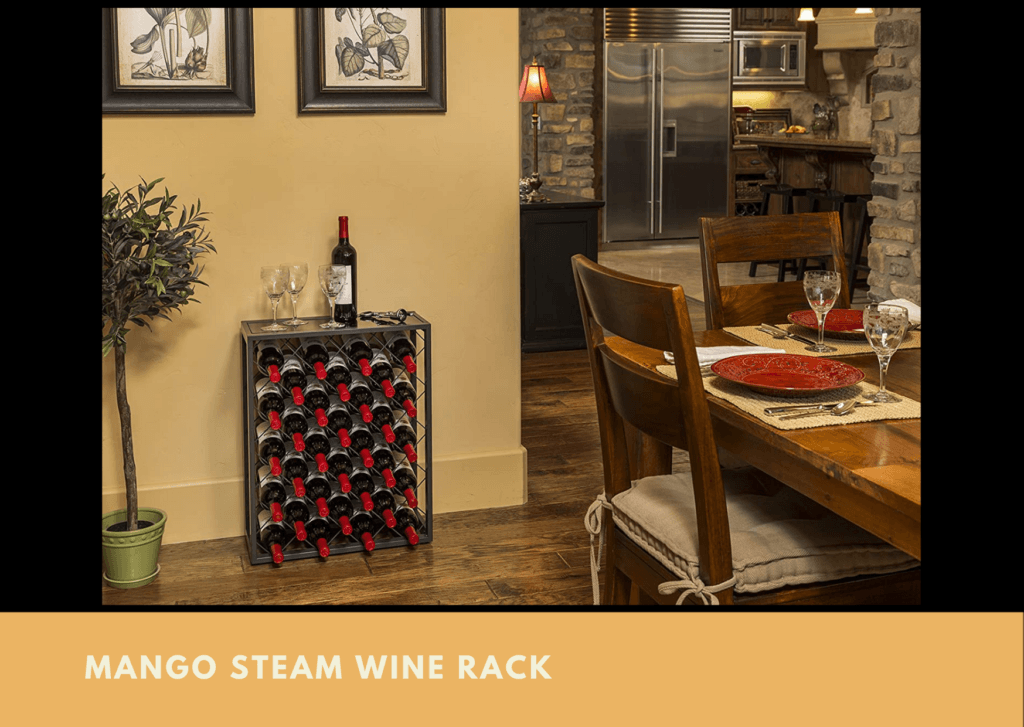 If you want style and functionality, then the Mango Steam wine rack is a real contender. It has a cabinet feel to it, made of a very sturdy construction using thicker metal frame work finished with a powder coating this unit is a winner.
Holding up to 32 bottles your wine collection can flourish and having a black glass tempered top just adds a little something extra. Wine accessories or larger bottles can be stored on the top and if your floor is slightly uneven how about the added floor levelers, Mango Steam have thought of everything.
It is not a monster either with a 20″ x 9″ footprint and a height of just under 27″ it really is pointing towards perfection. A beautiful wine rack that impresses on every level.
Wall Mounted Wine Rack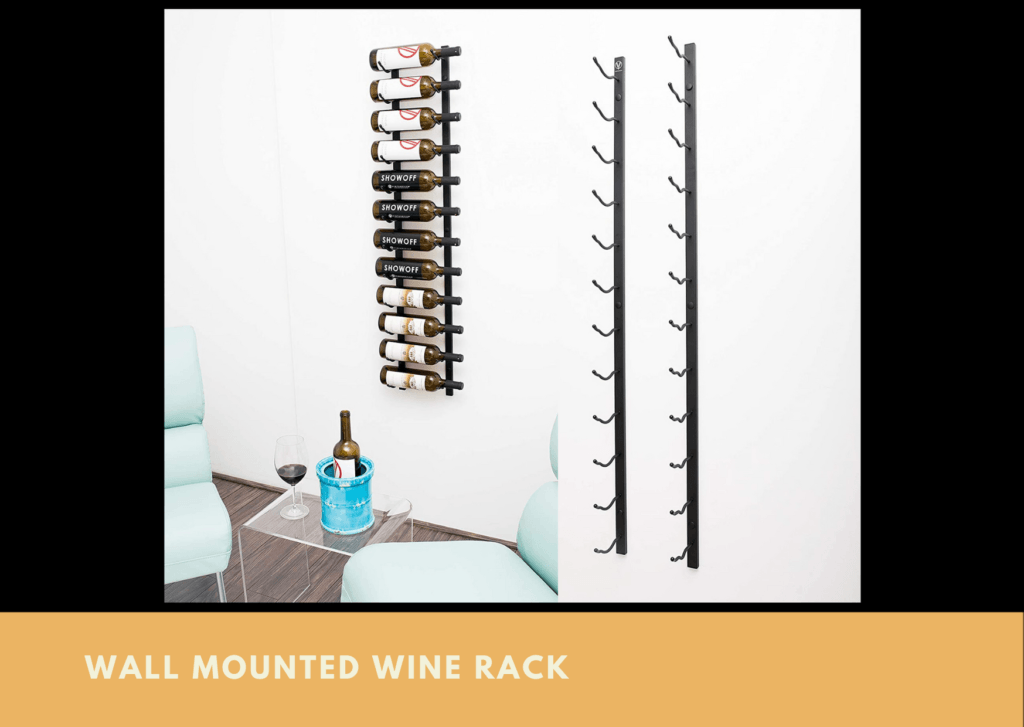 Now for something completely different, I give you this simple but effective wall mounted wine rack from Vintage View. If, space is a little tight then this is a great alternative to counter top of freestanding floor wine rack.
The design is simple with two long strips of metal that both have 12 hooks to hold the bottles, they simply fix to the wall and you have a brilliant wine rack. When in place they are as wide as a bottle of wine is tall, and 48″ in height, whilst they will protrude from the wall by just over 5″ making this a great space saver.
It will hold 12 bottles of wine and really does look great on the wall. You could buy several and fix them next to each other, or go the whole nine yards and cover a complete wall in wine bottles, now that would be a statement.
A sleek fun way to store wine.
Glitzhome Wine Storage Rack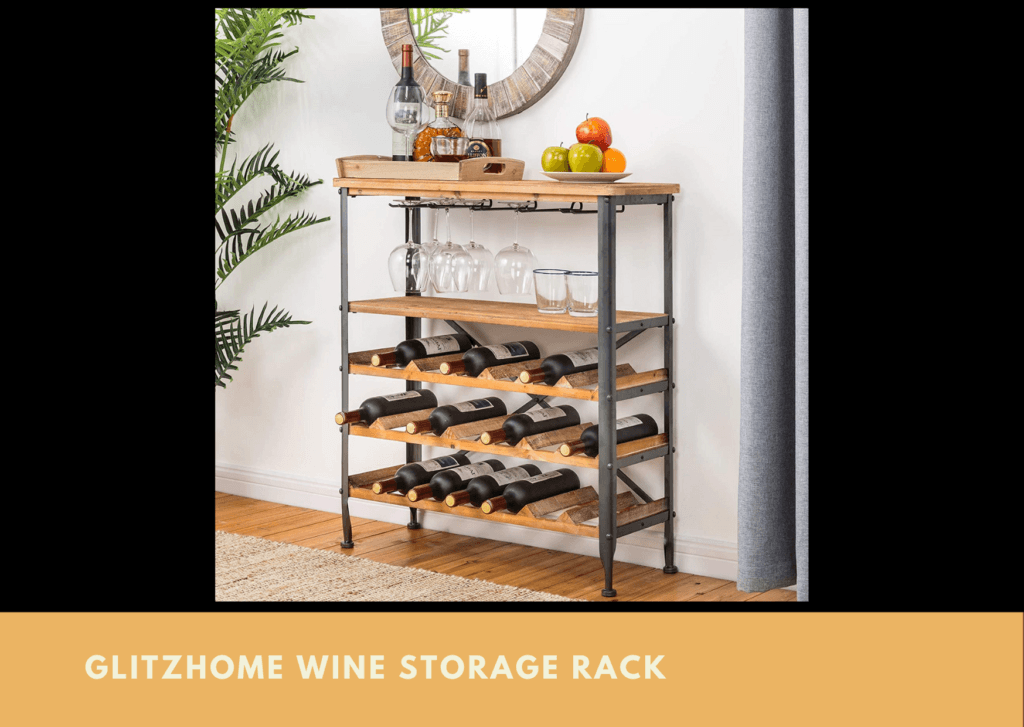 This is another beauty with lots of functionality and can store glasses as well as wine bottles and other drinks accessories on top too. The Glitzhome wine rack has 3 tiers for wine bottles which add up to 21 bottles in total, a shelf for other bottles or accessories, as well as a stem rack to hang wine glasses. Then they go and put a top on it too, just to make it even more functional.
This literally gives you a whole wine bar set up, with plenty of style too. Made from natural solid fir wood and a sturdy metal frame finished in matte black. It is 30″ in width and almost 12″ in depth and stands just over 34″ in height. It does need assembling but all tools and fixings are included along with detailed instructions.
This is a good all-rounder that combines style with functionality.
Serene Life Wine Rack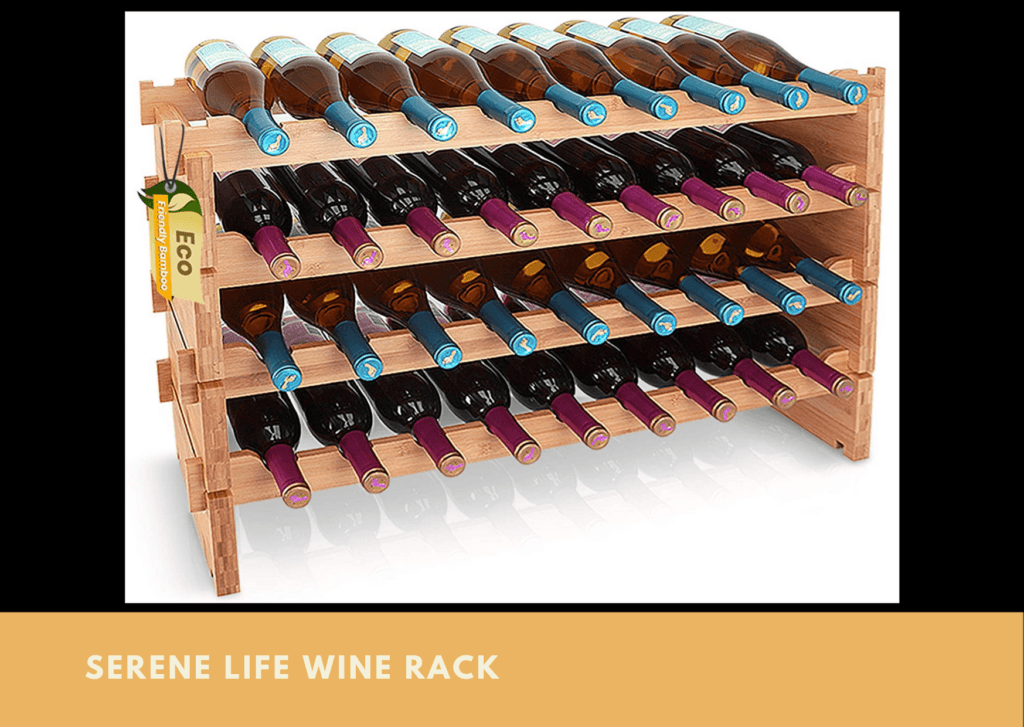 We are going long and low with this sturdy Bamboo constructed wine rack from Serene Life, it looks good and has a natural rustic feel to it. Made from thick Bamboo it is strong and the pieces are designed to snap together, making assembly quick and easy with no need for tools.
It is wide (or long, which ever way you look at it) and comes in at 54.5″ in width, with a depth of 10″ and a height of only 33″ giving it the long and low look.
It looks chunky and strong, so if you like a bit of chunky rustic design, then this is right up your street.
Modular Wine Rack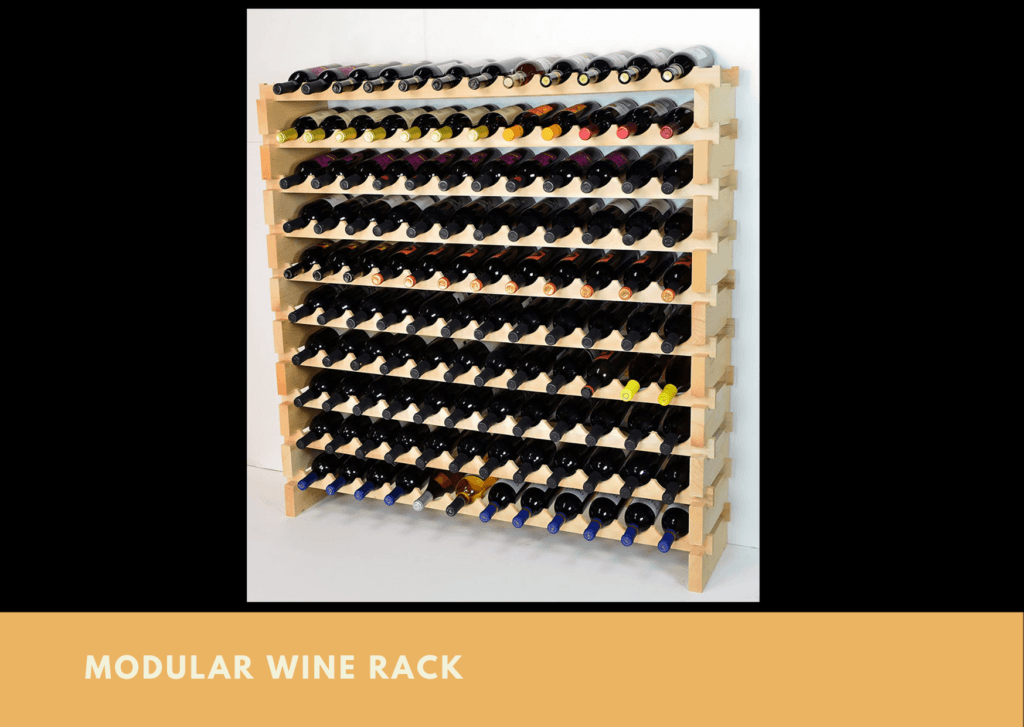 Go big or go home, so they say, but seriously if you are thinking of going big to create that wine cellar look, then this is the wine rack for the job. There is room for 12 bottles across and you can have up to 12 rows, giving a whopping 144 bottle capacity, now that's impressive.
At this size you are looking at a 47″ width with an 11″ Depth and a sky scraping 57″ high, so you are going to need a bit of room to fit this beauty in. If you are kitting out a basement for a wine cellar, then a few of these would soon fill the room.
Made of solid beech hardwood and interlocking pieces means this is sturdy and simple to assemble. A true wine cellar contender.
The Wine Rack
We have looked at some really beautiful and functional wine racks, and no matter your set up or the space you have available there is one that will suit. Whether you agree with the reasons why you need a wine rack, the truth is they just look good as well as serve a great purpose.
There are other uses for wine racks too.
You wouldn't buy a wine rack if you wasn't going to use it to store wine bottles, but then again because they look good and are great organizers, you may well do just that, so what would you use it for?
Here are a few uses…
Other drinks bottle storage
Magazine rack
Towel rack
Shoe Rack
Stationary supplies
These are just a few uses for a wine rack that is not storing wine bottles, but in my opinion a wine rack is best used for the purpose it was designed, to store wine bottles, they are really good at it.
What ever your reason for buying a wine rack I hope the selection I have put together here will be of help, or at least inspire you to find the right one for your needs. If you decide to get one I have shared or you find a different one, then let us know.
Share your wine rack experiences below, what type you have and how many bottles it can hold, it would be great to hear your stories.