How do I display liquor bottles in a bar? A question that I have been asked recently and one that requires a little thought. It is not ideal to store your liquor bottles in a cupboard out of site. Mainly because you can't see exactly what you have at a glance.
Displaying your liquor bottles in the open is far better. Apart from the fact that it looks good, you can also see what you have at a glance, and so can your guests. In this article I will look at some tips and ideas on how to achieve the best liquor bottle display for a home bar.
How Do I Display Liquor Bottles In A Bar?
Liquor bottles look best when they are arranged behind the bar. This can be achieved by a built in shelving unit on the wall behind the bar. For a more minimalistic look a few floating shelves look great too. A tiered shelf system on a counter also makes for a great display elevating each row from the next. The use of mirrors can give the impression of a bigger display.
There are many ways to achieve a great liquor bottle display. However it is best to incorporate a display at the planning stage of a home bar.
Building A Home Bar
A bar that is built in its own room like a basement bar will always have more options. The same goes for an outside bar built in a shed. A counter or wall of shelves can be built in on the wall behind the bar itself. This will give plenty of room for a liquor bottle display.
Bars that are built into smaller areas may not always have the room for a behind the bar counter. Likewise a complete wall shelving unit either. These bars are more suited to a few floating shelves on the wall behind. Or on the adjacent wall if it is a bar installed in a corner of the room.
Floating shelves are also easier to add to a bar without to much hassle. However the best liquor displays are achieved when they are accounted for at the planning stage of a home bar build.
As an Amazon Associate, I earn from qualifying purchases.
Floating Shelves For Liquor Bottles
Floating shelves are one of the easiest ways to achieve a good look for displaying liquor bottles. Because you can't see the shelf brackets it just gives them a cleaner look. The shelf appears to float and all the emphasise is on the bottles.
Ideal for tight areas because they can be made so they just have enough depth for one bottle. This means they do not stick out from the wall to far.
The video shows just how easy they are to do it yourself. The floating shelf brackets are simple but work perfectly, just add the wood.
One thing to bear in mind is that if you are making a long floating shelf then add more brackets. One bracket at each end of a long shelf will not be sufficient.
A simple way to achieve a great liquor bottle display in a home bar, and without taking up too much room.
Liquor Bottle Shelving Unit
Building a complete shelving unit to store and display liquor bottles is a great way to utilise a whole wall behind the bar. Again depending on the width of the wood you use, will depend on how far it sticks out from the wall.
This will depend on the amount of space available behind the bar. Although the video shows the making of a bookcase, the concept is the same for a shelving unit for liquor bottles.
If the wall is a big one, then a shelving unit like this can hold more than just liquor bottles. Glasses, cocktail recipe books and even some bar memorabilia.
Any design layout is possible because you are building it yourself. Just straight line shelves will look good, or a more complicated design like the one in the video.
Do make sure you allow enough height between shelves to accommodate the height of your liquor bottles. Remember some are taller than others, so think about this at the design stage.
The wood and finish is obviously a personal choice, we don't all have to use scaffold boards and burn them. However it does the job and looks good too. Just as long as the timber is strong enough to hold the weight of a number of liquors bottles.
One tip that wasn't shown in the video is to make sure you fix the shelf unit to the wall once it is finished. No one wants a full liquor display tipping forward, so it is best to fix it in a few places.
A unit like this will give the best option for grouping liquors together. Gins together, vodkas together and rums and so on.
Building A Bar Counter Tiered Liquor System
The luxury of a complete counter behind a bar is one for a bar that has plenty of space. Displaying liquor bottles along the back of the counter always looks good. As well as having all your liquor bottles right there behind you at the same height as the bar.
However a better system is to tier the liquor bottles. By making a simple two step, or three step display unit, the bottles look even better. Likewise it is easier to see all the bottles because each row is higher than the one in front.
Although the video is about making a spice rack, the idea is the same for liquor bottles. Obviously the dimensions would be different, but it is just to show what can be built. Also the amount of tiers is up to you, and the depth of your counter.
A free standing unit on a counter top would look better with the ends filled in. Also the unit can be finished with a varnish or paint just to give it a better look.
But what do you do if you don't want to build your own?
Liquor Bottle Stepped Display Shelf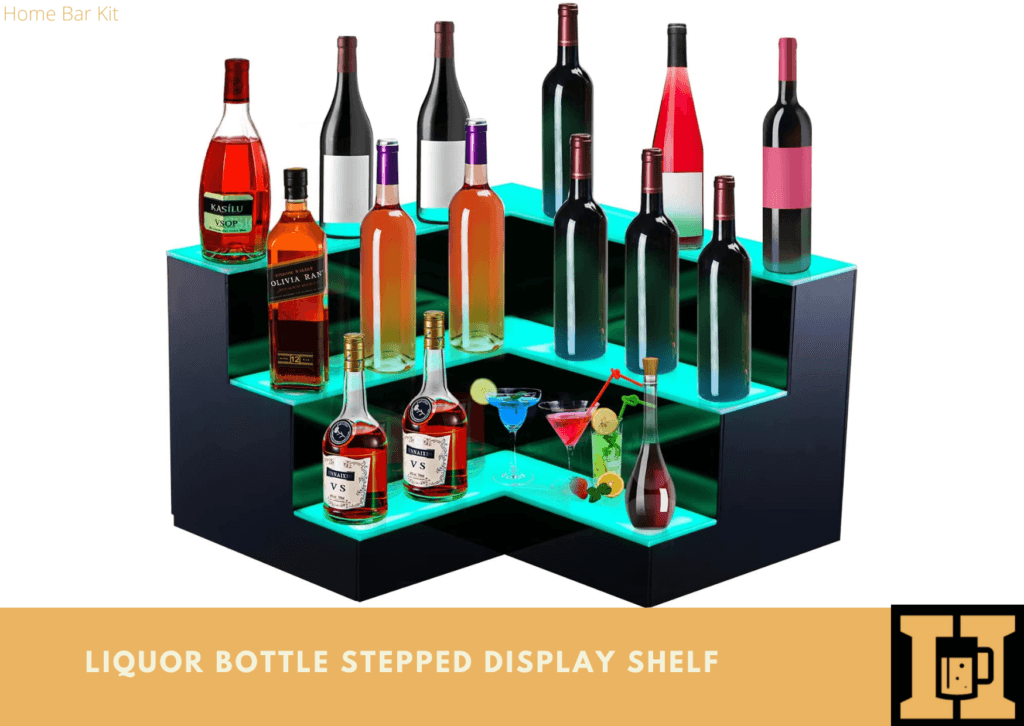 Check Latest Price
Alternatively there are some great looking manufactured display units that are made just for liquor bottles. They come in a variety of sizes and materials too, some even have lighting to show off the bottles even more.
There are many designs, from a simple set of clear plastic tier shelves that show off the bottles on three levels. To a more complex corner unit that has a black acrylic finish and transparent shelves that light up under the bottles.
The shelves can light up different colors too, so the tiered unit becomes a liquor light show.
These are a great way to not only store liquor bottles for convenience, but to show them off like a professional bar too.
Final Thoughts
Using liquor bottles as a display in a home bar can give it a real professional bar feel. And with the different ways this can be achieved it is possible to come up with a really unique look.
The use of mirrors can give the area behind the bar a real feel of space. Likewise it makes it look like there are more bottles than there really are.
A mirror the length of a floating shelf and the height of the bottles can be fixed to the wall. Mirrors can be individually fix behind each shelf of a complete wall shelving unit.
A large mirror could of course be fitted behind the whole unit. However this could work out expensive and if you break the mirror on one shelf then the whole wall mirror is ruined.
On a counter set up a mirror can be fixed the length of the counter and the desired height to give a great look.
Other materials can be used instead of mirrors. It is about creating a unique look for your own bar.