There is nothing like a refreshing golden beer to quench the thirst and satisfy the taste buds. Like any beer lover, I keep a small stock of real ales and craft beers in the cooler. A visit to that cooler, and out jumped a beer called Cumberland from Jennings. Is Cumberland Golden Beer by Jennings Brewery any good?
Unlike the jazzy upbeat designs of the recent craft beer cans and bottles, this was pretty plain. Staring back at me was a simple, ordinary, basic, straightforward, unfussy, unassuming label. However it was rather refreshing, but would the beer deliver the same experience.
Is Cumberland Golden Beer By Jennings Brewery Any Good?
Absolutely, after all it's Jennings No.1 golden beer and it doesn't disappoint. Pouring a rich golden amber with a decent white foamy lid, which continues to lace the glass as you drink. Delivering a mellow fruity aroma that plays with the nose. Below the surf, the taste buds experience a mild bitterness that is crisp and light. Paired with a modest but refreshing carbonation a fruit background creeps in for a rewarding finish. A gem hidden in plain view, rated 4.7 – 5.0.
The label is an unadorned blanket hiding a surprisingly good beer.
Jennings The Brewery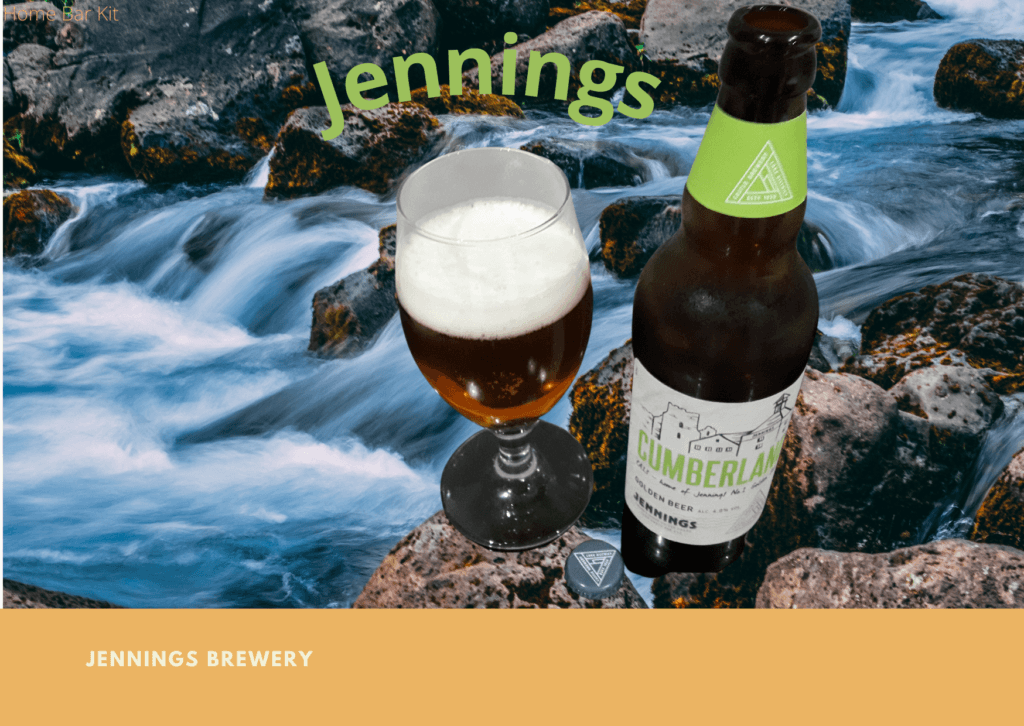 Or is it Castle Brewery?
I will clear that up as we move along. Jennings Brewery was founded way back in 1828, by John Jennings the son of a Maltster. Based in a Lorton village close to Cockermouth a market town in Cumbria, England. For 46 years Jennings brewed happily at this site, until 1874 when a move was on.
Just 6 miles up the road at the foot of Cockermouth Castle lay the Castle Brewery. Jennings acquired the brewery in 1874 and it became the new home of Jennings. The obvious attraction of this brewery was the inclusion of its own water supply.
A brewery with its own well, supplying an abundance of fresh Lakeland water would give Jennings beer a unique selling point.
Fast forward to 2005 and in step Wolverhampton and Dudley Breweries, whom purchase Jennings Brewery and go onto invest a substantial amount of money to improve the brewery. In 2007 W&DB became Marston's PLC, which has since merged with Carlsberg UK, I wonder what John would think?
Cumberland Golden Beer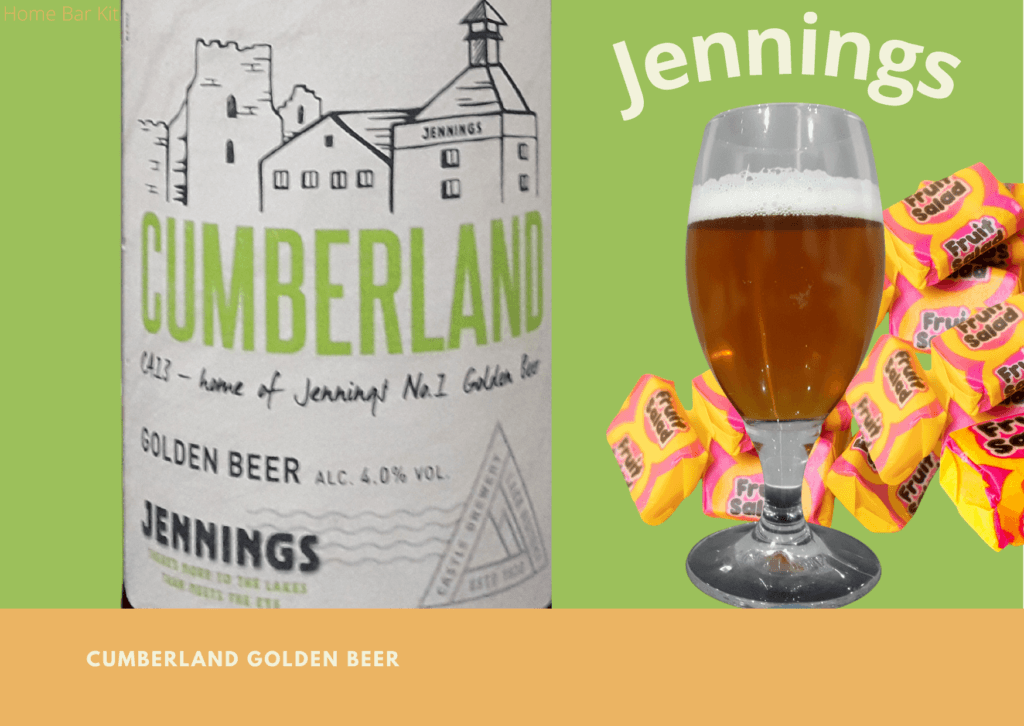 Earlier, I describe the label of this beer as plain, yes I went into a little more detail using a number of associated words. But let me clarify, this is not a slur and not meant as an insult. Contrary to how it may have sounded, I actually like the label.
As much as I dig the funky designs of all the new craft beers, there is a certain je ne sais quoi about the simplicity of this label. Therefore it tends to give you a force sense of what is to come, because underneath the skin this beer is slightly extraordinary.
A Humble Little Beer
In fact that is the theme all through the whole experience, everything is slight, but delivers beyond expectation. The label is slight, the nose is slight and the taste is slight, but at the same time it commands your attention. One thing that doesn't lend itself to slight is the color, a definite golden glow.
Everything else is modest, the carbonation, the bitterness and the fruity background that creeps up on you. In spite of this the fruity finish is a delight. It reminds me of the famous tiny blocks of candy, the Fruit Salad. Individually wrapped and bought for a penny alongside the Black Jack, the original penny chews.
Slight bit of reminiscence going on there, and if a beer can do that, then it's a clever beer. Some say it is bland, even watery, but I say it is triumph.
An unassuming beer that has an air of confidence, dressed plainly, but delivering a profound experience, that quite frankly baffles me.
Moreish fits the bill, and at a moderate 4.0% Vol it fits nicely into the session beer bracket. Contrary to its reserved outlook, this beer packs a subtle punch for me and deserves a 4.7 – 50 rating.
More Beers Enjoyed By Me.
More From Jennings
Brewing for nearly two hundred years you would expect Jennings to know how to make a good beer, and of course they do. Brewing many beers over the years, there current list is not a long one. Including the delightful Cumberland Golden beer, here are a couple of their current beers.
Atomic Theory
Inspired by the Scientist John Dalton and his reasoning of the atomic theory. This beer has its own elements that come together to form a refreshing hoppy IPA. Two of those elements come from English Goldings and Slovenian hops. Similarly they convey aromas of lavender, spice and honey, giving a bitter sweet flavor with a hint of citrus.
Pouring produces a light straw color that settles with a thin white head. A 3.8% Vol surprisingly produces a full bodied easy to drink IPA style hoppy bitter sweet extravaganza. Could be one to try out, a fitting refresher for a hot summers day.
Night Vision
A beer influenced by a local event back in 1881 in which Cockermouth allegedly became the first British town to have electric street lighting. Night Vision, however is a definite session beer with its light 3.5% Vol pours an amber juice with a creamy cap. Beneath the head piece lies a nutty, almost roasty malt flavor supported by a sweet toffee aroma.
Night Vision, a blast from the Jennings past, a seemingly new bitter clones of their original Jennings bitter. A new face revives an old timer to fit in with modern times.
Final Thoughts
Cut from the same cloth, three beers that bear the new face of this historical brewery. Inspired by local innovation, we have Cumberland Golden Beer, Atomic Theory and Night Vision.
I have only tried the first one so far and to answer the question, Is Cumberland Golden Beer By Jennings Brewery Any Good? I have to say yes, not a complex beer in aroma or flavor, it just touch me, and I fell in love with it. Atomic Theory and Night Vision are now on my hit list and will appear sometime soon.
Until then, there are other beers calling that need my attention. Share you thoughts on a beer that moved you, may be it was Cumberland too.