So this beer is from the popular American brewer Brooklyn Brewery. It states that it is a Golden IPA, so probably a little lighter than a standard IPA. But what is it like? Is Defender IPA any good?
My hopes are high, Brooklyn is a well renowned brewery with lots of experience. And the can looks vibrant and exciting, just a little on the small side, you don't get much for your money.
Is Defender IPA Any Good?
It is pretty good, a solid IPA that is hoppy and has a satisfying bitter backend. It pours a mid gold with a generous white foamy top. The nose is hoppy and sweet with aromas of grapefruit and orange. A taste reveals a citrus hop forward beer with the same fruit tastes as the aroma suggests. It has a smooth slightly sweet mouthfeel but comes into its own with a nice bitter finish. A decent IPA that is easy to drink, the rate my beer score hits 4.4 – 5.0.
My only niggle is the tiny can, 330ml/33cl stop it.
Brooklyn Brewery
The brewery started life back in 1988 in Brooklyn, New York, USA. The founder Steve Hindy who was returning from the Middle East teamed up with Tom Potter his neighbour and Brooklyn Eagle Brewery was born. Later to become Brooklyn Brewery.
Both quit their jobs to start the brewery, although they didn't actually have premises for a brewery. Initially their beers were contract brewed at the Matt Brewing Company.
In 1994 the well known beer author and brewer Garratt Oliver became the brewmaster at Brooklyn Brewery.
In 1996 they did manage to acquire a factory in Williamsburg, Brooklyn which they turn into a brewery. However because of costs most of the brewing continued to be contracted out.
Since 2004 Brooklyn Brewery has been involved with Carlsberg. Today they own the rights to the Brooklyn brand in European markets.
Potter moved on in 2004 and founded the New York Distilling Company. Hindy retired in 2020 and the reigns are now steered by Robin Ottaway.
Is Defender IPA Any Good?
Although the beer I drank was not actually brewed by Brooklyn Brewery in New York it is still a decent beer. Who knows where it was actually brewed, but Carlsberg have got something to do with it.
Among an array of writing on the can which is in different languages, there are the words 'brewed and filled by Carlsberg.'
Apart from that, the can is a vibrant design with the recognisable Brooklyn logo in the middle. So its time to dive into this tiny can.
Drinking Defender IPA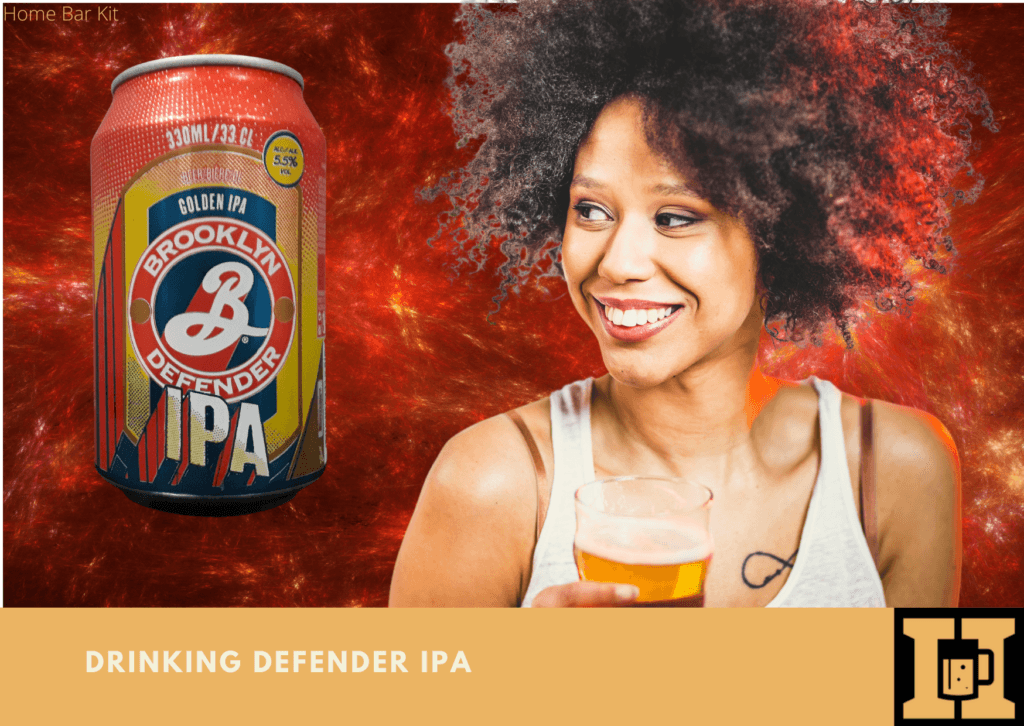 The pour is a swirl of gold and white and it settles to a mid golden colour shinning from the glass. On top sits an abundant foamy white head. This does fade to a thin cover, but can be reborn by swirling the glass.
A citrus hoppy aroma wafts from the rim of the glass carrying notes of grapefruit and orange. Diving in for a taste and the hoppy promise from the nose is there.
A decent amount of hoppy citrus jumps out laced with the flavours of orange and grapefruit. A slight sweetness circles a smooth mouthfeel. But the biggest gift is the hop bitterness at the end, a great finish that lingers nicely.
At 5.5% Vol it has just wandered out the door as a session beer. However it's close enough and with the size of the can, one is not enough.
It's a decent solid IPA, hoppy but not too hoppy delivering a sweet smoothness with a classic bitter finale. The Rate My Beer score hits a decent 4.4 – 5.0.
M'Lady liked it too, she describes it as "A hoppy sharp citrus followed by a sweet bitter aftertaste." Lou scores it a slightly lower 4.3 – 5.0.
Overall a good beer that I would definitely have again, it is what it says it is, a Golden IPA.
Brooklyn Brewery Range
We may not be getting quite the same beer as our friends that enjoy the Brooklyn range in the US. I hope that is not true, but it just could be, however at least we can drink the stuff here in the UK.
The range might not be as big either, but we do have some to enjoy.
Brooklyn Lager
This is the lager that the brewery was built on, the first beer they brewed and well known too. It is an amber lager with distinct notes of caramel laced with grapefruit to produce a crisp refreshing beer.
At 5.2% Vol it is a decent strength too and one that will be on my hit list for the future.
East IPA
A hoppy IPA that is described as English tradition with American innovation. Sounds good and promises to deliver toffee flavour laced with stone fruits and juniper balanced out with a bitter edge.
It packs a real IPA punch too with its 6.9% Vol. A beefy IPA that I am looking forward to hunting down some time soon.
Bel Air Sour
This is a tropical sour beer said to deliver adventure. An array of tropical flavours end with a tart sting in the tail. It is deceivingly tropical, but could kick you in the ass with a tart surprise. A cheeky 5.6% Vol takes it out of the session range.
I am not a lover of sour beer, so won't be seeking it out (although Garrett reckons it could convert me). However if it shows its face I will go for it, after all it is my duty.
Final Thoughts
To sum up I have to say that Defender IPA from Brooklyn Brewery is a decent beer. Fruity citrus and hoppy with a smooth mouthfeel and a lovely balanced bitter finish.
It's a good go to IPA that is refreshing and easy to drink. I am looking forward to trying the slightly more pumped East IPA, sounds a good beer.
If you have tried Defender IPA or any of the Brooklyn range, then do share your thoughts below. Let me know what you think.