Well it comes from the oldest brewery in Wales, Felinfoel Brewery. It is dubbed as the national ale of Wales, a bold claim. So is Double Dragon a decent beer?
I am not sure who decided that this beer is the national ale of Wales. Is it marketing or is it official? Who knows, but it is described as a full drinking premium ale, we shall see.
Is Double Dragon A Decent Beer?
Yea, I would say that Double Dragon is a decent beer. It's not outstanding, but a decent allrounder. On the nose it is malt, liquorice with sweet fruit. The taste is the mildest of hop and strong on malt, with toffee and liquorice. A sweet plum like fruit lingers in the background. Not much bitterness, which is a shame as it would have balanced the sweetness. It's a decent rate my beer score of 4.5 – 5.0.
I think one or two is the limit as things could get a little too sweet and sticky.
The Felinfoel Brewery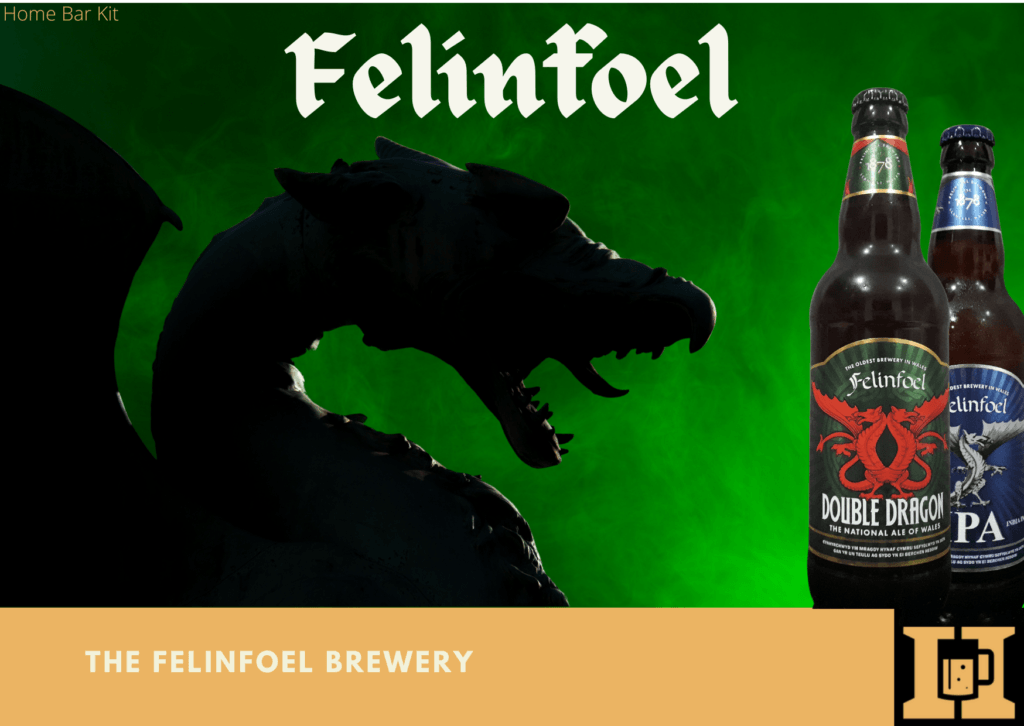 The Felinfoel brewery was founded in 1878 by a David John, so it is pretty old then. In fact it is the oldest brewery in Wales, UK.
David's initial brewing was done in his pub the Kings Head, which later became the Union Inn. As David's beer became popular and the demand rose. He built a brewery opposite the pub, which still stands today.
The brewery grew steadily and so did its reach to serve beer to surrounding areas. Today it still continues to produce some great beers serving its own pubs as well as many others.
Is Double Dragon A Decent Beer?
It's a nice red ale that I expected to be a little stronger. I don't know why, but being Double Dragon, I thought it would be double the power.
However it is not and at 4.2% Vol it fits well into the session territory.
I would say it is a medium body beer with a malt base and a fruity top. The hops are subtle and don't really figure in the party.
But I'm not complaining, I did enjoy it. However I think two is the limit as it could get a little too sweet.
Drinking Double Dragon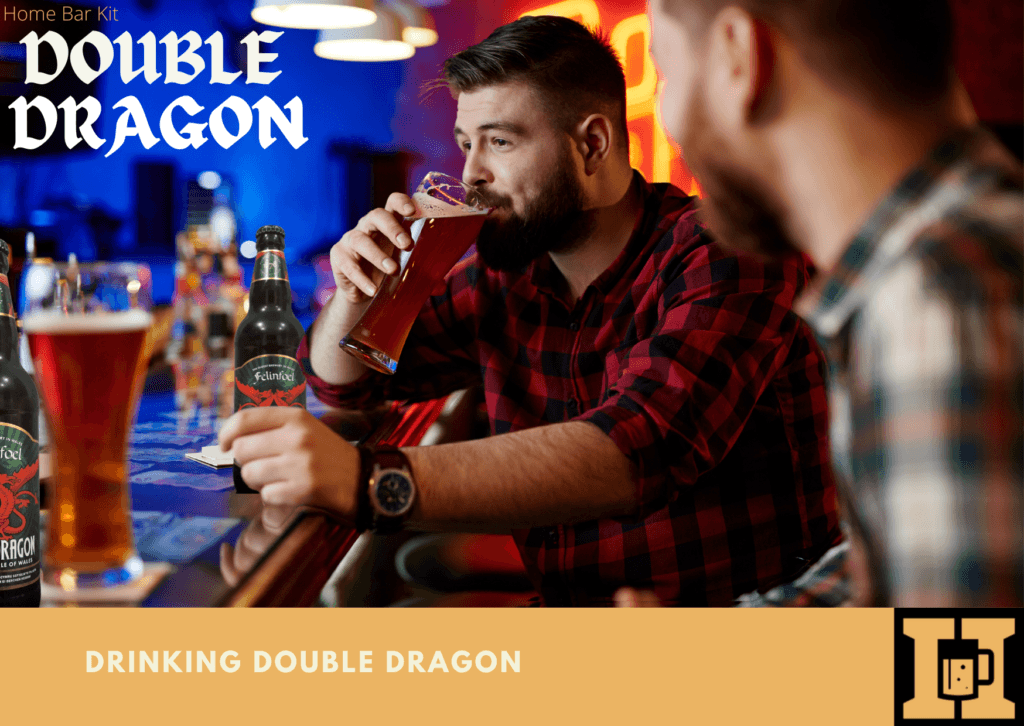 It pours a mid brown with a generous creamy frothy head that does fade, but retains about half a finger. A nice lacing drapes around the glass as you drink down.
Hold it up to the light and a pleasant copper red shines through, which is nice.
On the nose it is a sturdy malt base with notes of toffee and liquorice. There is not much on the hop, but a sweet fruity note comes through on top of the malt.
A toffee malt hits the taste buds first carrying hints of liquorice with it. A plum like fruitiness jumps in and adds to the sweetness of the toffee and liquorice.
This tends to linger and there is no real bitterness to balance it out.
A good beer, however I'd prefer more bitterness at the end to kill off the sweetness a little. But maybe that was not the aim, and I can hear them shout go get yourself a pint of bitter Robert.
I would like to try this on draught, just to see if it is as sweet. For me it gets a 4.5 – 5.0.
Lou describes it as the same, malt and liquorice base, with sharp fruit and little bitterness. M'Lady scores it a somewhat lower 4.0 – 5.0.
Felinfoel Beers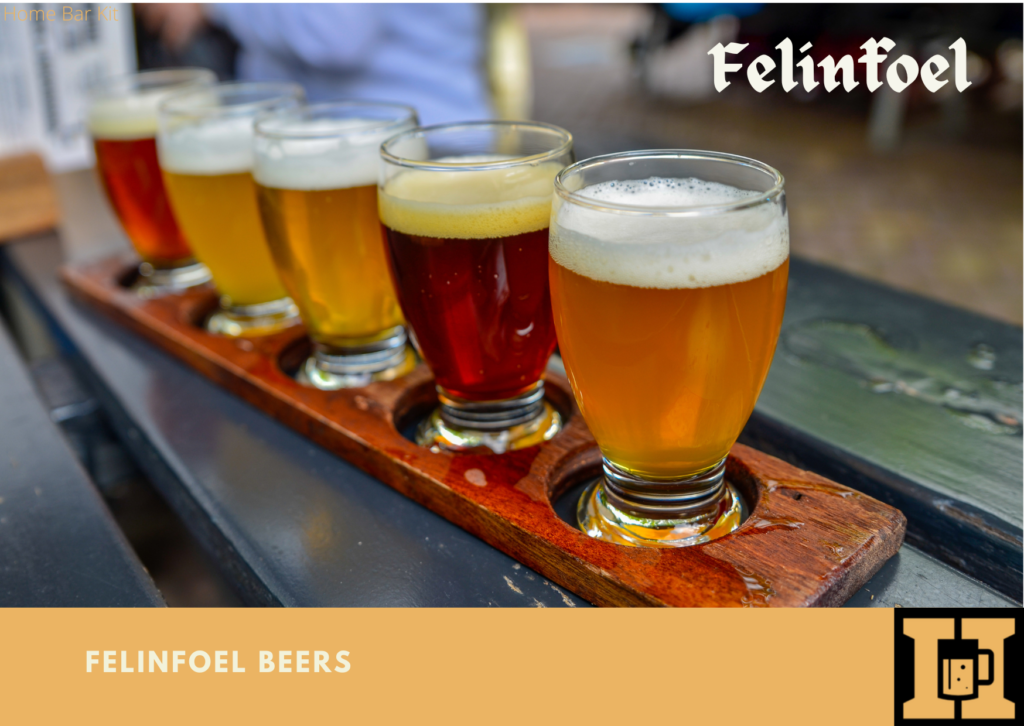 Being an old brewery Felinfoel know how to brew beer and produce some good solid beers. The range is not vast, but they cover the bases.
These include a lager, real ale, IPA and stout. All are brewed with pure Welsh water and WGV and Challenger hops.
ESB Craft Ale
ESB or Extra Special Bitter is a craft ale the promises plenty of body and a fruity end. I would imagine it has a malt base, but has flavours of toffee apple, interesting.
It weighs in at 4.6% Vol which is on the stronger side of session. Sounds an interesting beer, but will it have more bitterness than Double Dragon.
Celtic Gold
A Welsh craft lager is a light straw gold colour with a moderate bitterness. It is described as having a reduced body, but plenty of character.
A light refreshing crisp lager with a 4.8% Vol strength, which is pretty good for a lager. I need to look at this one, sounds good.
Dragons Heart
I like the name, but will I like the beer. It's a premium Welsh ale that has a malty base and is gently hopped. Said to be smooth and balanced with plenty of red fruit flavours with buttery notes on top.
Sounds like it could be a little sweet, I hope it has some bitter balance. At 4.5% Vol in sits nicely in the session range.
Final Thoughts
Although I have picked a few faults with Double Dragon, and they are my own personal faults. I do think it is a decent beer. It has a strong malty base, which I like, but it is a little too sweet for me.
However another palate might like that. Just a little more bitterness on the back end would have sorted that for me. So I like it, just not a lot, though I must try it on draught, could be a different story.
If you have come face to face with the Double Dragon, then do share your thoughts below. Let me know your take on this Welsh Ale.