The flagship beer from Bath Ales who have been brewing for some 27 years. In fact this amber ale was the first beer that Bath Ales brewed and is still going strong today, but is Gem a decent beer?
It boasts a full malty body that is bitter sweet and well balanced. Brewed with traditional British malts and hops it could be an old style winner.
Is Gem A Decent Beer?
Gem is a decent beer and as I suspected, it is a true old style ale that warms the heart. It pours a dark brown almost the same shade as the bottle that holds it. It settles to a still beer with little activity, a soft foamy head quickly vanishes to zero. The nose is subtle but the malt lays forward with an aroma of sweet caramel. The taste hits up front with smooth malt and sweet toffee caramel. This turns to a balanced bitterness of dark chocolate that finishes well. An old style bitter that performs as you would expect and gets a rate my beer of 4.3 – 5.0.
Gem is more for those that like a traditional British bitter.
Bath Ales
Bath Ales started out in 1995 as a small operation from a small premises in Somerset. The culprits were Richard Dempster and Roger Jones. A local publican Robert Clarke (Rab) who was willing to sell their beer was brought on board and became a director too.
Steady growth saw the purchase of a pub The Hare On The Hill and a move of the brewery to Bristol. Growth continued and a firm goal from the start saw the trio get their own pub in Bath The Hop Pole.
Bath Ales were on a roll and expansion happened again in 2004, then again in 2007 and again in 2012. The move to Warmley on the outskirts of Bristol happened during this expansion period. The brewery is called Hare Brewery.
Along the way there were more pubs and bars added to the Bath Ales portfolio including Beerd in Bristol.
In 2016 the brewery was acquired by St Austell Brewery in Cornwall, an independent family owned brewery. They invested a considerable sum into building a new brewery for the team at Bath Ales which opened in 2018.
A new head brewer was also appointed in the form of Georgina Young who at the time was head brewer for Fullers Brewery. As she is originally from Bristol it was a no brainer for Georgina.
Is Gem A Decent Beer?
Well as it comes from a brewery that is 27 years old and it is their flagship beer, you would expect it to be very decent.
However just like Green Kings Session IPA I think it may split the crowd. Those that love the new style craft beers may find Gem Amber Ale a little lame. But Gem is not trying to be craft nor compete with these new kids on the block.
Gem is a traditional ale brewed the old British way, it doesn't shout out loud. It is unassuming, quietly going about its business. And its business is delivering a proper pint of bitter.
Therefore those that love and crave a real pint of ale will take this and roll with it, because in their hands is a decent pint.
Drinking Gem Amber Ale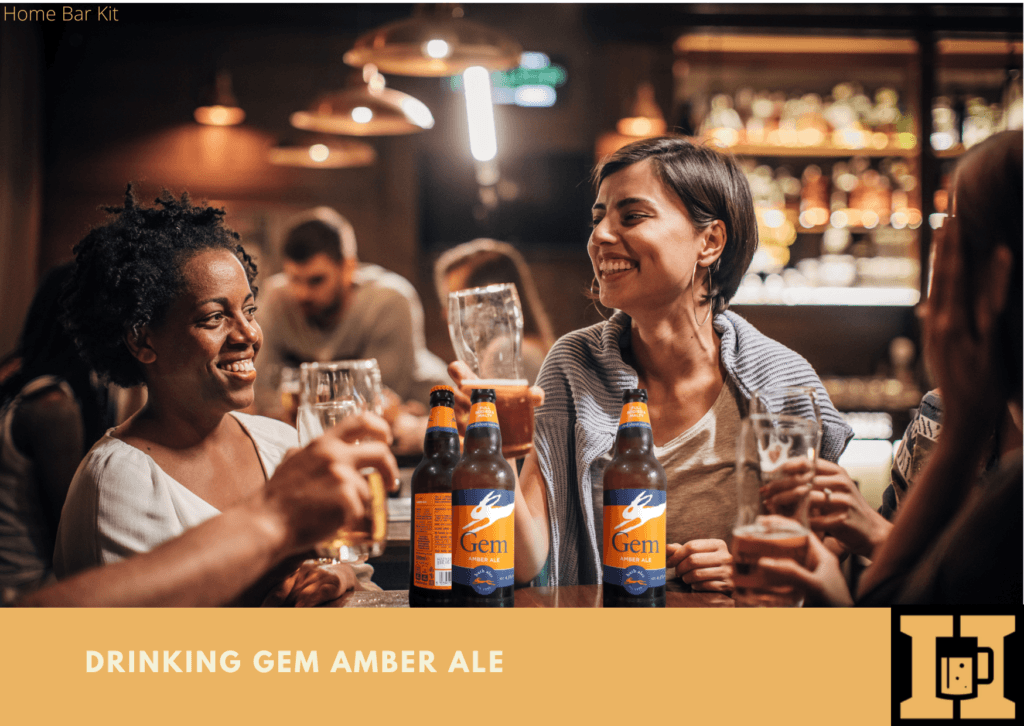 The label is simple in design, orange and blue with the recognisable white hare jumping in on the scene. It simply says Gem Amber Ale with a quote at the top saying Full Bodied & Malty, but is it?
It isn't as full bodied as I expected, however it is still a good beer for the style it represents.
It pours a dark brown just like the color of the bottle. Hold it up to the light and you get a bronze hue shining through. It settles to a very still beer with a thin white lid that fades quickly to hardly a skim across the top.
The nose is subtle with malt being the prominent aroma at the base and a sweet caramel floating on top.
Going in for a sip and I was met with a sweetness of toffee and caramel over a biscuit malt. In walks a bitterness that balances the sweetness perfectly. The slightest of spice pops in and finishes with a safe bitter edge.
The mouthfeel is smooth and consistent with the smallest of carbonation. I get a perfect harmony of sweet and bitter making it a really well balanced beer.
On tap this beer is 4.1% Vol so a great beer to enjoy in the pub, especially if you fancy more than one. In the bottle it is a little higher at 4.8% Vol, however it feels lower in strength that it is.
The Verdict
Overall a good old style beer, it doesn't light any fires, but it is solid in its style. I like the malt base with a great balance of bitterness. A Rate My Beer score of 4.3 – 5.0 for me.
M'Lady on the other hand dropped a little lower with a straight 4.0 – 5.0. She said it is a Marmite beer that will not appeal to craft beer lovers.
I have to agree, however it will have its fans, those that love a straight pint of bitter. I certainly would revisit and don't mind a bottle or two living in my fridge. If I see the Gem pump clip in a pub then I would be sure to order a pint too.
Bath Ales Range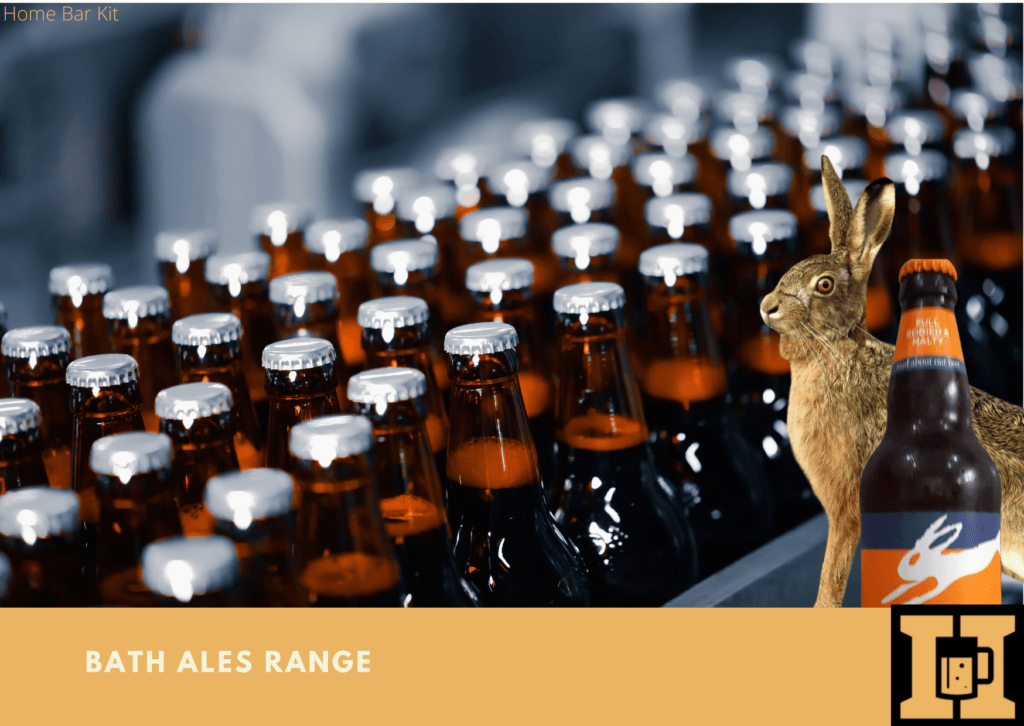 So the Gem Amber Ale is a solid beer, however what else do Bath Ales have to offer?
I expect a full comprehensive range, but visiting their website there is not a lot on offer from the online shop. A small range of what must be their core beers.
Like most breweries they do some special and seasonal beers, but obviously these are not always available. Anyway I will feature a few of what is on offer and see if they tempt me to buy and try.
Lansdown
Lansdown is a West Coast IPA that is named after an area just outside the city of Bath. It is said to be big, bold, fresh and hoppy beer. With layers of hops giving out an array of tropical fruits with plenty of lime zest.
It is more bitter than sweet and weighs in at a straight 5.0% Vol. Sounds like a beer to try out and will go on my hit list.
Wild Hare
Wild Hare is a light golden classic pale ale with plenty of flavor. A malt body with a hoppy top has floral fruits that create a nice citrus grapefruit edge.
A dry crisp golden ale that is gluten free, at 5.0% Vol it just sits on the limit of a session beer. Is Wild Hare all that wild, I will find out when I try it for myself.
Dark Side
The stout of the family, Dark Side is what it says dark, near on black with a creamy albeit thin head. Aromas of roasted malt and coffee delight the nose.
The taste is similar with a touch of coffee and chocolate over a rich strong malty base. It has a slight fizzy mouthfeel and finishes with a mild bitterness. At just 4.0% Vol it might warrant and second pint, however will the rich flavors prove too rich for a second?
Final Thoughts
Bath Ales was born from small beginnings and has grown steadily both in brewery and in their pubs. Even though it was bought out in 2016 it is fair to say that it is in good hands.
I am sure St Austell Brewery will steer it in the right direction and we will see plenty more from Bath Ales.
Gem Amber Ale is the only beer I have tried from this brewery, and it is a solid beer. However that is just my opinion, if you have tried Gem then do share your thoughts below and tell me what your opinion is. Also if you have sampled their others beers then share those too.