A fruity IPA from Brew York which is obviously inspired by the late Bruce Forsyth that legendary entertainer. Marked as a Juicy Bonus Fruited IPA, let me tell you it really is fruity, but is Juice Forsyth any good?
Brewed in York, North Yorkshire, England by a brewery just six years old. Brew York have come a long way in a short space of time. Their beers are impressing not just the locals of York, but beer lovers throughout the UK.
My first experience of them is this very fruity IPA.
Is Juice Forsyth Any Good?
It is an in your face extravaganza, an explosion of tropical fruits hits you like one of Bruce's catchphrases. It pours like a hazy orange juice with a generous head that fades to a thin cap. The nose is overwhelming with an extreme hit of tropical fruit. Strong notes of pineapple steal the show, backed up by mango and orange, but other fruits lurk in the background. The taste is similar with fruit flavors hitting from every angle. The mouth comes alive with a juice like experience. Their is the slightest hint that this is actually a beer. Rate My Beer score 4.0 – 5.0.
If I was rating it as a fruit juice it would have got full marks, it's insanely juicy.
Brew York Brewery
Like I said this is a brewery that is only six years old and was founded in 2016, just in case you couldn't work that out.
Wayne Smith a keen home brewer met Lee Grabham, also a keen home brewer through a mutual friend. Their love of beer and brewing led to a partnership that has seen York enjoy some great beers.
So Brew York was born, and I have to say, what a great name for a brewery. They set up shop in the city center of York and started brewing. Next to the brewery is a tap room where punters can enjoy the beer that is brewed in the tanks on show next to them.
Leading from the tap room is the beer garden and brewers yard, the beer garden is to the rear and overlooks the River Foss. The brew yard is to the front for that perfect pint on a sunny day.
They also moved into the space next door and have created a beer hall where live acts can perform. Beer lovers can enjoy food, 40 beers on tap and live music all in one craft location right next to the brewery.
In 2021 Wayne and Lee also opened a new brewery just up the road in Osbaldwick. This expands their brewing facility to keep up with demand. Onsite at the new brewery is another tap room called Handley Tap and serves fresh beers straight from the brewery.
Other Brew York venues include New Briggate Bar in Leeds, and The Market Tap in Pocklington, both serving a great selection of drinks and food.
Didn't they do well 🙂
Is Juice Forsyth Any Good?
It all depends what you want from a beer. If you love a juicy fruited beer that feels like a fruit juice, then this beer is for you. It seriously is a fruit explosion, which makes it a little dangerous.
It doesn't feel like you are drinking a beer. As M'Lady said "If you didn't know it was a beer, you would think you were drinking a fruit juice."
It's a real thirst quencher and hits you from every direction with what seems like a never ending list of fruits. The hops used lend to all this fruit with Cascade, Citra, CTZ and Mosaic putting together an amazing amount of fruitiness.
Stay with it long enough and you do get a slight malty background, but the sweet fruits come back and steal the show again and again.
Drinking Juice Forsyth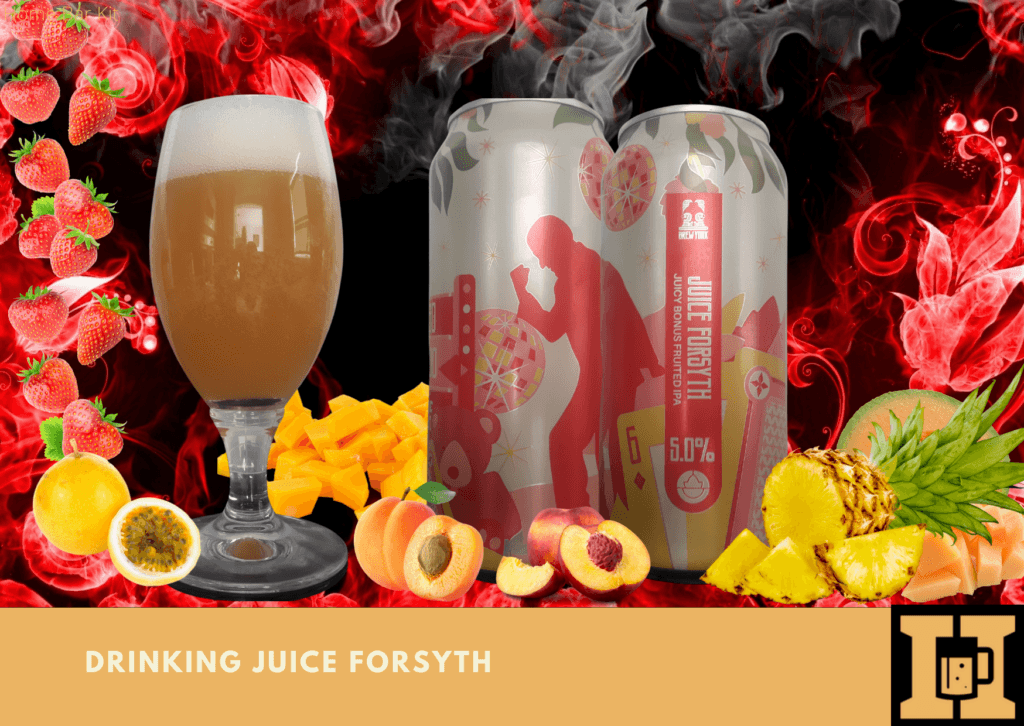 The can is as bright as the smell and flavor of this beer. A silhouette of the man himself and his famous pose stands among memorabilia of his long career.
It pours a bright hazy orange with a thick foamy head, this soon fades to a thin covering. On the nose it is vibrant and juicy, pineapple and mango hit forward bursting from the glass.
The taste is just the same like a citrus circus buzzing around the mouth. Pineapple and mango pile in straightway, with orange, strawberry and even peach or apricot giving their support.
It's a fruit explosion with a little fizz on top. In the background a mild maltiness lurks, but it soon gets overshadowed by the fruit once again. A sweet aftertaste is left by all the fruit.
Did I mention it is pretty fruity.
It doesn't feel much like a beer, but at 5% Vol it does just stay in the session bracket. So if you like this style of fruity beer, then it is an ideal thirst quencher on a hot day.
For me it is well made for this style of beer, however way too much fruit for my liking and scores a rate my beer of 4.0 – 5.0.
If you like fruit beer go Juice Forsyth, it won't disappoint.
Brew York Beer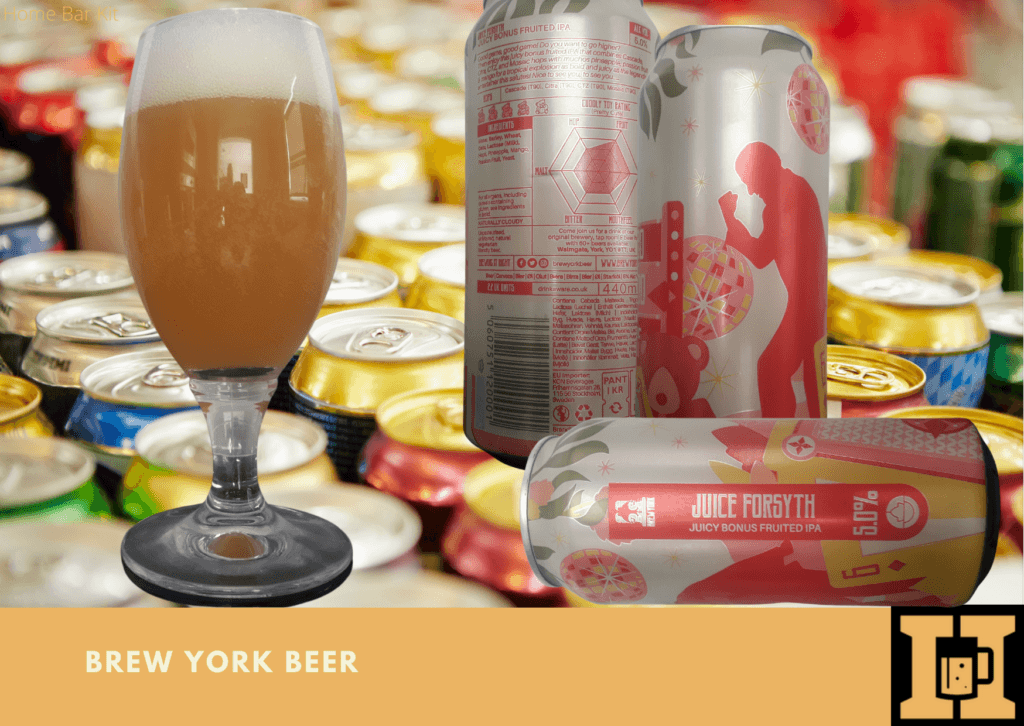 Brew York as a brewery are fairly diverse in their beers, ranging from traditional bitters to new style beers just like Juice Forsyth. However looking into their range I feel they stray more towards the latter.
They certainly make up some new wave concoctions of flavors for their beers. These include beers like Mallowed By The Name, a dark berry and marshmallow pastry sour, not sure about that. Or what about Rhubarbra Streisand a rhubarb milkshake pale, not sure about that one either.
Here area few I might well try though.
Kairuku
A Maori word meaning a 'diver who returns with food' and the ancestor of the penguin. Kairuku is a cold IPA that is fermented warm and uses a lager yeast. It promises to be a crisp clean IPA with American hops to give it that West Coast feel.
A high 6.8% Vol takes it way out of the reach of a session beer. So caution is the best policy with this cold crisp beer. One I will like to take a closer look at, so may feature soon.
Golden Eagle
The beautiful bird of prey that is the Golden Eagle is the namesake of this Czech style pilsner. It is brewed with Noble Saaz hops and super soft water to give it a crisp clean finish.
At 4.8% Vol it just creeps in as a session beer. The set up then is for a refreshing crisp pilsner that will be ideal for a sunny afternoon in the beer garden.
Definitely a beer that is on my radar and one that I am looking forward to trying, bring on the pilsner.
Tonkoko
If stout is your tipple, then this might be the drink to try out. A milk stout made up of Tonka beans, Madagascan vanilla and Belgian cocoa nibs. On top of this there is hand toasted coconut.
It promises to be smooth and silky, this generous milk stout could have the wow factor. If you like the chocolate coconut bar Bounty, then this may just be similar experience, but just in a glass.
At a mere 4.3% Vol it might warrant a second, however could it be too rich for a second. Possibly a dessert beer after a scrummy meal.
Tonkoko is not alone though, they also make an Imperial Tonkoko at a hefty 7.5% Vol. But that is not enough with a range of Emperor Tonkoko that are even heftier on the strength card.
Final Thoughts
Brew York then have an array of modern style beers to offer their fans. I like the sound of some of them, but for a brewery that likes to experiment with many different flavors, it may be a little too far for me.
Golden Eagle for me is the closest one I found for a sit down and have a beer beer. Many of the others sound like a one of beer like Tonkoko and the one featured today Juice Forsyth.
Have you had the pleasure of trying out any Brew York beers? If so share your thoughts below.