On a cold January evening what could be better than a heart warming stout. Smooth, creamy and luxurious, or lets hope so anyway. So is Mena Dhu stout a decent beer?
Mena Dhu meaning 'Black Hill' in Cornish, yes you guessed it, this beer comes from the St Austell Brewery based in Cornwall, England. Something tells me this should be a great stout.
Is Mena Dhu Stout A Decent Beer?
I am right, this is a great stout, smooth, creamy and luxurious. The nose is rich malt caramel with notes of chocolate, roasted coffee and a hint of fruits. The taste reflects this, with rich creamy malts hitting the taste buds. Flavours of chocolate, oak coffee and dark fruits dance around the mouth creating a balance of bitter and sweet. Its a triumph and gets a rate my beer score of 4.7 – 5.0.
This is a prestige stout, rich and indulgent, yet so well balanced and so smooth.
The Brewery
St Austell brewery is no newcomer and has been around since 1851 when it was founded by Walter Hicks. Through a steady growth the brewery out grew its premises and relocated nearby in 1893.
Walter Junior took over the reins, however sadly lost his life in a motorcycle accident. Following this, Walter came out of retirement at the age of 82 until his death in 1916.
Hester Parnell the daughter of Walter took over and made her mark on the business, expanding into hospitality.
The brewery and its vast amount of pubs and hotels are a big name in the West Country of England. But I think one of the biggest achievements is that it is still family owned.
Is Mena Dhu Stout A Decent Beer?
I think we have established that it is a great beer, in fact it is a first class stout. It is brewed with six malts which make for a blend of dark rich and smoky flavours.
The label describes it as complex and flavoursome, which I think hits the nail on the head. There is a lot going on with malty caramel, chocolate, bitter roasted coffee and some sweet dried fruits like raisins.
A beer so rich could become a little sickly, however it is so well balanced that it just works. Its light and smooth, like velvet in a glass.
Drinking Mena Dhu Stout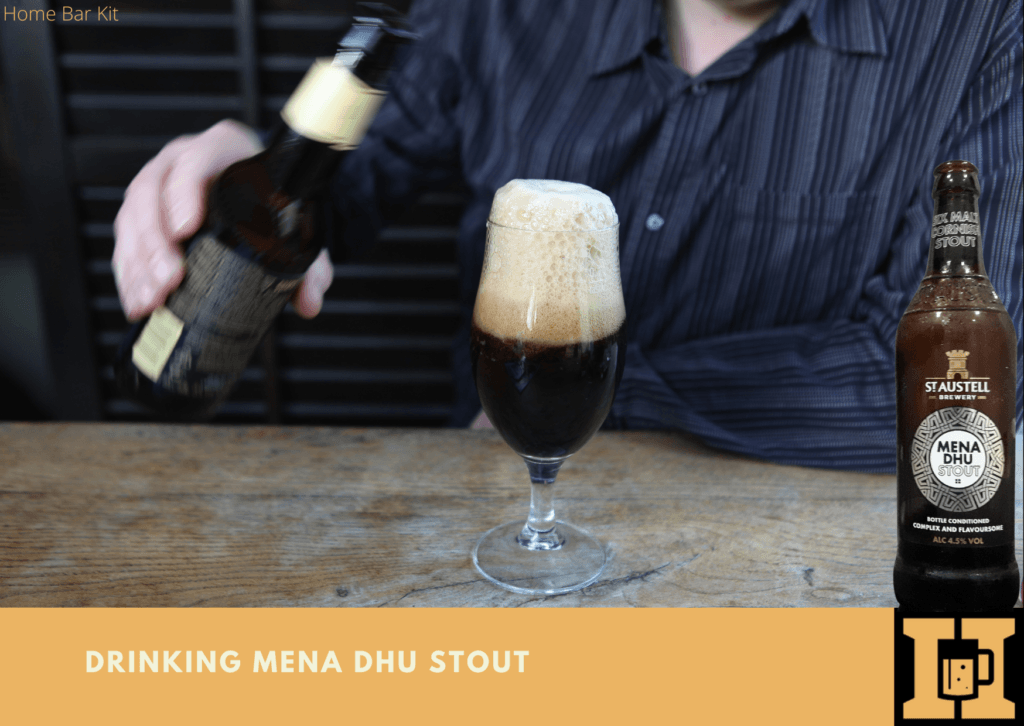 The beer sits in a brown bottle with a subtle label that gives off an air of status. Pop the crown and it pours a black river of stout topped with a generous tan lid.
This does fade to a one finger cover, but stays for the duration and coats the glass with a pleasing lace.
The nose draws you into a rich experience of caramel malt and notes of chocolate and coffee. In the background hints of fruit tease the senses.
The taste takes you on a journey through layers of rich caramel malt, dark chocolate and smoky roasted coffee. A little fruit pops in to lend a little sweetness to the picture and creates a perfect balance.
It should feel heavy and dense, however it is light and smooth with a perfect balance of bitter and sweet.
It weighs in at 4.5% Vol, so a second would be on the cards. For me it is the perfect stout and scores a 4.7 – 5.0.
M'Lady was not as keen as me and said, "Typical stout, malty chocolate with a strong aftertaste, not bad as stouts go, just not for me." Lou scores it 3.6 – 5.0.
Not so keen then, well I like it.
St Austell Beers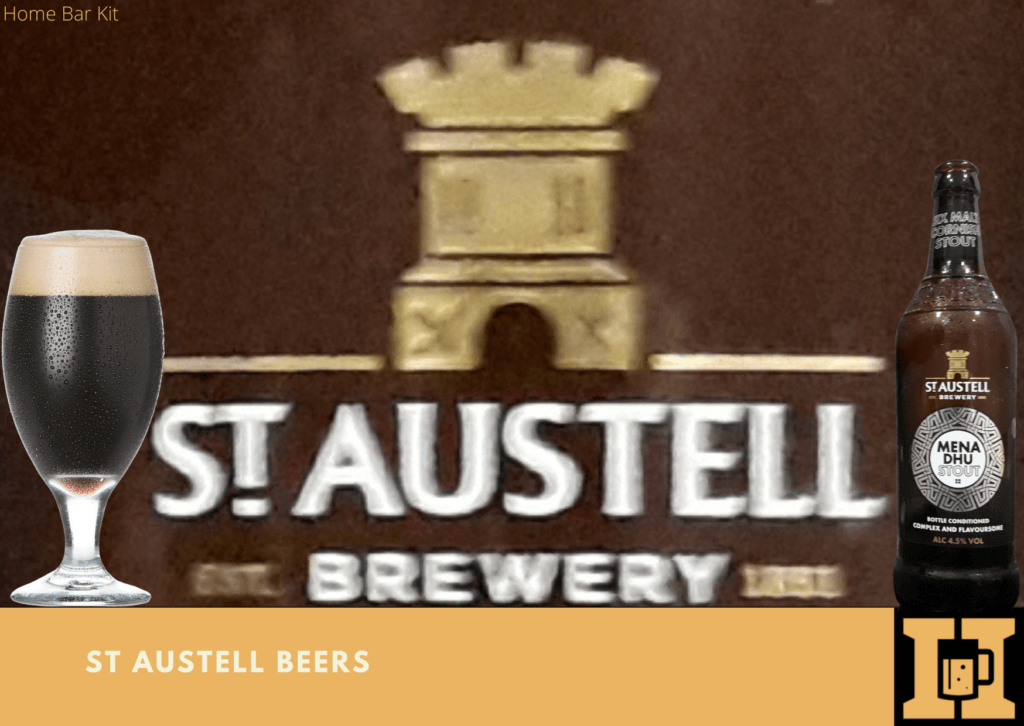 It is an easy thing to assume that a brewery of this age might only brew tradition style beers. However it is not the case, St Austell have a great range of beers. Several in their core range like Tribute Pale Ale, Proper Job IPA or Korev Lager.
As well as seasonal and limited addition beers, and a range of small batch beers like the super strength Divine Intervention.
St Austell are an exciting brewery that while producing some traditional style beers, are not afraid to experiment. So here are a few of their small batch beers.
Bad Habit
Bad Habit is an Abbey Tripel style beer with complex layers keeping those taste buds guessing. Aromas of tropical fruits and banana spiced with a little pepper.
It delivers a hop bitterness with tropical citrus fruits and sweet fruit cake. But it has a big kick that deserves respect at a hefty 8.2% Vol.
Sounds a bit of a handful, but worth a shot.
Devine Intervention
On a lighter note, or maybe not, is Devine Intervention a powerhouse of flavour and strength. Simply put its rich and complex with a taste of fruit and burnt sugar.
Brewed with four hops and four malts and packing a 13% Vol punch, perhaps for the light hearted. In fact it is the strongest beer that St Austell have brewed.
Just as well it's a small batch brew.
Baobab
Presenting Baobab, a wheat beer that is inspired by the Eden Project. Baobab is a type of tree found in Africa and is known as the upside down tree.
Baobab powder is added to this beer giving it a tropical fruity flavour. However apart from the citrus there is a background of banana and bubblegum.
Sounds interesting and weighs it at a more sensible 5.3% Vol, phew.
Final Thoughts
St Austell then are a serious brewery that produce some serious beers. Tradition and modern styles brewed in harmony.
They have a great range that I will continue to explore, and I am sure I will enjoy the journey.
I will be good to know your views on this stout. So if you have experienced Mena Dhu stout or any other St Austell beers, then why not share your thoughts below.