Brewed by Theakston's a well known brewery that is not far off its two hundredth year and described as a legend. A beer described as a legend sounds promising. But is Old Peculier a decent beer?
Although I have drunk this beer before in years gone by, I can't remember what it was like. So maybe it is a beer easily forgot, or maybe my memory isn't what it was. Either way I need a revisit.
Is Old Peculier A Decent Beer?
It is like the beer version of the cocktail Espresso Martini, rich and smooth. So if you like that cocktail, then it is a decent beer. It pours black with a moderate tan head and on the nose is coffee malt and light toffee caramel. Likewise the taste is a similar story with rich malty coffee sweetened by dark fruits. The finale lends a little bitterness to kill the sweetness. It is not exceptional but an okay beer which gets a rate my beer score of 3.9 – 5.0.
I couldn't have more than one, it's sticky and sweet. The light bitterness at the end is not enough to kill the sweetness.
Theakston Brewery
Theakston Brewery was founded by Robert Theakston way back in 1827 In Masham, North Yorkshire, England. Robert along with his business partner John Wood.
The brewery sparked into life from the cellar of the Black Bull Inn a pub they had leased. Thirteen years later the pub was extended to accommodate a purpose built brew house.
In 1875 a new brewery was built and the death of Robert Theakston saw his two sons take over. Thomas and Robert Jnr formed the partnership T & R Theakston.
Through the early 1900's the brewery sees many changes through expansion, retirements and deaths. However it still remains within the family until 1984 when disagreements end up in the controlling share being sold.
The result of this sees Paul Theakston the managing director pull away and start the Black Sheep Brewery, also in Masham.
Going full circle, in 2003 the Theakston family buy back the control of the brewery and all is well.
Is Old Peculier A Decent Beer?
Back to the beer in hand, do I like it?
I want to like and I kind of do, however it is not as good as I expected it to be. If it was the only one on offer in a pub, I would have no problem drinking a pint. But if there was ample beers on offer, then it wouldn't be my first choice.
Having said that it is a well liked beer that has been around for a long time.
The bottle and label project a classic style beer. There are no fancy graphics or outlandish colors, just a an old style traditional look.
Moving on.
Drinking Old Peculier The Legend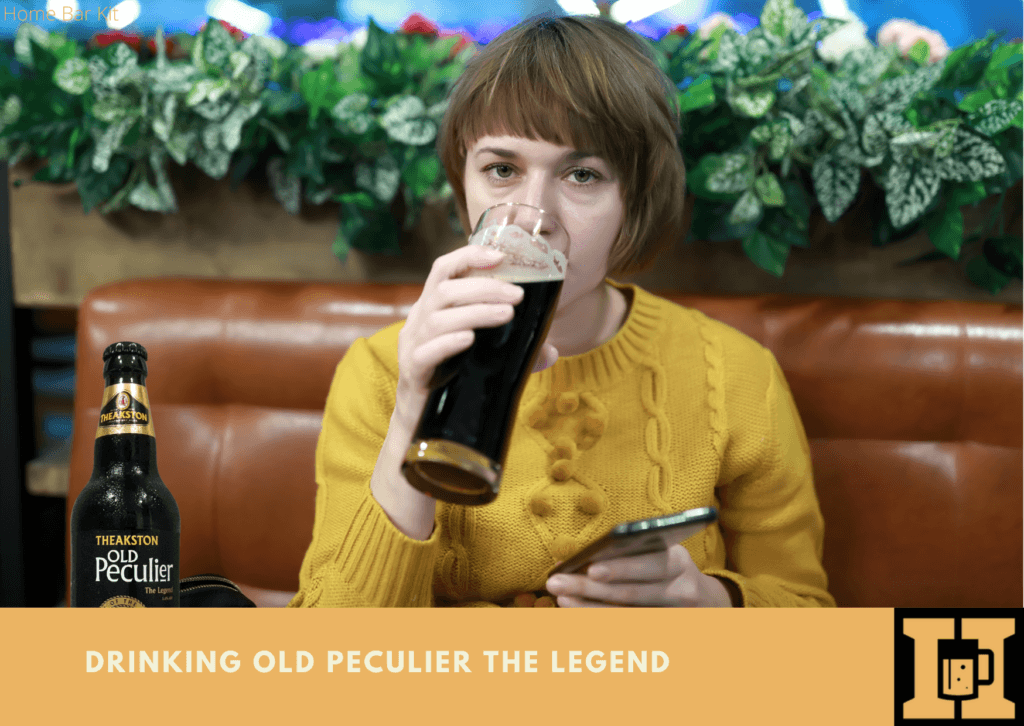 Although this is described as a dark ruby beer it doesn't reflect any of the ruby in the color. It pours black with a modest foamy tan head. The head gradually fades to just a thin cover.
If you hold the beer up to a strong light, there is the slightest of red hue, other than that it is black.
The nose is rich with roasted malts laced with a toffee caramel scent. I don't get any fruit notes, maybe because the malt overpowers it.
The taste has a rich malt roasted coffee base that is strong. However it is laced with dark berry fruits that lend a sticky sweetness.
At the end a slight bitterness calms down the sweetness, but in my opinion it doesn't clam it down enough. It's a smooth ale with a medium body and low carbonation.
At 5.6% Vol it is not a session beer, which is just as well because it is sticky and sweet.
Don't get me wrong I am not saying it is a bad beer, on the Contrary, it is just a little sweet for me. It gets a rate my beer score of 3.9 – 5.0.
M'Lady only had one thing to say, "It ain't no legend". Lou scored it an identical 3.9 – 5.0.
Theakston Beers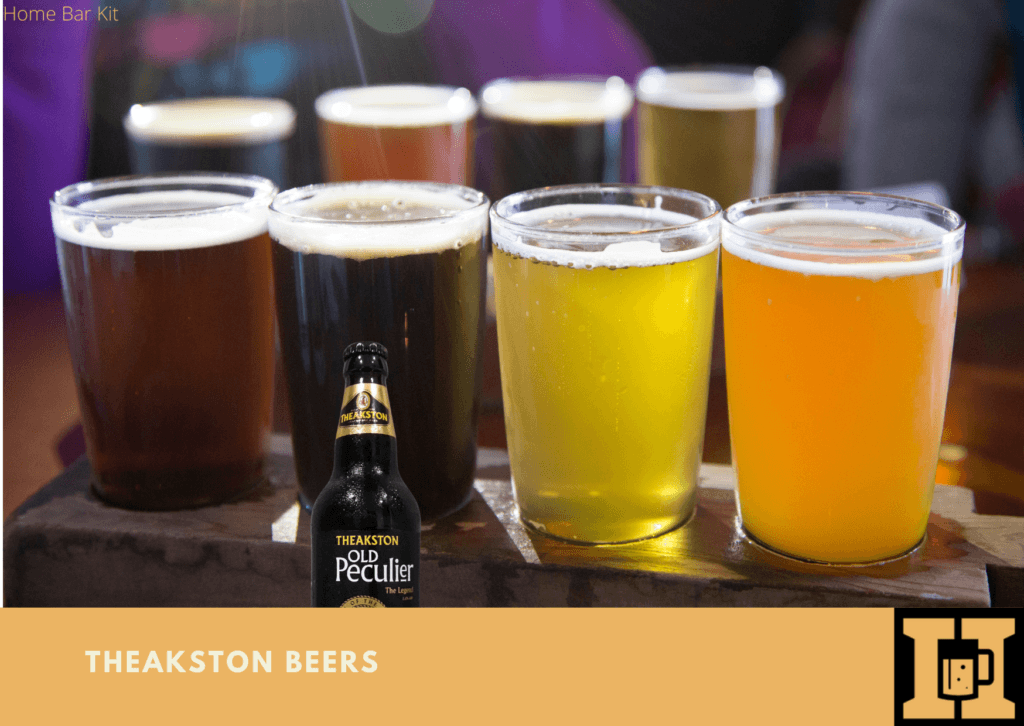 An old brewery with a rich history means they will have a range of traditional style beers. But do they have any new style beers in response to the craft brews of today.
The answer is they do, however their range of beers is not a huge one by any means. Here are a few I have picked out that I intend to try.
Summit
Summit is a session cold pale ale brewed to be served extra chilled. It has a hop bill of Amarillo, Cascade, Eldorado and Summit, so expect a burst of tropical citrus fruits to explode the senses.
It is brewed to be cool and refreshing and has a zesty tangerine flavor. I am pretty sure that is going in my cooler at some point. At 42.% Vol there maybe more than one.
Dark Mild
Dark Mild is exactly what is says an old style mild beer that was probably first brewed by Robert Theakston back in the day.
Being a mild it is going to be malty with notes of chocolate and liquorice. Being just 3.5% Vol it is mild on strength too.
It is nice to see this style beer coming back on the menu, I'm in.
Christmas Ale
Seeing as we are heading that way, I had to include Theakston's Christmas Ale. However be warned, I reckon this one is going to be a little rich.
Theakston's describe it as fruity like wine in the mouth, with hints of cinnamon and raisins flavors. Some describe it as liquid Christmas pudding, I told you, rich.
I am not sure if I am going to try this one, mainly because I don't like Christmas pudding. Maybe I will get Lou a bottle for Christmas.
Final Thoughts
Although I found Old Peculier a little Peculiar and too sweet. There are a few of Theakston's beers that have caught my eye.
Hence, my journey will commence through at least some of their range.
On a different note I will also be taking a look at The Black Sheep Brewery also in Masham. The have a Monty Python range, how intriguing.
If you have tried Old Peculier then do share your thoughts below. Do you think it is a legend?