This beer is from the popular brewery Northern Monk. It's a Hazy Double Dry Hopped IPA that packs a punch in flavor as well as strength. That said, is Transient hazy IPA a decent beer?
My favorite beer from Northern Monk is Faith which is a hazy pale ale. It is everything it promises to be and came in with a high rate my beer score. Can Transient beat my top monkster brew? Lets find out.
Is Transient Hazy IPA A Decent Beer?
Transient Hazy IPA is a decent beer, in fact it's a great beer. It pours an apricot orange with a generous fluffy head. The nose is a true hoppy citrus flair of fruits blasting out of the glass. Mango, grapefruit, but a distinct orange aroma for me too. The taste delivers a bitter sweet balance with a nice smooth mouthfeel. The full on fruity citrus gets followed by the bitterness of peel with an almost herbal overlay. It leaves the mouth with a smooth bitter aftertaste. I like it a lot and it scores a rate my beer of 4.6 – 5.0.
It reminds me of Faith, maybe a little too much.
The Northern Monk Brewery
There is plenty to write about Northern Monk, the brewery started back in 2014 by Russell Bisset and Brian Dickson.
However I am not going to write much here on the brewery. Why, because I have already covered a lot about them in past rated beers I have tried from the monks. You can find the other beers I have enjoyed on the Northern Monk brewery page.
What I will say is, this brewery is interesting, exciting and producing some great craft beers. They have a passion for beer, just as I do, and I suspect you do too.
I know that when I have a Monk brew in my hand I am in for a treat. So lets talk about the beer.
Is Transient Hazy IPA A Decent Beer?
The minute I spotted this can on the store shelf, I was drawn to it. I mean the monks artwork is always a draw. However when I read the hops involved it was a definite take home.
The new popular Strata hop and the ever popular Citra hop sounded like a great combination. It proves to be just that with plenty of juicy citrus fruit exploding in the mouth.
The Citra hop always provides a tropical fruit explosion. But the Strata although it has a similar tropical citrus vibe, also lends a dry grassy herbal layer. This for me dried things out a little and clamed it all down before a bitter edge finished off.
It has to be said, it is a good beer, it all works and is balanced out well.
It all starts with the can, a grey silver backdrop of rolling hills tainted with light shades of pastel. Dark trees sit on the sides almost resembling angry clouds. The Northern Monk logo and name sit in their usual position.
The only thing to spoil it was the small dent in the can, no that wasn't me. Anyway on with the beer.
Drinking Transient Hazy IPA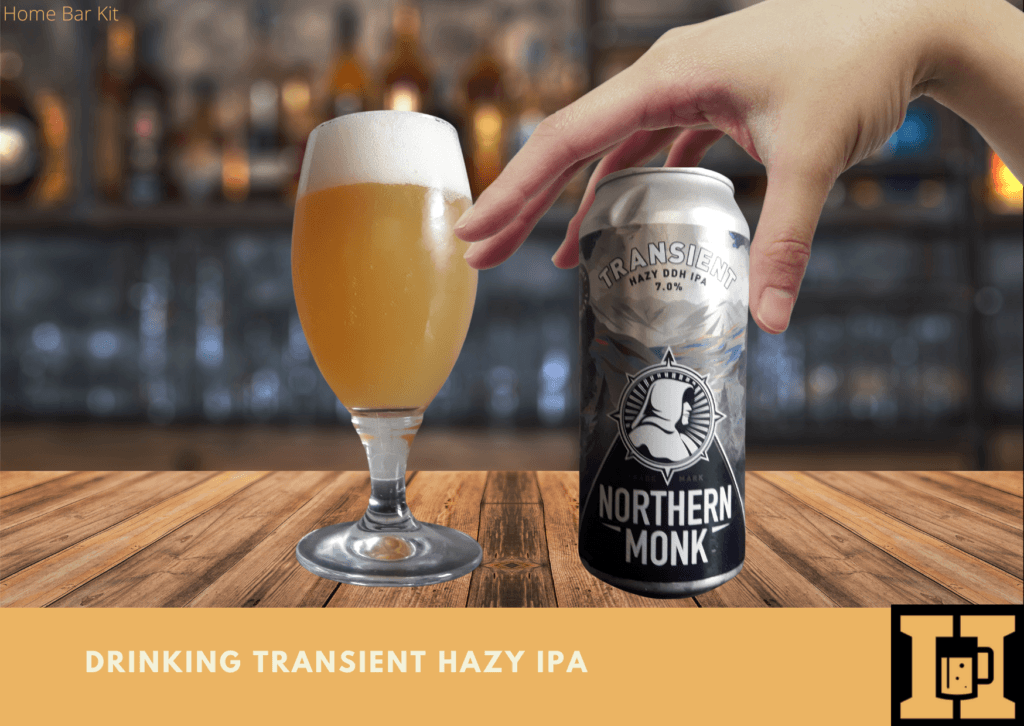 Transient hit the glass in a swirl of orange and cream folds. It settles to a hazy apricot orange color with a creamy frothy head. This does fade slowly but leaves a decent cover that decorates the glass with a nice lacing.
The strong tropical fruits dominate the aroma, its a vibrant tropical storm bursting from the glass. Stick around with the nose and there is a hint of floral aroma fighting against the hoppy tropical circus.
The taste is hoppy with a full citrus fruity flavor, its juicy but doesn't veer away from being a beer. The zesty citrus front has a slight sweetness, but is balanced with the bitterness of orange and grapefruit pith.
It's a hoppy citrus show that is surprisingly smooth in the mouth. A herbal dryness shows its face to calm the zesty experience down and the finish is laced with a slight bitterness.
There is no doubt it is a good hoppy IPA that is juicy up front but blends out to a smooth bitter end. I like it and it is easy to drink. However it does pack a punch at 7.0% Vol, but I did have just the one.
I give it a rate my beer score of 4.6 – 5.0, which means Faith is still my Monk favorite at 4.7 – 5.0. M'Lady scores Transient at 4.4 – 5.0, so wasn't as keen as me.
If you like a lively IPA, then Transient is worth a go, I would love to find it on tap.
The Northern Monk Range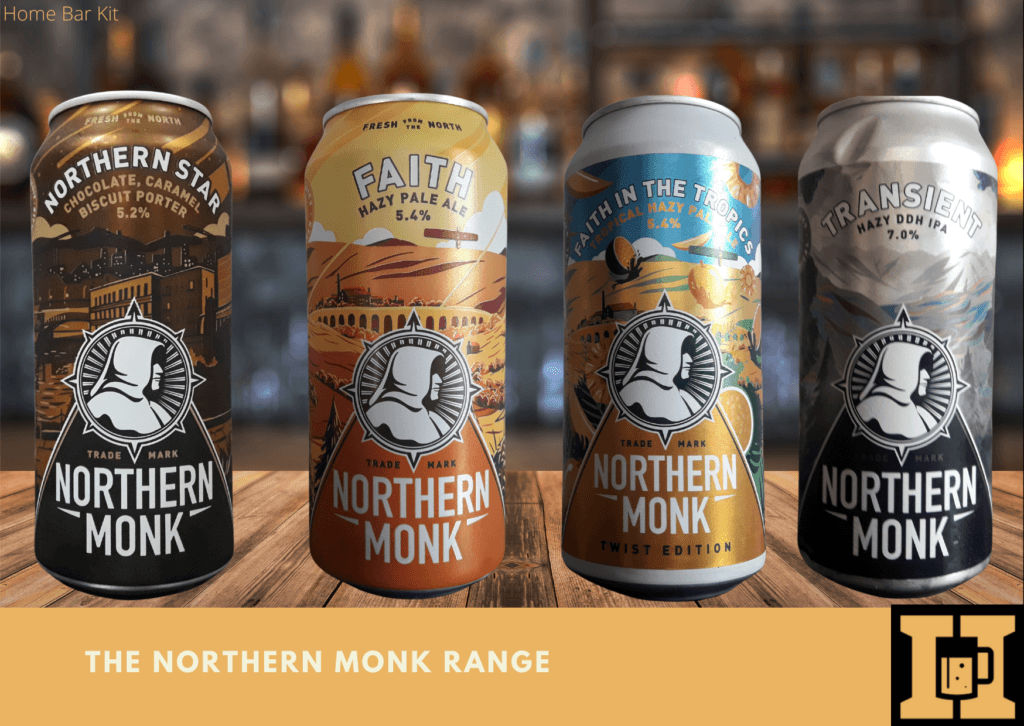 The Monks are a busy lot and as you can imagine have a vast array of beers on offer. A decent core range that will always be visited more than once. There is also a seasonal range and a twist range which are beers with a twist on the core and seasonal ranges.
New World
New World is an India Pale Ale, yes another one, the world is afloat with IPA's. However this one is where it all began, or to put it another way, a tribute to the original IPA.
Go way back to the 1700's with George Hodgson and the story of IPA begins.
It has the sweetness of pale malts, the bitterness of hops and a tropical fruity feel of grapefruit. A combination of five hops from America, Australia and Britain come together to celebrate the ever popular India Pale Ale.
Although it is not going to resemble those first IPA's from hundreds of years ago, it's still worth a pop.
Day Of The Death
This beer is from the Twist range and is based on the Death Imperial Stout, with of course a twist. That twist is Mexican inspired and attacks the mouth with cinnamon and vanilla. However then comes the smoky heat of Chipotle just to give it a kick.
There is another kick though, at 11% Vol it is going to hit home.
It would be interesting to know if it really does have a decent spicy kick, so I will just have to seek one out.
A Summer Of Faith
A Summer Of Faith is from the seasonal range, it's a hazy Rhubarb Shandy. Get out of here, I don't want any part of that. It is an obvious take on Faith, my favorite monk. A refreshing Radler made with rhubarb and apple juice.
No no no.
Okay it may appeal to some, and I can't really put it down without trying it. So if I see it, I will try it, but I am not going to hunt it down.
At 2.7% Vol it is a light, probably refreshing and obviously session safe, the jury's out.
Final Thoughts
So Transient although a great hoppy IPA has not knocked Faith off the top position for my favorite Northern Monk beer.
But it is close and well worth a try. There are plenty of beers to try from Northern Monk, but will any of them be better then Faith. It certainly won't be A Summer Of Faith, or will it be? Don't even joke.
What Northern Monk beers have you tried and what did you think?
Share your thoughts and describe your experience. Especially if you have tried the rhubarb and apple juice shandy.