The modern world is flooded with craft beers, which is a good thing obviously. However now and again it is nice to try an old style beer. So I found myself in possession of a French style Bière de Garde or beer to keep. Sorry, I tried to keep it, well for five minutes, but before I new it I had cracked the crown. Which poses the question, is La Goudale Blonde Bière any good?
It's French and it has style, from a distance it looks like a small bottle of wine. Yet when you get closer and realise it's a beer, it's an automatic purchase. Both the bottle and the label just ooze excellence and draw you in. So how did it fair?
Is La Goudale Blonde Bière Any Good?
Ooh la la its good, lets just say it has a certain je ne sais quoi, sorry I couldn't resist. The pour is lively and it settles to a golden amber with a generous fluffy head. On the nose it has sweet malt and caramel notes with a solid yeast base. But when you taste it, is when it gets interesting. The caramel comes through at the front with a smoothness of silk. The low carbonation filters through some vanilla and orange, laced with a hint of liquorice. It feels luxurious and the mellow after taste leaves you wanting more. This beer is a class act and gets a rate my beer of 4.7 – 5.0.
A quality beer packed with va va voom. Okay, I will stop it now
Brasserie Goudale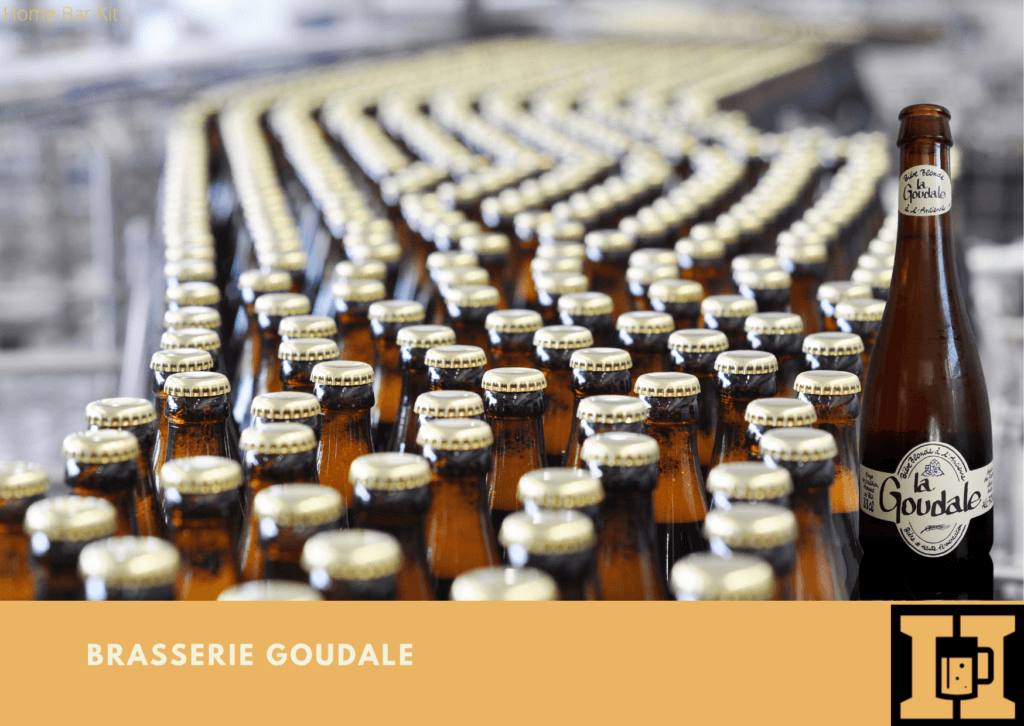 The original brewery was Les Brasseurs de Gayant which translates to The Brewers Of Gayant, and was born in 1919 in the Douai, Northern France. La Goudale beer was actually introduced in 1994 and brewed in a traditional way. In fact the name screams tradition. In the 14th century any good beer was called Goudale, which translates as 'Good Ale', I mean you can see it in the name.
Over time the brewery has seen several mergers with other breweries. The Jeanne D'Arc Brewery which later became the Brasserie Grain d'Orge. In 2010 André Pecqueur acquired and merged Brewers of Gayant and brewery Grain d'Orge.
2016 saw the brewers of Gayant move to a new brewery facility in Arques, Northern France. The brewery is named Brasserie Goudale or Goudale Brewery.
In 2018 André Pecqueur reinvests some 45 million euros into the Goudale brewery. Present day sees him at the helm of Saint-Omer Brewery as well as Goudale Brewery and investment and expansion continues to the tune of 25 million euros.
The brewery produce and good range of Goudale beers as well as other beers like the Demon beer range and the Beelzebub beers too.
La Goudale Blonde Bière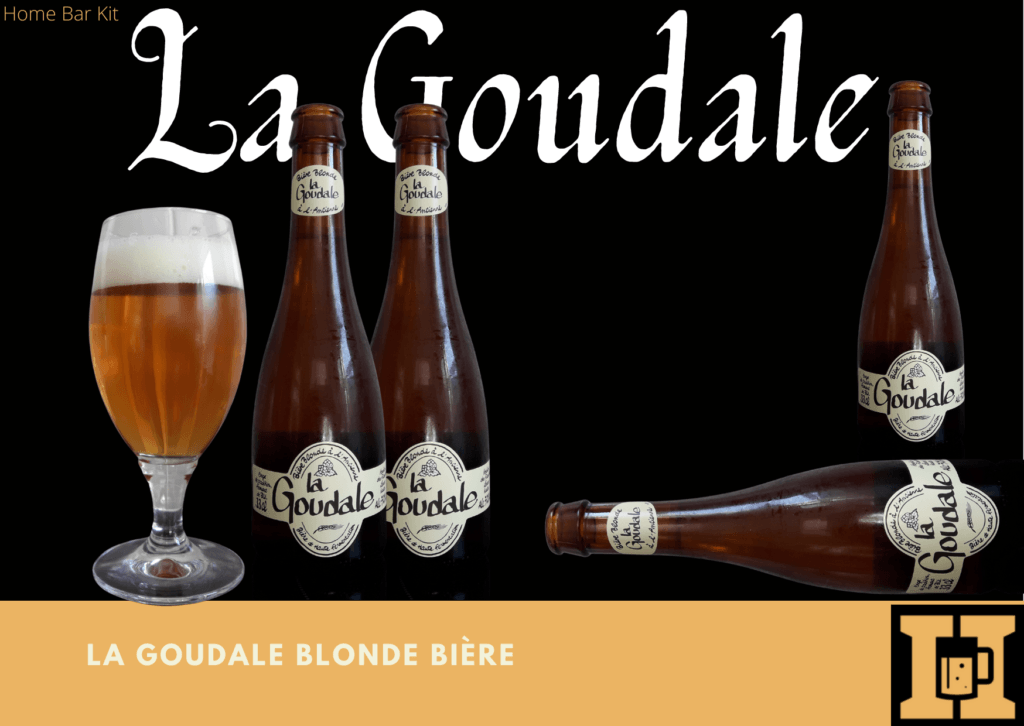 So back to the beer in hand, the good ale from France.
How good was it really?
All that matters is the taste right?
No for me it is about the whole experience, and that starts with the way the beer looks, in and out of the vessel it is stored in. The first impression starts with how a beer is presented. When you see this on a shelf in the store it stands tall and elegant.
It commands attention, and is not screaming and shouting with bright funky labels. La Goudale has a classic air about it, a timeless beauty that stands among the noise with confidence. Hence why it made its way into my hands.
Once I had stopped admiring its beauty, I opened it and poured. The crisp golden amber liquid settles covered by a lavish white top. This does fade slightly but sticks around for the duration decorating the glasss with a modest lacing.
On the nose it is subtle, but a sweet caramel wafts around a malty biscuit. This is supported by a rigid yeast foundation. It draws you in for a taste and does not disappoint. The feel is light but complex with a front of smooth malty caramel. A humble carbonation distributes pockets of vanilla and orange around the mouth. Just when you think it is all over a low key liquorice tone escorts the palate to a satisfying finale.
It is complex but mellow at the same time, a feel of pure indulgence yet crisp and light, it is both luxurious and refreshing too.
The Verdict
I guess I like it, actually I love it and it will feature in my cooler on occasion in the future. However it is not one to get carried away with, despite it being so moreish. As a strapping 7.2% Vol it is one to be savoured through its quality and not quantity.
From the first impression of the bottle and its classic livery down to the liquorice finale, its a triumph. A quality beer worthy of a place in anyone's life.
For its sheer beauty and rich flavor experience it gets a high scoring rate my beer of 4.7 – 5.0.
More Beers I have Enjoyed.
The Goudale Range
La Goudale is available in the 33cl bottle I have, as well as a 75cl bottle that is corked and caged. But if you prefer cans, then it comes in a 50cl can. The elegant designs carry through the Goudale range. There is an amber Goudale as well as an IPA Goudale.
There are an array of other beers from this brewery. But for now I will just share a few others in the Goudale range and leave the others to shine on their own another day.
La Goudale Amber
An amber beer is always a good beer and this one with its rich burnt orange color looks inviting. It promises a mix of fruity flavors laced with spices. A roasted caramel background leaves way to coffee and chocolate notes with a hint of hazlenut.
Another beer with a 7.2% Vol it will be safer to sip and savour. I get the feeling it is another complex beer appearing to be simplistic. Again available in the 33cl and 75cl bottles as well as the 50cl can.
The Good Ale IPA
Or should I say La Goudale IPA the citrus fruit beer with a twist of bitterness to finish off. A light copper color it provides a generous white top with aromas of lively citrus laying on a yeast blanket. The taste promises plenty of citrus front with a pine edge. The malt base rests on a sweet caramel, finishing with a dry bitter sweetness.
Can you guess the strength? Yea, you got it, another 7.2% Vol like its siblings. However the IPA only seems to be available in the small 33cl wine shaped bottle.
La Goudale Rubis
If fruit in your beer is what you like, then this ruby beer could be your calling. The glistening red liquid that dances in the glass looks more like a rose wine. Light and crisp it will deliver the sweetness of red berries over a tart cranberry Hibiscus.
No, you got it wrong this time, it is not 7.2% Vol, instead it is a mere 5% Vol. That means it is just on the fence of a session beer. Having said that, the sweetness may curb that enthusiasm. Could be a popular choice chilled to perfection on a hot summers day.
Final Thoughts
It has to be said the the Goudale brewery is an interesting one. From the elegant bottles and labels to the complex brews that feel so simple. It's a clever feat to pull off.
I love the La Goudale, it really feels like a quality beer that is smooth and full of flavor. I am looking forward to seeking out more beers from this brewery. Although I might air on the side of caution if I come across the Mega Demon with its humongous 16% Vol. I feel dizzy just thinking about it.
Have you discovered any Goudale brewery beers yet? If so then share your thoughts below, especially if it is the Mega Demon.