The price of timber is high, which can make building your own bar an expensive project. Do not despair though, because you can get free timber, and it goes by the name of pallets.
You can literally make anything out of these wooden structures, but are they cool or not? I think you either love them or hate them, but if you are looking for pallet bar designs, then there are thousands.
The Wooden Pallet
The humble wooden pallet is a little hero and has been helping us with the transport and storage of goods worldwide for many years. They are used for most items that need to be moved around, which is done by using a forklift or pallet truck and they are the base that holds all goods together.
Although there are plastic and metal pallets, the wooden pallet is by far the most popular and the most used in the storage and movement of goods.
I think most people at sometime in their life have had something delivered and it has been strapped to a pallet. I know I have on many occasions and when you have unloaded the delivery you are left with a wooden platform that is yours to dispose of.
This can be annoying to many because they may not have the room to store them or the car to transport them to the tip. The pallet can be seen as a nuisance to some, but to others they are an opportunity and free wood for construction.
The Pallet Builder
These strong structures that transport our goods have become a popular building material for the diyer. You will not see them used in any commercial construction, but they are popular for home use to build an array of objects
Seats
Sheds
Tables
Decks
Planters
Walls
These are just a few of the things that people make out of pallets, and of course home bars too, which we are looking at here.
Pallets are in abundance and it is pretty easy to get hold of them if you have a woodworking project that you want to complete. Most businesses have deliveries on pallets and while some may have arrangements in place to dispose of their pallets.
There will be others that will find them a nuisance to deal with so would be more than pleased for you to take them off their hands. Look out for households that have a pallet or two in their front garden, again if they are not going to use them for their own project, then they will be pleased to get rid of them.
You could put a wanted advert locally, but beware you may get more pallets than you can handle.
Preparing Your Pallets
They can be rough and ready so be careful when handling pallets, always wear gloves. You may find some have been a little damaged and need to be repaired.
There are a few ways to use pallets, you can take them apart and use the wood individually, just be careful as they are notoriously hard to dismantle. Take your time and use strong tools and remember that just going mad with a hammer is probably not the best way to attack you pallet, you will end up damaging the wood.
Careful and precise is the way forward.
There are plenty of Youtube Videos that people have made showing their own way of dismantling a pallet.
Another way to use pallets is by using them whole and stacking or fixing together to build your project. You will probably end up doing both, using them whole when possible and using the wood individually for smaller parts of your project.
It will be necessary to sand the wood a little, as pallets are pretty rough most of the time, unless you are going for the real rustic look.
Pallet Bar Ideas
Building a home bar from pallets is a great idea and will be the most cost effective method of achieving your dream bar.
The simplest bars can be two pallets fixed together with a bar top added. If you lay two pallets on the floor, one on top of the other, fix them together, then stand them up, you have the bar construction. Add a bar top, which can also be made from pallet wood and you have a basic bar.
Make two of these and fix them together at right angles and you have a corner bar. Whole pallets can be fixed together in many ways to make up many types of shapes and structures.
If you want some ideas and inspiration then Pinterest has numerous ideas to choose from, you will definitely find a bar design that suits you. There are simple designs that will take a matter of minutes to construct, and then there are some complicated ones that will be a bit more time consuming.
Because the pallets can be fixed together in many ways even the grandest of projects can come together quickly.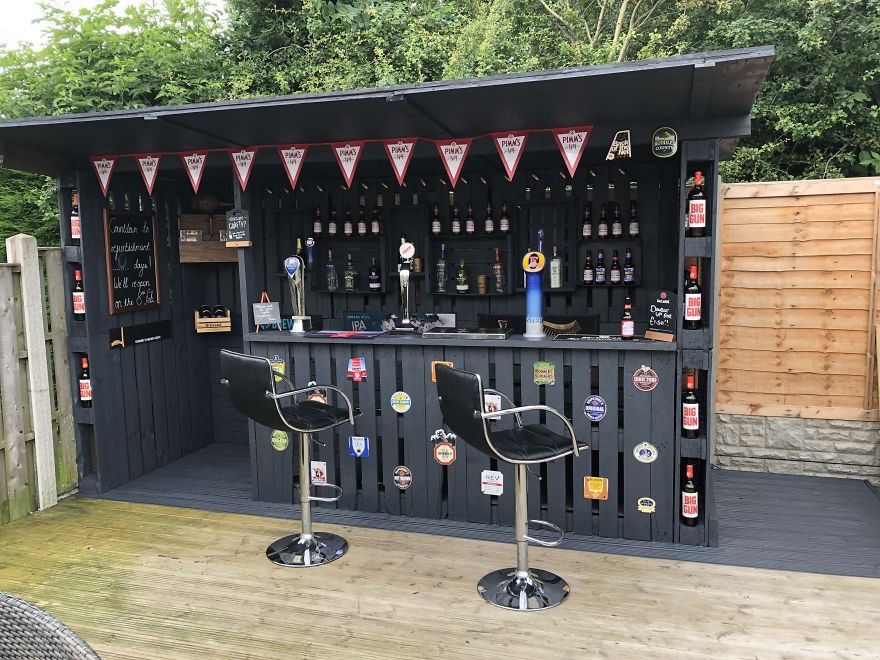 I think you will agree that the bar in the image is a pretty big one, yet it only took a couple of days to construct and cost around $112 which was for the roof and paint. An impressive bar that uses complete pallets side by side to achieve a spacious bar with a roof.
Completed by Paul Nowak, this bar is actually very simple in design which you can see from the other images he shares on the Bored Panda site.
Just shows you what can be done with some pallets and some imagination. Inspired yet?
Pallet Heaven Or Hell
The thought of making something out of pallets is a no no for some people, they detest them and would never even contemplate the idea. They see them as ugly and cumbersome with no finesse what so ever.
It is true that a pallet construction can look exactly what it is, a load of pallets joined together. It can look very rustic and even crude, but they can also look good too. They can have an industrial look, which is on trend, and some clever people have disguised them well and you wouldn't know you were looking at a pallet construction.
If you hate them, you hate them, but for those of you that like them and want to undertake your own project, don't be put off by those that dislike them with a passion.
You can do much with the humble pallet, and I hope these pallet bar designs have inspired you to get started on your own project. Have fun and share your own pallet masterpieces below, you may inspire others into the world of pallet building.