Porifera Is a double India Pale Ale from the Garage Beer Co in Barcelona. They love their IPA's and sour beers, and this one is no exception with plenty of hops and big on strength. But is it any good?
The name porifera refers to the sponges in the sea. In this instance the sponges in the Mediterranean sea where Garage are involved in helping restore the Meds environment through the Blue Carbon Initiative.
Porifera DIPA is a decent beer with plenty of bite. It pours a thick hazy orange with a a thick foamy top. On the nose it screams hoppy citrus fruit with aromas of pineapple and orange. The taste is just the same with a hop overload carrying plenty of citrus flavour and just a little dank edge. The finish brings plenty of bitterness that lingers. It gets a rate my beer score of 4.5 – 5.0.
It's a thick mouthfeel with a lot of citrus bite, not a beer to be taken lightly.
Garage Beer Co
Garage Beer Co started life as a brewpub in the Eixample area of Barcelona, Spain. Founded by Alberto Zamborlin and James Welsh in 2015.
The start was not the best, mainly because their beers were not the best. Even James father who was also a brewer in England for Ringwood Brewery couldn't seem to help them improve the beer.
They finally got help from the Other Half Brewery from Brooklyn, New York. A collaboration between Garage and Other Half produced a session IPA called In Green We Trust.
The beer was a big success and what Alberto and James learnt took them forward in a different way.
In 2017 they opened a new brewery Sant Andreu where most of the beer is now brewed. Although they still use the brewpub for some of their beers.
The Garage Beer Co has helped to popularise craft beer in Barcelona and they are now recognised internationally too.
Porifera DIPA
Porifera DIPA stands in a 440ml silver can, at first glance I thought the label was many aluminum cans on a blue background. Maybe representing the waste that goes in to our oceans, but hell no, I was wrong.
On a closer inspection, the blue is the ocean, but the can are the sponges in the sea. On the back there is plenty of writing, however I am not that good with Spanish.
What I can read however is the ABV, which is a hefty 8.0% Vol, so I am only having the one.
Anyway, what about the beer.
Drinking Porifera DIPA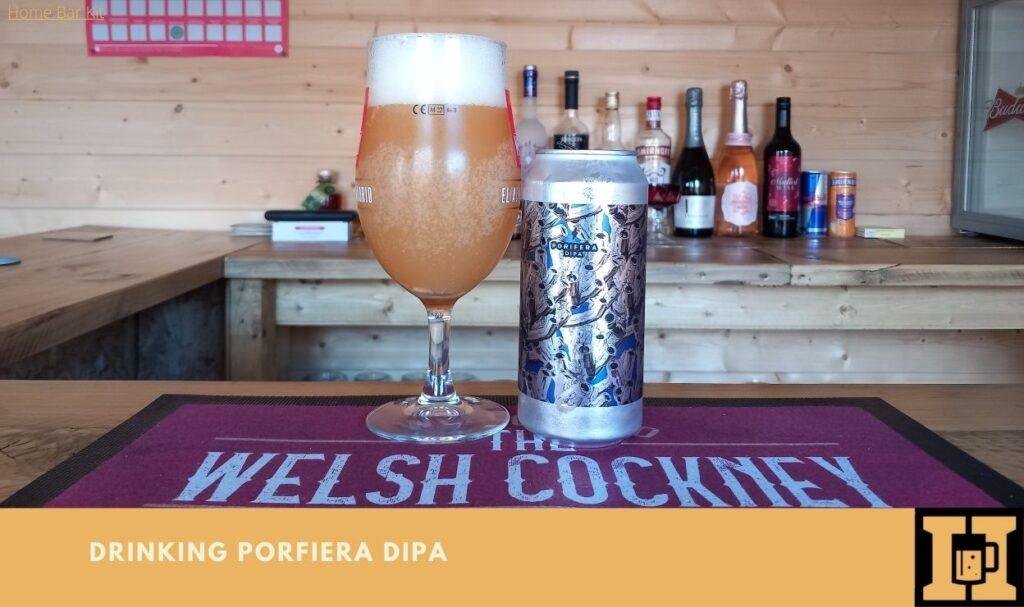 My pour was a little aggressive, but I like it that way. I pour three quarters of the beer into the glass, then give the can a little swirl to release any sediment and the like.
Pour the last bit in and you can see how cloudy the last bit is. The beer settles to a thick hazy orange with an equally thick generous foamy head. The head does fade but retains a half finger cover throughout, leaving a little decorative lacing.
On the nose its power full on with plenty of citrus bang, I got notes of pineapple and orange. I knew this beer would deliver on bitterness because you can almost smell it.
The taste bursts out of the gates with loads of hoppy citrus fruit attacking the mouth. It's got bite and in the background lurks a little dankness.
A medium carbonation and a real thick mouthfeel leads to a lingering bitterness on the finish. But you can sense the strength of this beer, it doesn't hold back on any level.
Summing it up, it is a full body DIPA with a huge citrus bite and a long bitter finish. I like it, but its strength aside, I don't think I would go for a second in one sitting. For me it gets a 4.5 – 5.0.
M'Lady likes it too, which kind of surprised me because Lou's not one for high ABV's. Anyway Lou says "A vibrant fruity smell with a hazy look and a thick mouthfeel that leaves the palate dry." Lou scores it a 4.0 – 5.0.
Garage Beer Range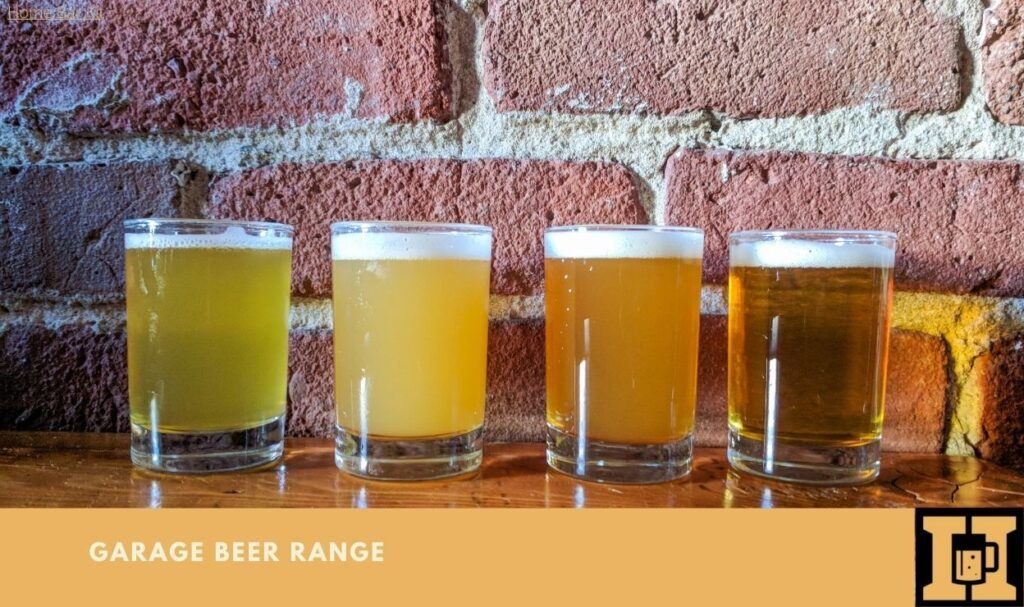 The Garage Beer Co have a small range of beers, of which seem to be IPA's and sour beers. Although I think there maybe a lager too. Hopefully we might see a porter from them in the future.
I will have to keep my eyes peeled, but for now IPA's and sours it is, here are a few beers from their current range.
Soup
Soup is a New England IPA loaded with hops for what the brewery describes as cloudy deep chewie body. If you are hop shy, then this is not the beer for you.
It has a bit of a bite too at 6.0% ABV, so not one for a session. This IPA is aromatic with bundles of citrus fruity hops that tantalise the taste buds.
One I will look out for.
Gravity Hill WA
Another hazy IPA stacked to the hilt with hops. The popular Citra hops play the leading role, backed up by El Dorado and Idaho making for a hop explosion.
It's not just packed with hops either, at 7.0% Vol its heavy on strength too. Expect a hoppy citrus explosion if you take this one on.
Back Stage Writing Hits
A strange name for a beer, but this one is a sour beer rich with fruit. Guava, Dragon Fruit and Passion Fruit feature in the thick and creamy beer.
Another bigger hitter in the strength department, weighing in at a mighty 7.0% ABV. Not one for a session, but if you like a sour beer, then this one might just hit the spot.
Final Thoughts
Garage Beer Co then have made their mark in Barcelona, but it has gone beyond and they enjoy recognition internationally too.
I have only had the one beer from this brewery and that is the Porifera which is a full on monster with plenty of bite.
It's not a beer I would drink regularly, but went you want a powerful hit then this one does fit the bill. I get the feeling most of their beers might have the same qualities.
If you have enjoyed any of the Garage range of beers, the do share your thoughts with a comment below.