We know that recently, a bar has once again become a popular thing to have in the home. Entertaining family and friends at your very own home bar is something a lot of us want to do. The rise of purpose built sheds and out buildings converted into bars is another rising trend.
Some people have even extended their homes to accommodate a bar, whereas others have completely transferred an existing room. I take my hat off to these people, having the space to create such a great entertaining place within the home is amazing.
What about those that do not have any outside space, or very little space within their homes, in or out?
Fear not, just because space is tight it does not mean that all is lost on the bar front. Portable bars for the home are also on the rise, and I can understand why, because they are a great alternative. I take a look at some of the best.
What Is A Portable Bar
I like to entertain, I am sure you like to entertain, you invite your friends round for a drink and want to have a bar to serve them from, rather than having all the drinks on the kitchen top. It's a fair point, but you don't have the room to have a built in bar with all the bells and whistles.
This is where the portable bar comes in, it does exactly as you would expect, it's portable, you can move it around. Store it in one room out the way, or in a walking cupboard, then bring it out when you have your chums over.
A small outside space that can't accommodate a bar structure can be transformed in a few minutes with a portable bar. They are versatile, space-saving and just a great way to have a home bar without having a home bar.
It is worth having a look at what the portable bar has got to offer.
Jimmy Entertainment Cart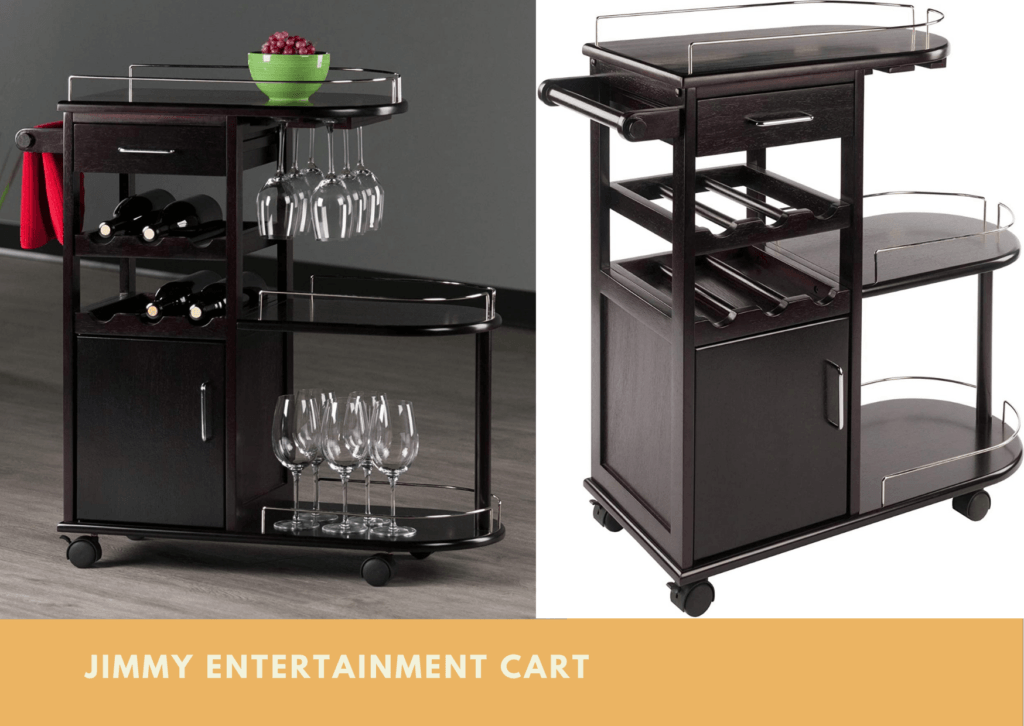 Practicality and style is what the Jimmy cart is all about, constructed from wood and finished in a dark espreso, this portable bar will impress anywhere.
The front looks like a bar and has two large storage shelves to display your drink with metal rails to keep bottles safe. There is a bar top for preparing and serving, also with a metal rail. On the serving side there is a handy drawer for bar tools, a wine rack that holds six bottles. Below the wine rack is a cupboard for glasses, and on the end is a must have towel rail.
The unit measures 35.5 inches (90 cm) in length, 14.5 inches (37 cm) width, and 36 inches (91 cm) in height making it extremely usable around the home. Of course the Jimmy cart has a set of caster to make it easy to maneuver which have a brake for when you find your spot to serve.
A basic but practical portable bar that will be a great addition to any home.
Galen Entertainment Cart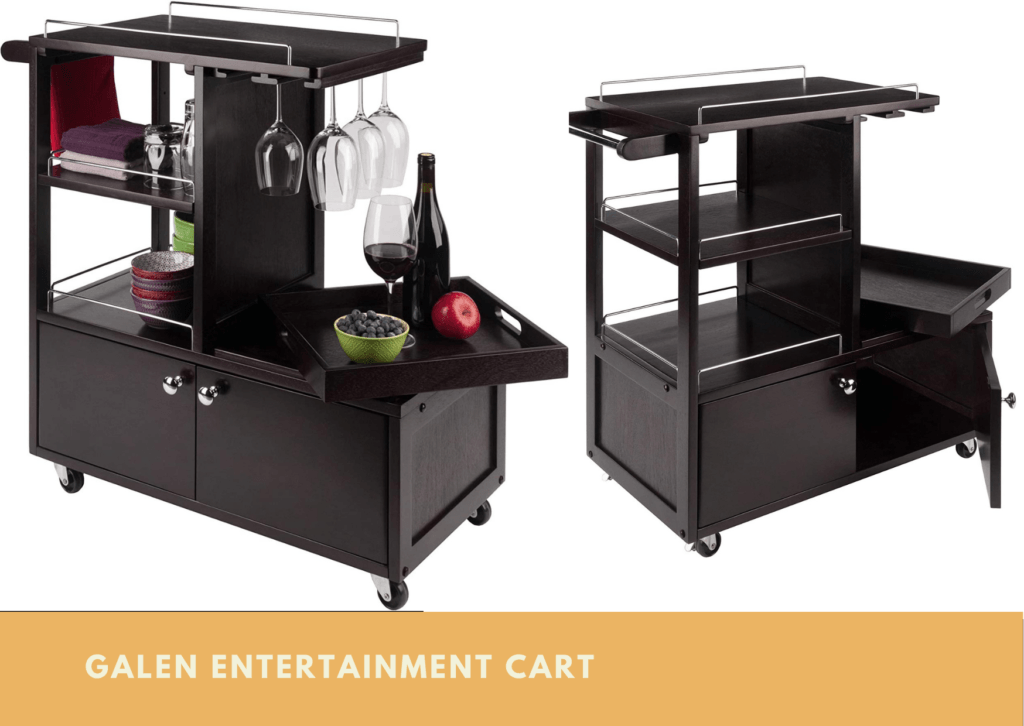 The Galen cart is very similar to the Jimmy cart, and is supplied by the same company. It is just a different lay out and design, you decide whether it is better or not, I think it might be a little better.
Working from the top down, the Galen cart has a large prep/serving top with a towel rail on one side and a glass rack on the other side. Below this we have two ample shelves for bottles/glasses, these two shelves plus the top have metal rails for safe storage. The other side has a platform without metal rails, but with a large serving tray, which is handy.
At the bottom is a large double cupboard for more bottles or glasses, then there is of course the four casters, two of which have brakes.
The unit comes in at 34.25 inches (87 cm) in length, 16.77 inches (42 cm) width, and 34.37 inches (87 cm) in height. It looks bigger than the Jimmy, and although wider is not as long or high as the Jimmy cart.
The set up is good on the Galen cart and the serving tray is a nice touch, overall a cracker.
Urban Industrial Portable Bar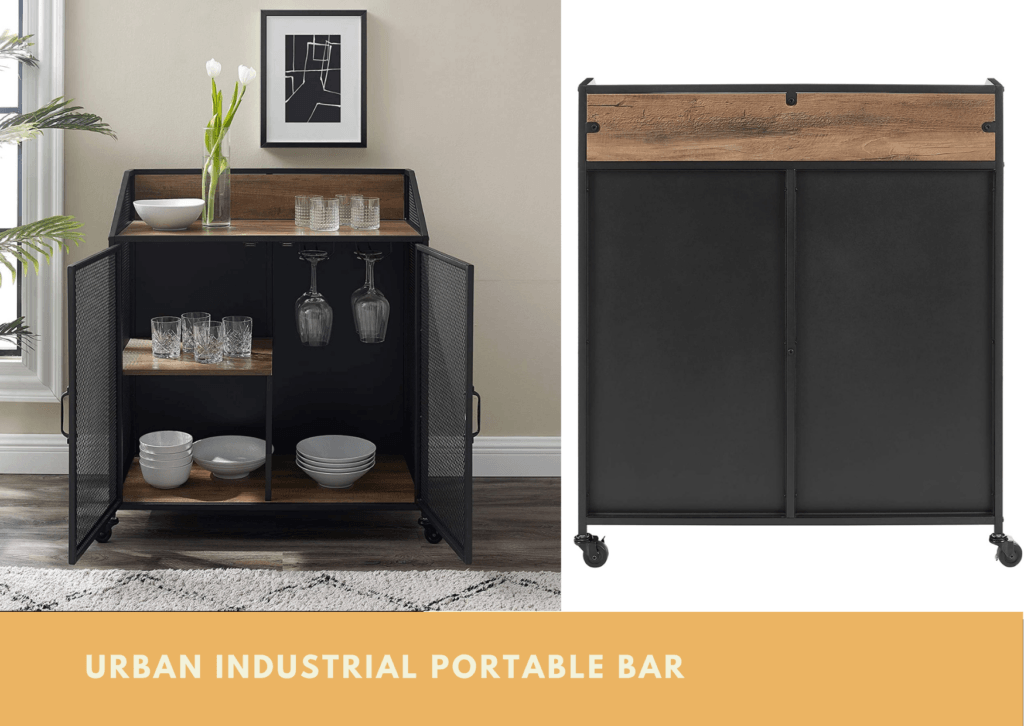 The Urban bar cart is simple but effective, giving your space an industrial feel and get your drinks to the spot you want to entertain. It has a metal frame construction with laminate inserts and mesh sides and doors.
The laminate inserts are available in three colors dark walnut, Grey or the one pictured which is rustic oak. It is a simple design with and enclosed prep and serving top, a large two door cabinet with a shelf to one side. There are four casters for easy moving with two have locks to keep it in one spot when needed.
The bar measures 36 inches (91 cm) in length, 18 inches (45 cm) width, and 39 inches (99 cm) in height.
It is a simple rustic design that has a certain charm and will look great in a modern apartment.
Traditional Bar On Wheels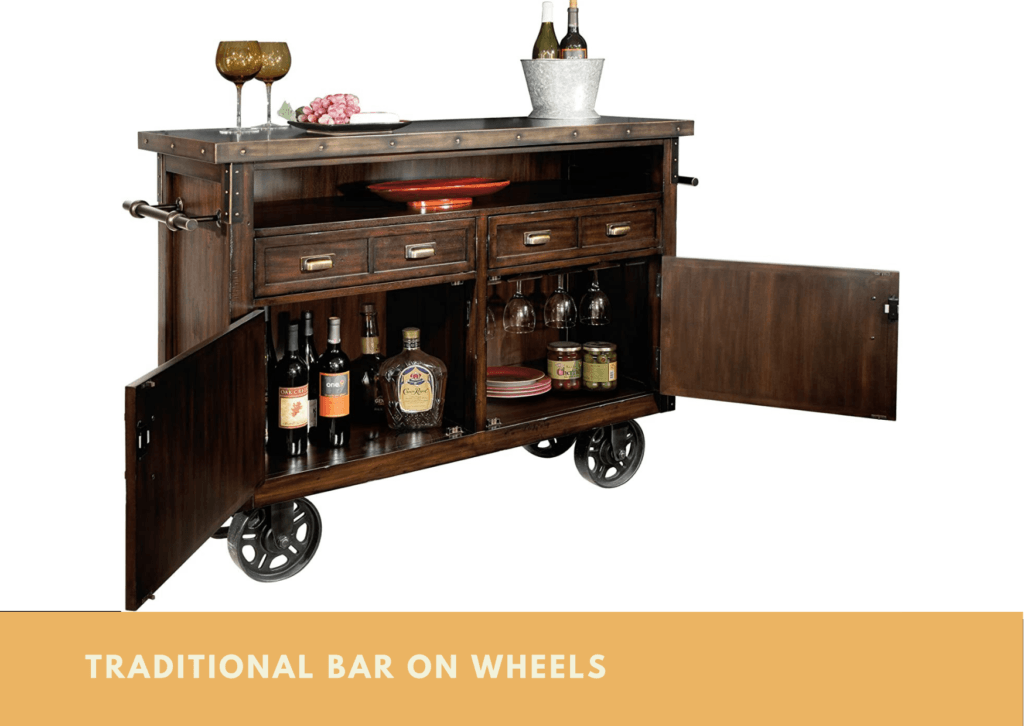 I love this one, it is like an old traditional bar on wheels, and they are some wheels. The bar cart is made from select hardwood and veneers and has some great distressed features. The bar top is metal and along with the wheels give this an almost industrial feel of an old train carriage.
The bar top which is finished in antique bronze is a large area for prepping and serving with a push-pull handle at each end to move the unit with ease, but can also be doubled as towel rails. Under the bar top is a handy shelf running the whole length of the unit.
Below the shelf is what looks like four drawers, but is in fact two large drawers again running the whole length of the unit. Under the drawers are two cupboards, one with a stemware rack for wine glasses, but both have ample room for bottles and other glasses.
This all sits on four large wheels that look a little like train wheels and make it easy to move the bar around. The overall measurements are 56.25 inches (142 cm) in length, 19.50 inches (50 cm) depth, and 40.25 inches (102 cm) in height.
This a pretty large portable bar that is easy to move around and looks fantastic to boot.
Kitchen Island Portable Bar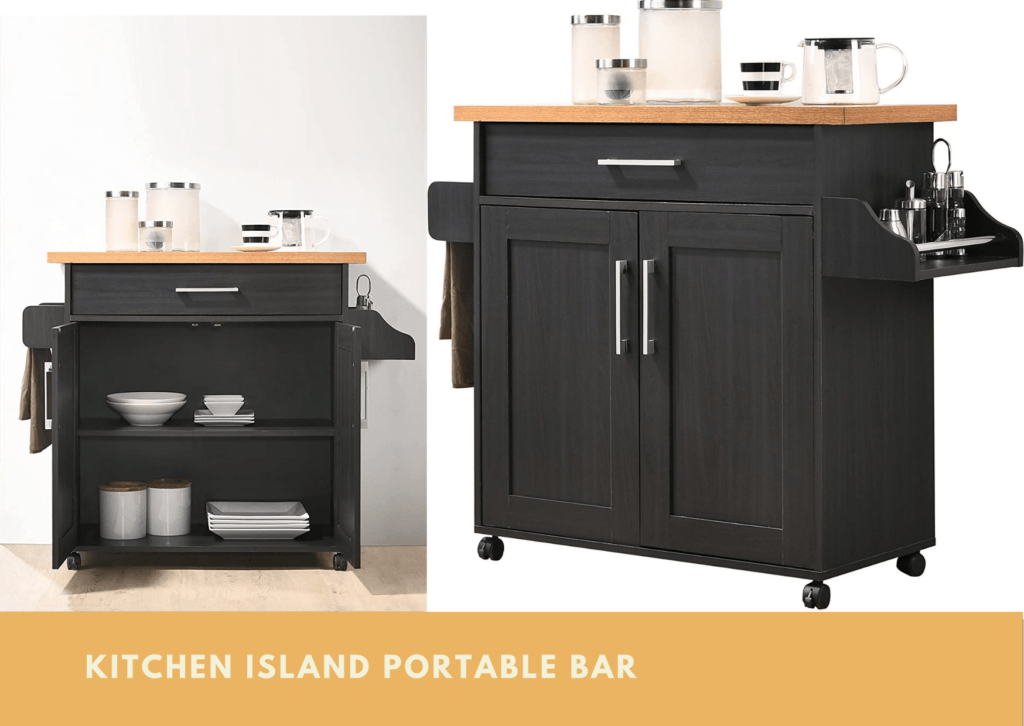 Okay you may be wondering why I have included a unit that is described as kitchen island unit, the reason is simple. It can just as easily be used as a portable bar and with the black body and the beech top looks great.
You have a generous bar top, which has a full length drawer underneath it that can be used for all your bar tools. Below this is a large double cupboard with an adjustable shelf that has ample room for all your bottles and glasses.
At one end of the unit is a towel rail and the other end which is described as a spice rack could be for all the mixers and flavorings for those wonderful cocktails.
This unit weighs in at 46.65 inches (118 cm) in length, 15.50 inches (39 cm) depth, and 35 inches (89 cm) in height. You can get this unit in several colors, from black/beech pictured to Grey/oak, beech, cherry, chocolate/Grey and white.
I know that this unit is marketed as a kitchen island, but like I said it works as a portable bar too. It could also be used as a bar in the kitchen and with the range of colors there is a good chance it would be easy to match it to the kitchen units.
Portable Bar Table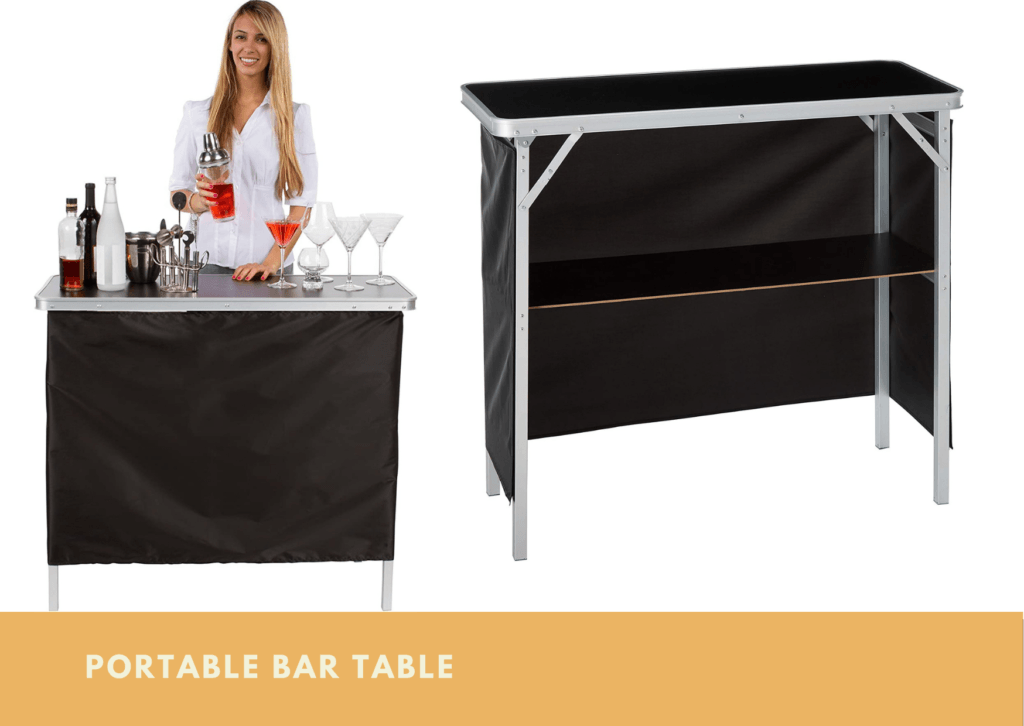 Here is something a little different, it is not on wheels and has its own carry case. Yes, this really is portable, not just around the home, but it can be taken with you on the go, set up anywhere and create a bar right in front of peoples eyes.
Set it up indoors, set it up in the yard, or set it up at your friends house, heck, you could even set it up on a family picnic. It is lightweight and folds away into a bag, you can literally take the beauty anywhere.
When erected this bar table is 40 inches (101 cm) in length, 16 inches (40 cm) width, and 40 inches (101) in height. It will support a decent 65 pounds in weight. So plenty of bottles can be used and it has a handy full length shelf for your glasses.
This may not be for everyone, but it is worthy of thought if you only want a bar occasionally because the rest of the time it can be packed away out of sight.
Contemporary Portable Bar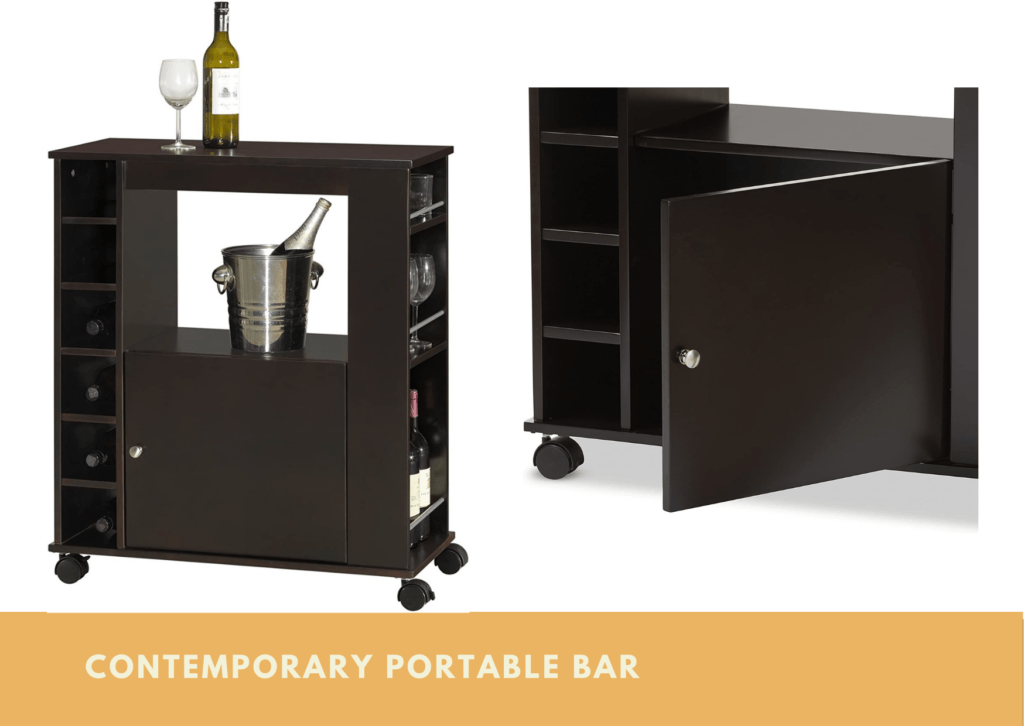 This is a modern wine cabinet in dark brown solid rubberwood and MDF, it has an array of features that makes it perfect for that mobile home bar.
It has a flat top for prepping and serving, there is a large open shelf in the middle of the unit, with a large cupboard for storage underneath. One side has a six bottle wine rack, whilst the other side has three shelves with metal rails to store bottles and glasses.
The unit stands on four casters with locking brakes for stability when standing still. The overall measurements come in at 28.86 inches (73 cm) in length, 13.65 inches (34 cm) width, and 33.81 inches (86 cm) in height.
This is one of the smaller portable bars, but still does the job and looks great too.
Newport Wine Bar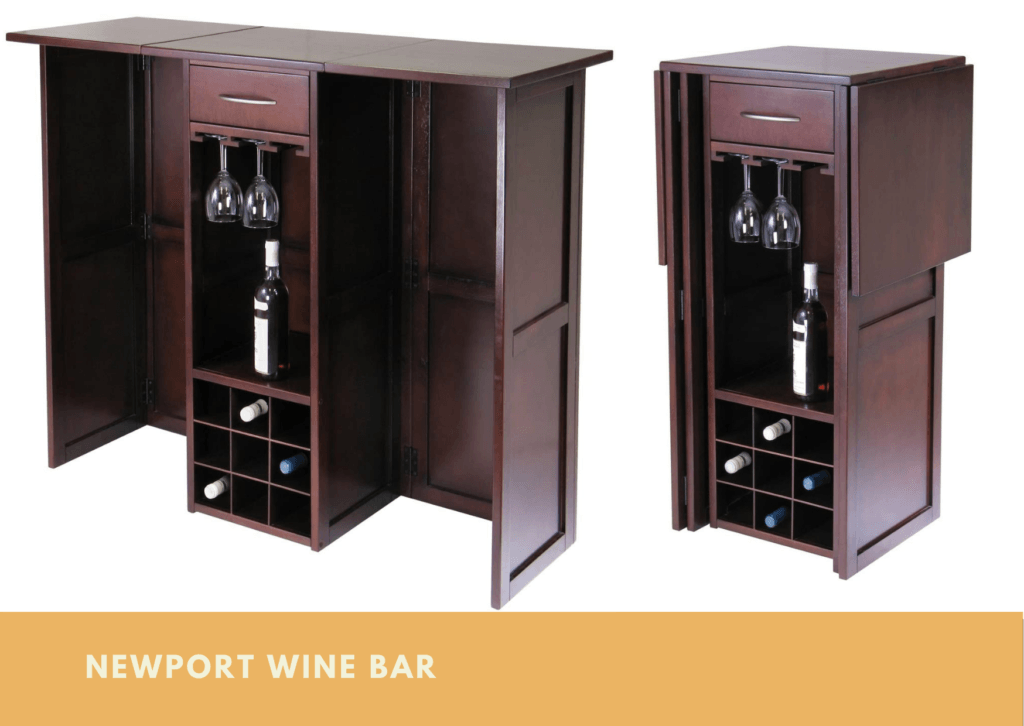 This bar is amazing, it might not be on wheels, so cannot be driven around the home with ease, but it can easily be lifted to different locations and best of all folds down to a small cabinet.
The center of the unit which is the part left when the rest folds down has a handy drawer for bar tools and accessories. It also has a large shelf for bottles and glasses as well as a stemware rack for wine glasses. Below the large shelf is a nine bottle wine rack.
The magic is that this unit opens out from a small 20-inch unit into a 50-inch-long bar, genius. Made from solid composite wood and finish in walnut, this bar gives off a luxurious feel.
The folded measurements come out at a small 20 inches (50 cm) in length, 17.8 inches (45 cm) in width, and 40 inches (102 cm) in height. The folded out measurements are the same in width and height, but the length becomes a generous 50 inches (127 cm).
As portable as you want it to be, but folding down to a small cabinet is a big plus for the bar.
Home Portable Bars
A barbecue has always been the popular way to entertain your guests outside. The diner party has always been the way to entertain your guests inside. Long may these two ways of enjoying family and friends carry on, because they are a no brainer when it comes to entertaining at home.
The home bar is becoming just as popular, and is a great add on to the barbecue and the diner party. Having an outside bar to work alongside your barbecue is great, the same as having an indoor bar to accompany your diner party.
A fixed bar inside or out, is what we all want, but has the portable bar got an advantage over the fixed bar?
The obvious advantage is that you can move it to where you are entertaining, inside or out. Even if space is not tight you could plump for a portable bar, or perhaps have two. One set up for beer and wine, the other set up for cocktails, this sounds better and better.
Portable bars for the home just got exciting, suddenly everyone has the option for their own home bar that they can store away when not in use. You may have thought that you didn't have the room for a bar, well now you have. Share your thoughts below, and enjoy your new portable home bar.