White and rose wine have always been enjoyed cold, red wine is traditionally served at room temperature, but there are those among us that like our red wine chilled too. Whatever the color of your wine, if you want it cold, then unless you are going to keep going to the refrigerator each time you want a top up, then you will need a way to keep it cold.
When it comes to keeping your favorite wine chilled things are a little different to what they used to be. Filling a bucket full of ice, as much as it does the job well is kind of and old fashion way of chilling wine. There is no need for ice, there is no need for a bucket, things have changed.
Enter the modern way of keeping you Vino chilled, the single bottle wine coolers will do the job nicely, thank you.
Beautifully Chilled Wine
The majority of these types of product are constructed with double walls and are vacuum insulated which is designed to keep liquid at the same temperature to when it was poured in to the product, or at least close to the same temperature. This design not only keeps your drink cold, but hot too.
It is all about conduction, convection and radiation, I know its complicated. Actually it isn't that complicated, This article explains how it works perfectly.
Whatever the temperature of your bottle of wine when you put it into a wine cooler, it will maintain near that temperature for a period of time. This does mean that you will need to chill your wine in the refrigerator first, you cannot put a warm bottle of wine in these products and expect it to become chilled.
Or can you?
There are single bottle wine coolers that will do this, but they are a little more complex than the simple design I have mentioned. We will take a look at these later.
Huski Wine Cooler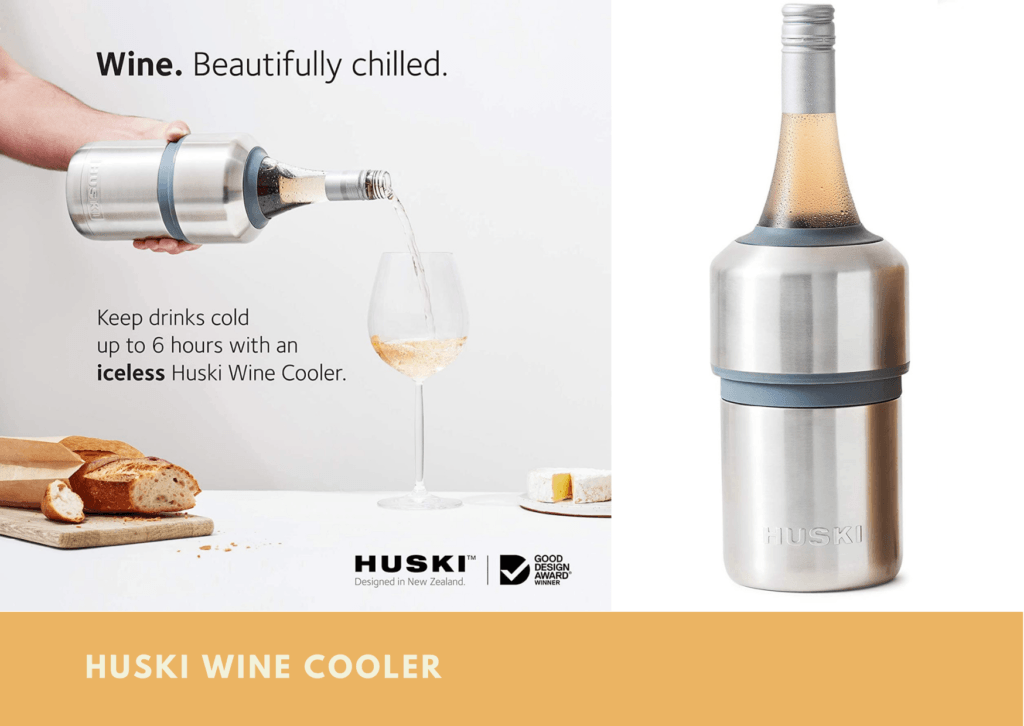 Kicking things off, we have this very attractive wine cooler from Huski which is obviously double walled and vacuum insulated and boasts to keep your wine cold for up to 6 hours. That is a decent time period, but there are other impressive features with this great looking wine cooler
It has what is called Flex-Lock, which is an extending system, this means the height of the cooler is adjustable to the height of the bottle, holding your wine bottle snug and safe. It also has a stay dry design which means no condensation, so your hands and the surface the bottle is on will not get wet, which is brilliant.
Your bottle of wine also stays in this cooler when you are pouring, other designs are more like a bucket and the bottle is taken out to pour.
The Huski comes in 4 different colors, the stainless steel, brushed rose stainless, powder coated matte white or matte black.
All standard size wine bottles will fit into this wine cooler, but it does say that some champagne bottle will fit too, just not all champagne bottles. They do list the bottle of champagne that will not fit, so be sure to read the description properly before getting the Huski wine cooler.
Overall this is a great product, functional as well as looking great too.
Vinglace Wine Chiller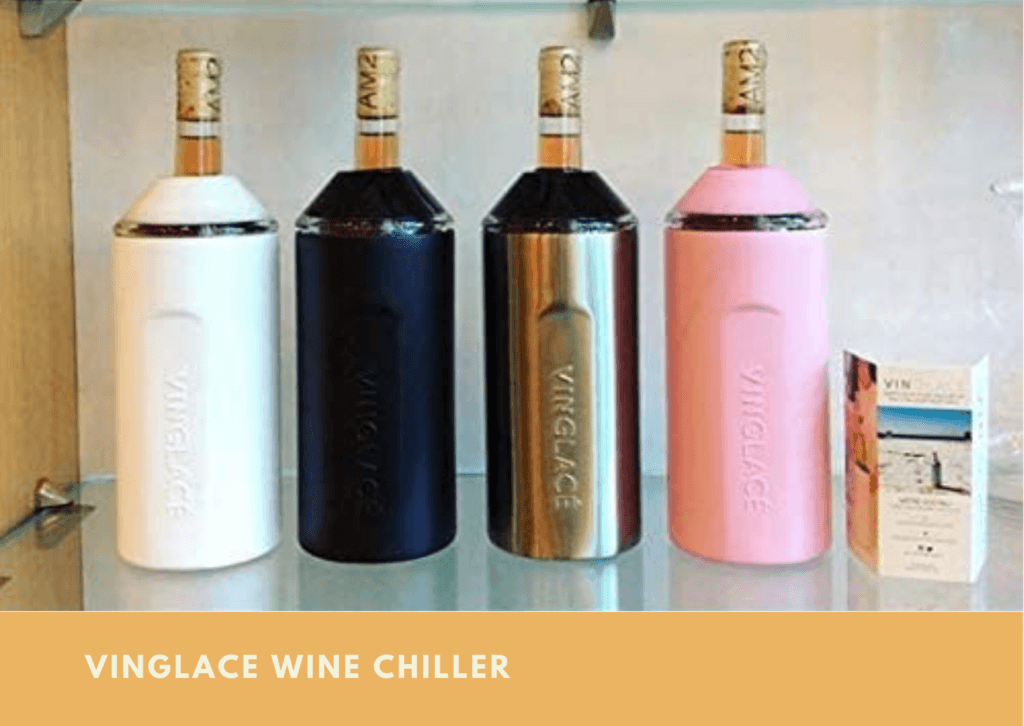 Another great looking wine cooler with similar features to the Huski. It has adjustable top and fits most standard wine bottles and some champagne bottles too. You can pour your wine without taking the bottle out of the cooler.
It will keep your wine cool for hours without any condensation, meaning your hands and surfaces will stay dry. The sleek design comes in a lot of colors, I think there is 11 including black, copper, white and stainless steel.
The construction is the same, being double walled and vacuum insulated, but with a slight difference. The outer wall is stainless steel, but instead of also having stainless steel on the inside, this one is glass.
It is explained that this makes sure your wine is not tainted with the taste of metal, but if you are buying a good quality product, I am not sure you will get the taste of metal.
The inner wall being glass is a good idea, but what if you drop the cooler, will it break the glass?
Overall a good product, looks very sleek and contemporary with a good number of color choices.
Marble Wine Chiller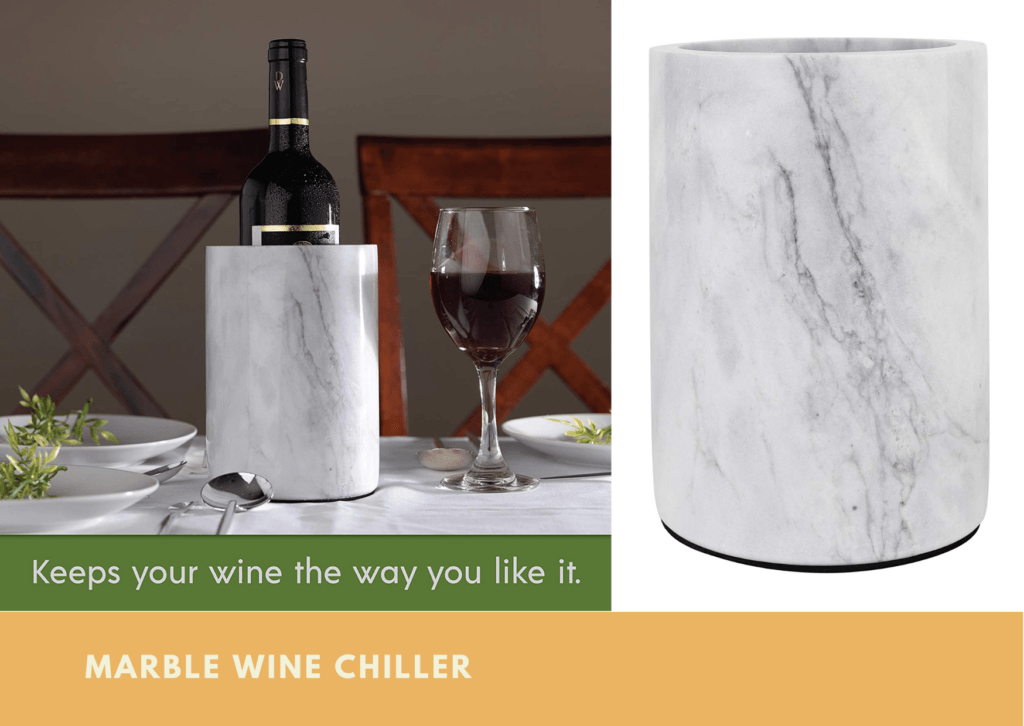 The marble wine chiller from Homeries is elegant and solid and is real marble so will retain cold for a period of time. It is pretty heavy and does have a felt pad on the base to stop any damage to surfaces.
Like the others it will hold most standard bottles of wine and champagne, but it does have its limits and some larger bottles may not fit.
Because marble can retain cold, if you put a cold bottle of wine in it, then it will retain the temperature for a short while. For best results and a longer cold period, it is best to place the wine chiller in the freezer for a while to make it cold to start with, 15 – 20 minutes is recommended.
It is a nice looking chiller which is pretty sturdy, and the good thing about a natural product like marble is that each one will be unique. There will not be two of these that will be identical because it is natural stone.
Simple Wine Cooler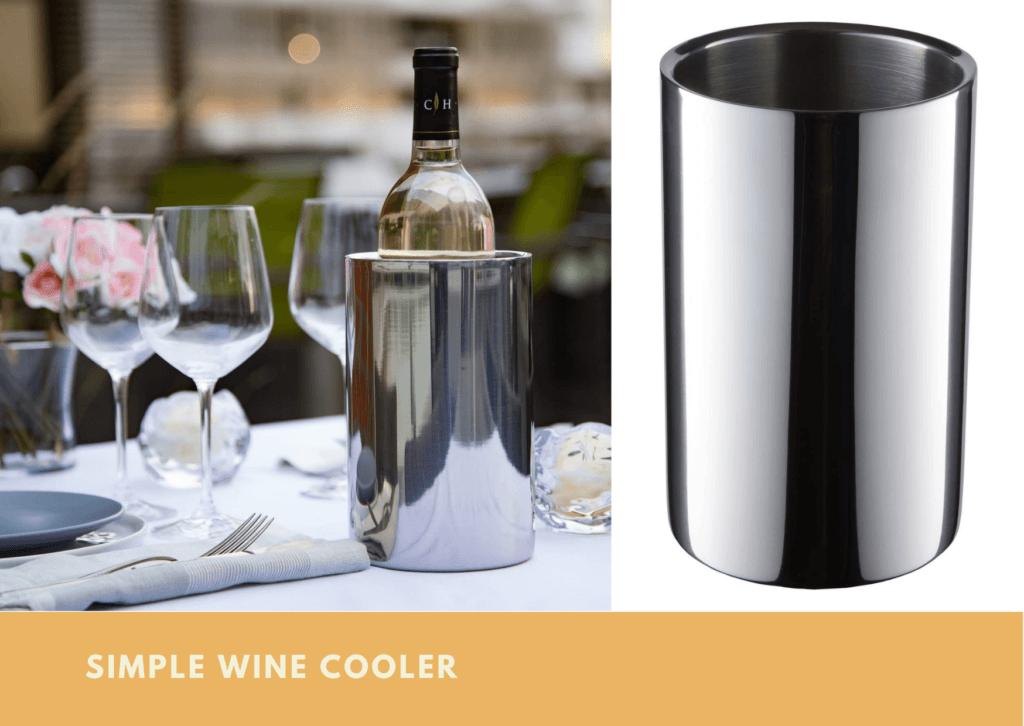 This wine chiller from Enoluxe is just very simple in design and will look great on your bar top. There are two different colors available, stainless steel or copper finish. Both are polished on the outside and brushed on the inside.
It will hold a standard bottle of wine or champagne, but will not accommodate wider bottles of either. It is two layer with a vacuum insulation in between, so will keep your wine chilled for a couple of hours.
It is not designed to be put in the freezer prior to using it, but some people have to get some extra chilling time out of it.
This is a basic simple chiller with no frills, as the price reflects. All the same it does still look elegant and sleek, so a pretty good buy.
Angled Wine Chiller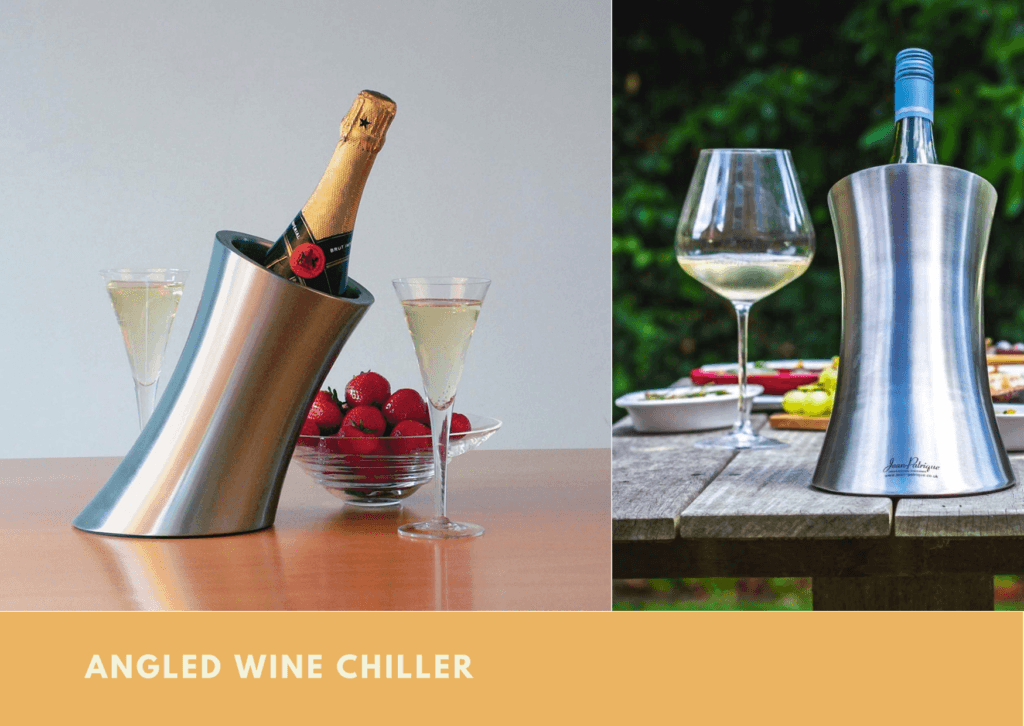 This wine chiller from Jean-Patrique is a little different with its angled leaning design, it looks pretty contemporary and fresh. Like the others the construction is double wall insulated, so will keep your wine chilled for a period of time. It is brushed metal finish inside and out and has a rubber base pad to protect surfaces.
It will hold any standard size wine bottle, but not so much the wider base bottles. It is not designed to put in the freezer prior to use, but again there are people that do.
It is a great looking piece of bar kit with the angled design, but just as functional as any other wine chiller of this type.
Wine Chiller With Freezer Inserts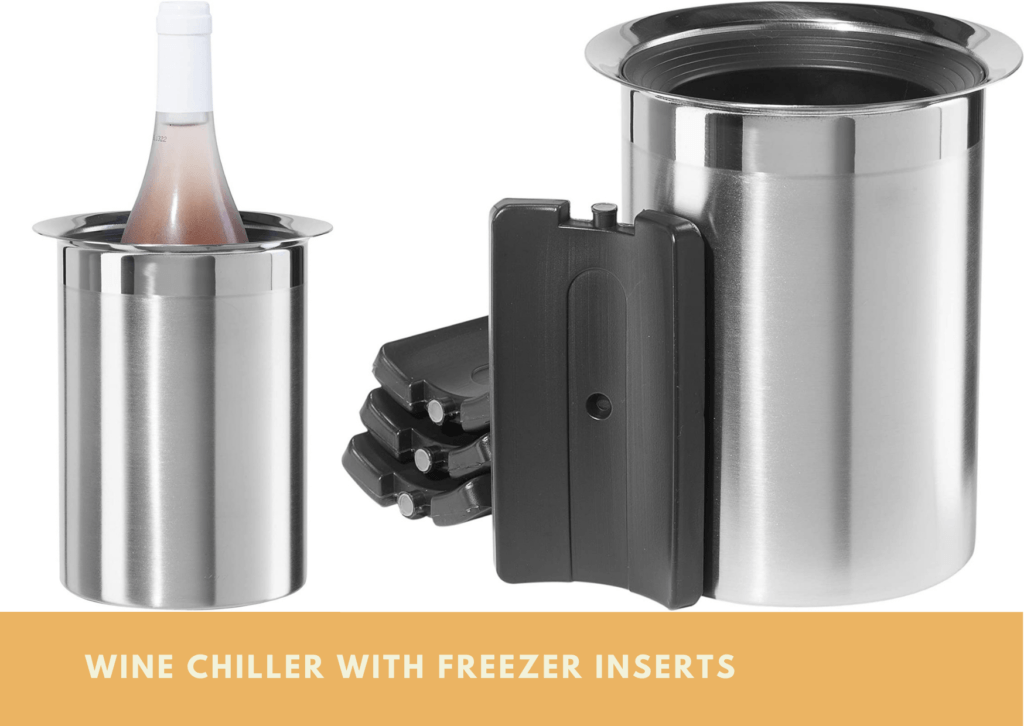 This wine chiller Oggi is a great idea having inserts that can be frozen prior to use. The standard looking chiller actually has 4 curved plastic freezer inserts, this means they can be frozen before being inserted into the chiller. They are thin too, so do freeze pretty quickly.
This wine chiller was tested by America's Test Kitchen which recorded a 10 degree increase in the wine temperature after 7 hours, that is a great result. It will hold any standard size wine bottle and apart from the wide lip around the top it just looks like a simple wine cooler.
A great product, which literally has 4 freezer inserts up its sleeve, a good idea with great results make this a good buy.
Rapid Wine Cooler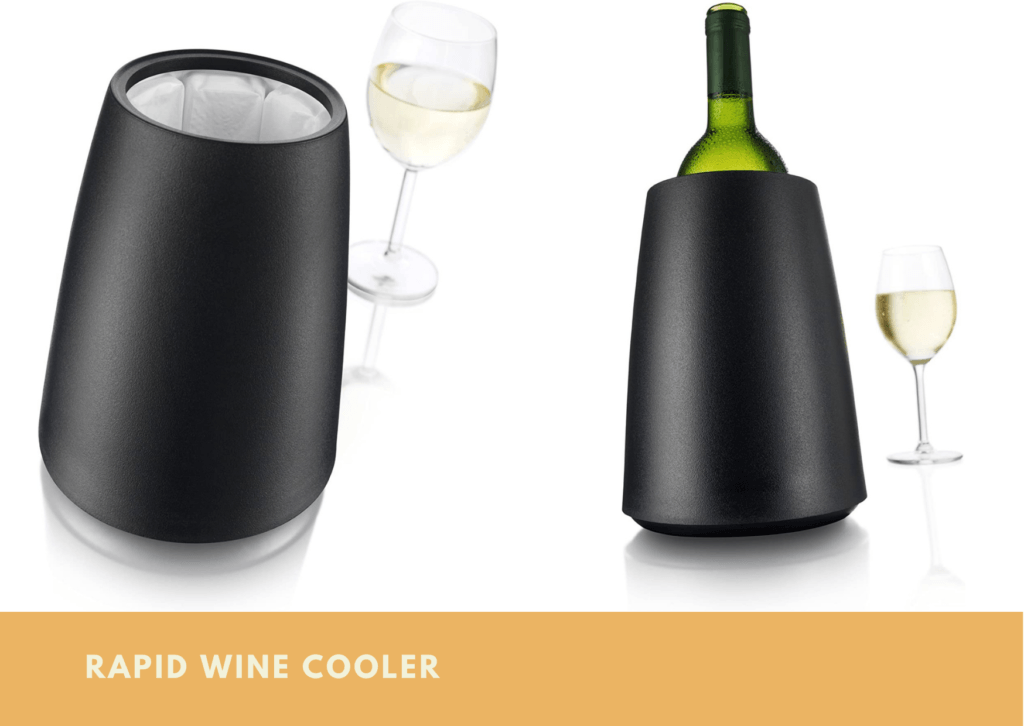 This rapid wine cooler from Vacu Vin is on the same lines as the last one with the freezer inserts. This one has a sleeve inside that lines the surface and can be frozen prior to use. When it is not in the cooler it can lay flat so will not take up a lot of room in the freezer.
The rapid wine cooler is marketed as being able to take the drink's temperature down and keeping it chilled for hours. This means you don't have to chill your wine before you put it in this cooler, although I still would chill it first.
It will hold any standard bottle of wine and looks good with its wider bottom to top and a black dimpled finish.
The idea is good and I have no reserve on the fact that this will keep a chilled bottle of wine cold for a number of hours, but I don't think it can chill a bottle of wine from room temperature in 5 minutes as it claims. Chill your wine before you put it in this wine cooler and everything will be cool.
Wine Cooling Stick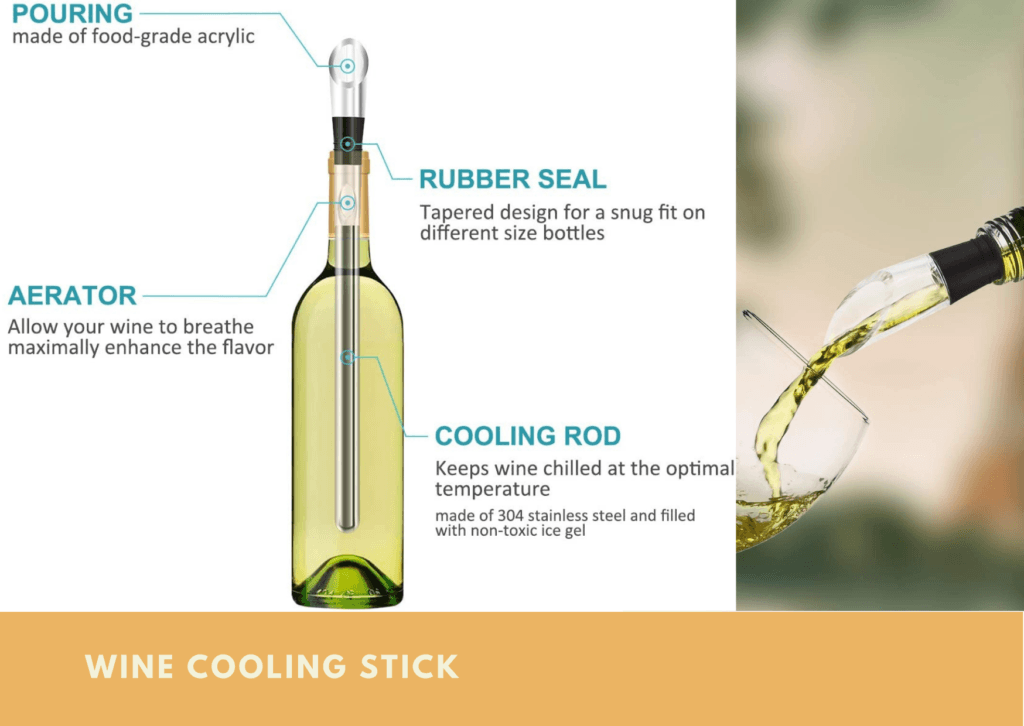 The wine cooling stick from Newward works in a different way, but still makes use of the freezer prior to use. This acts as a cooler for your wine as well as an aerator and pouring spout.
The stick needs to be frozen for at least 2 hours before use, then it is place inside your bottle of wine and stays in place to keep your wine chilled for about an hour.
It doesn't last as long as the wine coolers so far, but it takes up less room and does the job for a little while. It has the aeration feature which the others don't and is said to improve the flavor of the wine, but apart from that I think this will be the least effective in terms of keeping the wine at a nice chilled temperature.
Turbo Wine Chiller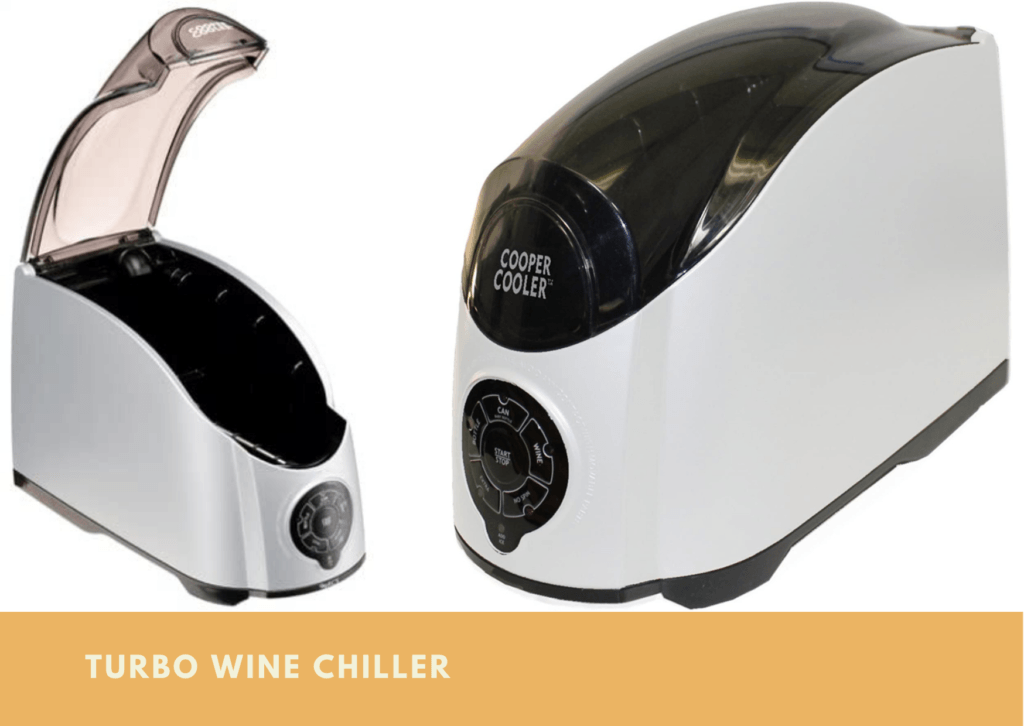 There is no turbo involved I only called it that because it can chill a bottle of wine from room temperature down to around 40 degrees in just one minute, or so it says. You do have to add ice and water to this machine for it to do the business, but once you do it rotates the bottle while spraying it with ice water.
Neat concept, but is it a bit overkill for chilling a bottle of wine?
It is not a product that keeps the wine chilled for several hours like the others covered, but it will chill your wine which is why I thought I would include it here. It will only take a standard bottle of wine and bear in mind that because this is a machine, you will get some noise whilst it is in operation.
The idea is good and if you need a bottle chilled quickly, then this is probably a good buy. I still prefer to chill mine in a fridge and then keep it in a cooler like the ones I have covered, simple.
Wine Chilling Cradle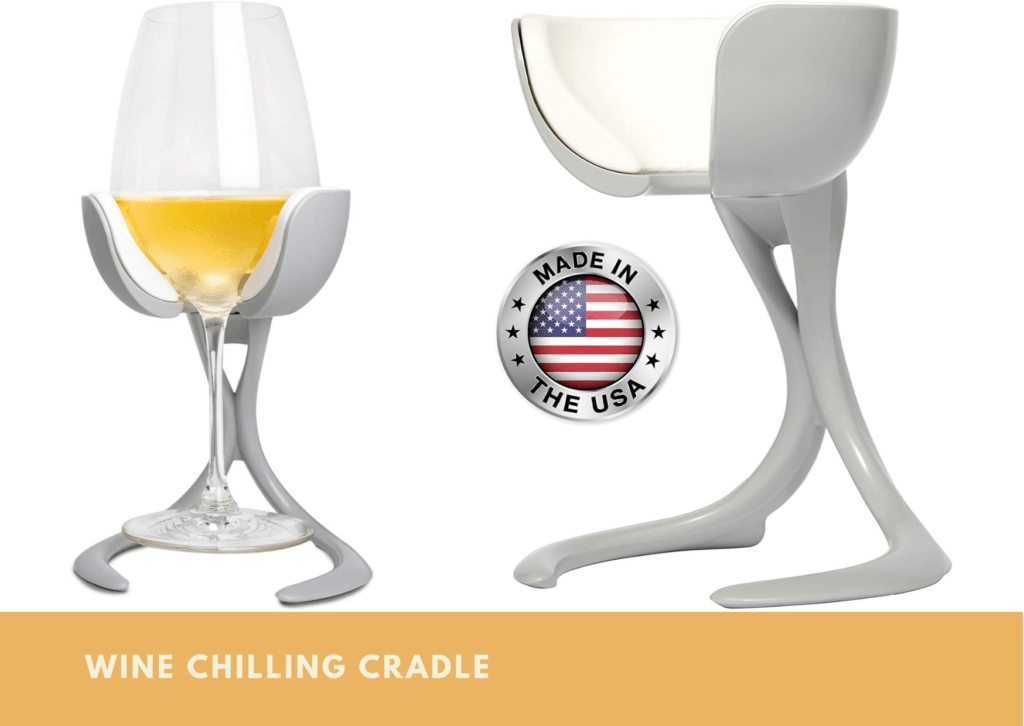 This is not going to chill or keep a bottle of wine cool, but it will keep the wine in your glass chilled. The wine glass chilling cradle from VoChill just looks great and is a fun product.
It works by freezing the cradle in the freezer, then connecting the cradle to the stand and placing your glass of wine in the cradle which will keep it at a nice chilled temperature. It will last around an hour indoors, or a few glasses of wine, and around 45 minutes if being used in a shaded area outdoors.
I just love the way it looks, almost like a War Of The Worlds alien machine, but apart from that it can chill your glass of wine and keep it that way for a while, what is not to like.
Keeping Your Wine Cool
If you like a chilled wine then keeping it cool is important, no one wants to drink warm wine, it tastes to good chilled. There are some great products here that do the important job of keeping wine cold.
Some are better than others, from just the simple wine cooling sleeve to the more complicated wine chilling machine, they all have their place as a wine accessory. The glass chilling cradle is just the coolest bit of home bar kit, I know it is probably over the top, but you just got to love it.
If you are looking for a single bottle wine cooler, then one of these products will do the job, let us know which one is your favorite below and how it is working for your wine cooling needs.