If, you have the space in your backyard, then an outdoor home bar is a great thing to install or build for some great outside entertainment. What could be better than enjoying a cold beer or a tasty cocktail with family and friends at your own backyard bar.
If, you have plenty of space, then you can go wild with your imagination and create a fantastic place to enjoy your favorite beverages. If space is a little tight, then do not worry, as there will be a way for you to also make the most of those sunny days with a cool one at your own bar in the garden.
Going mini for those tight spaces…
Mini Outdoor Bar
You really can go small if your space is tight in the garden.
The smallest of yards can go with simple shelves on a wall, or a wall bar with pull down counter, these can be very effective. A Cabinet on the wall takes up very little room, with the front opening to form the counter top and revealing shelves with glasses and your favorite bottles of booze. Simple and effective, you can even put some lights around the cabinet to jazz it up, a good choice for tight spaces.
There are folding bars available too, so use the unfolded bar to entertain family and friends and then when you are done you can fold your bar away to give you back your outdoor space, ideal for tight spots.
If, you have a shed in your back yard this can be utilized too. Next to where the shed door opens fix a bar top that folds up and is fixed to the side of the shed, and then fix optics to the inside of the shed door. Open your shed door, pull down the counter top and you have a cool little bar, without using up any extra space.
Small Outdoor Bar
It is pretty amazing how you can utilize a small area of your garden with a decent bar set up. A small bar can give the impression of being a lot bigger than it actually is, its all an illusion.
Just in one corner of your garden you could have a fully enclosed bar, think of an old phone booth size, or if you can go a little bigger, then 122 cm x 122 cm (or in old money 4′ x 4′), at this size you will have more room than you think. If your shed is not being used, then convert it into a bar, sheds make great bars because they are enclosed and can be locked when not in use.
If an open bar is your choice, then again you can go for a straight bar which will not take up too much room, you could be looking at a small sideboard size. Two small sideboards adjacent to each other and you have yourself a great l-shaped bar.
If, you are handy with a hammer and driver then you could knock up your own bar, custom-made to fit the space you have available, or take a look on Etsy.com where there are plenty of hand built small outdoor bars to choose from, you may be able to get one made to your own measurements.
Large Outdoor Bar
The more space you have the bigger you can go with your bar, there really is no limit to what you can create when space is ample. The bigger the bar the more options available when it comes to the kit you can include behind your bar. Bar taps, optics, beer fridge, wine cooler, sink unit and electrics supplying lighting and sockets.
Just like a small bar you can have an open bar, straight, l-shaped or full wrap around, just on a bigger scale. Of course a fully enclosed bar is all so an option and on a bigger scale will accommodate furniture too, may be even games tables to give a real pub/bar experience.
So if you have the space, then go big and go bold.
Luxury Bathing By The Bar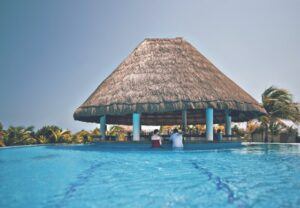 Now there will be some of you that not only have the space but also have the budget too, and those of you that have a pool on top of this, then life can be exciting in the backyard.
If, you have a pool, then why not build your outdoor bar around your pool area, the ultimate pool bar in your garden, now that is going to impress and I would like an invitation.
This would be an amazing area to entertain, just be responsible because although this is a fantastic thing to be able to create, alcohol and swimming pools do not mix very well, it's a fun thing until it can become a dumb thing, so bear that in mind if you decide to go down this route.
Put in place every safety precaution you can think of and do not drink too much, other than that enjoy.
Your Dream Outdoor Bar
Mini, small, large or mega, whatever the size of your outdoor space, there is a bar design that will fit your situation, you can even get a portable bar that can be packed away neatly after use.
Your bar area could be directly on the back of your house, French doors opening up to a beautiful bar area with table and chairs, stools in front of the bar and may be even a canopy covering the whole area with low lighting and soft music playing in the background.
Sounds amazing!
Or your bar could be at the end of your garden, a beautiful oasis at the end of a winding path lit with subtle globe lights and lined with shrubs and willows flowing gently in the breeze.
Crikey sounds fantastic!
Just remember there is plenty of scope for your outdoor space when it comes to having a bar for entertaining guests, big or small there is a vast amount of choice, the possibilities are endless.
All that remains is to get to work, measure, plan, create and then enjoy endlessly.