Beer is a popular drink, it has been for centuries and it is not going anywhere soon. Whether we enjoy our favorite beer at home or at a bar with friends, it's a drink we love. There has never been so much choice too, with an explosion of craft beers in recent years we have been spoilt.
It seems though, there is more to beer than meets the eye. Many of us enjoy drinking the stuff, but it seems there are other ways to enjoy the golden liquid. Could the powers of beer have health benefits, both physically and mentally, and would you bath in it?
Fancy A Bath In Beer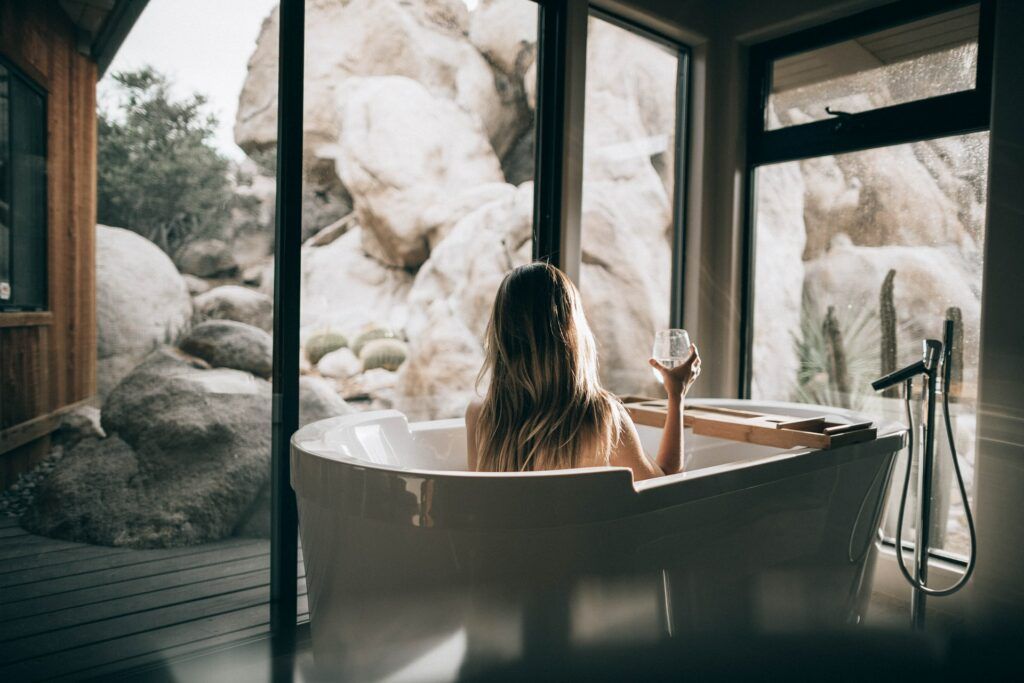 It sounds crazy, but it's true, if you fancy it you can bath in beer. I know that many centuries ago there were those that are said to have bathed in beer, the Romans and Egyptians come to mind. Do people today actually still bath in beer.
The answer is yes, people do bath in beer and it is supposed to have many health benefits.
Fill a bath with body temperature water and add the beer mix, which is malt, hops, brewers yeast, barley and other natural ingredients and enjoy. Whilst your body is soaking up the beer, why not have a glass or two, it's the ultimate beer experience.
I happened to stumble across a beer spa that was opening its doors to the public earlier this month in Brussels. This led to me taking a deeper look into bathing in beer and I was surprised to find out they are not alone.
There are beer spa's all over the world, who knew.
I will share some below from Prague in Europe to Chicago in America, but first how does bathing in beer help our health and well being?
The Benefits Of A Beer Bath
There is a pretty good list of the benefits of bathing in beer, some say they are proven, but if you dig deep, then you will find position to the so called benefits. I will not go into who is right or who is wrong and whether there is science to back the beneficial claims.
I will just share what the benefits are said to be for our health and well being.
The ingredients in the beer mixture that are used in the beer spa's contain Polyphenols which without going into in depth have a lot of health benefits. They contain antioxidants, and can help lower blood sugar levels, aid with digestion to name just a few.
Containing Vitamin B1 and B3, iron, protein, amino acids and potassium, they can help with stress calming our nervous system, boost our immune system, soften the skin, hydrate the skin and give us a glowing aura.
I need to get me one of these beer baths.
Apparently the skin favors in several ways, it doesn't just make the skin softer, but can help with skin complaints like Eczema, dermatitis, acne, skin infections and skin cancers. Our hair can benefit too, giving it body and shine as well as helping with the thinning of hair.
As with true spa experiences there is the relaxation too, as hops are a natural relaxing aid. On top of all that these beer spa's have beer on tap too, what is not to like?
Now we know how good a beer bath is, it would be rude not to visit one, so here are a few I have found and maybe one is near you.
The Good Beer Spa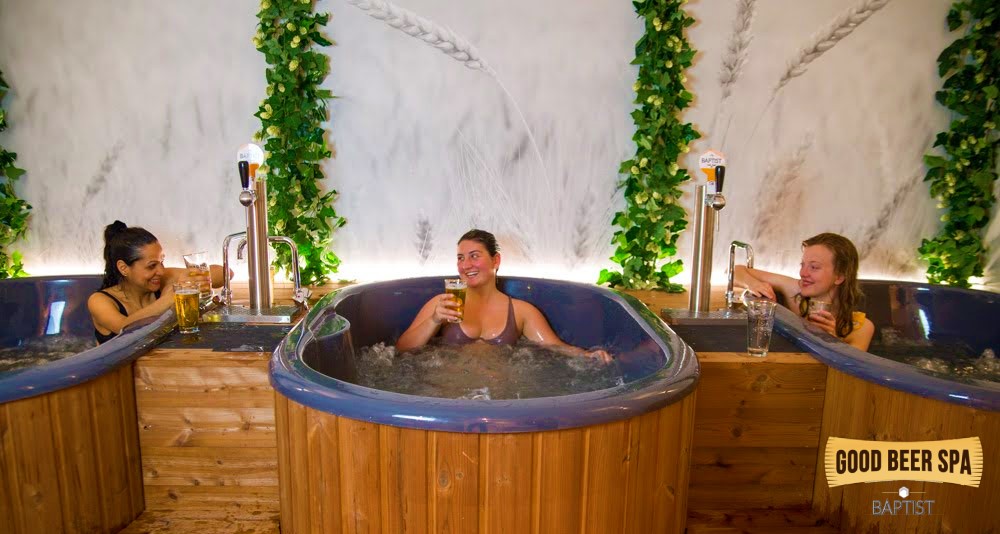 I thought I would kick off with the one that started all this off for me. The Good Beer Spa in Brussels, Belgium only opened its doors at the beginning of June by its hosts Benedict Biebuyck and Ana Bordonada after they enjoyed the experience themselves in a Beer Spa in Prague.
The bath tubs are based on the Japanese Ofuro Tubs which are short high sided wooden tubs. For hygiene purposes the tubs at this spa are only wooden on the outside, the inside is made from synthetic materials and are based on two people sharing.
The tubs are filled with warm water and the beer mixture which also has some aromatic ingredients to give the water a herbal scent. If you thought you would get out of the water smelling of a brewery, think again because they claim you will leave the water smelling nice.
To top the beer bath experience, besides every tub is a beer tap containing the famous Belgium beer Baptist, which is a top quality beer I have experienced many times over the years.
If you get to go to Brussels, then The Good Beer Spa is worth a visit, just go easy on the beer tap because you do actually want to get out of the tub at the end of your session.
Original Beer Spa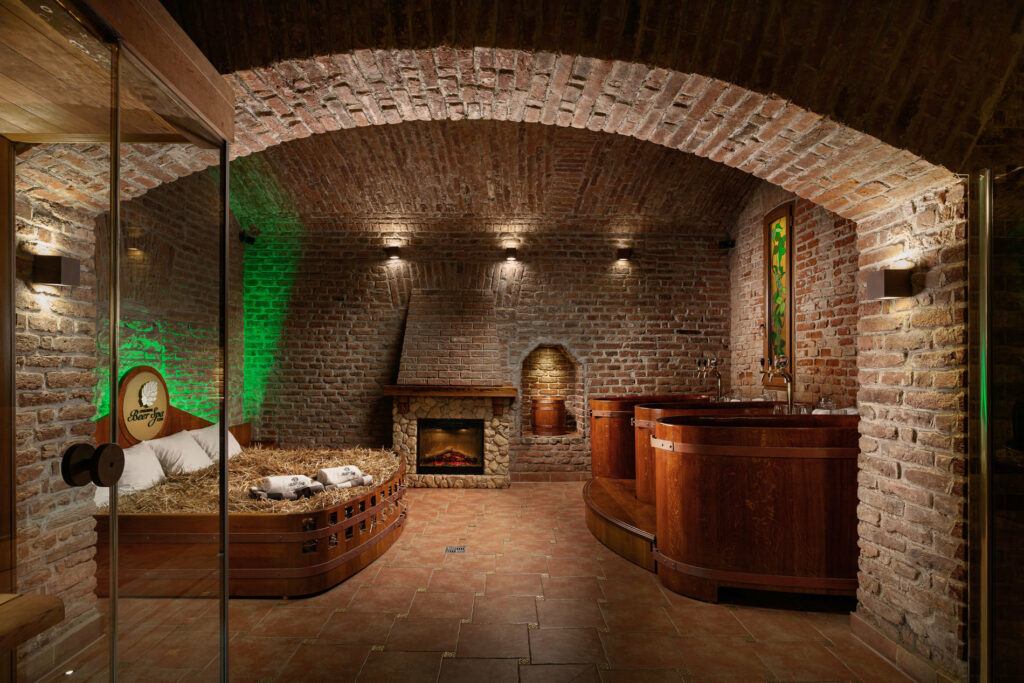 The Original Beer Spa is based in Prague in the Czech Republic and in fact there is more than one, they have two spa's in Prague. Both spa's are of great quality in their surrounds as well as their services and offer more than just the soaking in a beer bath and consuming a good beer.
Picture the room, an oak whirlpool tub filled with the water and beer mixture, a fire place and a bed with wheat straw, beer bread and of course beer. Now does that sound a little tempting to say the least, damn right it does.
We know what the tub is for, we are cool with that, but what is the bed for and what is this beer bread you mentioned?
Relax in the tub, possibly with a nice cold beer. After the tub, relax on the wheat bed which helps to fully absorb all the vitamins and extracts from the beer bath. Then relax by the fire and try the fresh homemade beer bread and other nibbles washing it down with another beer.
Again the beer is unlimited, but don't go mad, you are after all there to relax not fall over. The beer at this spa is the premium Czech beer Krusovice, which is a Czech brewery in the village of Krusovice and is now owned by Heineken. I have not had the pleasure of trying Krusovice, but will definitely be sourcing some to try out soon.
Maybe I should start a beer tasting page, where I try different beers from around the world and rate them, I think Krusovice could be the first beer to try out.
Before you leave this spa fully refreshed and hopefully not to drunk you can checkout their full range of beer cosmetics which all have a positive effect on the body.
The Original Beer Spa's in Prague should be a must if you get to visit this beautiful city.
Piva Beer Spa
The Piva Beer Spa is in Chicago in America and its philosophy draws on our ancestors and how they used to bathe in beer. Their mission is to create a similar experience in our modern world using their beer soaks, massages and other services such as halo therapy, steam rooms and saunas.
Halotherapy is the breathing of salted air which helps respiratory function and immune system benefits, first developed in ancient Greece.
The Piva Beer Spa environment is spacious airy and has a wide range of services including the beer soaks. A possible downside is that there doesn't seem to be any beer for consumption involved in the Piva Beer Spa. This may not bother you, but surely it has become part of the beer spa experience and for me is a must.
If you are in Chicago then look up the Piva Beer Spa and get your dose of beer bathing.
The Beer Spa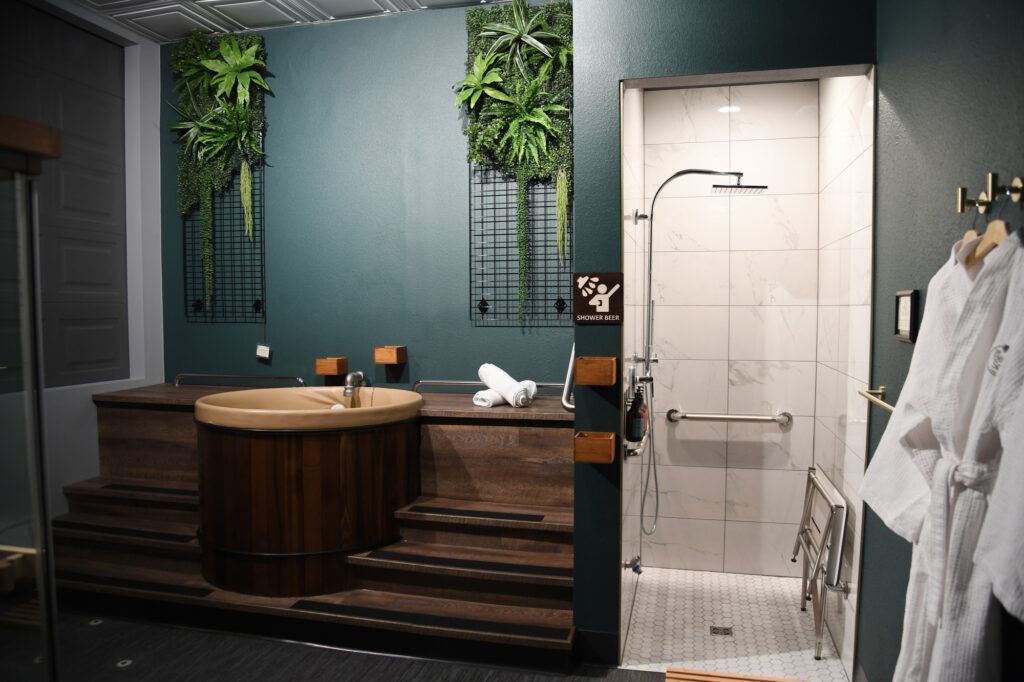 Staying in America we have The Beer Spa by Snug located in Denver, Colorado and sporting beer therapy rooms, relaxation lounge and a tap room you are in for a real treat.
The first thing to do when you arrive at The Beer Spa is to visit the tap room and pour yourself a locally sourced craft beer to take into your beer therapy room, which is the obvious second thing to do.
In your beer therapy room you will enjoy your own beer bath, have access to an infrared sauna and a rain shower. Once you have finished with your beer bath, why not pop into the relaxation room. Here you can enjoy a NASA inspired full body zero gravity massage chair, whilst listening to deep relaxation music.
Lastly pop into the tap room where you can serve yourself one of the many local craft beers available on tap. If you prefer there is a selection of ciders, wines or non-alcoholic drinks, sounds like heaven to me.
Denvers very own beer spa is worth experiencing if you are in town.
Pivni Lazne Bernard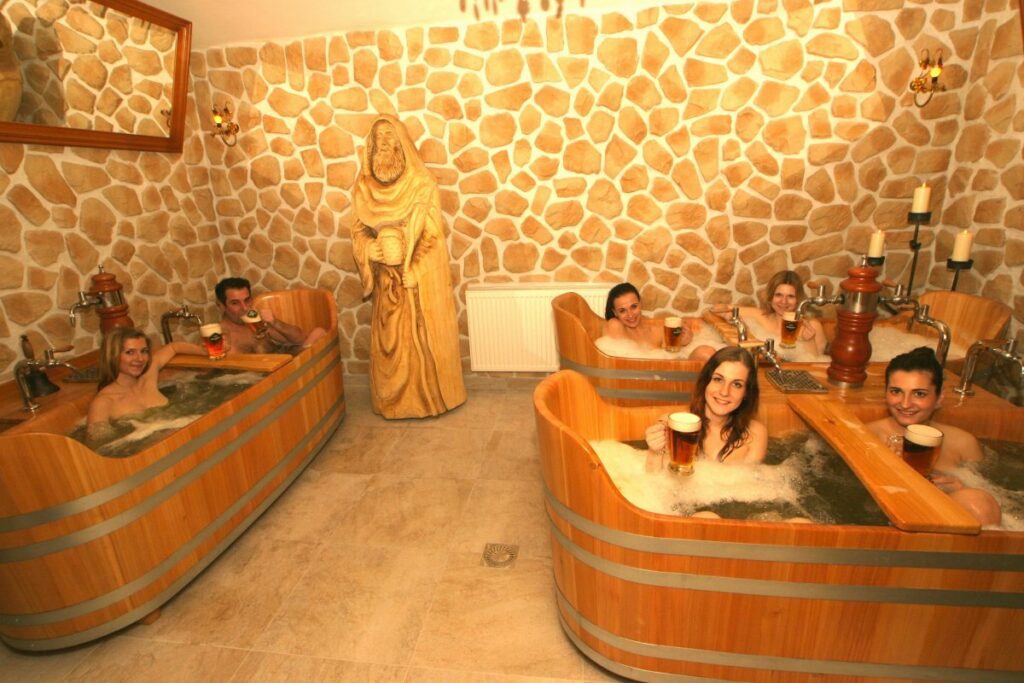 We have gone back to Prague in the Czech Republic where The Pivini Lazne Bernard beer spa boasts several branches across the city. This spa won the world luxury spa award two years running and has its own beer.
The beer which is used for the spa's as well as to drink is brewed with top quality Czech hops, the beer is not pasteurized giving it a quality aroma and taste. You can enjoy the Bernard beer throughout your stay at the Pivni Lazne spa's and you get a bottle along with a certificate at the end of your visit.
As well as soaking in the beer in the beautifully designed tubs, you can take advantage of other services too, which include massages, sauna, a salt cave and wine wellness. Yea, you guessed it, you bath in wine. Added to the water is a mixture of red wine, grape extract, aromatic oils, grape seeds and wine salt.
All this while enjoying a bottle of fine wine, its just too much, but what luxury. The Original Beer Spa in Prague has some serious competition.
Bjorbodin Spa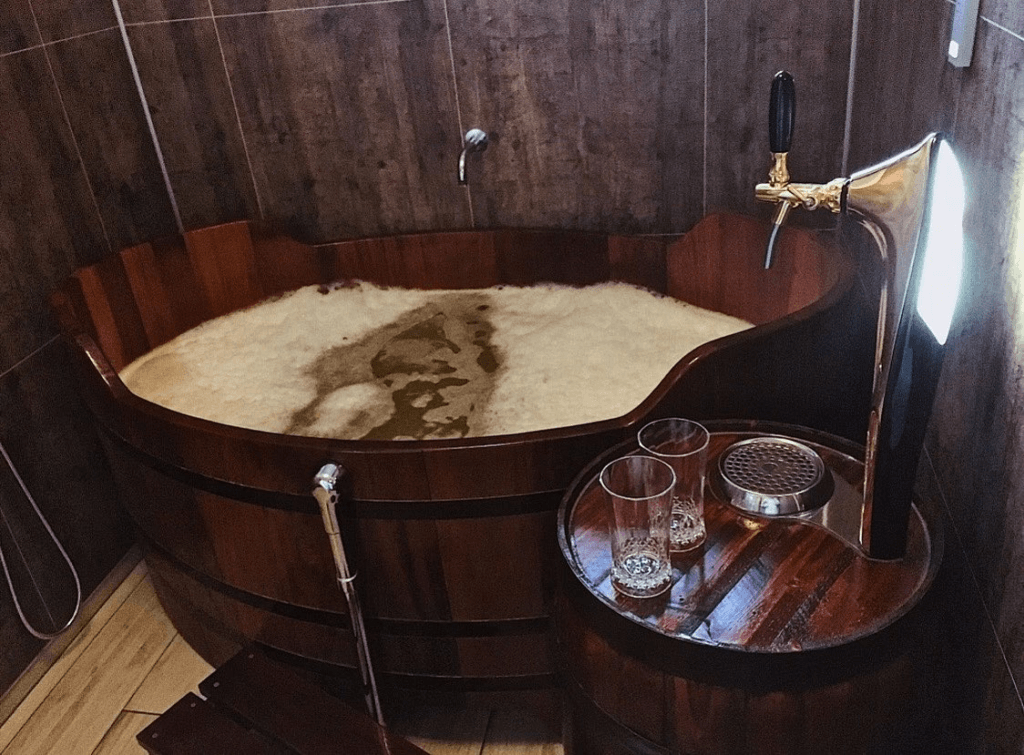 We have now traveled to Iceland where the Bjorbodin Spa is located in a very picturesque setting surrounded by mountains. As the previous spa's this has the beer baths filled with water, beer, hops and yeast and beer on tap close by. The bath temperature is between 37c – 39c and this spa recommends not to shower for at least 3 -5 hours after the beer bath.
This is to let the full effect of the beer bath take place on your skin and hair.
There is also a restaurant and bar, so you can enjoy Icelandic cuisine as well as a cocktail or a selection of Kaldi beer, and there is quite a selection.
Several more beers for me to try and rate.
Iceland is a worthy destination to explore and if you do, then this spa is a must, and being where it is located you may well get a show from the famous Northern Lights.
Hop In The Spa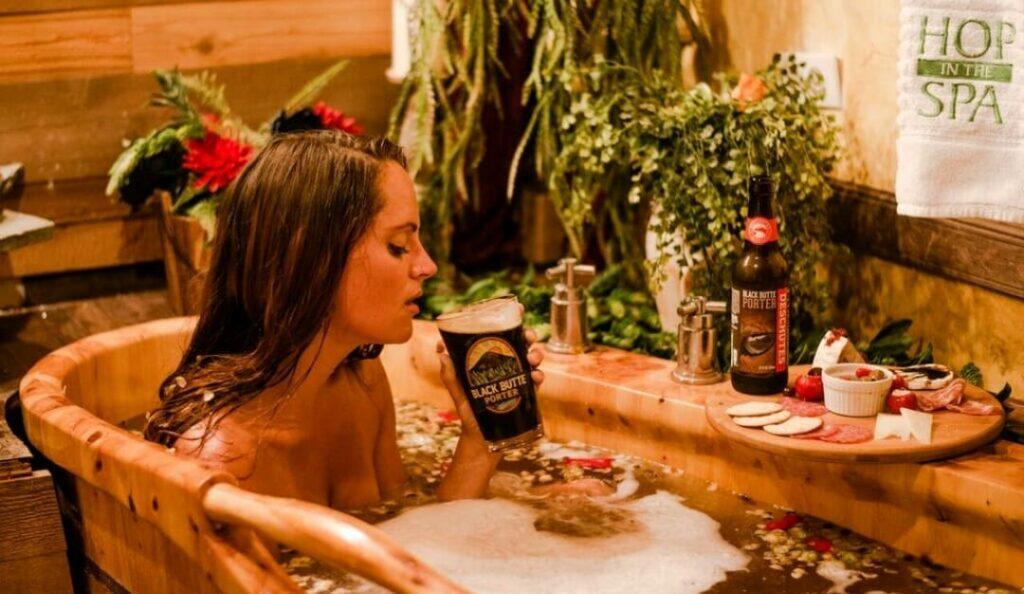 Back to America, but this time we are at the Hop In The Spa in Oregon, dubbed to be the worlds first and only beer spa. I am not sure that is true based on what we have learned today, so not sure what that is about.
Never the less it is a beer spa and offers Cedar tubs with micro brew soaks using a combination of hops, herbs and minerals. These with varying water temperatures provide a unique hop hydro therapy experience.
There are several packages to choose from which offer many combinations of beer soaks, food and drinks. They also have Hop In The Pub which is a private beer and pretzel pub and a Hop In The Cup which are hop infused coffee brews.
In this part of the United States, then hop in the spa.
The Beer Bath Experience
Which ever way you look at it having a beer bath experience does sound great, it appeals to me and is something that I will be doing in the future, not sure where yet though. I like the sound of Prague as it is somehwere I have always wanted to visit and when I do I will be taking in a few beer baths.
If you are also tempted by bathing in beer, then I hope the spa's I have featured will be useful to you. Even if you do not live near a beer spa, like me you can incorporate one into a vacation as they are all in interesting places that are worthy of exploring.
It has been fun finding out about this crazy pastime called 'beer bathing' and I look forward to trying it myself, if you are going to do the same, then let us know below where you intend to go. Also, if you have already experienced beer bathing, then tell us about it and what you thought, and of course where you experience it.
Just out of interest, let us know if you think the beer tasting idea is something you would be interested in.
Rob is a passionate home bar and pub shed enthusiast with a passion for craft beer. With hands-on experience in designing and building his own home bar, Rob shares his knowledge, tips, and inspiration to help fellow enthusiasts create their own perfect space. Alongside the world of home bars and pub sheds, Rob also explores the diverse and exciting realm of craft beer, providing honest reviews to help you discover your next favorite brew. Join Rob on a journey of flavor, design, and craftsmanship right here on Home Bar Kit.