Arcade games may not be as popular as they once were, but that doesn't stop us liking them. The old machines are rare and hard to find, and expensive too. Gone are the days of playing Space Invaders or Pac Man, we now have complex games with stunning graphics. So what are the best home bar arcade games?
While the new games are exciting and feel real, the old arcade games had a certain charm and simplicity. We may never see the likes of the old favorites again, however there are still arcade games we can play. An arcade game will be a great addition to the home bar.
What Are The Best Home Bar Arcade Games?
Surprisingly there are many arcade style machines available. From stand up slot machine styles to the retro sit down table designs. Would you believe that you can even get some of the old classic games, such a Pac Man and Street Fighter. If space is tight then a table top console with hundreds of games can hook up to a monitor or projector screen.
Whether you are alone in your home bar or have friends over, these games will make for some great fun.
** This post contains affiliate links for your ease. This means that if you choose to make a purchase. I will earn a commission. This is at no additional cost to you.
What Happened To The Video Arcades?
They used to be everywhere, but it is now hard to find a video arcade, unless you go to Japan of course. The video game consoles are probably the reason why arcades started to decline in popularity. Why go and spend money in an arcade when you can play for free at home.
Home gaming has gone from strength to strength, with a social aspect to it now. Compete against friends or even strangers from around the world, the scope is limitless. All while staying in the comfort of your own home, it is no wonder arcades have all but gone.
Japan though has kept a steady arcade industry alive, until recently of course with the events of recent years. Frontline Gaming Japan explains the state of the industry today, but we shall move on to games for the home bar.
Games consoles and computers can easily be set up in the home bar. It's possible to play any game you choose without taking up much room. But sometimes it just feels better with an old school machine. A retro experience that takes you straight back to your childhood. They look cool too, just like an old style jukebox, they stand proud and are admired by all.
As an Amazon Associate, I earn from qualifying purchases.
The Classic Arcade Table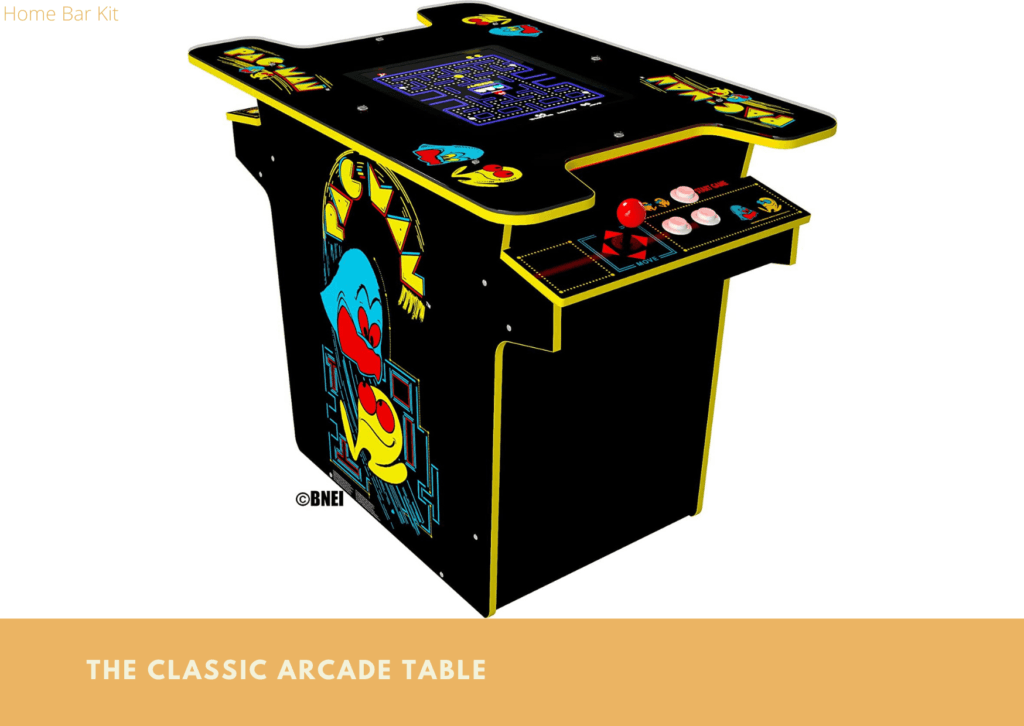 These tables all but disappeared, but have now made a comeback with many styles being made today. Although they take up more floor space than a cabinet style, they can be used as a table too.
These units are a rectangle shape with a flat top housing a screen. At each end of the table are the game controls, which allows one or two player options. A clear top covers the screen to avoid damage and allowing space for drinks. This is why they are also know as cocktail cabinets.
Players sit at either end of the table making it a comfortable way to enjoy an arcade game. If you have the floor space in your home bar, then these are a great choice.
The Head To Head Arcade Table is an authentic version of this old classic and not too big either. It has a decent 17 inch screen and two control panels. There are twelve games to choose from, including Pac Man, Dig Dug and Galaxian.
Upright Cabinet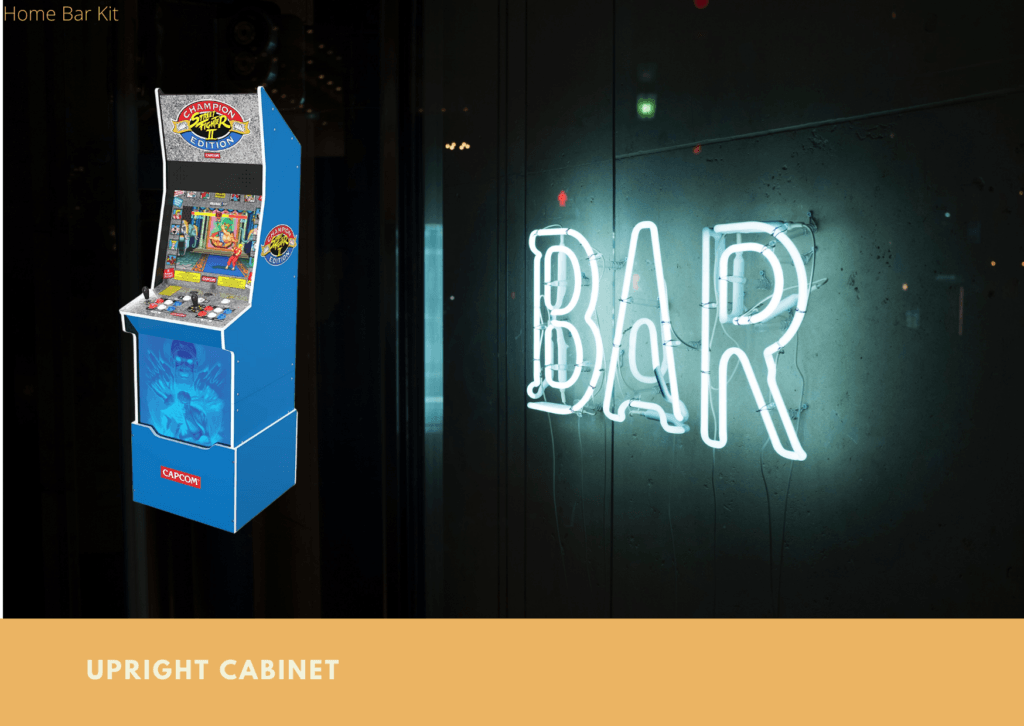 Traditionally a stand up game, these consist of a screen normally about head height. Just above the waist there are a set of controls. But there is a sit down version too, used with a stool, which is a smaller machine.
These are based on the traditional slot type machines found in an arcade setting. Slightly smaller and made with lighter material, they are ideal for a home bar. This type of cabinet although tall will take up less floor space than a table unit.
The Champion Edition featuring Street Fighter ll artwork is a typical cabinet style unit. It can be used as a sit down unit, or with the included riser can be transformed into a stand up unit. There are a choice of twelve games which include Street Fighter ll, Revenge and Night Warriors.
Arcade Game Console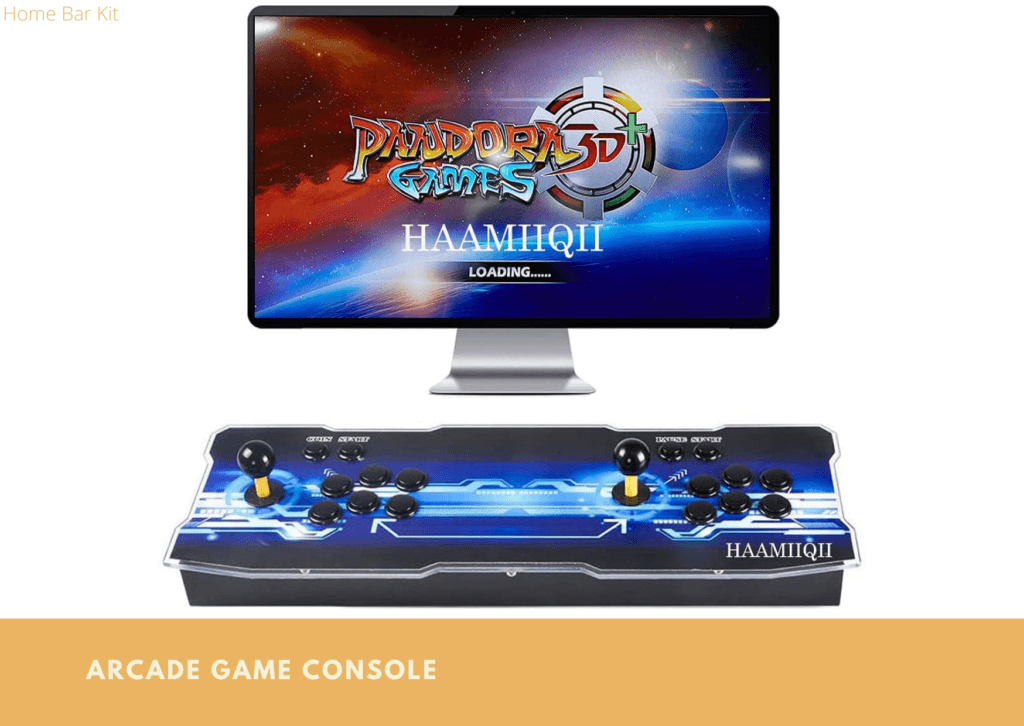 If things are a bit tight on space, then a small games console may be the right choice. A small console with dual controls can easily sit on a table or bar top. Compatible with TV and PC screens as well as projectors too, it won't take up space and can be packed away after use.
The Pandora Games Console has 8000 games installed, including some of the old retro games. It has WIFI which means more games can be downloaded too, either 2D or 3D versions. The games are organized into categories, including sports, action and puzzles.
Infinity Game Table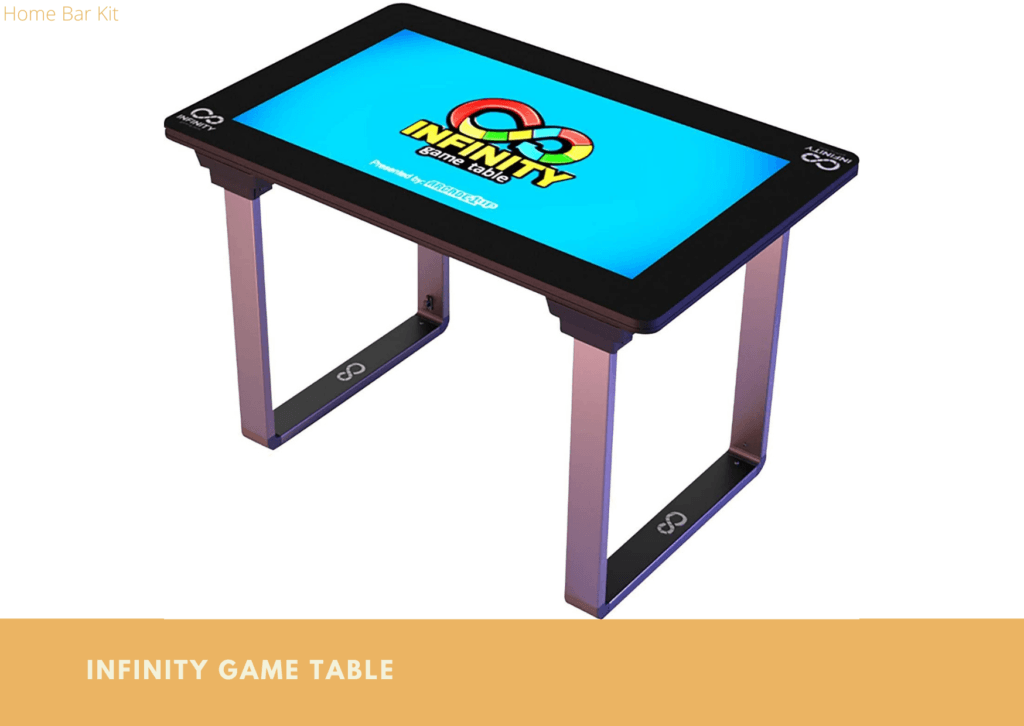 For something a little different you can switch out the arcade games for board games. This table style unit is literally a horizontal screen on legs. Although the legs are detachable, so it can be placed on a larger table for more room.
It is a touchscreen device with zoom viewing and WIFI connectivity. It comes with some free games, but many more can be downloaded from the app store. Capable of playing other users around the world through Social Play+.
On the Infinity Game Table you can play games like the popular Monopoly, Scrabble or Trivial Pursuit. Pick a Jigsaw puzzle, a card game or even a coloring book. It is available in two sizes, either 24″ or 32″, a great unit to play with friends or on your own.
Wireless Dance Mat
If you like to dance and have the room in your home bar, then this could be right up your street. It connects to a TV or PC screen and becomes an entertainment mat. Not just a dance mat it's also great for exercise as well as plating games.
It has song games to dance to, so you and your friends can checkout your moves with a dance off. There are motion sports games and many yoga routines. Also included are some somatosensory games as well as 56 classic games, including Super Mario and Tetris.
The Latimeria Dance Mat is an all round entertainment system for adults as well as kids. Bear in mind though that it will take up a little floor space, but can be packed away after use.
Final Thoughts
It is great to revisit the old arcade games and knowing that they are still around is cool too. The small bar top console is ideal for bars without a lot of space. A tall cabinet unit on the other hand will look great in any home bar that has the room.
The good thing about all of them is they not only have the classic games, but much more too. They are geared for group fun as well as solitary fun for the quieter moments. Some great picks for your home bar.