Red wine is favoured the world over, as a stand alone drink to savour. It is especially good with food such as a cheese board or meat like beef or lamb. It is also used in many recipes to enhance the aroma and flavor of food. But what can I mix red wine with to make a great cocktail?
We all love a cocktail and red wine is ideal to mix up some of the best drinks you will taste. Sangria springs straight to mind when we think of red wine. However there are many more cocktails that use red wine as the base.
What Can I Mix Red Wine With For A Great Cocktail?
We can mix red wine with an array of drinks to get some great cocktails. Think coke and lemon for a Kalimotxo, easy and delicious. How about vodka, ginger beer and lime to knock up a red wine Moscow mule. There are many ingredients that lend themselves well with red wine to make some super cocktails.
Adapt White wine or Rose wine cocktails by replacing them with red wine.
Red Wine Spritzer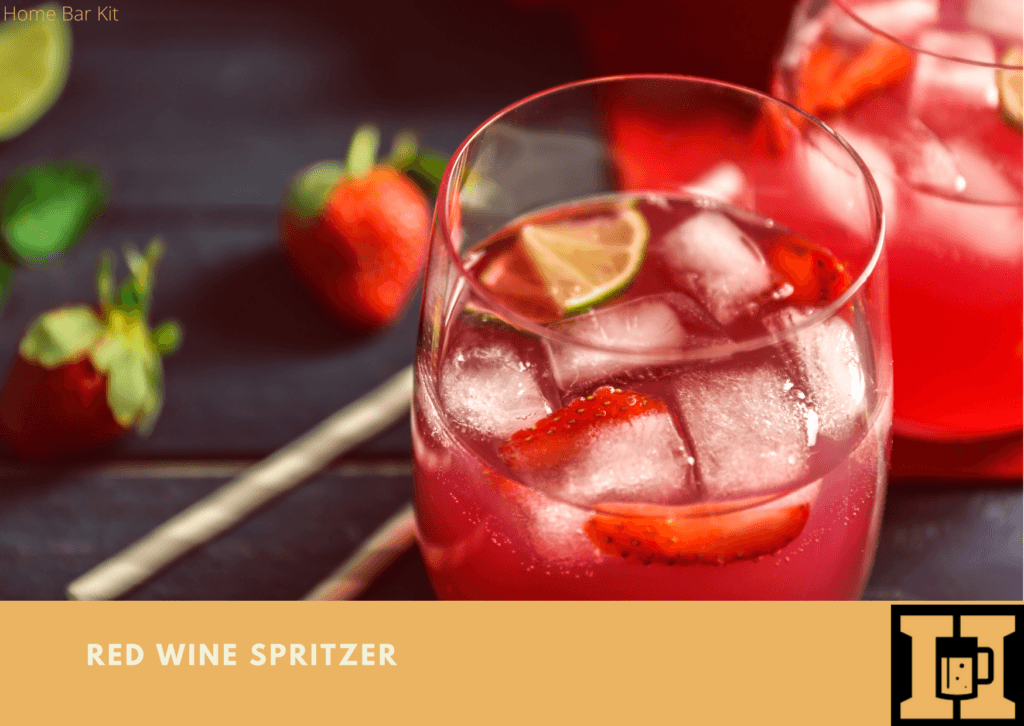 The simplest of cocktails that doesn't use a mountain of ingredients, but tastes great for any occasion. A super summer cocktail to enjoy with friends on a hot day served with plenty of ice.
The basic ingredients are just wine and soda, then garnished with a slice of lemon or lime. However it is easy to dress this simple cocktail up with any garnish to make it more luxurious. Frozen berries would be a great addition to this cocktail, especially on a hot day.
Red Wine Spritzer Recipe
Red Wine
Club Soda
Slice of lemon
Ice
Choose your glass, it works well as a long drink, so a highball glass would be perfect. Fill the glass with ice and pour the amount of red wine you desire, then top up with club soda. Finally garnish with a slice of lemon.
A 1:1 ratio is fine, half red wine and half soda, but any ratio is fine too, it is your choice. The soda can be replaced with lemonade which will give it a sweeter taste. As I said the garnish can be anything you choose, this is where you can have fun with this easy but tasty cocktail. I prefer lime to lemon, and pop in a strawberry too.
Devil's Margarita
Feeling a little wicked? Then serve up this devilish little drink at your next cocktail party. Any Tequila cocktail is great, but the margarita is a firm favorite. Made with red wine it becomes just that little bit naughtier.
It is easy to make as long as you are careful when you add the red wine because you need to float this on top. However if it doesn't work don't worry, it will still taste great
Devil's Margarita Recipe
Tequila 50ml
Lime Juice 25ml
Syrup 15ml
Red wine 15ml
Ice
Add ice to a shaker along with the tequila, lime juice and syrup. Give it a good shake and strain into a glass. Place the back of a spoon against the inside of the glass wall so it is just above the contents. Pour the red wine carefully over the back of the spoon to create a red layer on top of the drink. Finally add a slice of lime to the edge of the glass.
In the video you will see how to pour the red wine over the spoon to get that layered look. The type of glass you use is up to you, it works well with a Martini glass or a wine glass. It makes a great cocktail and looks good too.
New York Sour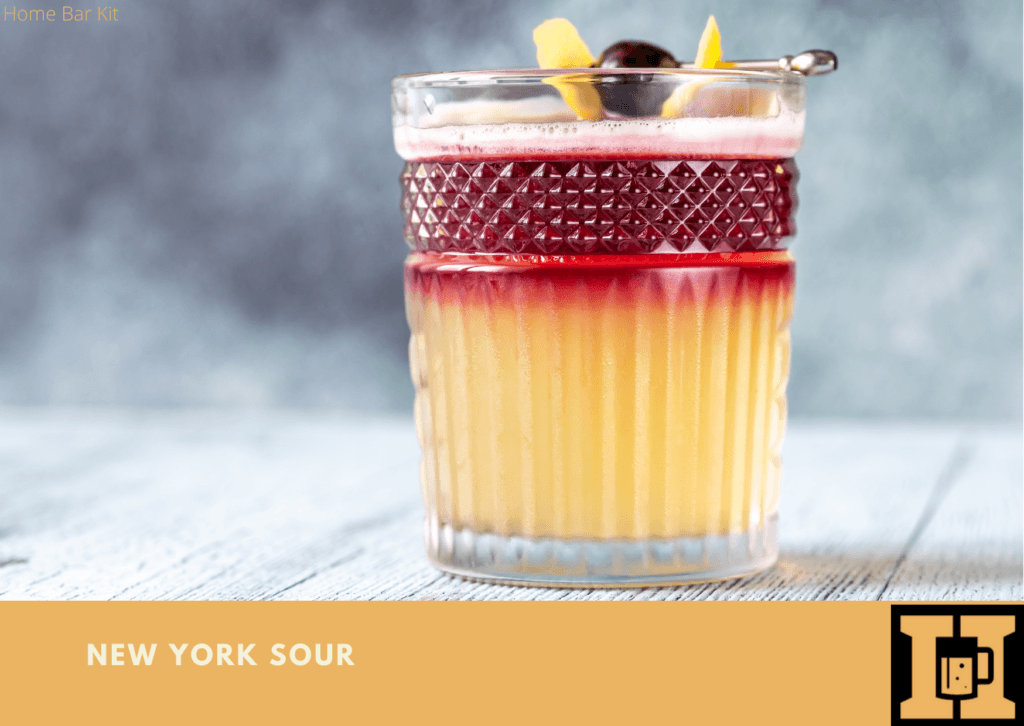 Another great cocktail that looks good too. Again this one calls on those layering skills, but again it is not the end of the world if it doesn't quite work. This one uses Whiskey or of course Bourbon if you prefer.
It includes six ingredients plus the ice, and one of those is egg white, however this is optional. The egg white adds a foamy creamy texture, however discard the egg white if you do not fancy it.
New York Sour Recipe
Whiskey/Bourbon 50ml
Lemon Juice 25ml
Syrup 15ml
Egg white 1 (optional)
Red Wine 20 ml
Ice
Add the whiskey/bourbon, lemon juice, syrup and egg white (optional) into a shaker and give it a good shake to mix the ingredients. This should get the egg white nice and foamy if you are using it. Add some ice to the shaker and shake again. Leave for a minute to become nice and cold.
Pour through a strainer into a glass and let it settle for a minute. Using the back of a spoon placed just above the top of the drink and against the inside of the glass pour over the red wine. It should look a nice orange color with a red above and a foam top. Finally you can garnish with a little lemon peel.
Be aware of the food-borne illness risk when using raw egg white.
Red Wine Mule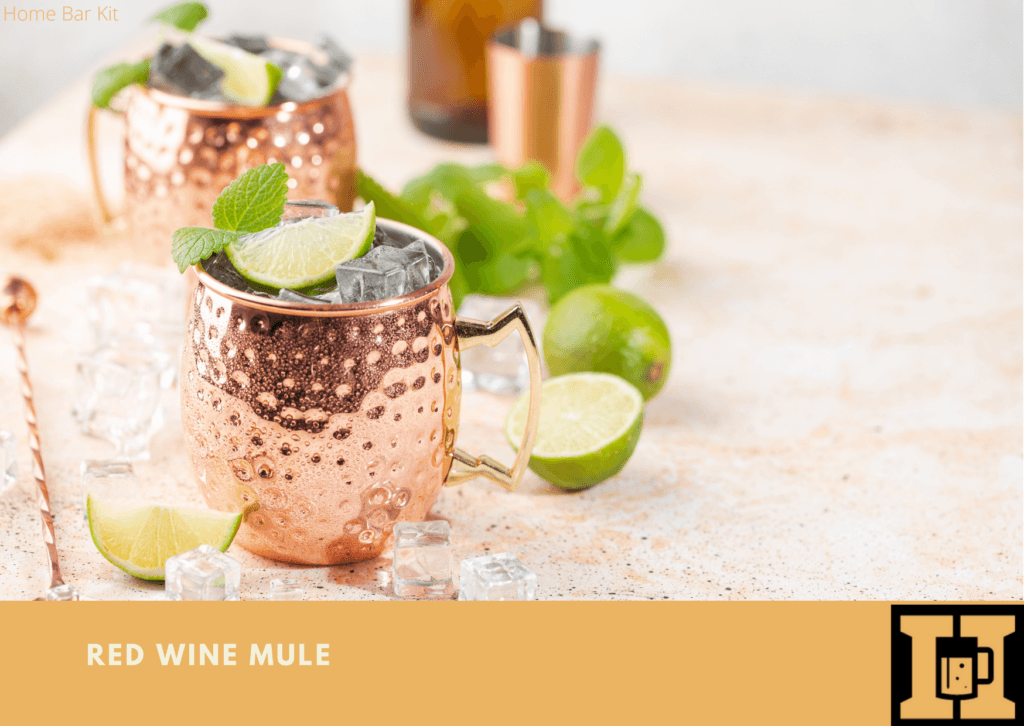 The Moscow mule is a popular cocktail with its vodka, ginger beer and lime juice mix. How about adding some red wine to give it deep luxurious depth. It is really simple to make and will go down well at any get together.
The Moscow mule is served in a copper mug and the red wine mule can be too. However it is not essential to serve it that way, a glass is completely okay.
Red Wine Mule Recipe
Red Wine 100ml
Vodka 25ml
Ginger Beer 50ml
Lime Juice Half squeezed
Ice
Add some ice to your copper mug or glass and pour the red wine, vodka and ginger beer in together. Squeeze half of lime into the drink and finally garnish with a wheel of lime.
he smoothness of the red wine, the kick of the vodka, the fizz of the ginger beer and a squeeze of lime work so well together. Super simple and a delicious drink to share with friends.
Red Wine Mojito
This is not a cocktail I have tried, but I will be trying it soon as it sounds good. It is easy to make and uses a mixed fruit juice which should make it a nice red wine fruity cocktail.
As well as a fruit kick it does include sugar too, but I might try it without as it could be a bit sweet for me. The fresh mint, the hallmark of a mojito stays in and served over ice makes for a refreshing cocktail.
Red Wine Mojito Recipe
Red Wine 150ml
Mixed Fruit Juice 30ml
Lemon Juice 15ml
Powered Sugar 1tsp
Fresh Mint
Ice
First of all bruise the mint leaves to release the oils, this can be done in the glass with a muddler or in the hands. Place the mint into the glass and pour over the lemon juice. Spoon in the sugar and mix well. Add a handful of ice and then pour in the red wine. Finally top up with the mixed fruit juice and garnish with a slice of lemon.
A simple and easy version of the popular mojito using red wine instead of rum and mixed fruit instead of lime. However I guess if you are feeling really naughty then you could keep a little of the white rum.
Final thoughts
These are some really nice red wine based cocktails to try on your friends and yourself. A perfect way to use red wine and make some great cocktails. The red wine mojito I haven't tried yet, but I will be trying it soon.
A few others to think of are of course sangria that super refreshing punch style cocktail. Mulled wine is always a crowd pleaser during the festive season. Don't forget the Kalimotxo the simple mix of red wine and coke served over ice, super cool.
Why not try these red wine cocktails out for yourself and share your thoughts as to your favorite one. I've got a feeling the red wine mojito may well be my favorite.