Think of rum and what pops in the head. Palm trees, blue skies and white sand being gently stroked by aqua sea. The sound of tin drums and tiki style bars serving drinks laced with rum. A chilled vibe with a vibrant sound and look, that is rum.
When it comes to cocktails, we know rum is the star of many, be it white rum or dark. However, what if we just want a drink that will mix well with rum. On this occasion we are going to look at dark rum, so what does dark rum mix well with? Let's find out.
What Does Dark Rum Mix Well With?
We all know that dark rum will sit in a glass well with Coca Cola and thrill the taste buds. They met a long time ago and are good friends. However, as good as it is we may not always want coke mixing with our dark rum. Think coconut water, orange juice, grapefruit or even tonic water. These all go surprisingly well with dark rum, but there are more.
Dark Rum
The simplest description of rum is that it is a liquor distilled from sugar. This may be from sugar cane itself or molasses, which derives from sugar cane. White rum is said to be aged in stainless steel tanks, while dark rums are aged in oak casks.
The dark rums are said to get their color from their time spent in the casks. It makes sense that a white rum is white, you wouldn't expect it to take on color from stainless steel. It also makes sense that a dark rum is so because it takes on color from the oak.
I am glad that is cleared up, although it's not, the rum market is a little confusing. However, I am not going to go into it in this post. I just want to share some good drinks to pair with dark rum. But if I have stirred up your curiosity and you want to get to the bottom of the light rum, dark rum thing. Have a read of this article, it's very interesting.
Although I like rum in all its guises, I just prefer dark rum that bit more. After reading that article it may not be because of the aging process or oak coloring. My preference to dark rum could be a different reason to what I thought it was.
Enough about color and aging, it's time to get on with a selection of drinks that go well with dark rum.
Coca Cola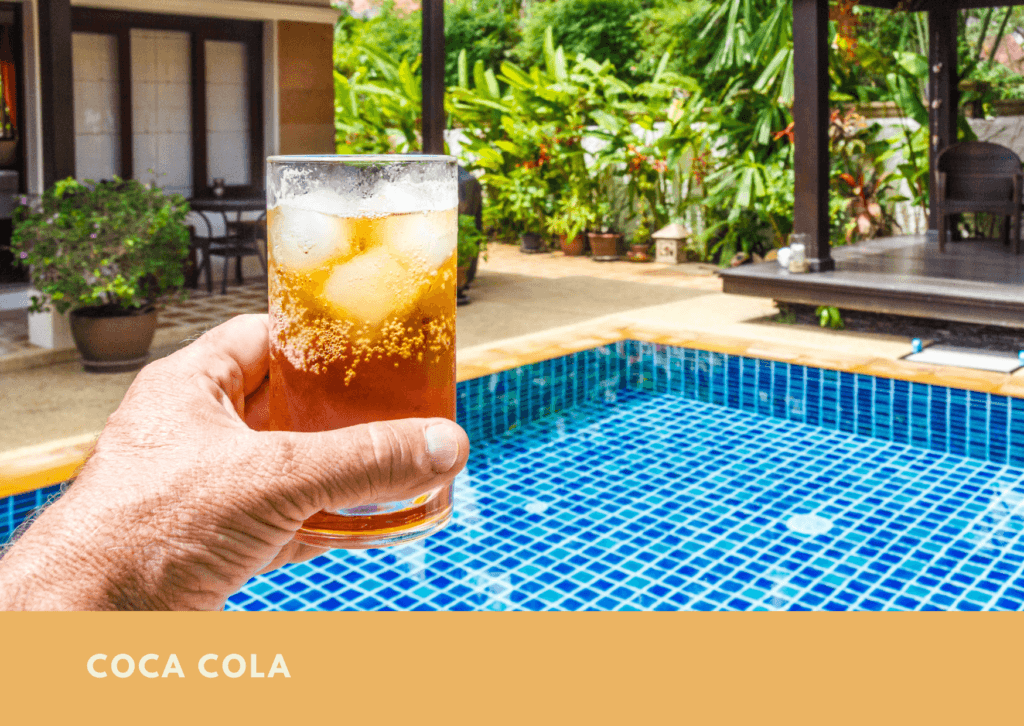 Okay, I know it's an old classic and you thought you were going to get some unusual combinations. That is true, I just wanted to break you in gently.
The rum and coke then is an all time classic. The sweetness from the rum colliding with the sweet but acidic coke makes for a beautiful combination. The taste of coke is prominent, but you get that overriding alcohol burn.
It is said that it originated from Cuba, and is also know as a Cuba Libre, I just say well done Cuba. Serve it over ice, with a squeeze of lime, or just simply add the rum and coke together.
It's a winning combination and an old favorite that has stood the test of time.
Coconut Water
What could be better together than two Caribbean ingredients sharing a glass. It's a match made in heaven, spicy dark rum and nutty silk coconut. The vanilla and spices in the rum compliment the sweet nutty flavor of the coconut. Its simple, refreshing and just fuses together so beautifully.
Some will add lime juice and a sugar syrup, which will essentially give you the Caribeno cocktail. We are not looking at cocktails here, just a drink to pair with dark rum.
Why not just buy a bottle of Malibu?
This is an option, but it is not clear whether real rum is used in Malibu. A rum to be a rum has to be 80% proof, which is 40% ABV. Malibu is 21% ABV and also has sugar syrup and the coconut is an extract.
Actual rum and coconut water is a different animal. If you have a coconut handy, then crack it open and add the rum to it, delicious. But if not, then coconut water is a good substitute.
Ginger Beer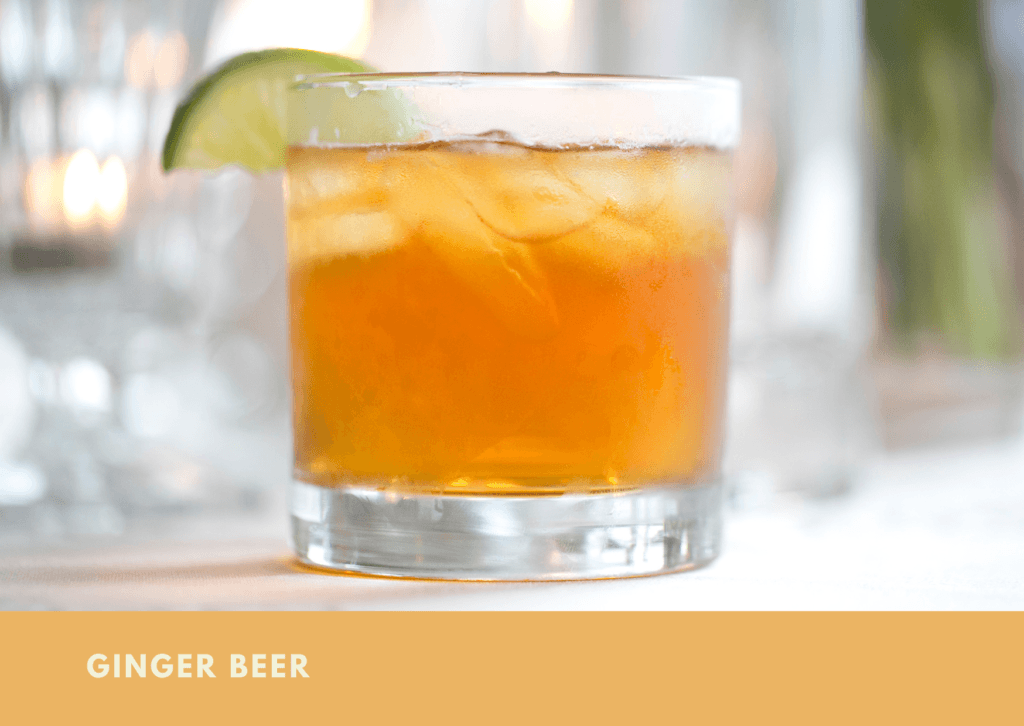 Ginger beer makes for a great pairing with rum and is a more spiky drink than pairing rum with the more subtle ginger ale. The stronger ginger hit in ginger beer works well with the spice of the rum.
Add lime and you have yourself the popular 'Dark N Stormy' cocktail. While the lime will add an acidic twang, it is not necessary. Rum and ginger beer has the kick of ginger and spices from the rum, with a soft creamy undertone. Obviously you can pour these two drinks over ice, either way this is a really delicious drink.
Grapefruit
It may seem a little harsh to pair with a dark rum, but it does work. Grapefruit with it's tart but sweet citrus hit goes well with the warm spicy flavors of dark rum.
Grapefruit does feature in several rum based cocktails like 'Ruby Rum Sunrise' and the 'Dirty Diana'. However the two just paired together creates a warm creamy spiced depth with a bitter sweet edge.
It will not be for everyone, but give it a try and if it's to much, then turn it into a cocktail.
Tonic Water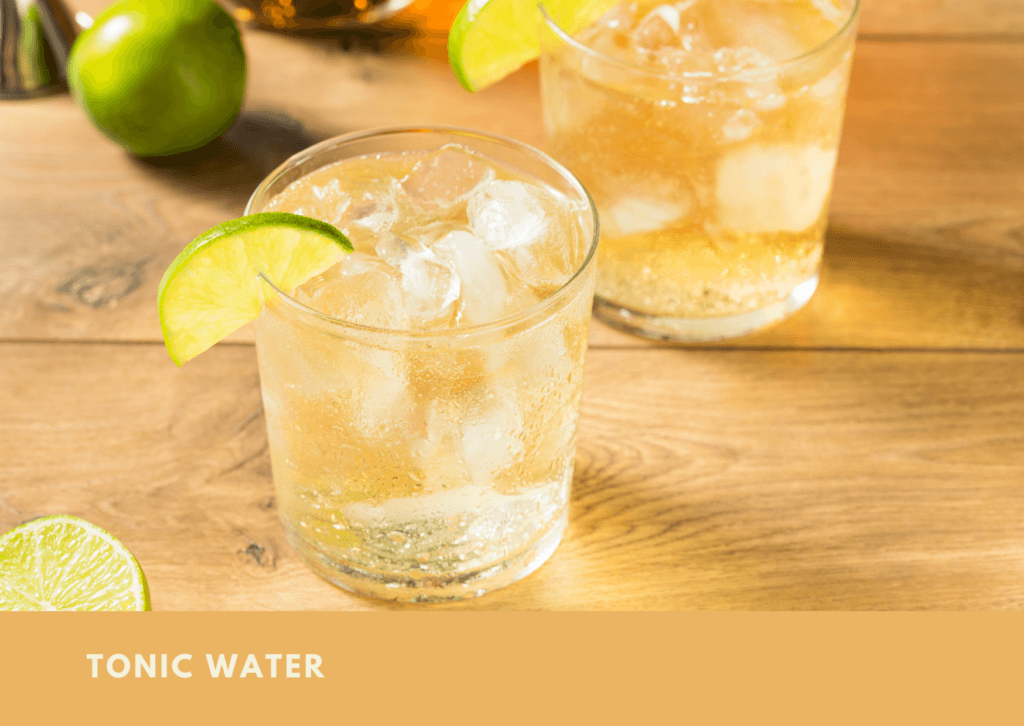 Tonic is a surprisingly good match for rum. The bitter quinine in tonic along with its botanicals compete with the sweet spicy rum beautifully.
This gives a nice sweet spicy depth with that bitter undertone of the tonic. It makes a great summer treat and a break from the more famous gin and tonic. A great combination on its own or over ice, or feel free to add a garnish of your choice to tweak or soften it to your likening.
It may get you a funny look if you order it in a bar, but it is worth it. Make it at home first just to see if it hits the spot. Nothing worse than ordering a drink in a bar you have not tried before and then hating the taste.
Orange Juice
This one could be too sweet for some, with the sweetness of the orange juice paired with the sweet tones of the rum. It's a worthy contender though and its not an overpowering sweetness.
Orange juice is paired with many spirits, such vodka, gin and even whiskey, so its nothing new. The cocktail 'Brass Monkey' is rum, vodka and orange juice and tastes pretty good.
The vodka adds a little bitter hit to calm down the sweetness of the rum and orange juice combination. Give it a try and if you find it too sweet, then add a drop of vodka to cut through it.
Pinapple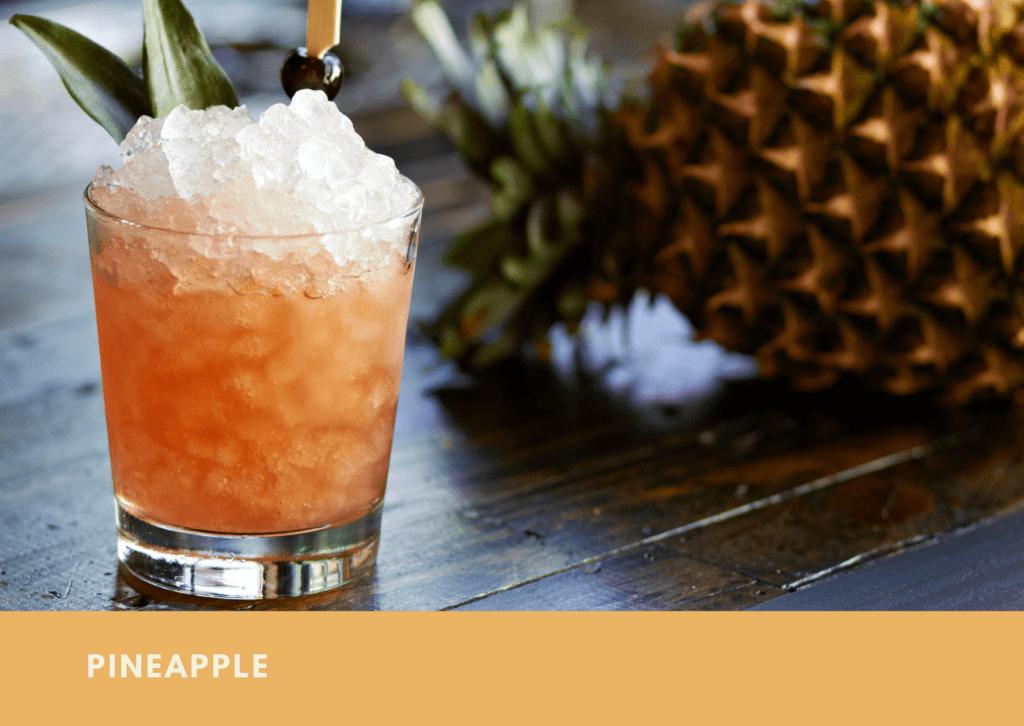 Getting back to the tropical feel, pineapple is a great pair with rum. There are even a few rum makers that have bottled this combination. I am sure there is more than just rum and pineapple in those bottles.
The soft creamy sweetness of the pineapple fuses well with the spicy heat of the rum. It's a tropical combination that delights the senses and has the tiki vibe.
Pour it over ice, add a garnish like lime and put on some Caribbean music, it will take you straight to the beach.
Club Soda
The club soda is a perfect drink to pair with rum, with the fizz from the soda complimenting the spicy heat of the rum. It takes the edge off of the burn that the rum gives out. The more heat you want to kill, the more soda you can add.
Over ice it's a great long drink for a hot day to satisfy that thirst, although at a sipping rate. If it's a little to bland for you, add lime, syrup and mint to create the classic Mojito.
Hard Seltzer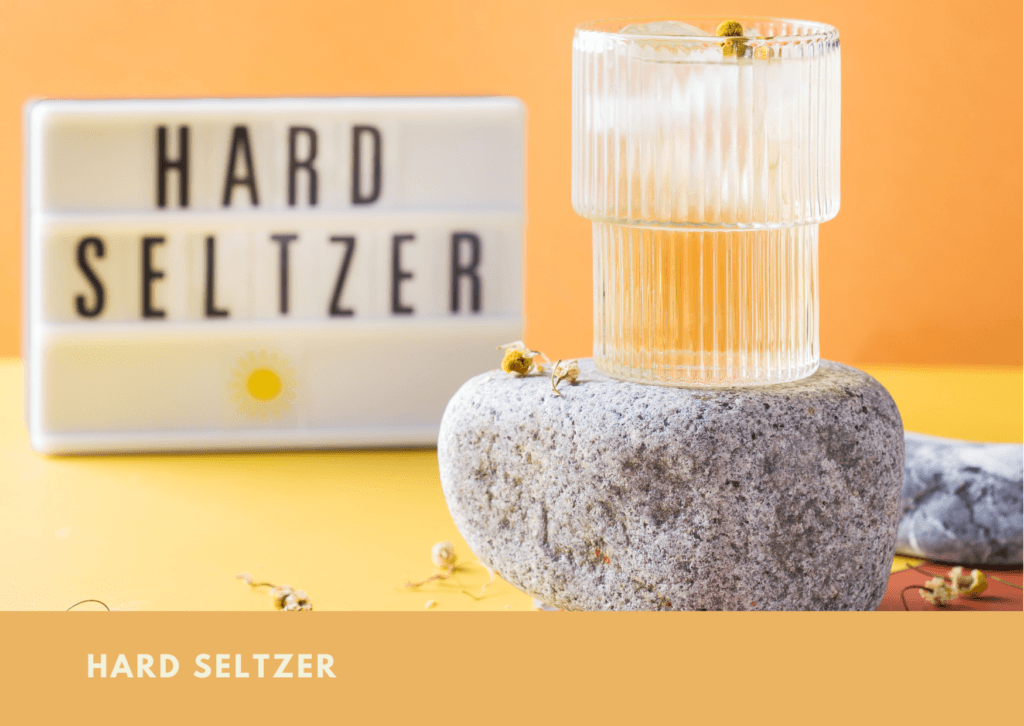 A flavored seltzer is ideal to add to a rum and there are so many combinations. I know they are laced with alcohol, but they are fairly weak and would be ideal mixed with rum.
It is no different to adding any of the fruit juices I have already mentioned. Except a seltzer would not have the strength of flavor a neat juice will have. But with the many seltzer combinations available, you could be on an endless road experimenting with rum and other flavors.
The seltzer would also add a fizz to the rum and over ice with a little garnish of choice will not disappoint.
Cranberry
For the ultimate in summer fruit flavor, bring out the cranberries, tart and with a bite these bright berries go with many ingredients. Add it to rum and you get not only the spicy hit from the rum and a tart hit from the cranberry juice too.
It's a double hit of loveliness, spicy heat competing with bitter berries. May be it's a bit harsh, if so add a little lime juice and syrup, this will round it out and take off the edge.
It has the spicy flavors of winter, combined with the summer berry burst from the cranberry juice.
Final Thoughts
What we have here is ten drinks that can be added to rum and enjoyed, or not. As we are all different, so to are our taste buds. What I like, may not sit well on your palate, but it is always worth trying new things. The beauty is that most of the pairings I have put together can morph into a simple cocktail.
By adding a few more ingredients you can create a classic cocktail and forget my pairings. On the other hand you may discover your new favorite drink, you won't know unless you try. There are no rules to the quantities of each pairing, for a weaker longer drink add more of the drink you are mixing with the rum.
Share your thoughts on any you try, just don't shout if they whip your taste buds instead of making them dance.
Rob is a passionate home bar and pub shed enthusiast with a passion for craft beer. With hands-on experience in designing and building his own home bar, Rob shares his knowledge, tips, and inspiration to help fellow enthusiasts create their own perfect space. Alongside the world of home bars and pub sheds, Rob also explores the diverse and exciting realm of craft beer, providing honest reviews to help you discover your next favorite brew. Join Rob on a journey of flavor, design, and craftsmanship right here on Home Bar Kit.