I am not talking about a person or thing that growls, I am not talking about a small iceberg either. Most people do know what a growler is, especially if you are American. But not everyone knows what they are, so what is a growler, and how do they work?
The growler I am talking about is connected with beer. They are common in the US, mainly because that is where they originated. However, the rest of the world is catching up, and we all want a growler for our beer.
What Is A Growler, And How Do They Work?
A growler is a jug or similar container used for transporting beer. A way to enjoy beer from the tap at home. For example, a growler can be filled with your favorite beer at your local pub, which you can take home and enjoy. They are filled, then sealed and will keep the beer fresh for several days. However, once opened, then it is best to consume the beer the same day.
Sounds great, but don't rush out just yet to get a growler, there are things you need to know.
Where Did Growlers Come From?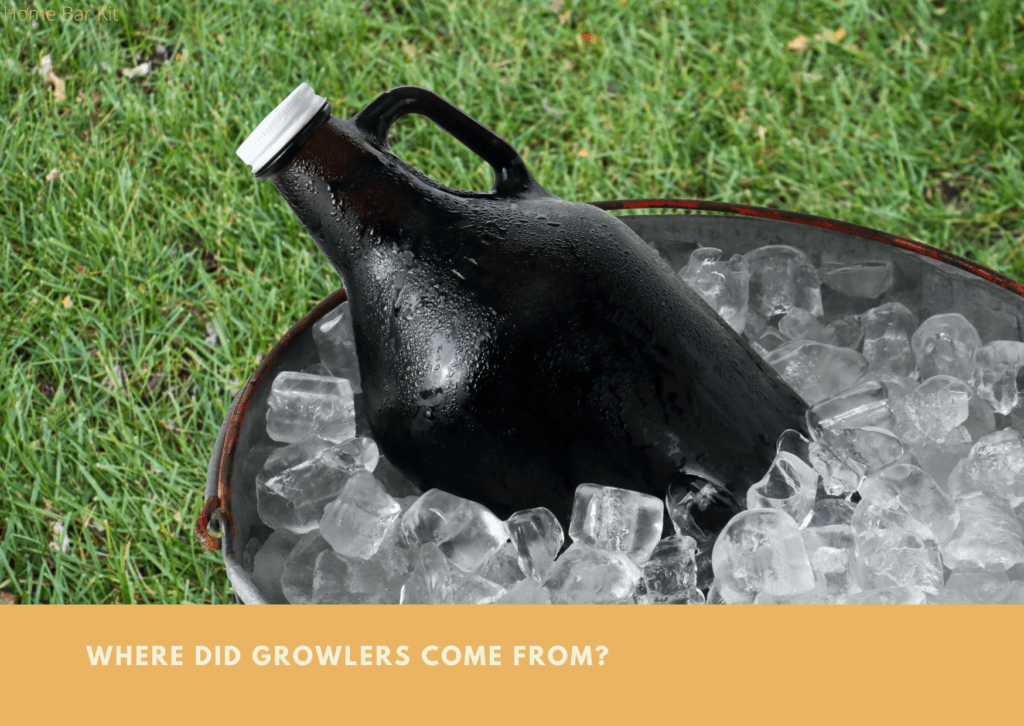 They started out in the late 19th century and were nothing more than a pail with a lid. A bucket filled with beer and a cover secured on top. These buckets were filled with beer at a pub and then transported to local homes.
It was a way for customers to take beer home with them. But as some report, often kids were the couriers fetching beer for the family.
There are a few theories about how the name growler came about. First, it is said that as a pail of beer was being carried, the beer would slosh about. The lid would allow gas to escape, which made a kind of growling sound.
A second theory describes how children would be fetching beer for their father and taking it to the workplace in time for lunch. Often they were late and the bellies of workers waiting for their beer were growling.
The third one is a squabble between customer and bartender with one or both of them growling at each other. This was caused by the amount poured into a customers pail when they request some beer to go. The bartender guessing the right amount to pour, and the customer believing that this was not enough.
However the name come about it was here to stay, or was it?
The end of the growler
When the prohibition took hold in America, it not only saw the end of production, transportation and sale of alcohol. But also the end of the growler, no beer, no growlers, at least in public anyway. Brewing went underground and I am sure growlers went with it.
When the prohibition was revoked, growlers made their way back into American life. But did gradually lose popularity when other type containers were used to transport beer. In 1989 the growler made a comeback. Otto Brothers Brewery wanted to create a beer to go concept for their local customers.
The brothers reintroduced the now forgotten growlers, only with a difference. Instead of the clumsy pails, they used glass jugs with lids that sealed in the freshness. So the growler was back and has been going strong ever since.
How Do You Use A Growler?
The concept is simple, take your growler to a brewery or brewpub and get it filled. It has been common in the US for many years. Although I imagine not all states have the same rules regarding growlers. The UK have not always participated in the filling of growlers.
Having said that, in recent years there are more and more breweries where it is possible to get a growler filled. Yorkshire Craft Beers offer a growler filling service as do Brewdog, who also have a bottle shop with a dedicated growler filling station. So the concept is catching on in the UK, about time.
Having said that, if you decide to get your own growler, filling it may be difficult depending on where you live. You can't just walk into any pub and request they fill your prized beer storage vessel. Well you can, but you will probably be refused.
**As an Amazon Associate, I earn from qualifying purchases with no extra cost to you.
Where Can I Get A Growler?
Any brewery that fill growlers will probably also sell them too. Also there are many retail outlets that sell them, as well as home brewing retailers. Growlers have moved on though, they come in all shapes and sizes. There are even carbonated growlers with dispensing taps, things just got interesting.
I have put together a few picks of some great growlers that are available to buy.
The Standard Growler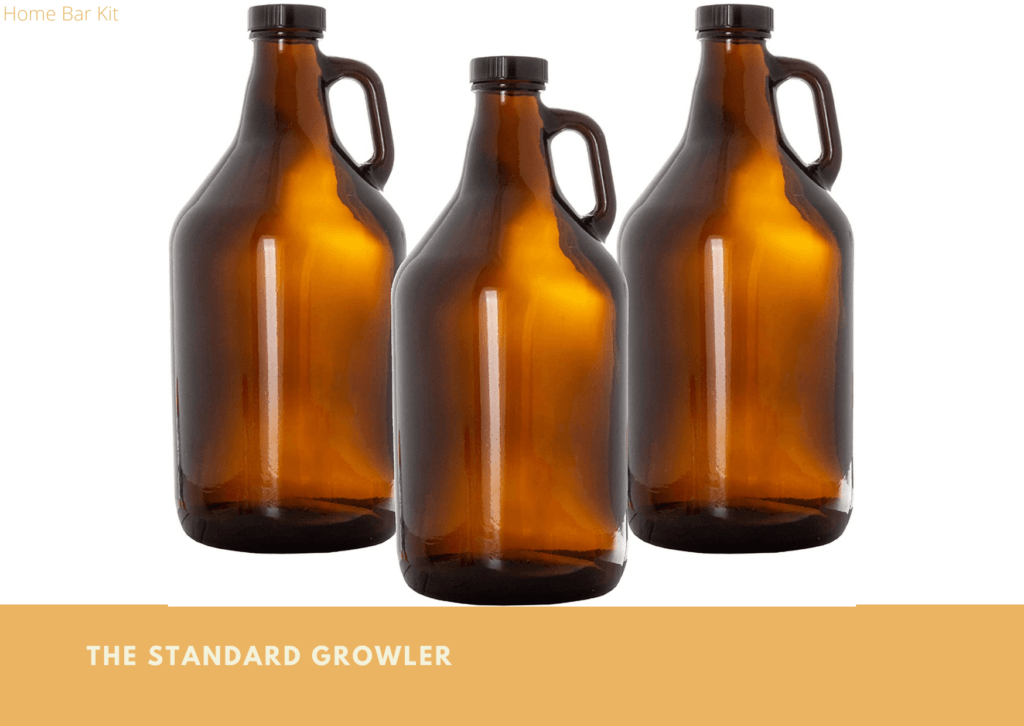 Check Latest Price
Think of the Otto Brothers and their reintroduction of the growler and you end up with a 64oz (4 pint) bottle. Brown in color to protect beer from UV light and a screw top that is air tight to keep beer fresh.
Simple but effective in design and ideal for your favorite craft beer to share with friends. In addition they would also work for your own home brew too.
Stainless Steel Growler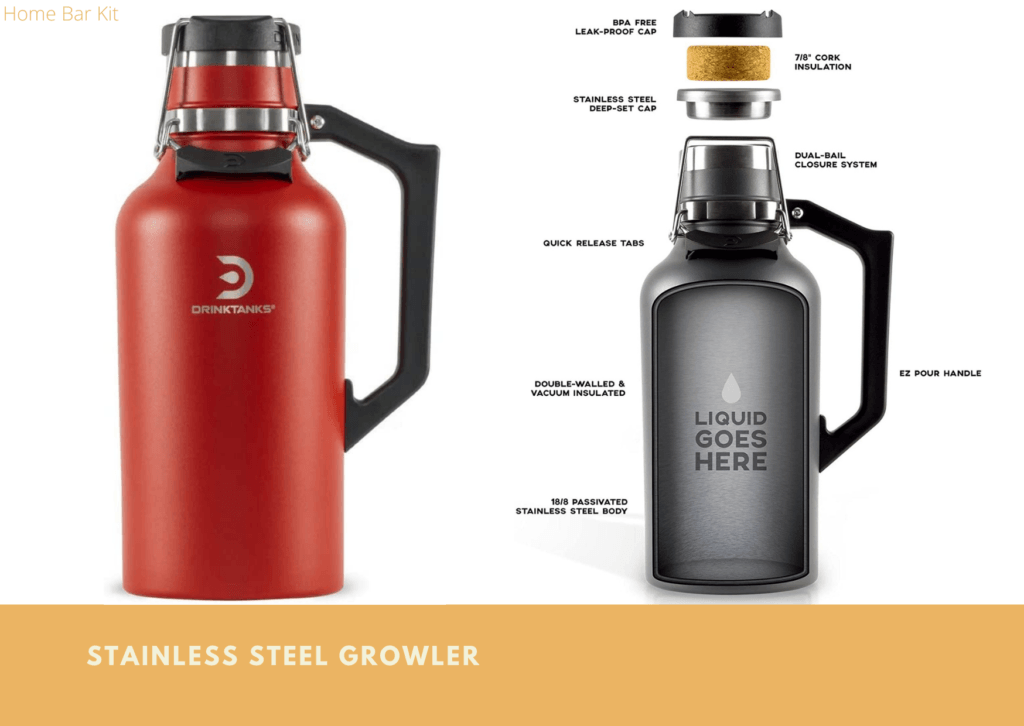 Check Latest Price
A little different to the glass bottle style growler, a stainless steel one is ideal for storing and keeping beer fresh. Being double walled and vacuum insulated this type of growler will keep beer cold for hours. A wide neck for easy fill, an easy pour handle as well as an air tight cap makes this perfect for beer.
The Drinktank stainless steel growler holds 64oz (4 pints) with the fill marker clearly marked on the inside of the wide neck. It has double bail lid to keep your beer not only cold and fresh but also secure. A fill and take anywhere growler, ideal for BBQ's, fishing or a camping trip.
Big Aussie Growler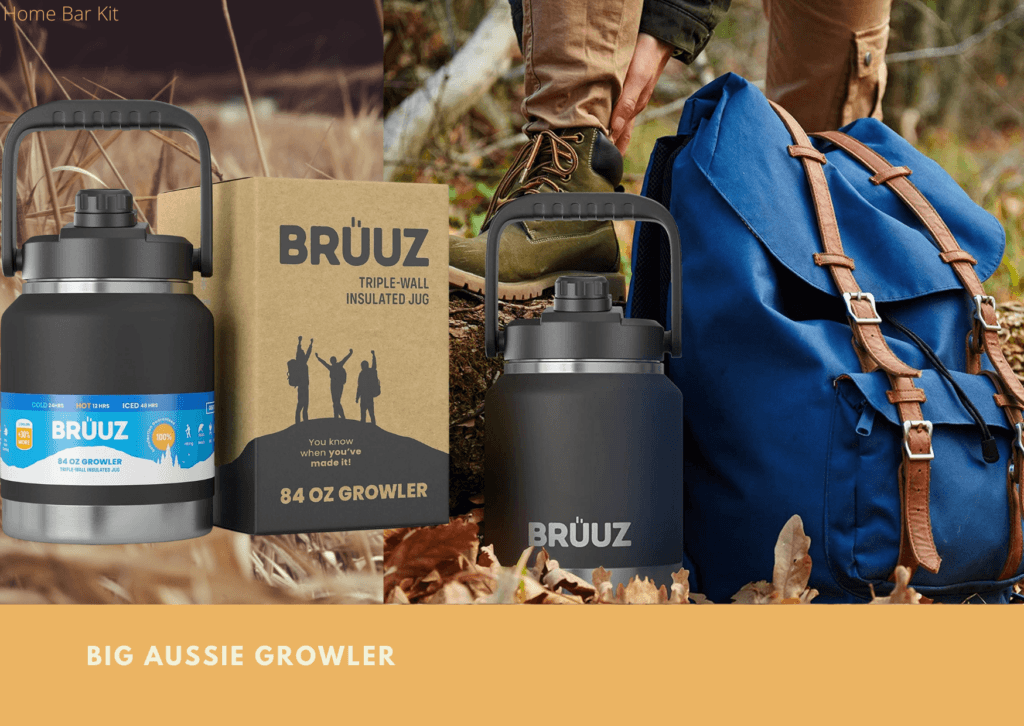 Check Latest Price
If 64oz (4 pint) is not enough, then how about going large with the Big Aussie Growler from Bruuz. This monster growler packs an 84oz (5.25 pint) capacity. With triple walls, it will keep beer cold for up to 24 hours, that's cool.
Featuring a flip lid for easy pouring, while a super wide top allows for easy cleaning and filling. So too, allows for ice or fruit to be added with ease. A wide short stance stops these growlers from topping over in transit. Finished in a powder coating, it is durable and looks the part too.
A true travelling companion that will be first on the list for packing on any trip.
Carbonated Growler
Check Latest Price
How about something a little closer to the pub tap experience. If you want your growlers to be a little more sophisticated, then think carbonated with a tap. Nit only can you keep your beer cold and fresh, but you can dispense it from a tap too.
A double walled stainless steel body with a 64 oz (4 pint) capacity, this growler has something else up its sleeve. It contains a carbonation system, with a regulator cap to choose level of carbonation. This works with a Co2 capsule that slots into the screw cap mechanism.
This allows the beer to stay carbonated and be poured fresh from the tap, just like the bar. Now you can take your home bar anywhere you go and dispense a fresh pint every time.
Mini Keg Growler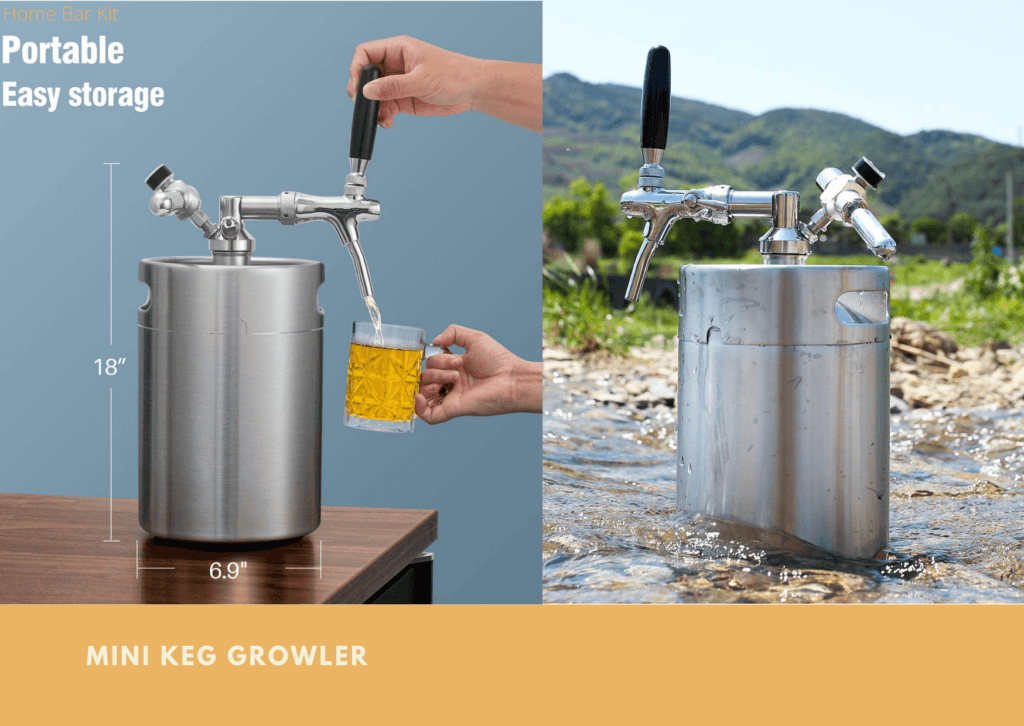 Check Latest Price
Don't be fooled by the word mini, this is a monster growler with a whooping capacity of 170 oz (10.6 pints). Like the last one it has a carbonation system with a Co2 cartridge holder and an adjustable regulator. Looks like a keg, but not as big and bulky, so is easily transported. It stands 18 inches (45.7 cm) high and 6.9 inches (17.5 cm) in diameter.
The beer flow is adjustable by rotating the tap handle, therefore reducing the amount of foam. The system maintains vacuum pressure keeping beer fresh for a month or so. This pressurized stainless steel keg style growler is ideal for parties and BBQ's, or just your own home bar beer tap.
Final Thoughts
A growler then is a great way to store and keep beer cold and fresh. Also great for taking on trips, from hiking to camping. An ideal way to serve beer at parties or gatherings. They come in some great designs and several sizes to suit the individuals needs.
The top of the range growlers with their carbonation system add that pour from tap experience. An ideal addition to a home bar without having to install a full kegerator system, simple but effective. How things have moved on since the old galvanized pails with ill fitting lids.