When we visit a bar and order a gin and tonic, the gin is measured, we get a single shot of gin in the glass. This goes for any spirit we may order. At the home bar it is a good idea to do the same. Otherwise you will go through a bottle pretty quick. Going through a bottle of liquor that quick will not only be expensive, but it will have you and your guest falling over too.
There are many ways to pour the right measure of alcohol. What is a single shot measure, and how do you measure it accurately?
What Is A Single Shot Measure?
The right measurement for a single shot is 1.5 fl oz (44ml), this is in the US and generally the same in Canada. The UK standard single shot measurement is 25ml (0.84 fl oz), or sometimes 30ml (1.0 fl oz). Australia is 30ml (1.0 fl oz) and in Germany 20ml (0.67 fl oz).
The measurement does differ slightly from country to country, to see more countries checkout this handy chart.
How To Measure A Shot
There are several measuring gadgets you can get for your home bar that will dispense an accurate single shot measurement, keeping your wallet in check and your guests on their feet. We will look at them shortly, but first, it is possible to pour accurately without a measuring dispenser?
The short answer is yes, but it will take practice.
There is a method and its called pour count, this involves pouring the drink to a count. One count is equal to a half ounce, so a three count will give you a standard 1.5 fl oz measure.
You will need a pour spout which will give you a standard flow, and when you pour you make sure the bottle is turn upside down. You then count to three (using the Mississippi or one thousand methods) and stop, you should have a perfect measure.
Like I said this will take practice, but it is possible to get it pretty accurate. You can practice by filling an empty liquor bottle with water and pouring to the count into a glass. Then measure how much is in the glass.
You can also pour a finger of liquor, this literally is laying your finger at the base of the glass and pouring to the thickness of your finger. Experienced bartenders will get this right pretty much all the time, and they do it for speed and aesthetics.
You may not want to learn this technique and would just prefer a measuring aid to get the right amount in the glass every time.
Measured Pouring Spout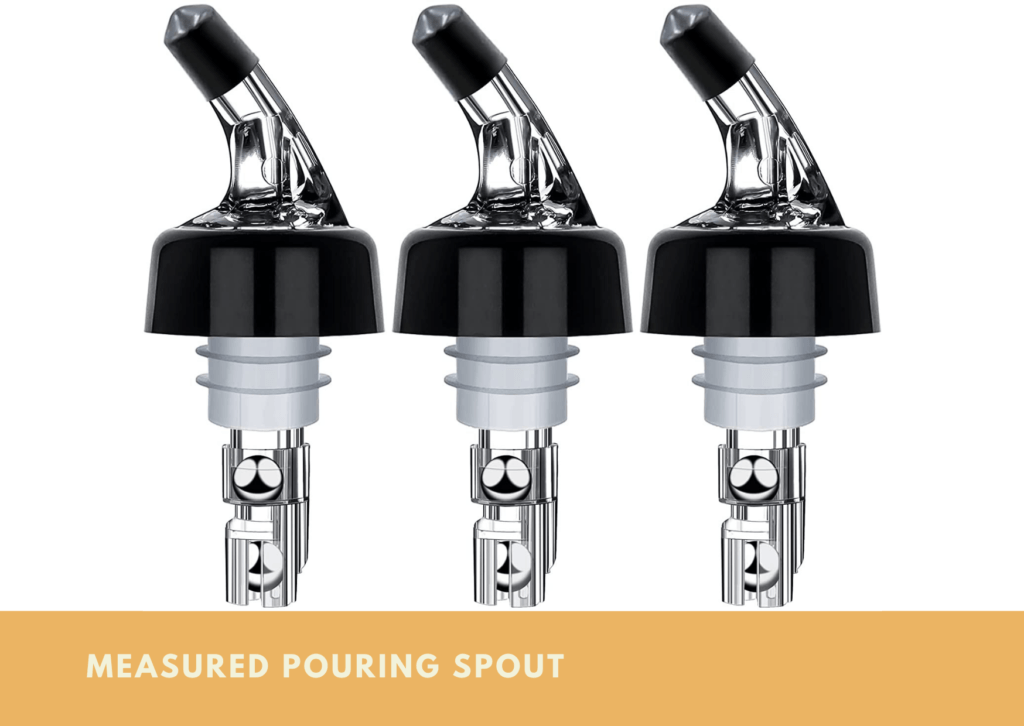 Check Latest Price
The pouring spout is a great way of dispensing drinks, but unless you can pour accurately you will be getting through your liquor at lightening speeds.
If you like the pouring spout but would like to measure your shots without counting, then you are in luck. A measured pouring spout may be the thing for you, it is still a spout, but will give you a,1oz (30ml)shot every time. This neat little pourer will fit most liquor bottles and save you guessing a single shot measurement.
Save liquor and money and keep your guests on their feet with this perfect simple measuring spout.
Classic Jigger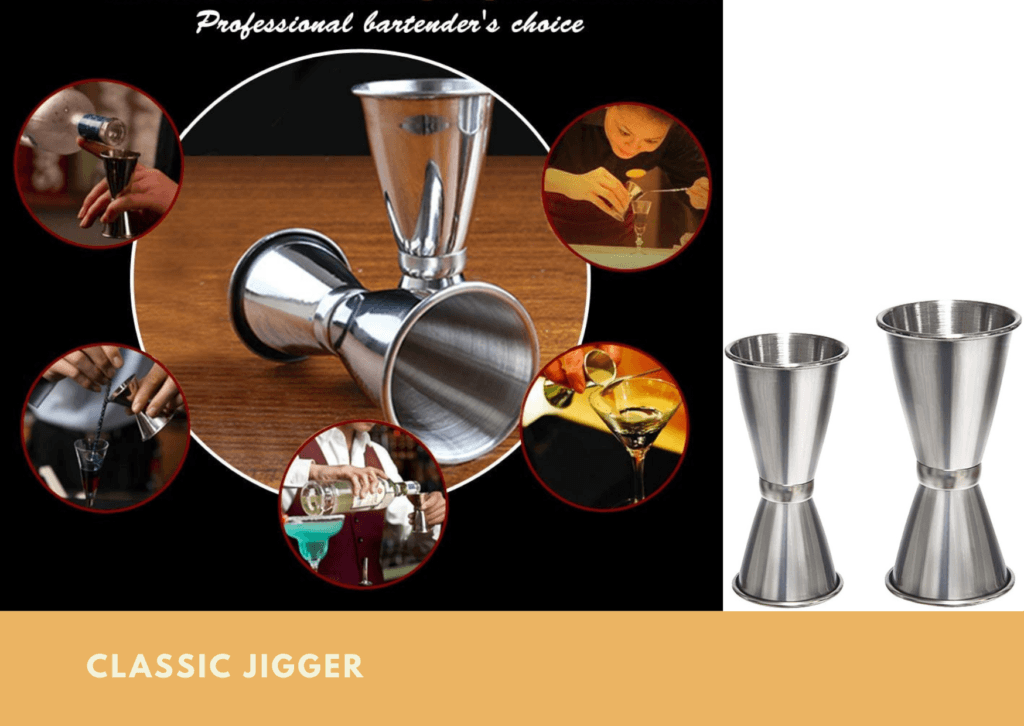 Check Latest Price
Everyone knows of the classic jigger, we have all seen a bartender using one when they are mixing cocktails. This food safe stainless steel jigger is functional and stylish. It comes as a two pack, with one measuring 20ml (0.67 fl oz) and 40ml (1.35 fl oz), and the other measuring 30 ml (1.0 fl oz) and 50ml (1.7 fl oz), or there abouts.
The top and bottom have a rolled edge for strength, and the classic Bell shape allows you to balance it between two fingers while pouring liquor.
A perfect accessory for a home bar, giving four shot measurements, so you can vary according to your mood.
Measuring Glass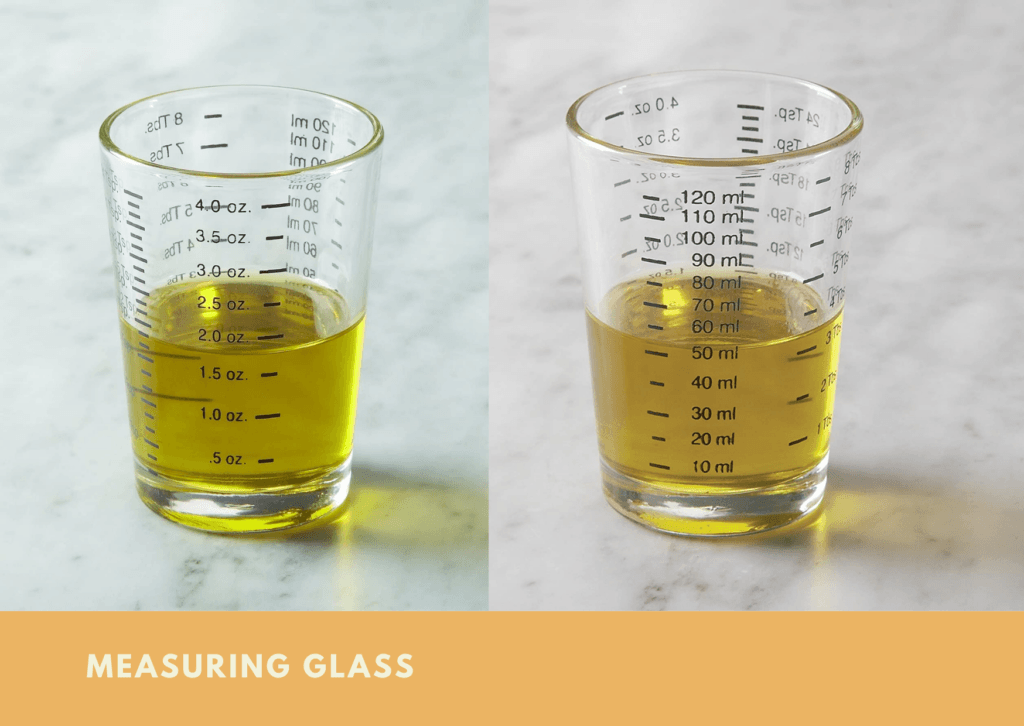 Check Latest Price
This is just pure simplicity, a small glass with measurements. How easy can it get to give you the perfect shot? You can go from 0.5 fl oz (20ml), right up to 4 fl oz (120ml) in half ounce increments. It also has three measurement counts, fl oz, ml, and tbsp, making it easy for anyone to use.
You could practice pour counting with this glass, it would be ideal. This is great for any kitchen because you can measure ingredients with it. But. for our purpose it belongs behind the home bar for our shots.
An easy simple glass to measure your shots.
Bar Top Butler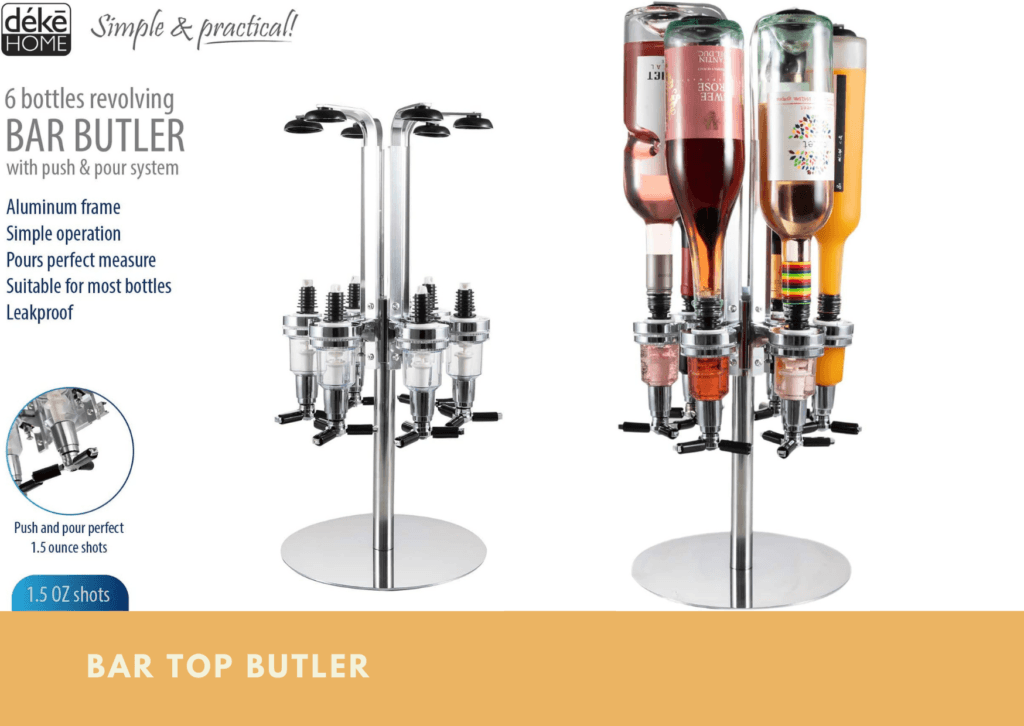 Check Latest Price
It is getting serious now, with this 6 bottle rotating liquor dispenser. Load up six different liquor bottles and dispense the perfect single shot from any of them without having to rinse out the jigger or measuring glass. These dispense straight into the glass. Pour a whiskey, a gin and a vodka one after the other just by rotating and pressing the glass under the dispenser.
It sits neatly on your bar top and will make your life super simple. Especially if multiple guests are having different drinks. Made from high grade aluminum with a mirror finish. Each of the six dispensers will pour a,1.5 fl oz (44ml) measure into the glass.
Load your favorite six liquors into this dispenser and enjoy it every time you pour a drink.
Wall Mounted Liquor Dispenser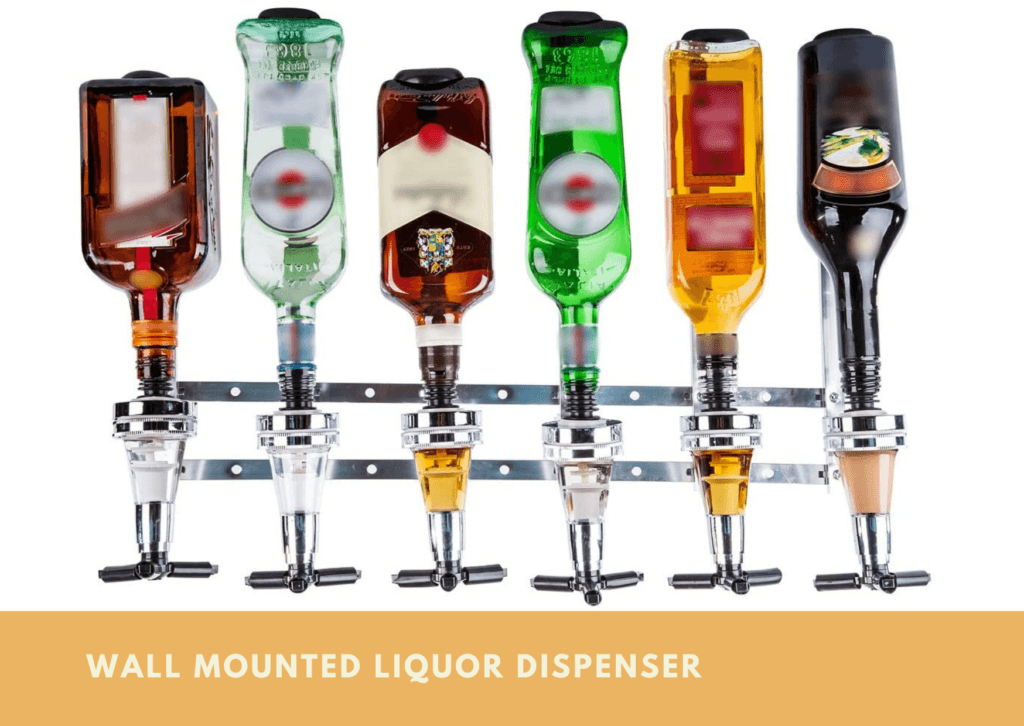 Check Latest Price
Impress your family and friends with this professional liquor dispenser just like you see in the bar. It has six dispensers and is wall mounted, giving it that professional feel. If you have the room behind your home bar, then this will be ideal and handy to pour perfect drinks.
These dispensers deliver a,1.7 fl oz (50ml) shot. They will hold six bottles of liquor and are ideal for making cocktails super quick. They are sturdy and easy to maintain and keep clean. This really will give your home bar a professional feel. But, to really stand out as the best local bartender, fix two side by side and be the talk of the neighborhood.
Simple, effective and professional, treat yourself to the best bar accessory.
Final Thoughts
Measuring your liquor is the best way to serve it because it will make the bottle last longer and save money too. To learn how to pour count will impress your guests and it is so that you can serve drinks fast. This is why busy bartenders have mastered the art.
A better choice for your home bar is to be sure that you are hitting the right measurements each time you serve a drink. The simplest method being a measured pouring spout, which is of course ideal. These are to some extent better than a jigger because you can fit one to each of your liquor bottles, so pouring becomes fast.
The ultimate method, the one that looks the most professional is to have one or two wall mounted liquor dispensers. These will serve a single shot measure perfectly from every bottle you have loaded on the wall.