It is a strong classic IPA that comes from Yorkshire in North England. A best selling beer from Vocation brewery and it packs a punch. From the vibrant artwork on the can, to the hazy golden liquid, it's a worthy addition for any beer lovers fridge. So what is life and death? And more importantly, is it any good?
Coming from a second time around brewery with an interesting story and an eastern connection. Life and death is a beer born from passion, it really is a vocation.
What Is Life And Death?
It's a classic IPA that won't disappoint. A golden hazy dream with a generous creamy head that calms to a thin lid, leaving a decorative lacing. The nose is treated to a lavish aroma of lively citrus with hints of grapefruit and berries. Likewise the taste hits with a fruit forward flavor and sharp citrus background. Meanwhile the mouth experiences a zingy sensation that finally turns into a bitter sweet end. A triumphant 4.8 – 5.0 rating.
Consequently it's a high scoring beast that leaves you wanting more. But beware, it's not a puny beer, it has muscle at 6.5% Vol.
Vocation Brewery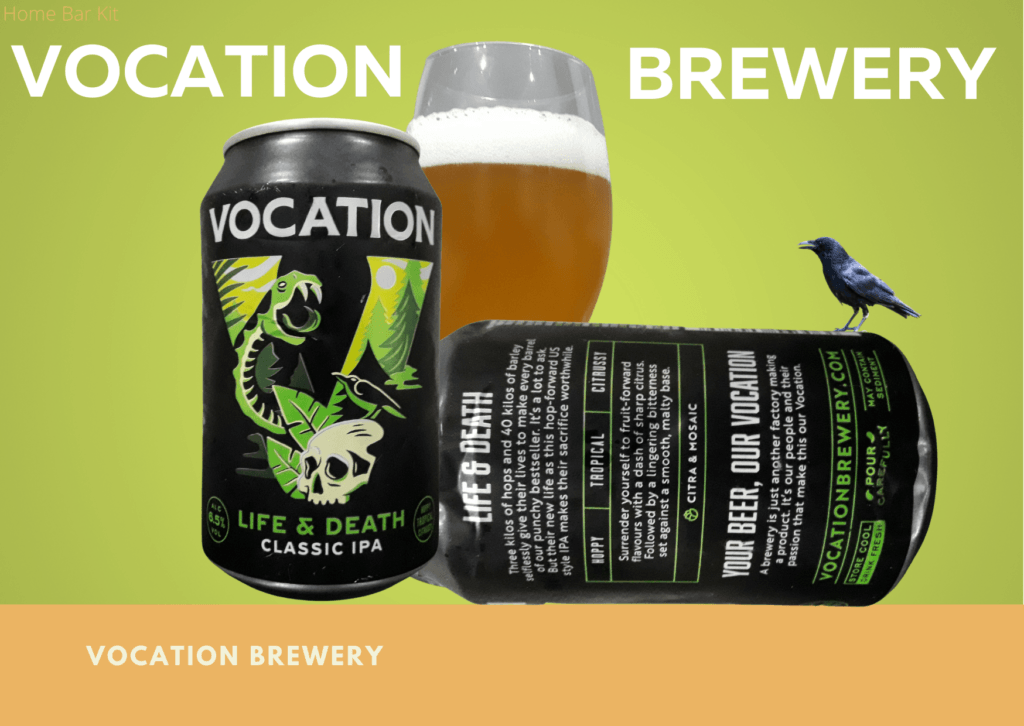 John Hickling worked in IT for a bank, a good career that pays well, but sometimes it's just not enough. Hence there was something else he needed to do. Beer was a passion, so he set up a tiny brewery in his kitchen and the seed was sowed.
John and his kitchen produced some great beer, well that's what his friends said. Next came a decision, and we can all agree it has proved to be the right one. The job ditched, the house sold and along came a Blue Monkey.
Confused?
In 2008 John left his job and sold his house to start a brewery with his Uncle. Hence, Blue Monkey Brewery was born. The brewery was a storming success and has gone from strength to strength. However after five years John decided that was it, he had developed the brewery as far as he could.
In 2013 he sold his stake in Blue Monkey and resigned. What was he thinking? With new projects in mind, whatever they were led him back to brewing, I guess he missed it.
It's A Vocation
In 2015 a new start was on the cards and brewing was the game. Welcome to Vocation the second time around brewery for John Hickling. Returning to his hometown in Yorkshire John set up the new brewery from an old Turkey shed.
The experience gained from his first brewery has proved valuable and seen Vocation grow considerably. In fact they are even in the Asian market through a partnership with Gweilo Beers based in Hong Kong.
It seems Hickling was meant to brew and thank goodness for that, may be it was a matter of life and death.
What Is Life And Death?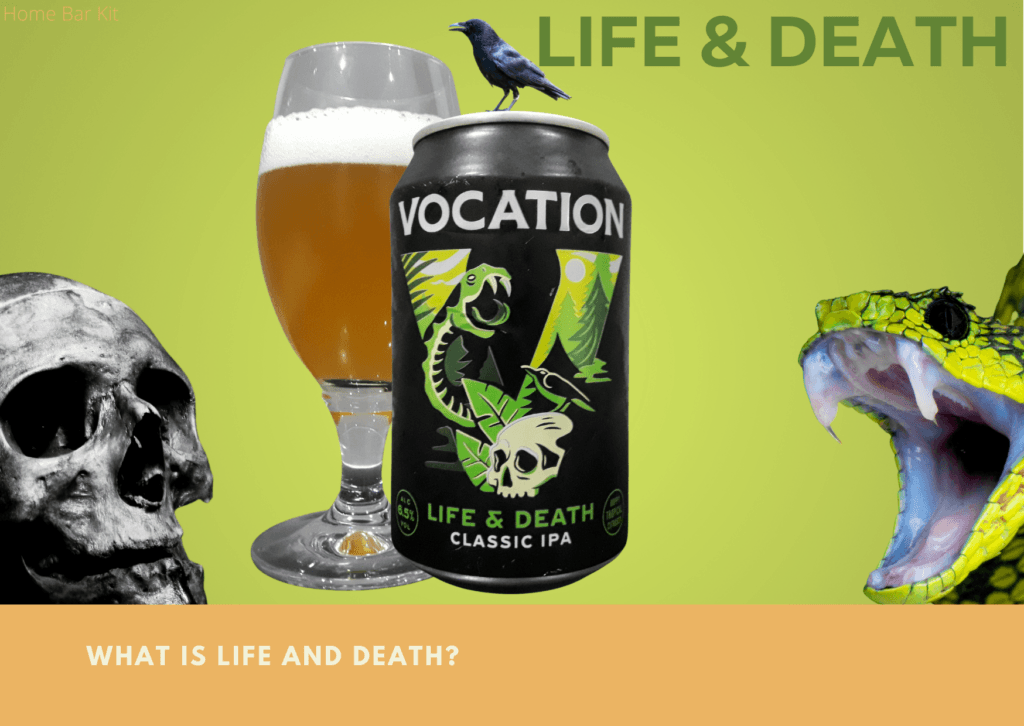 It's beer my friend, it's beer. And a delight it is too, with a hoppy front, that has a tropical citrus body ending in a bitter sweet place. Citra and Mosaic hops give it that citrus fruity feel and a smooth bitterness, with an earthy background.
It pours a slight hazy golden orange settling with an ample foamy covering. The head does dwindle slightly but maintains enough to keep a lid on things. The lively aroma sings a fruity song with hints of grapefruit, mango and a pine. In fact you can almost taste it before you taste it.
Going in for a sip confirms those strong aromas and brings them direct to the tongue. A citrus burst with a grapefruit base zings to leave a modest bitter sweet end. As the beer descends a white lacing garnishes the side of the glass.
A full bodied IPA that packs a punch but leaves you wanting more. Subsequently, Vocations Life And Death deserves a high rating of 4.8 -5.0.
More Beers Enjoyed By Me.
Additional Beers From Vocation
What else have they got up their sleeves? Plenty actually, from a mango pale ale to barrel aged stout, there is something for everyone. Therefore every beer lover can get excited and start stocking their fridge with a few beers from Vocations collection.
Big Squeeze
First we have a mango pale ale that gets the taste buds dancing with some real mango for that tropical experience. It is sunshine in a glass begging for a hot day to show off its freshness.
At a modest 4.0% Vol its a session winner. A real summer pleaser that will invigorate the taste buds and satisfy the quench. In fact its a big citrus mango dream with a slight bitterness. What could be better for a BBQ or garden party?
Triple Vision
Secondly, if living on the edge is your thing, then Triple Vision is the beer for you. A triple IPA that is strong on flavor with real strength to back it up.
With Citra Incognito, Citra Cryo, Calypso and Columbus, it's a hop extravaganza, promising some bold flavors. Vocation have gone for real complex flavors that come together to produce a very strong beer. However at 10% Vol its a one off treat to relish, because a session beer it is not.
Imperial Kirsch
Finally, if you are looking for a bit of luxury. Imperial Kirsh is a rich and decadent celebration of a chocolate and cherry stout. I'm in, it has to be tried, indeed it would probably make a great dessert beer. However, no more than one though, it's too rich to go back for another, and at 11% Vol would be foolish too.
It pours like a black velvet dream, with a thin creamy cap. Once this beer is brewed, it then has a spell aging in Cognac barrels, just to develop a little more richness. A truly sumptuous stout for a bit of luxurious beer drinking.
Final Thoughts
It seems then that this brewery is aptly named Vocation. John Hickling built a successful brewery along with his Uncle. Blue Monkey however is still going from strength to strength to this day. But he gave it all up to pursue other projects.
Afterward, realizing how much he missed brewing, he started again. He just knew it was a vocation and any beer lover would thank him for that. Life And Death is a great IPA, hoppy, with a citrus body and a subtle bitter ending, not to be missed.
However, it is not the only beer on offer, just as the three above prove, but they are just the tip of the iceberg. Vocation beers are a must try for any beer enthusiast. Share your thoughts on any of their beers you have tried below.