Now some forty years old, this is the original beer from Brasserie D'Achouffe. A Belgian brewery in the Ardennes region of Belgium. It's a strong blonde beer with a little spice kick. But what's it like drinking La Chouffe beer?
Made by gnomes, the bottle may be small, but it packs a punch on strength. Marcel the original gnome is behind this punchy little blonde beer, so what's it like?
What's It Like Drinking La Chouffe Beer?
Drinking La Chouffe beer is like drinking a premium Belgian beer. You get what you expect, its strong and flavoursome. On the nose it shares a subtle malt base powered by a citrus lemon. The taste kicks in with a citrus hit of lemon sweetness over a malt base, a hint of spice lurks in the background. The best bit is the nice bitter to finish. It gets a rate my beer score of 4.6 – 5.0.
It is smooth almost creamy with a medium carbonation swirling the flavours around the mouth, lovely.
Brasserie D'Achouffe
What started as a hobby turned out to be a big success worldwide. It all started in a garage with Pierre Gobron and Chris Bauweraerts who decided they wanted to brew beer.
In 1982 the first batch of beer was produced and at this stage it was just a personal project. However in 1986 the real venture took off and La Chouffe was born.
The name doesn't actually mean anything, it was suggested by a colleague over lunch. The name stuck and the Chouffe story began.
Marcel the gnome was a fun alternative to a monk, which there seemed to be a lot of at the time finding there way on to beer bottles.
In 1983 Marcel the gnome made his first appearance on the label of La Chouffe blonde beer.
As the breweries range of beers have grown, so have the range of gnomes. Each beer has its own gnome associated with it.
The brewery grew and over the years has expanded several times due to demand. However in 2006 the brewery was acquired by Duvel Moortgat.
It is now completely run Gnomes who not only brew the beer, but guide the brewery tours too.
Drinking La Chouffe Beer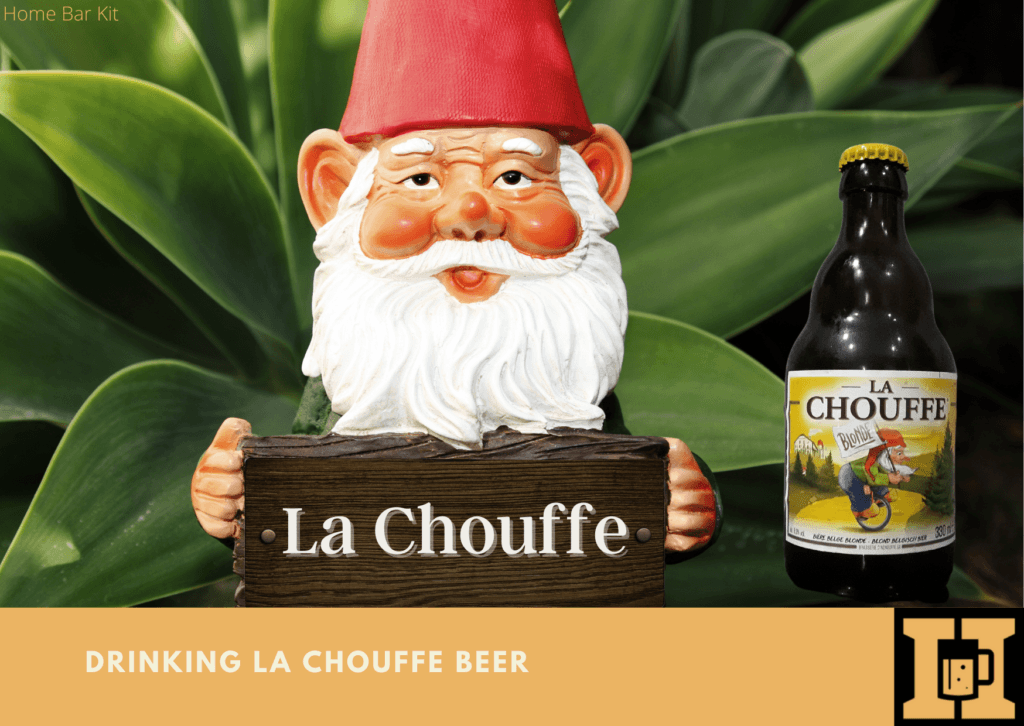 La Chouffe comes in a dumpy little 330ml bottle with the famous Marcel on a unicycle. I pour it as I think it should be poured. I pour two thirds of the beer into a glass at a 45° angle. Then swirl the bottle and top up the glass.
In the glass its a light hazy gold with a generous white head. This does fade to a half inch top, but stays the duration creating a nice lacing around the glass.
The nose is lively with a subtle malt base, but shinning over the top is citrus lemon. Its a sweet powdery sherbet lemon.
The lemon is the star of the show in the taste, however the subtle malt base is accompanied by a little spice note balancing it out. Its refreshing, fruity, flavoursome and laced with a nice bitter edge.
Although it is packing strength at 8.0% Vol it doesn't feel like it, its so smooth and easy to drink.
I like it, a decent blonde beer with a full body and bitter end. It gets a rate my beer score of 4.6 – 5.0.
M'Lady describes it as a light carbonated beer with a strong bitter lemon aftertaste. Lou thinks its okay, but not the best Belgium beer and scores it 3.7 – 5.0.
More Rated Beers
Brasserie D'Achouffe Range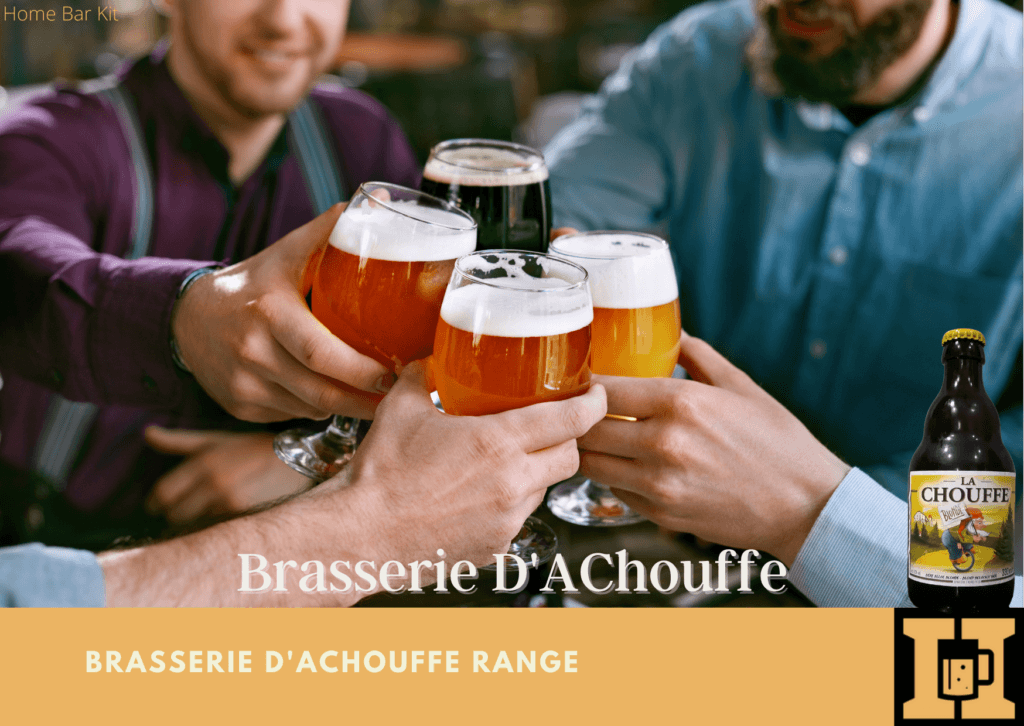 Brasserie D'Achouffe have a decent range of beers, including an alcohol free Chouffe. Others include a cherry beer, a Belgian IPA and a dark Belgian beer.
They all sound delightful and here are a few that have made my beer hit list.
Mc Chouffe
This is the dark Belgian beer I just mentioned as is one I really want to get my hands on. A Chouffe represented by Malcolm the Scottish gnome in a kilt.
This dark ruby coloured beer has a thick creamy head and some distinctive flavours. A full bodied malt caramel base has notes of liquorice and aniseed. An array of fruity flavours compliment a slight bitter finish.
Sounds great and definitely one I want to try. However it packs a punch at the same 8.0% Vol of La Chouffe, so one to savour.
Houblon Chouffe
Houblon Chouffe is a strong Belgian IPA and represented by Matthew the gnome, who loves a hop or two. Just as well as Houblon is made with three hop varieties, Amarillo, Saaz and Tomahawk work in harmony to give this IPA hoppy ending.
Hints of grapefruit rise over a fruity body with a strong hoppy bitterness, it sounds perfect. Talking of strength, its not for the faint hearted and weighs in at 9.0% Vol.
Just the one then.
Cherry Chouffe
As you might expect this Chouffe is cherry based and is represented by the fruity gnome Micheline. Its not all about cherry though. This red beer with its thick foamy head also has notes of strawberries, as well as almonds and spices.
It's like a sweet port beer that has a little bitterness on the back end. It might come across as a light delicate beer. However it still packs a punch weighing in at 8.0% Vol.
Interested to try it, but I hope it isn't too sweet.
Final Thoughts
Brasserie D'Achouffe have a good selection of beers in their core range. However apart from the alcohol free beer, the lowest ABV is 6.0% vol and go as high as 10% Vol.
So they are not into producing session beers then, but having said that, maybe they are beers to savour. I can go with that.
And I am pleasantly surprised to discover La Chouffe blonde beer. I also looking forward to sampling the other beers in the range too. I can't believe I have not come across these beers before, maybe the gnomes have kept them from me.
However now I have tried one, the others will follow some time soon.
Perhaps you have not taken as long as me to try the Chouffe beers. If you have had this blonde one or any of the others in the range, then why not share your thoughts in the the comments below.