When building out a home bar we do tend to emulate what a typical bar looks like, that's the point. We want our home bar to be just like a bar and sometimes we spot things in bars we want to copy. A row of glasses hanging upside down above a bar, just looks cool. Why are glasses hung upside down in a bar?
Not for decoration, although as I said it does look cool, but a great thing to reproduce in the home bar. Glasses hanging upside down in a row not only looks good, but is practical too.
Why Are Glasses Hung Upside Down In A Bar?
First, the main reason seems to be for convenience and easy storage. Second, stemmed glasses hung upside down creates a great storage solution, saving shelf space. Third, glasses are kept organized and clean, the glass bowl will not be contaminated by dust or other debris. And forth, they look really cool.
** This post contains affiliate links for your ease. This means that if you choose to make a purchase. I will earn a commission. This is at no additional cost to you.
How about the debate for whether glassware should be stored rim up, or rim down, nobody seems to know the right way.
Should Glasses Be Stored Rim Up Or Rim Down?
Before we get into hanging glasses upside down, I thought it might be a good idea to stir up the old debate. Should glasses be stored rim up or rim down?
What's the official way to store your glasses? No one has stuck their neck out and stipulated which way is right. However people are certainly divided on how they store their glassware. Reasons appear positive on both sides of the fence and subsequently personal choice is the main factor.
Now the rim up community say that the most fragile part of glass is the rim. Storing a glass rim down can damage the rim, through chipping or cracking. A second point for storing a glass rim up would be to stop moisture getting trapped.
Both valid points, however what about the rim down team.
Meanwhile the rim down community argue that by storing your glass rim down will prevent dust. Nothing gets into a glass stored rim down, no dust and no bugs. A camp of two sides divided by a fence, which side are you?
How Can I Hang My Stem Glasses Like A Bar Does?
Now I have finished stirring up the rim up, rim down debate, how about the hanging glasses. How easy is it to reproduce the familiar bar look? Glasses hang up side down by their stems, a beautiful thing. Besides looking great, hanging glasses are easy to replicate.
Beyond being aesthetically pleasing, hanging stemware is practical too. Firstly, they save space, valuable shelf space will house your solid base glasses. Second, hanging glasses will be dust free, air circulation keeps out moisture too. Third, a perfectly organized stemware collection.
In Brief, hanging stemware is easy to achieve, and achieved in several ways. For example, Under a bar overhang, under a wall cabinet or directly on a wall. Also, cost is a minor factor, as is fixing the simple brackets.
To illustrate, I have made a list of examples to get your stemware organized.
How To Organize Stemware
You will love the simple but effective way to store all your stemware. Finally no more busy shelves, no more shuffling glasses to find others. All stemware will be accessible and ready for filling with a favorite tipple.
So, lets take the plunge and dive into simplicity.
As an Amazon Associate, I earn from qualifying purchases.
Under Cabinet Stemware Rack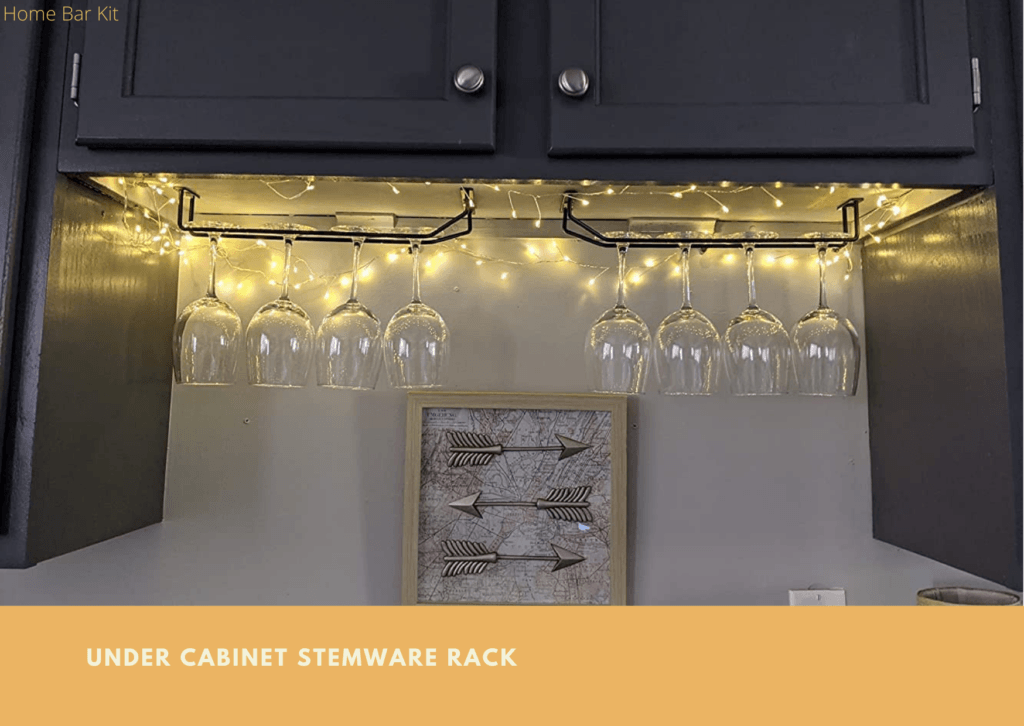 Check Latest Price
Although I have put under cabinet rack, these will also work under a shelf or below a bar overhang. They are for fixing under a surface so the glasses can hang down from their bases.
They come as a set of four, each with a length of 14 inches (35.5 cm) and can fit four standard wine glasses. Having said that, wine glasses vary considerably, with different sized bowls. So, they may only accommodate three wide bowl wine glasses. Equally they may house five narrow bowl glasses, such a Champagne flutes.
They can be fixed from wall to front of cabinet in lines, or side ways depending on preference. Either way they look great and organize your stemware perfectly, whilst saving shelf space too. Not just for wine glasses, these racks will accommodate sherry glasses, brandy glasses and even stemmed beer glasses.
A simple and effective way of storing stemware.
Stemware Storage Hanger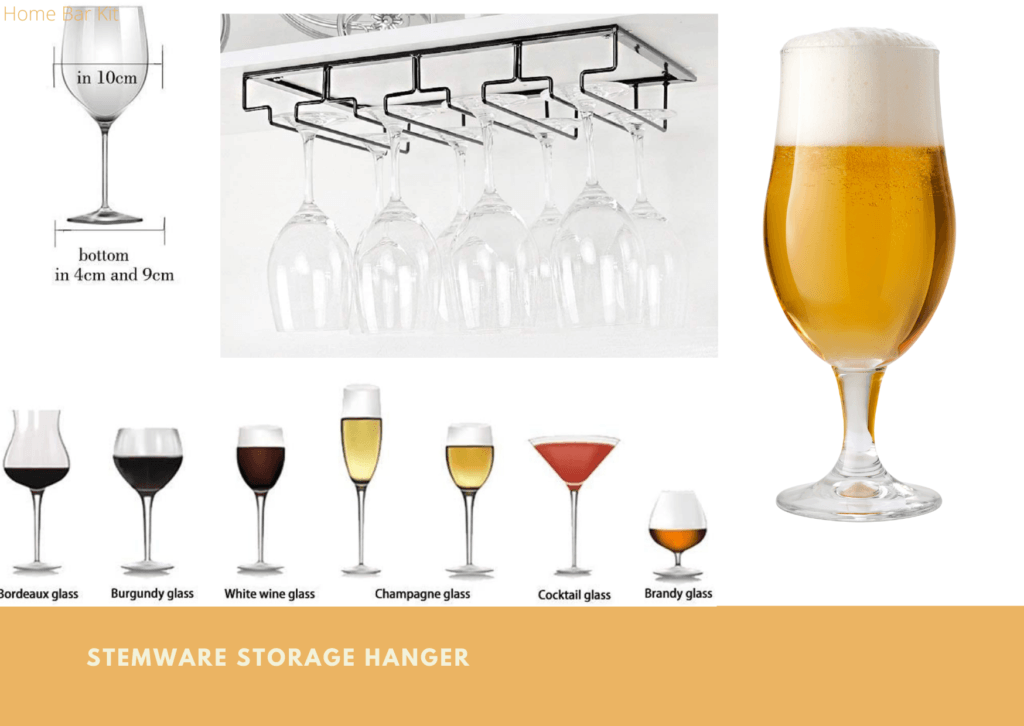 Check Latest Price
Also a rack that fits under a cabinet or bar over hang, a four row cluster unit in one. A pack of two, each holding four lines of glasses. However they are not the same depth as the previous rack. Measuring only 9 inches (22.8 cm), they look to only hold two to three glasses in each row. Obviously this depends on the bowl size of the glasses in question.
Again, suitable for a variety of stemware, including wine glasses, cocktail glasses, brandy glasses, sherry glasses and of course Champagne flutes. Another thing to take into consideration when buy a stemware rack is to check the width of the rails. This model will accommodate glasses with bases up to 3.5 inches (8.9 cm). The stem width should be no thicker than 1.37 inches (3.4 cm).
A neat compact four row stemware rack.
No Fix Under Cabinet Stemware Rack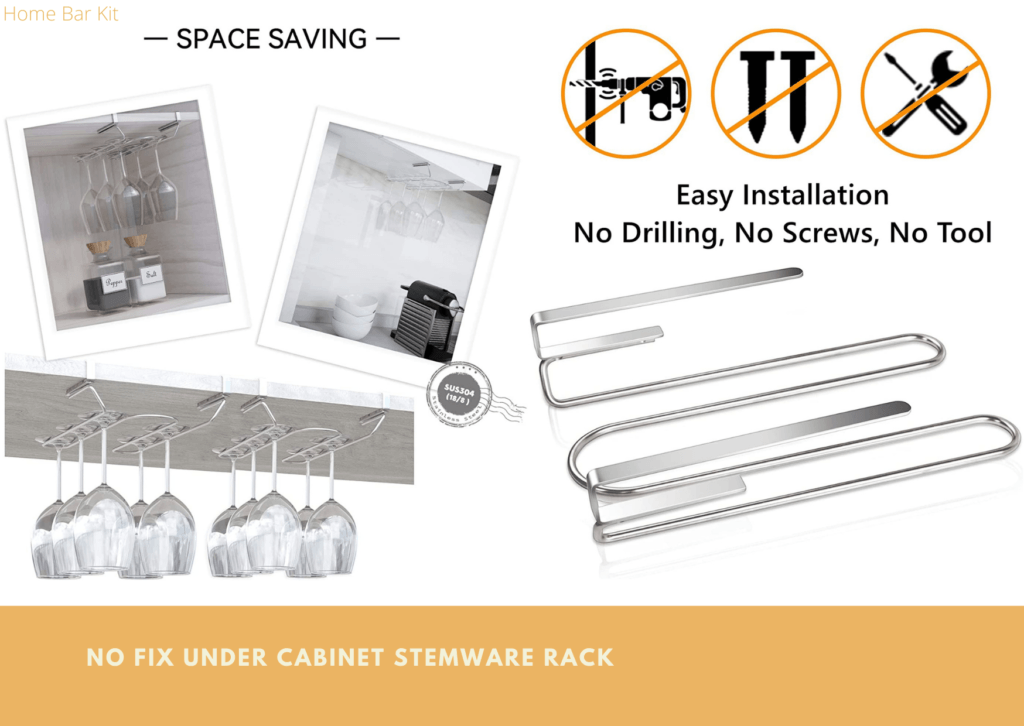 Check Latest Price
In contrast, although these racks are still for under cabinets and shelfs, they are a little different. Unlike the others, they do not need fixing, no drilling and no driver needed. Simply, they just slide over the shelf or cabinet base.
Supplied as a two pack, each one has a double row and can hold up 4 glasses per row. Again, this will depend on the size of said glasses. Each double rack is 7.0 inches (17.8 cm) wide and 10.2 inches (25.9 cm) in depth. As for the shelf or cabinet base, the thickness range is 0.5 inches (1.3 cm) to 0.9 inches (2.2 cm).
A Convenient alternative stemware rack for those that do not want to put fixings into their cabinets or shelves.
Wall Mounted Stemware Racks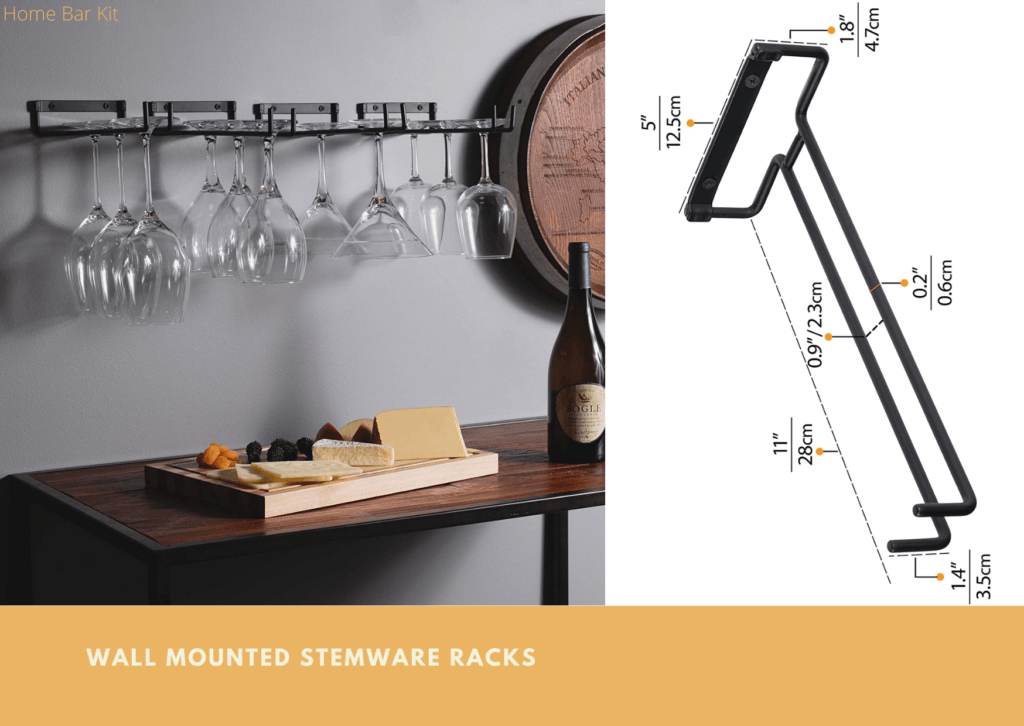 Check Latest Price
For those that prefer to mount a stemware rack on the wall, these units are ideal. As a pack of four they can serve up to sixteen wine glasses. But as already mentioned, this will depend on the size of the glasses.
Being four individual racks, will fit any configuration requirements. In fact place them and space them where ever needed. In essence, because of their wall mounted design also work under a cabinet or shelf. Each unit measures 11 inches (28 cm) in depth and have a fixing bracket 5 inches (12.5 cm) in width.
Versatility at its best with this four pack of stemware racks.
Wine Rack With Built In Stemware Rack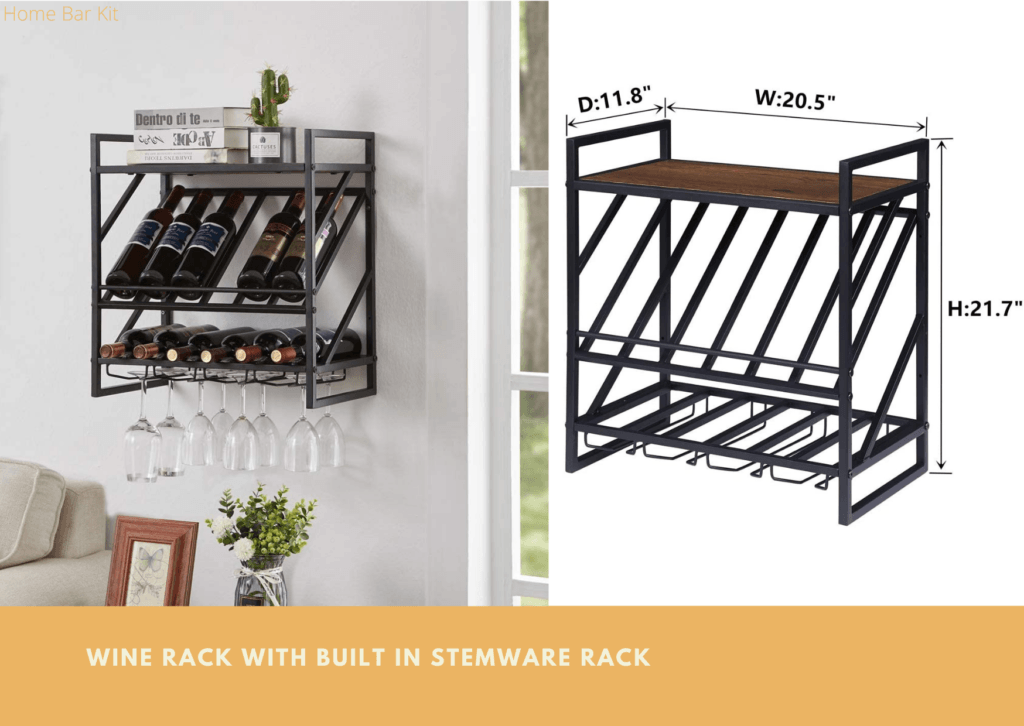 Check Latest Price
In addition to a stemware rack, why not incorporate a wine rack too. Keep your favorite wine right alongside your favorite wine glasses. Designed to hold twelve bottles of standard wine, this wall mounted unit has a stemware rack too.
Comprising of four rows, each row can hold up to four wines glasses. Again I am going to remind you that this does depend of the size of said glasses. The complete unit measure 11.8 inches, just shy of 30 cm. It measures in at a width of 20.5 inches (52 cm) and a height of 21.7 inches (55 cm).
A truly compact neat unit combining bottle and glass storage together.
Versatile Shelf Liner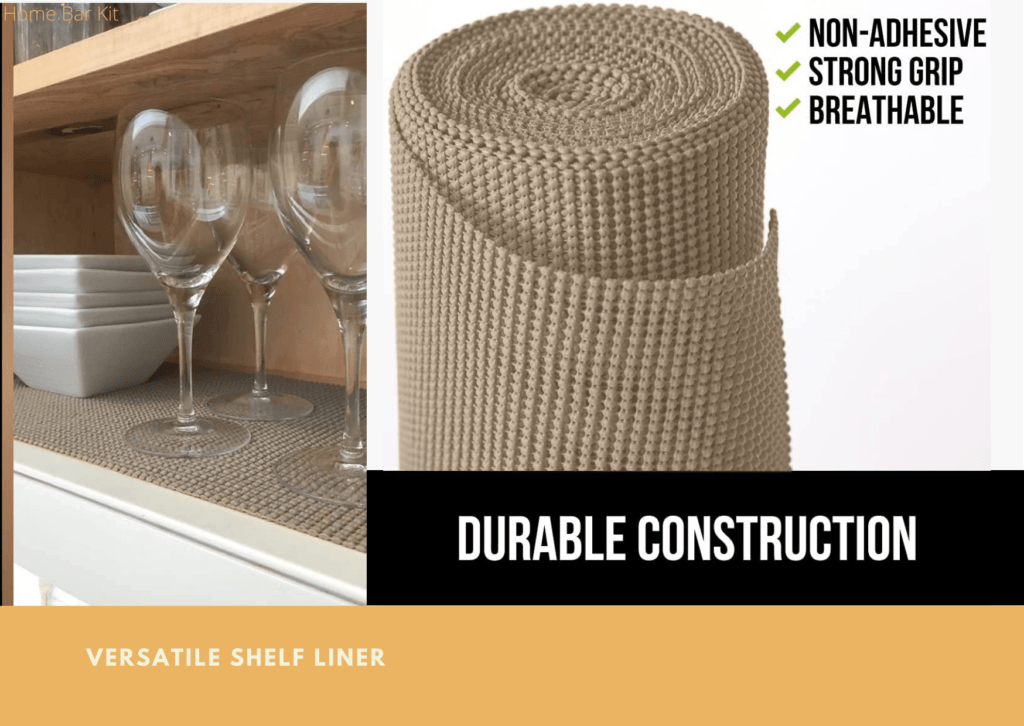 Check Latest Price
Finally we have a bonus item, which accommodates those that prefer to store glasses rim down. A versatile mat which cuts to suit the space available. Protects the rim, whilst also allowing air circulation, therefore avoiding trapped moisture.
Generous in size, a roll measures 12 inches (30.4 cm) in width, whilst the length is a massive 12 feet (3.6 m) long. Consequently, a huge amount of shelf lining can be performed, protecting more than just glasses.
A must have for any home bar or kitchen.
Final Thoughts
Hanging glasses upside down works both aesthetically as well as practically. Whether a wall mounted rack or under cabinet rack, both serve a sound purpose. Additionally all stemmed glass ware stays safe and organized.
Equally important, storing of solid base glasses can be aided with a decent shelf liner. Inexpensive, but very effective in keeping glasses safe, whether rim up, or rim down. Share your glass storage thoughts, how do you store them? And are you a rim up or rim down?