A new offering from Northern Monk Brew Co, a Hazy IPA launched under the Faith In The Futures range. The Moody artwork comes from the freelance artist Tank Petrol. So I find myself drinking Tank Petrol Hazy IPA, but is it any good?
I am pretty sure that the beers launched under the Faith In The Futures scheme are all twists of the Monks great beer Faith. However will this one come close to Faith?
Drinking Tank Petrol Hazy IPA, Is It Any Good?
It is a good beer, however it doesn't hit the heights of Faith. Which is still the best beer I have had from Northern Monk. The nose is a vibrant tropical fruit affair, with mango, pineapple and grapefruit bursting from the glass. The taste mimics the smell with all said fruits and more swirling around the mouth not missing a bud. A little tart up front with a much needed bitterness on the back end. Not bad, it scores 4.0 – 5.0.
It's a typical hoppy fruity hazy IPA. Easy to drink, but nothing special.
Northern Monk
I am not going to talk about how the brewery got started or by whom. I have covered this in other beer reviews of the Monksters brews. You can find them on the Northern Monk Brewery page.
As Tank Petrol is a Faith In The Futures beer, I will explain what this means. It started out in 2019, named For The North Foundation.
The brewery was started off the back of a £5000 gift from a Grandparent. Inspired by this, the foundation is to support businesses, charities and projects around the North with £5000 grants.
In 2021 the foundation developed into Faith In The Futures. No longer would it be just about the North, there are now no borders to the grant scheme.
Furthermore each Faith In The Futures beer sold will include a donation to the foundation.
Tank Petrol Hazy IPA
As this beer is a foundation beer, it would be rude not to mention the artwork. Which by the way is very striking and a little dark.
Tank Petrol who was born in Poland is now based in Manchester, England. His work is based on the nature and diversity of women. Each portrait reflects and explores different emotions.
So that's the artwork, but what about the beer?
Drinking The Beer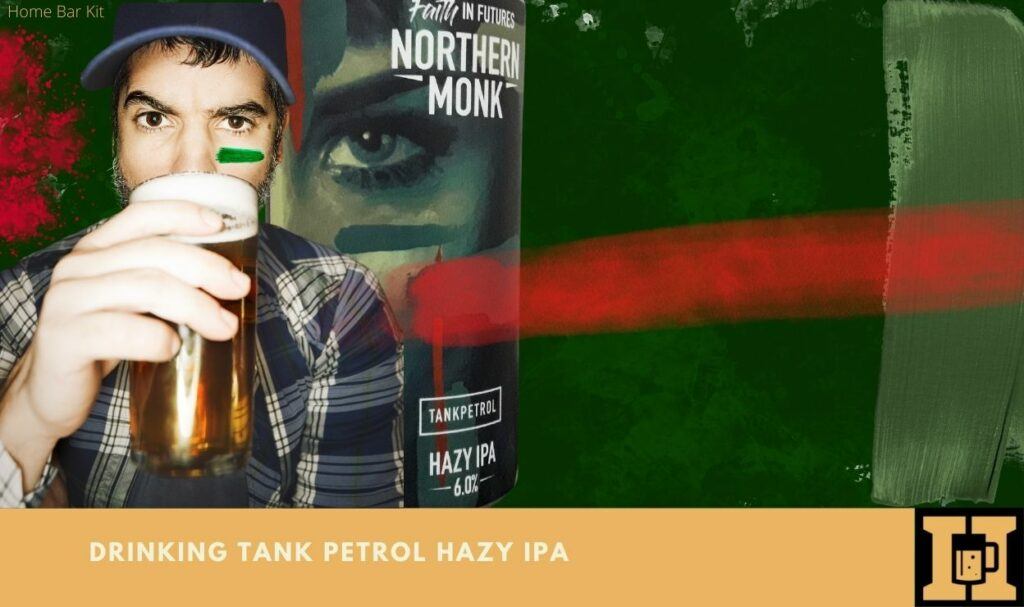 It pours a straw like light gold which is definitely hazy. A generous brilliant white fluffy head sits on top, which does fade a little. However it sticks around for the duration and decorates the glass with a nice lacing.
The nose is vibrant and explodes with an array of tropical fruits. For me any malt base is overpowered by the likes of grapefruit, mango and pineapple. But stick with the nose and a hint of peppery mint comes through, which is nice.
The taste is a similar affair with a burst of tropical fruits exploding in the mouth. Up front there is a sweet and slightly tart taste, which in the end gives way to a pleasant bitterness. A medium carbonation and a smooth mouthfeel give it an almost creamy texture.
It feels way more drinkable than its 6.0% ABV strength tag. However a little light and easy to drink, it doesn't have the depth of Faith Hazy Pale Ale.
Nevertheless it is a drinkable little number and gets a rate my beer score of 4.0 – 5.0. M'Lady likes it too, but thinks the tart bitter grapefruit is a little overpowering. Not as sweet as the nose suggests, but not unpleasant. Lou scores it an identical 4.0 – 5.0.
So it's okay, but a little weak in comparison to Faith.
The Monks Beer Range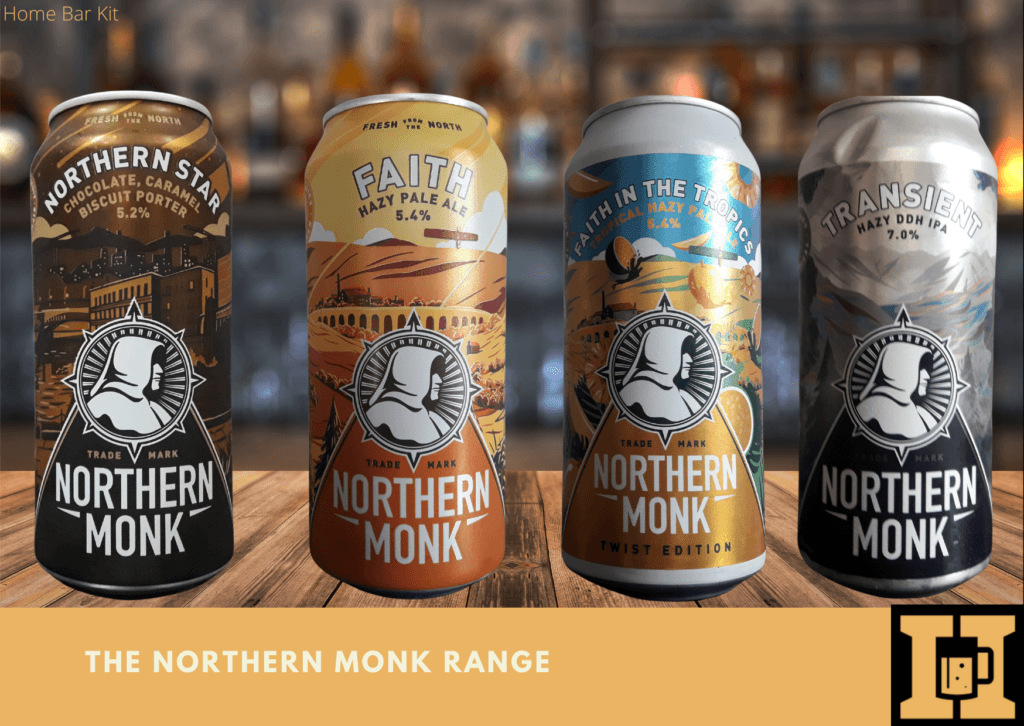 Northern Monk brewery is an exciting brewery, they brew a wide range of beers and styles. However some of which I am not sure I want to try Neapolitan Ice Cream Pale Ale or Mothernutter a Peanut Butter and Jam Brown Ale.
I don't really want ice cream or jam in my beer, thankyou. Having said that, I bet I would drink them if they fell in my lap. The point it the brewery make a lot of beers, here are a few from their range.
Wasted
This is a wacky one, but with a good cause behind it. Wasted is a Hot Cross Bun Pale Ale, so I think we can all guess how it is going to taste.
Apparently over 10 million hot cross buns are wasted every year. Northern Monk support Surplus 2 Purpose and enterprise that rescues surplus food from going to landfill.
It sits on the limits of session, coming in at 5.0% Vol. Why not try it with a hot cross bun.
Rocket Lolly
Another crazy IPA from Northern Monk. Obviously based on a ice lolly, it screams strawberry, orange and pineapple flavours.
In the glass it is a very light straw and a sessionable 4.7% Vol. Not really my glass of beer, but it will appeal to those that like an explosion of fruit in their beer. It has been described as a light alcoholic squash.
New World IPA
Back to proper beer, this IPA is a tribute to the new world hops that first arrived in the UK in the 1800's. At 6.2% ABV it looks like it is a reasonable strength standard India Pale Ale.
This one would take priority over all of the weird and wacky flavoured beers from Northern Monk. A proper beer that's worth a try.
Final Thoughts
I do like Northern Monk, all the beers I have tried from them so far have been good. But their range is a little saturated with pales, half of which are hazy pales.
But hey, if your bag is IPA's/Pale Ales, then they have plenty to choose from. However you will find some lagers, bitters and porters too.
If you have tried Tank Petrol, then do share your thoughts below. How did it stand up for you, go ahead and give it a rating.