This Belgian strong amber ale is from a small craft brewery in Sicily, Italy. Although it came to me via a Sicilian deli in Cardiff, Wales.
It is unpasteurized, unfiltered and continues to ferment in the bottle, so expect some sediment. On top of that it is dry hopped and packs a powerful punch at 8.5% ABV.
Sounds promising, but what is it like?
It is okay, although I wouldn't say it is an amber ale. The pour leaves a dark hazy beer with a generous white head. On the nose it smells like a porter with rich malt caramel and aromas of chocolate and coffee. The same goes for the taste, it reflects the nose with a malty caramel base and distinct chocolate and coffee notes. It's an okay beer and gets a rate my beer score of 3.8 – 5.0.
I could only drink one of these beers, which is just as well with its high ABV. But also because it is quite sweet too.
Birra Pasi
It is hard to find out much about the Pasi brewery other than it is a small craft brewery in Sicily, Italy. The tag line of the brewery says that it is born from the passion of Paola and Silvana who are feminine brewers.
So I guess Paola and Silvana are the two behind the brewery, which I gather was inspired by the atmosphere of London. I think the first brew may have been made in a bathtub in Camden Town, London.
They brew a small range of craft beers, which I think they say is the best beer in the world. Situated in the town of Vittoria which is in the Ragusa region of Sicily.
That is about as much as I know about Birra Pasi, if I find out more I will update the post in the future.
Belgian Strong Amber Ale By Pasi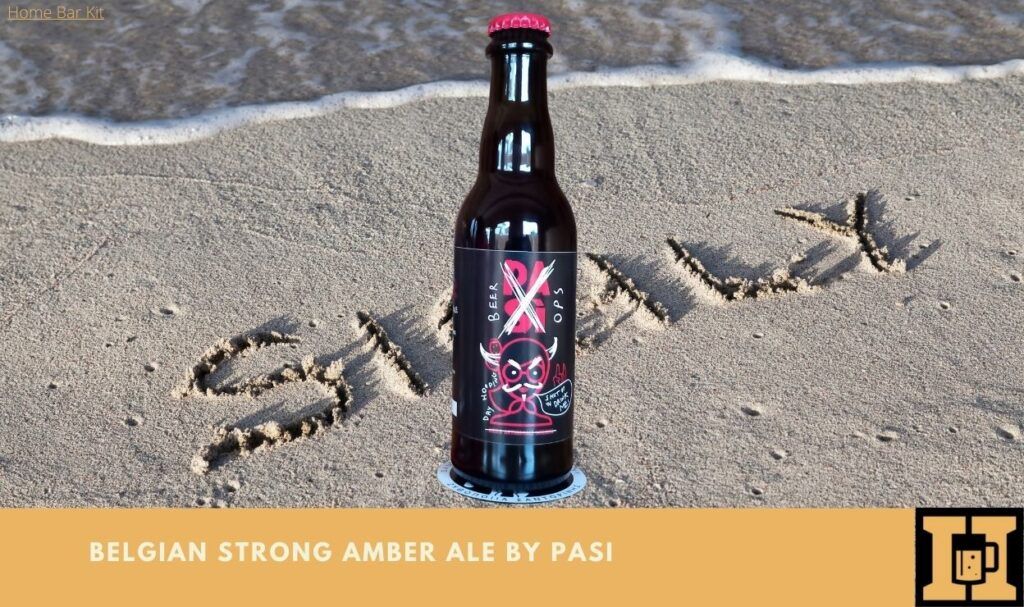 This beer was bought for me by a good friend Jen when she was in Cardiff recently, thanks Jen. She saw it in the window of a Sicilian Deli and went in and got it for me. It was delivered by Suzie who is Jens daughter along with two other beers from Jen.
I think this beer is a limited edition and made in collaboration with OPS which is an advertising agency. So Pasi brewed the beer and OPS tinkered with the beer label to make it unique and stand out from the rest of the range.
The label has the original cartoon style woman's head and shoulders. However it has a little added detail like drawn on horns goatee style beard and a caption saying "Shut Up N Drink Me". There are also the words 'Dry Hopping' illustrating the technique used during the brewing process.
It is all very inviting.
Drinking Birra Pasi
I expect it to be an amber colour when I pour this beer. However it is anything but amber, in fact it is very dark in colour.
A dark brown beer sits in the glass with a three finger thick set white head. A little carbonation rises up inside the glass.
The nose is lively with distinct malty caramel stealing the show. In the background aromas of coffee and chocolate tease the taste buds.
Not exactly what I expected from and amber ale, it smells more like a porter style beer.
The taste is just the same with a solid malt caramel base that is quite sweet. The chocolate and coffee notes hit the mouth. But instead of adding a bitter edge, seem to add to the sweetness.
It is a nice enough beer, but a little too sweet and I couldn't go for a second. Which is just as well with its 8.5% ABV. It gets a rate my beer score of 3.8 – 5.0.
M'Lady is of similar opinion saying "A sweet ale with prominent tastes of caramel and coffee, there is no sign of bitterness, but its just okay really." Lou scores is slightly less at 3.5 – 5.0.
As Suzie delivered the beer and stopped for a drink, she also gave her opinion on the beer too. Suzie says "It's like a warm coffee chocolate beer that I would enjoy as a one off." Suzie goes slightly less again scoring it a straight 3.0 – 5.0.
So the verdict is an okay beer that failed to impress us that much.
Birra Pasi Beer Range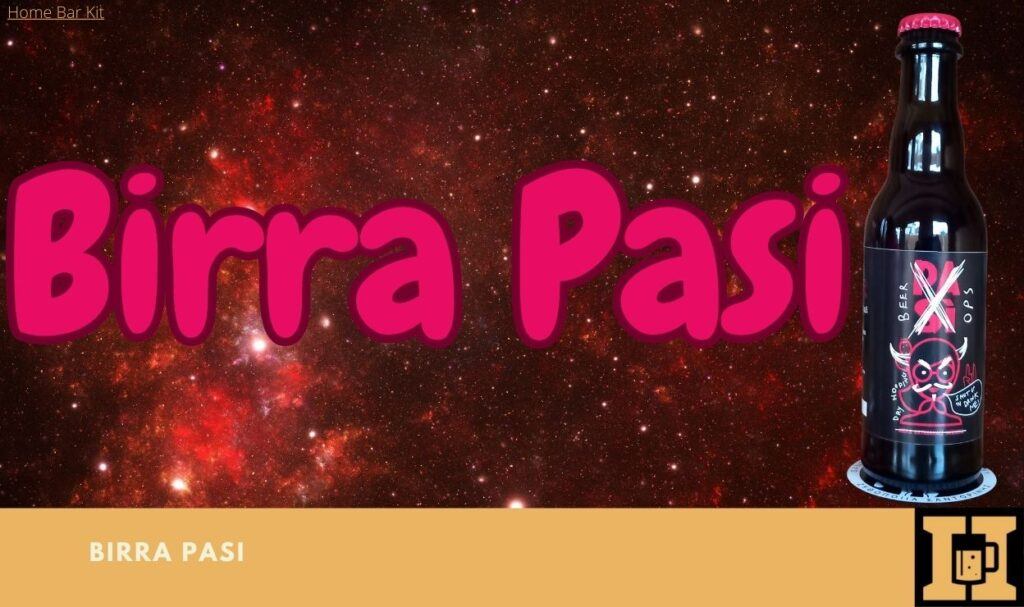 Birra Pasi has a small craft beer range, but again it is hard to find out much about them. Their website doesn't want to load, so no information there. There is a little bit on their social media, but not a lot.
The range consists of Ambrata which is their standard Amber Ale and weighs in at another hefty 8.5% Vol. Blonda, which is a 5.0% Vol blonde beer. Rossa, which is a red beer clocking in at 7.0% Vol. Finally there is Porter, which is obviously a porter and is a medium body with obvious chocolate and coffee notes.
Sounds like the one I have just reviewed which says 'Belgian Strong Amber Ale'. I think there may have been a mix up some where along the line.
Final Thoughts
So this beer which claims to be a Belgian style strong amber ale is more like a porter. A little confusing and may be there has been a mistake, not sure, but one thing is for certain, it is definitely strong.
It will be nice to find out more about the brewery and their story, which I will continue to seek out. I will also look to find the other beers in the range too.
If you have tried any of the Pasi beers then do share your thoughts below. Especially if you have had this Belgian style beer, it will be interesting if others get porter rather than an amber ale.