If you put a name like that on a beer, then it had better be good, in fact it should be the best. So is Thoroughbred IPA a good beer?
I had this beer on tap at a craft beer pub, it comes from Hambleton Brewery in North Yorkshire, England. Going by the name, I expect it to be a decent IPA, but what is the result?
Is Thoroughbred IPA A Good Beer?
It is safe to say that Thoroughbred IPA is a great beer, a no nonsense IPA. It Pours a light gold with a medium foamy white head. On the nose it is citrus hoppy with notes of grapefruit, peach, lemon and just a hint of spice. The taste is lively with hoppy citrus front exploding with an array of tropical flavours. A creamy smooth mouthfeel with a light sweetness is balanced by a satisfying bitter end. A Thoroughbred IPA that gets a rate my beer score of 4.6 – 5.0.
It goes down well, maybe a little too well, but at least it just qualifies as a session beer.
Hambleton Brewery
What do you do when you have a pair of wellies, some old steel tanks and a rusty car?
You start a brewery of course.
That is what Nick Stafford decided to do back in 1991 in the garden of his wife's parents house. By 1994 something had to give and Nick moved the brewery to an old barn and the in laws got their garden back.
In 2007 with the brewery growing another move took the brewery to Melmerby, Ripon where it is today.
Nick's plan from the start was simple, he wanted to make great beer. I think he has achieved that, especially with many awards under his belt.
The white horse logo is said to be the Kilburn white horse that is carved in the Hambleton Hills and covers over an acre of land.
Drinking Thoroughbred IPA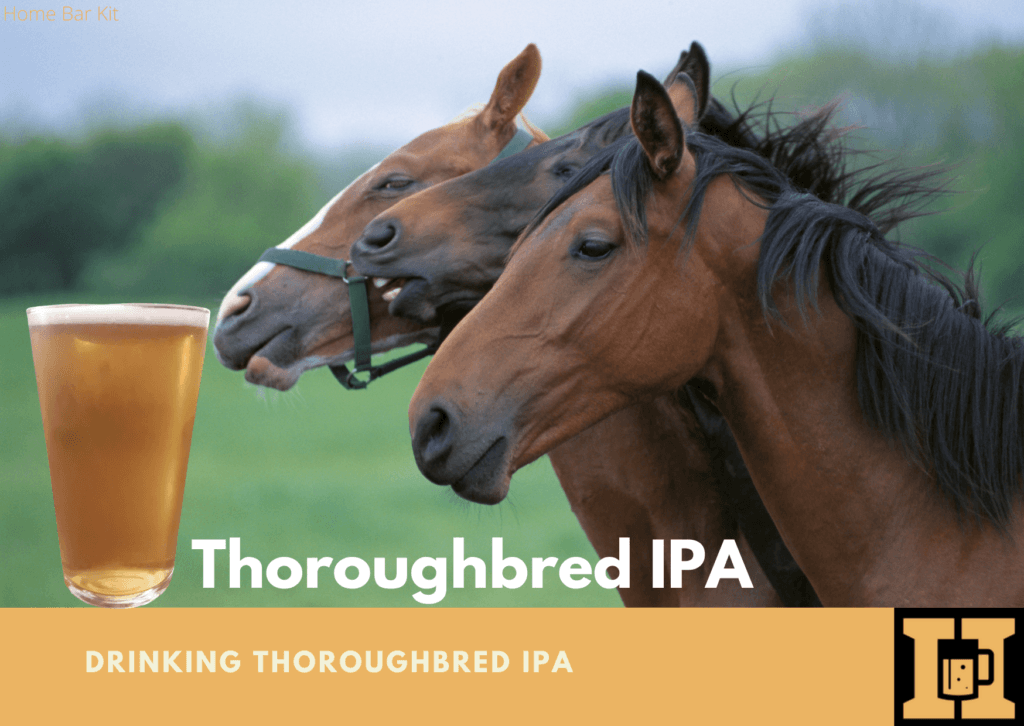 This is my first beer from Hambleton brewery, but it won't be my last. A real decent IPA fruity, hoppy with some nice bitterness.
The bartender pours it carefully and the white foamy head is about one finger. This does settle to half a finger by the time I get it to the table.
A decent amount of carbonation floats up the glass and a good lacing decorates the glass as it goes down. A clear light golden colour in the glass awaits attention.
The nose is a citrus hoppy affair with plenty of tropical fruit aromas and just a touch of spice in the background.
It's a similar story when you taste it, a real citrus hoppy front attacks the mouth. Tropical flavours of grapefruit, pineapple, peach and lemon swirl around carrying a little sweet note.
It has a smooth creamy fill and it all ends with a perfect slice of bitterness.
A nicely balanced smooth hoppy IPA, fruity sweet with a bitter finish. I like it and it gets a 4.6 – 5.0 rate my beer score.
M'Lady likes it too, Straight and to the point, Lou says "a good hoppy IPA with plenty of citrus and a bitter aftertaste." Lou scores a slightly lower 4.4 – 5.0.
Hambleton Beer Range
Hambleton have a good range of beers and all of them are vegan friendly. There is a low alcohol beer, a few gluten and wheat free beers. A lager, blonde beer, bitter, pales, IPA's and porters make complete the range.
All brewed with the same thing in mind, 'male great beer' sounds good to me. Here are a few I fancy getting my teeth into.
Nightmare
Nightmare is a four malt porter that weighs in at a session border of 5.0% Vol. This is a beer that went wrong, but surprisingly turned out well.
On brew day Nick ended up using the wrong malt by mistake and instead of getting a light colour beer, it came out black. Nick said it is a nightmare and the name stuck, plus the beer tasted good too.
So good it won a Camra award, and with its smoky malt flavours, a beer I want to get my hands on.
Stud
Stud is a popular Hambleton blonde beer, a crisp smooth citrus easy drinking beer. It uses a three hop combination of Northdown, First Gold and Celeia.
This is one of Hambleton's gluten free beers, and is light and refreshing to drink. At just 4.3% Vol its okay to go back for seconds and enjoy this well balanced malty hoppy beer.
Cavalla
Cavalla is a premium pilsner lager using Motueka and Hallertau Blanc hops for a light refreshing balanced beer.
A continental style beer with a full body, citrus over a malty base it weighs in at 4.6% Vol. It sounds like a clean crisp lager worth getting the chops round. Another gluten free beer from Hambleton brewery.
Final Thoughts
Hambleton brewery might have humble roots, but it has developed into a thoroughbred brewery. Today it still runs on the same mindset of just producing great beer.
I may have only had one of their beers, well actually I have had two, but it was the same beer. Anyway I am keen to try more of their brews, probably starting with Nightmare.
If you have experienced any of the Hambleton beers, then why not share your thoughts below. It will be interesting to know what you think, also you can rate them if you like.
Rob is a passionate home bar and pub shed enthusiast with a passion for craft beer. With hands-on experience in designing and building his own home bar, Rob shares his knowledge, tips, and inspiration to help fellow enthusiasts create their own perfect space. Alongside the world of home bars and pub sheds, Rob also explores the diverse and exciting realm of craft beer, providing honest reviews to help you discover your next favorite brew. Join Rob on a journey of flavor, design, and craftsmanship right here on Home Bar Kit.