Heroes are complicated but beer doesn't need to be. That is what is says on the can, this beer is a punchy west coast pale. A collaboration between Burning Sky Brewery and Verdant Brewing Co.
Both breweries are renowned for producing great craft beer appreciated by beer lovers far and wide. So this should be a great pale ale. What is it like then?
Heroes Are Complicated is as expected, a hoppy tropical citrus explosion in the mouth. It Pours a hazy orange with a one finger white top. On the nose it's a citrus circus of tropical fruits bursting from the glass. The taste follows the nose, hoppy citrus and fruity with flavours of grapefruit, lime and an orange peel feel. A slight piney hint, but then a pleasing bitter finish. A great fruity pale ale encased in a bitter package, it gets a 4.6 – 5.0.
A really nice refreshing fruity pale ale that goes down extremely well.
Burning Sky Brewery
Burning Sky Brewery is a small brewery set in farm buildings in Firle, a village in the south downs, East Sussex. England. Started in 2013 by Mark Tranter, who after a 17 year career brewing with Dark Star brewery, decided to go it alone.
After leaving Dark Star, Mark visited breweries across Europe and the US soaking up ideas and writing beer recipes.
Then in 2013 took the plunge and started Burning Sky Brewery in a barn. Mark has no interest in becoming a brewery that knocks macro style beers.
Instead the focus from day one has been to experiment with beer and produce unique beer. The brewery brew oak aged beers like saisons, as well as clean fresh pales and IPA's.
The former taking a long time to produce and the latter be faster brewing. One compliments the other and its a good balance of beers.
One thing is for sure, Burning Sky Brewery has made its mark in the world of craft beer.
I chose Burning Sky as the lead on this beer because it was brewed and canned at their brewery.
Verdant Brewing Co
A little about Verdant Brewing Co as they did Colab on this beer. Verdant started in 2014 and was formed by James Heffron and Adam Robertson.
Two homebrewers decided to start brewing beers they loved that were not available locally . Those beers are US inspired hop forward pale ale , IPA's and DIPA's.
The brewery started in a small industrial unit in Falmouth, Cornwall, England. In 2020 after a crowd funding campaign Verdant moved to a new facility in Penryn, Cornwall.
The brewery has gone form strength to strength and now has a taproom as well as a popular Seafood Restaurant.
Heroes Are Complicated
You know when you get a beer from either of these breweries it is going to be a quality beer. So the two putting their heads together and popping out a west coast pale ale can only be a thing of beauty.
And it is, from look to the vibrant aromas and the fruity explosion in the mouth, it is a triumph.
It sits in a 440ml can with the most striking artwork, which is done by a friend of Mark Tranter. A comic artist and illustrator who definitely deserves a mention, Simon Gane.
After admiring the can, it is time to crack it open.
Drinking Heroes Are Complicated A West Coast Pale Ale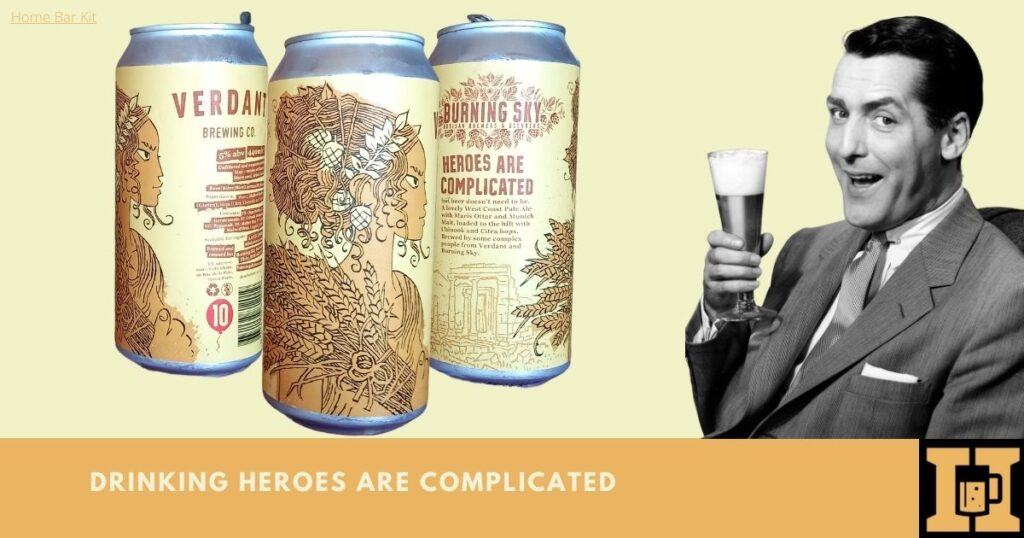 It pours a hazy orange juice like liquid with a one finger white head. The head does fade by half quickly, but leaves just enough to cover the orange beer.
On the nose it is vibrant with and immediate hit of hoppy citrus notes of grapefruit and I get orange too.
The taste is just as vibrant and kicks straight off with a strong hoppy hit. A medium carbonation pushes an array of tropical citrus fruits around the mouth. I detect grapefruit, lime and orange carrying the bitter edge of peel.
A little pine hides in the background before the whole thing comes together and ends with a nice bitterness that lingers in the mouth.
It leaves you wanting more and at a straight 5.0% ABV it sits on the edge of session, so it is allowed. To sum up it is a really nice pale ale with plenty of citrus bite and a nice bitter finish.
It gets a strong rate my beer score of 4.6 – 5.0.
M'Lady is impressed too, saying " A fresh smelling beer with a strong scent of grapefruit, it taste like marmalade with a bitter peel finish." Lou scores it slightly less at 4.3 -5.0.
A great beer produce by two great craft beer breweries.
Burning Sky Beers
Burning Sky have a decent range of core beers as well as seasonal and specials like Heroes Are Complicated. They have barrel aged beers as well as fast brewing pales and IPA's.
Among their seasonal you have again some saisons, summer ales and porters. They have done a huge amount of specials over time, including some colaborations.
Here are a few beers I have my eye on from Burning Sky.
Tail Crush
One of the core range, on the can of Tail Crush it says it is a table beer, which indicates it is an every day beer that is ideal with food. It's a tasty light refreshing beer with a fruity edge.
It is described as a little beer that is big on flavour. At just 3.0% ABV it is an everyday go to beer. A beer for when you just want a beer, a beer not to think about but just enjoy.
I'm up for a Tail Crush.
Easy Answers
Another for the core range, Easy Answers is described as a luscious IPA, easy now. Clean with a good body and subdued bitterness, don't subdue the bitterness.
Think dry fruity citrus with a touch of melon and a piney finish, its an easy drinking IPA. However be careful because it is outside the session zone.
At a straight 6.0% ABV it is not to be abused, it might slap you in the face. But it is an IPA I would like to try.
Robust Porter
A beer from the seasonal range so not available all year round. Robust porter is described as rich and satisfying.
Brewed with a range of roast and crystal malts and Sussex Target hops it might have deep rich flavours with a spicy edge.
At 5.8% Vol it is one to sip and enjoy. It might just be a tough sturdy porter, or as they say robust. Whatever I'm in.
Final Thoughts
Burning Sky then is a quality brewery producing some great beers. As is Verdant Brewing Co, both breweries are top players in the real craft ale industry.
Heroes Are Complicated is a perfect example of this, a great west coast pale ale full of flavour, a satisfying beer of this style.
Although I haven't experienced many of the beers from these breweries, it is something I will putting right as I go forward. So expect more reviews of their beers in the future.
If you have tried any beers from these two breweries then do share you thoughts below. If you haven't, then may be you should, you won't be disappointed.