How about a premium lager from the capital city of the Czech Republic, Prague. The beer in question is the one and only Staropramen. Brewed since 1869 and exported to over 35 countries worldwide, you would expect it to be good. But is Staropramen a decent beer?
It is a beer that I have come across many times over the years. However for some unknown reason I have never actually tried this beer. Which I can't explain, but I have now put that right and had my first sip of Staropramen.
Is Staropramen A Decent Beer?
All I can say is that I have been missing out. Staropramen is a decent beer, well balanced and refreshing with the perfect bitter finish. It pours a copper gold with a thin white head. On the nose it is malty with a slight citrus fruit note. The taste is on the nose with a malty caramel that is almost creamy. A citrus kicks in that seems lemon based and then it finishes with a nice bitter edge. It is a well balanced full body lager and gets a rate my beer score of 4.7 – 5.0.
As far a lagers go Staropramen is a strong contender, for me anyway.
Pivovary Staropramen
Staropramen brewery is an old one and started life in 1869 in Smichov, Prague. It still stands today and is brewing its famous Staropramen premium lager.
However it is no longer its own brewery. There have been a number of changes over the years. After the war in 1946 the brewery was nationalised and became a state enterprise.
In 1992 the brewery was again privatised and the company prazske Pivovary was established. It took ownership of Staropramen and Branik brewery. In 1997 under the control of Bass Company Prazske Pivovary took ownership of a third brewery Ostravar.
The year 2000 saw the brewery bought out by InterBev. It was renamed Pivovary Staropramen in 2003. In 2009 it was sold again to StarBev.
However in 2013 Molson Coors got its hands on Pivovary Staropramen and that stand today. So what that means is that the UK version of Staropramen is brewed in Burton On Trent.
This may cause some people to say it is not the real thing and is not as good as the original beer. Because this beer avoided me for so long, I can't comment on that as I didn't taste the original.
That said, what I will say is the people of Burton On Trent know how to brew good beer. And if it is brewed to the original recipe, apart from the water which is good stuff in Burton On Trent. Then maybe it is just as good as the original.
I am sure I will get shot down for that, but hey, I like it.
Drinking Staropramen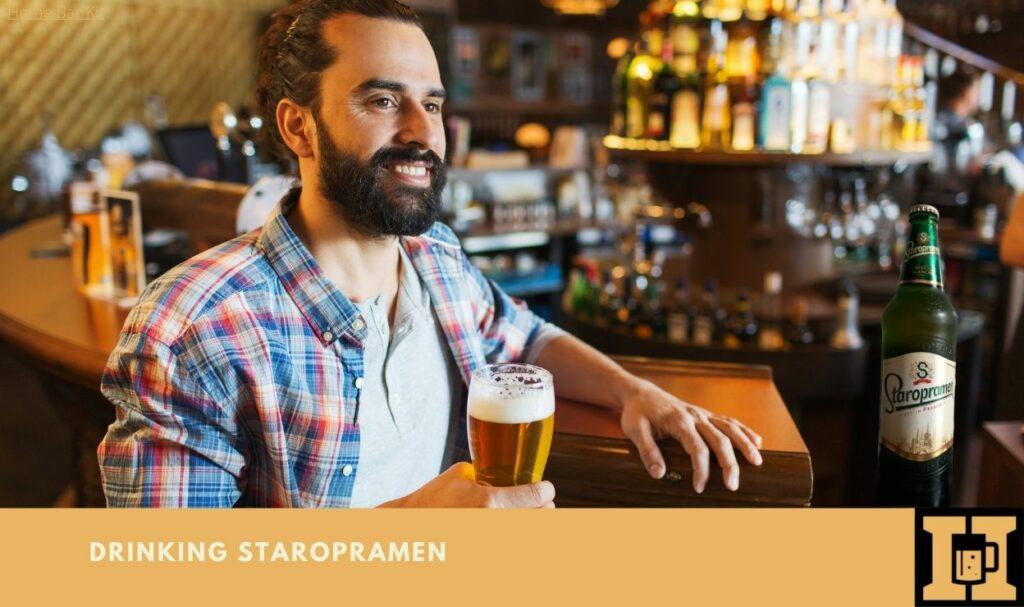 So onto the beer and what it is like. Well it comes in a tall 660ml green bottle so you get just over a pint, which is nice. It is brewed with the Czech Saaz hops and weighs in at 5.% Vol.
It pours a copper gold with about a one finger white head. This fades quickly to a thin cover.
On the nose there is a strong malt aroma with a slight grassy note. But there is presence of a little citrus with almost a sherbet powder.
The taste is a similar affair with a malty caramel leading the way carrying a little citrus. My palate recognised the citrus as lemon, but it is subtle and doesn't take centre stage.
Then you get a satisfying bitterness that finishes it off nicely. It is well balanced, a smooth refreshing malty citrus with a bitter end, lovely.
It's a decent beer and for me it gets a decent rate my beer score of 4.7 – 5.0. M'Lady is impressed too saying "A well balanced beer, slightly fruity with a crisp dry finish." Lou scores it just slightly less at 4.5 – 5.0.
Lou is right about the crisp dry finish, I didn't pick that up at first, but I get what she means, it is crisp n dry (but not in the oily way).
Staropramen Beers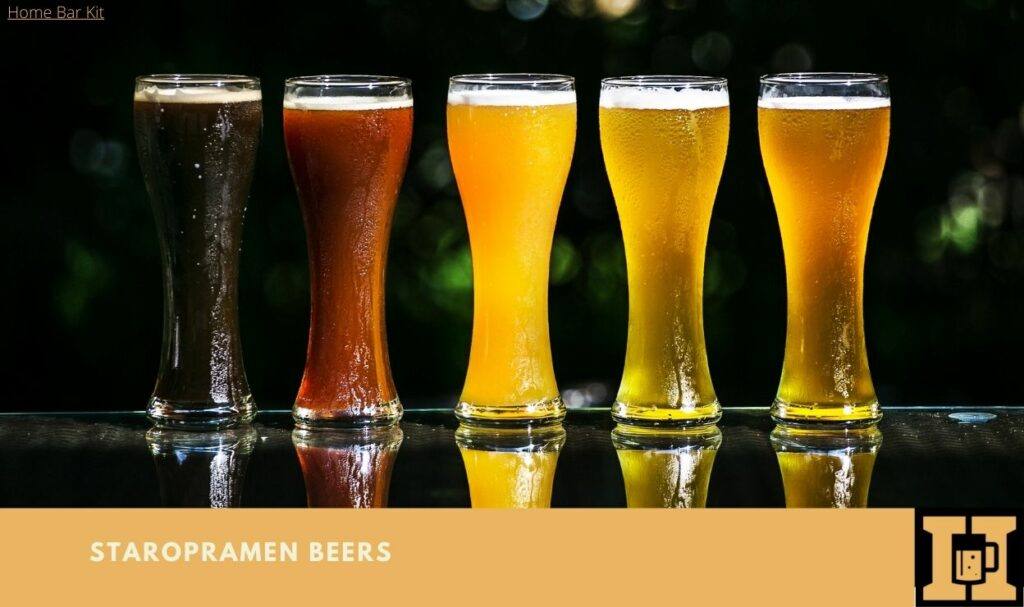 Pivovary Staropramen do make other beers under the Branik and Ostravar brands as well as other brands too. However it is hard to find the other beers under the Staroparmen brand.
On the official website the pages for there other beers just goes to error 404. Having said that, with a little research I have found the likes of Staropramen Dark, Staropramen Unfiltered and Praha by Staropramen.
Whether I can source these beers in the UK is another thing, every online source I tried say out of stock. I will continue to try though.
Staropramen Dark
Staropramen Dark is a premium dark lager that is a chestnut brown with aromas of caramel and vanilla. The taste is led by sweet caramel that finishes with a roasted bitterness.
It weighs in at a session 4.4% Vol, so if you like a dark lager then if you can get it you can enjoy a few on the bounce. A beer I would like to try, just to see if it is as good as the standard Staropramen.
Staropramen Unfiltered
I like an unfiltered beer, so would love pitch this against the original. However having said that, I find out it is brewed with apple and coriander extract.
Some reports say that the apple is a little overpowering, so not sure I am going to like it. However I still need to try it. Like the standard Staropramen it is a straight on the fence 5.0% Vol.
Pravha
Pravha by Staropramen is a lighter pilsner with a base of malt and a hoppy edge. Light crisp and refreshing perfect for quenching the thirst on a hot day.
At 4.0% Vol it is light on strength as it is in body. I have had this before, but that was a while ago, so I will have to update.
Final Thoughts
Despite Staropramens journey and the amount of different hands it has been in. Its a decent lager with a good body and balance.
Lou is always on about going to Prague, so perhaps a trip could be on the cards. Just so I can pitch the Czech version against the UK version.
I'd also like to try both versions on tap too.
What do you think of Staropramen? If you have tried it then do share your thoughts below. Also if you have tried any of the other beers in the range, then let me know how they faired too.