The Handsome Hound is man's best friend, but would this IPA be my best friend? Unlike many other beers I have tried to pass in a store. This one did not stop me in my tracks, well it wouldn't. As beer labels go, this one is a little bland. I am not a label man, but many other designs just steal your attention. Leaving others in their wake. Anyway label aside, is Hound IPA any good?
You may be thinking that if this beer did not stop me in my tracks, then how did I come to buy it. I didn't see it in the store, like I said too easy to miss. I got this as part of a craft beer bundle I bought a while ago. It's brewed in the lakes which is appealing. Also it promises to be a lively IPA delivering all the right notes, I am in.
Is Hound IPA Any Good?
It is a nice beer, it is not going to have us all dancing in the aisles, and that is not because it is a session beer. It pours a mid amber and settles with a thin head, and although thin it is well formed. A fairly low hop aroma with malt pushing through and covered in a grassy finish. The taste is similar, picking up a grassy pine background over a malty top. It has a mild carbonation with a heavy mouthfeel. The end is a balanced bitterness, which is good. Rate My Beer 3.9 – 5.0.
It's not a bad beer and I would have it again, especially if I saw it on tap. I just wouldn't search for it.
Handsome Brewery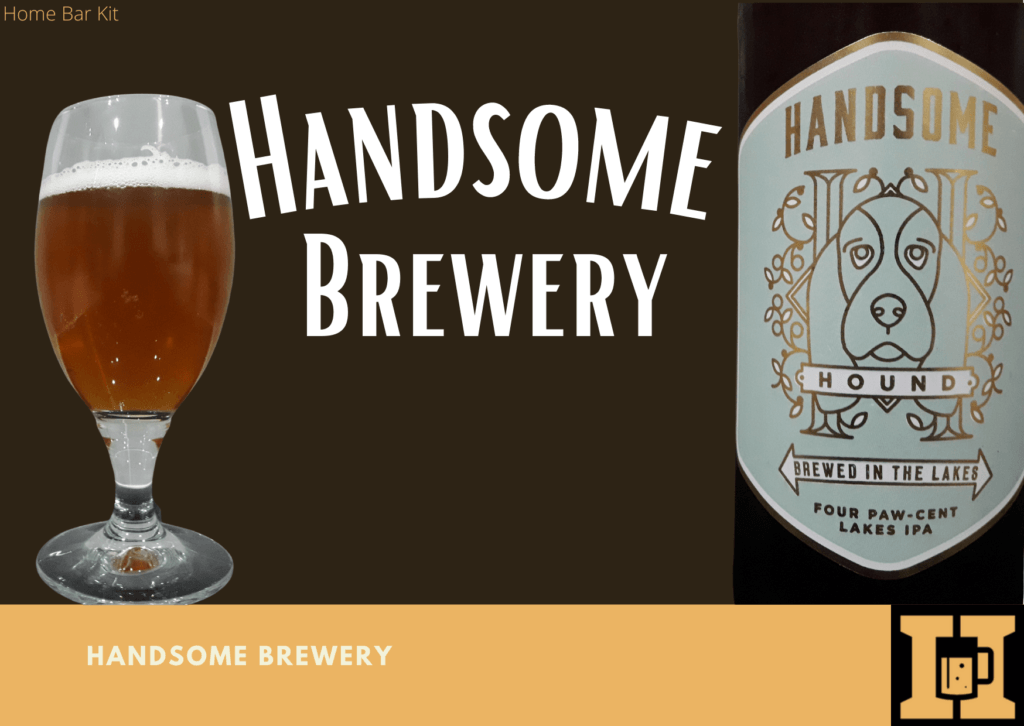 The brewery is located at Bowston Bridge in the village of Bowston which is close to Kendal in Cumbria, England. Right on the banks of the River Kent and the close by 17th Century Bowston Bridge, which is Grade II listed.
The brewery started in 2016 in empty buildings which were once home to the Croppers Paper Mills. Their plan from the beginning was to brew fine craft ales. These ales can be tried at their tasting room onsite and on the banks of the River with great seating by the river.
In close by Kendal they serve their beers in the Handsome Snuff bar. The second bar sees its home in the City of Leeds a busy university city. Handsome produce a good range of beers, from Lager, pale ale through to dark stout.
Probably worth a trip to the lakes to try out their beer as well as their pubs.
Is Hound IPA Any Good?
So the only beer I have tried from Handsome is the Hound IPA and I have to say it didn't knock my socks off. However it is a good solid drinkable beer which sits well in the session bracket. Also I am interested to try it on tap, if I ever spot it, But I just wouldn't go looking for it.
On the other hand if I do visit the lakes and I am nearby Kendal or Leeds, then I will definitely visit their bars. Because it is the obvious place to try their range of beers, also the bars sound great.
Handsome Hound IPA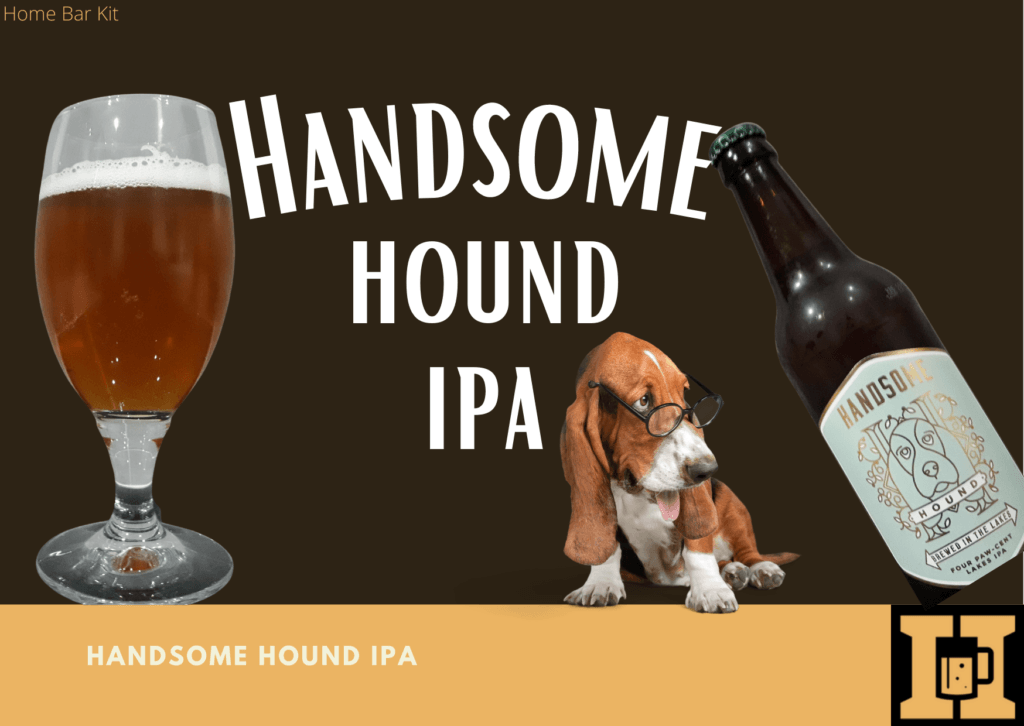 As I said before the label isn't screaming drink me. Which is a shame because their Piranha Lager is an awesome label. This is a beer you would not miss or pass on a shelf, it demands you take it home. I know the label isn't everything, but its the first point of contact, and the first impression.
Getting past the label and cracking the crown, it is time to let it flow. It pours an almost deep golden amber that swirls around the glass. When it settles and forms the head, its a conservative one, but its well formed. Like a close knit foamy blanket, which sticks around protecting the beer.
The nose has a low hop front with a malty base and the essence of grass. However there is a slight musty air about it too. The taste is related in grassy pine notes entangled in an earthy but malty body. For me it was a mild carbonation and an almost dense mouthfeel. The finale is a slight but balanced bitterness that is pleasant.
With a four paw-cent Vol, that wasn't me, its on the label. Anyway at 4% Vol it is an easy session beer that I am sure is a lot of peoples go to beer. For me it didn't stand out and gets a rate my beer of 3.9 – 5.0.
More Beers I have Enjoyed
More From Handsome Brewery
Although Hounds IPA didn't excite me, I still want to try it on tap to see if it blows my socks off. But there is more to explore and when it comes to beer, its the law to explore. Handsome have a decent range of beers and there are a few I have my eye on.
Piranha Lager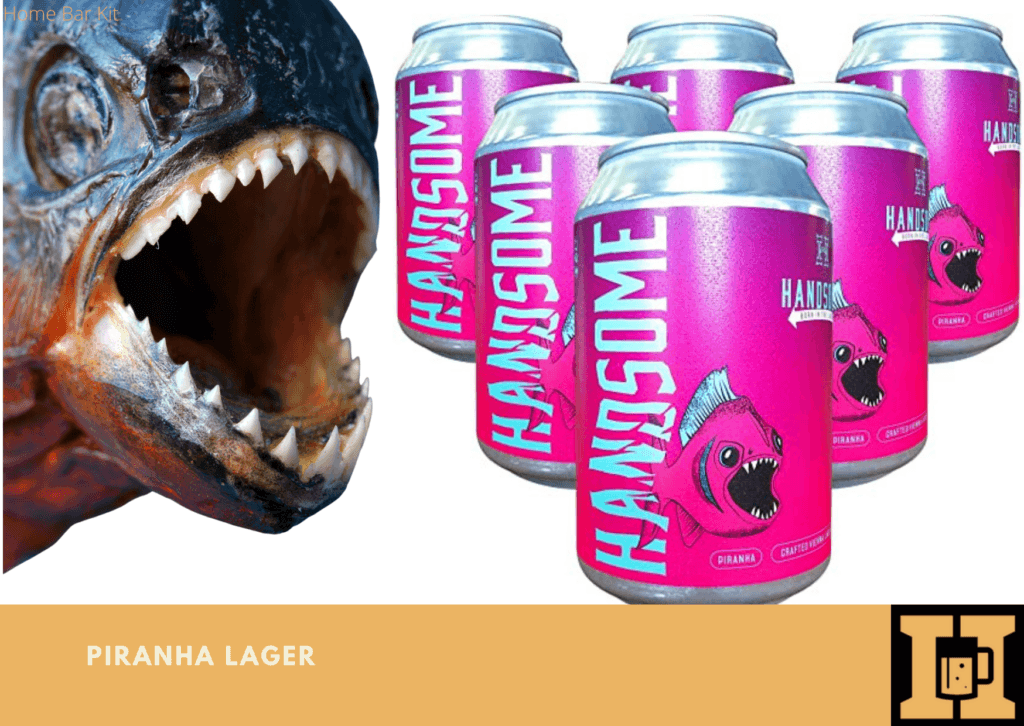 Inspired by the deep waters of the lakes, this beer looks like a feisty little number that might just bite back. Although at 4% Vol in materializes as a session lager that is soft and smooth. With a blend of Vienna malt and Noble hops it promises to be a perfect malt/hop balance with a smooth bitterness laced with delicate spicies.
One to watch out for, so stay out of the water and enjoy it in the comfort of a cosy pub.
Handsome FKR
Brewed by the flowing Kent river, hence the FKR title, this is another lager from Handsome brewery. This is a popular Handsome beer that they say is their most celebrated. Brewed for longer, at around 3 months, this lager is anything but standard.
Noble hops are the hop of the day, and with Premium English Cara Malt it folds out as a light clean refreshing lager. At 4.6% Vol it is still a session beer and one that promises to be moreish, bring it on.
Blacksmith Stout
Aptly named after the old blacksmiths shop the previous use of the building, it is a rich deep stout for the more complex palate. The rich mahogany color sets you up for a roasted malty aroma. Promising depth of flavor with slightly dry bitter finish.
Still in the session bracket at 4.6% Vol it could be a stout lovers dream. A pint to enjoy and savour on a Autumn day after a long walk, sitting by an open fire in a warm snug pub. I've set the picture, I know you're tempted.
Final Thoughts
Again while Hounds IPA didn't float my boat I know it will be a favorite for others, so you need to try for yourself. On the other hand they have a lot of other beers to offer and some real promising ones at that. The Mighty Blonde demands a place on the list of beers to try, as does the Top Notch Pale Gold Real Ale.
The one thing I have noticed is that most of their beers are session beers with only a few pushing out of that bracket. This is a good thing, whether you are enjoying a day in your garden or popping to the pub for a couple of pints, these will fit the bill.
If you have tried Hounds IPA or any other Handsome beers, share your experience below.