I have heard that it is the number one craft beer in the USA, not sure whether that is true or not. But I found myself drinking it anyway. I didn't choose it, but is Blue Moon Belgian White a good beer?
Knowing that I love craft beer, boozy Suzie poured me a Blue Moon Belgian White beer courtesy of dangerous Jen. But did I like it and how would it score on rate my beer?
Is Blue Moon Belgian White A Good Beer?
I do like this style of beer and for me this one stands up well. It pours a hazy golden orange with a very generous foamy top. On the nose it is a lively sweet citrus front with a dense malty base. The taste reveals a clean crisp mouthfeel. A thick malty base is laced with a vibrant zesty orange bite topped with a light dusting of pepper. It's a flavoursome beast with a good balance of citrus and spice. It scores a solid 4.4 – 5.0.
There is nothing better than a surprise craft beer you haven't planned for.
The Blue Moon Story
Keith Villa is the man behind the beer and the brewery, which started back in 1995 after he earned his PHD in brewing.
After winning his PHD at the University of Brussels he returned to the US with a yearning to brew Belgian style beers. Which exactly what he did at the Coors Field Baseball Stadium, home to the Colorado Rockies in Denver.
Originally known a 'Bellyslide Wit' the name Blue Moon apparently comes from someone saying during a beer tasting that "a beer this good only comes around once in a blue moon," nice.
However the Blue Moon Brewing Company is a subsidiary of MillerCoors, so is this really a craft beer? The Brewers Association were not happy that Blue Moon was seen as an independent craft brewery when it was owned by a large mass producing brewery.
MillerCoors also got some stick from the Confederation Of Belgian Breweries for using the name Belgian White on the Blue Moon label. Saying it could mislead Americans into thinking Blue Moon was brewed in Belgium.
The end result is that the label now says Belgian Style Wheat Ale, but the name is still Belgian White.
Whatever has happened Blue Moon Belgian White is seen as the beer that introduced American beer lovers to the Belgian style beers.
For me it was a Blue Moon on Sunday.
My Blue Moon Story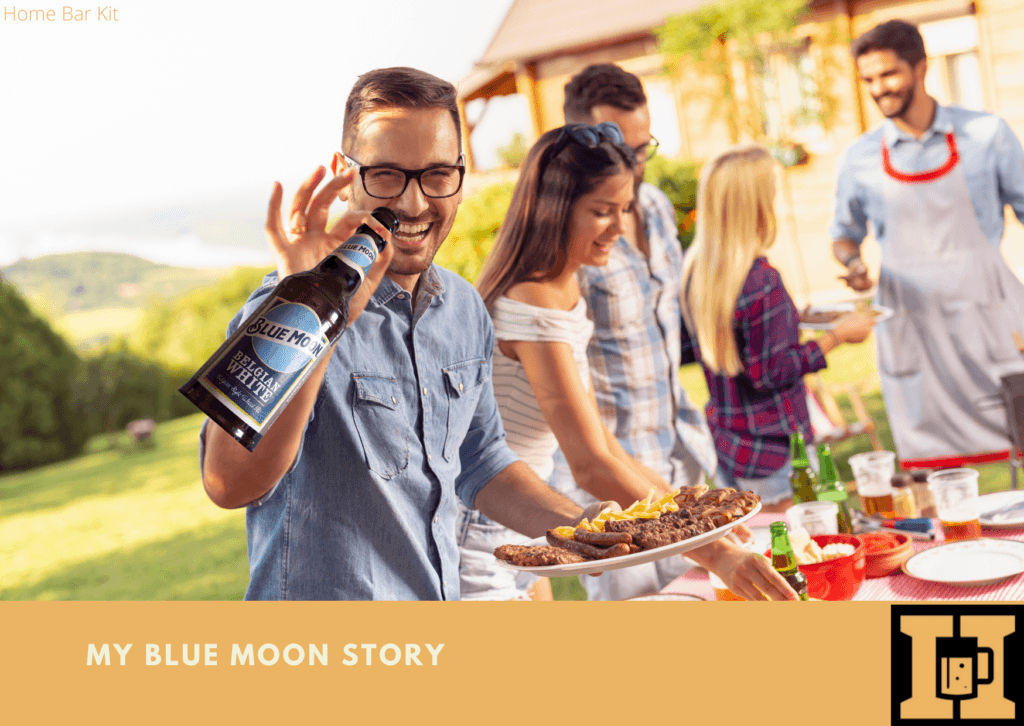 On a sweet sunny Sunday afternoon a few beers are always a good call. That was the plan, as well as making a Katsu curry for me and M'Lady.
However our good friends Treacherous Tec and Boozy Suzie invited us round for a few drinks and a barbecue. Seeing as I had already prepped part of the curry, we came up with a new plan. The new plan was to go for a couple of drinks, pass on the barbecue and get back for the curry.
With just two small beers in hand we took the short walk to their house. Things were going well until we had finished our drinks. Tec and Suzie are not lovers of craft beer, however they were graced with a few bottles from Suzie's mum Jen.
Knowing my love of craft beer, they came my way and my Blue moon story began. This was followed by a couple of other craft beers which I will write about soon.
It was a great afternoon, the beer was good, I didn't make the curry and the barbecue was lovely.
So what about the Belgian White?
Is Blue Moon Belgian White A Good Beer?
I am a fan of this style of beer, and this one for me is a good take on the style. Keith Villa has done a great job, especially brewing it with orange peel for that punchy citrus edge.
The label design is not one that would jump out at you if crowded by other beers on a store shelf. And I may have missed it when looking at new beers to try.
However thanks to dangerous Jen it happened to come my way, and I'm glad it did, thanks Jen.
The label may be a bit lame, but the contents are worth the investigation.
With an aggressive pour it settled to a hazy mist of golden orangeness topped with a copious frothy white foam. This does fade quickly to a thin layer hovering above the golden haze. There is not much in the way of lacing present as it goes down.
The nose is full of aromas of sweet citrus popping from the glass. A heavy malt base throws its weight around in the background. But the zesty orange citrus wins the fight hands down.
The taste is a similar affair with the front being a vigorous push of zesty citrus over the tongue and around the mouth. Again a thick malty base that creates a very smooth mouthfeel supports all that zest. A touch of spicy pepper adds to the whole experience.
I also felt like there was a hint of lemon or lime, but that could just be the citrus playing with me.
The Verdict
Overall I like it and think it stands up well in this style of beer. At 5.4% Vol it is no heavy weight, however it is not a session beer, so just the one then.
It's a beer of substance that is refreshing and crisp, I would say it is great for a barbecue with friends 🙂
Because its a beefy yet refreshing beer it gets a solid rate my beer score of 4.4 – 5.0.
The Blue Moon Range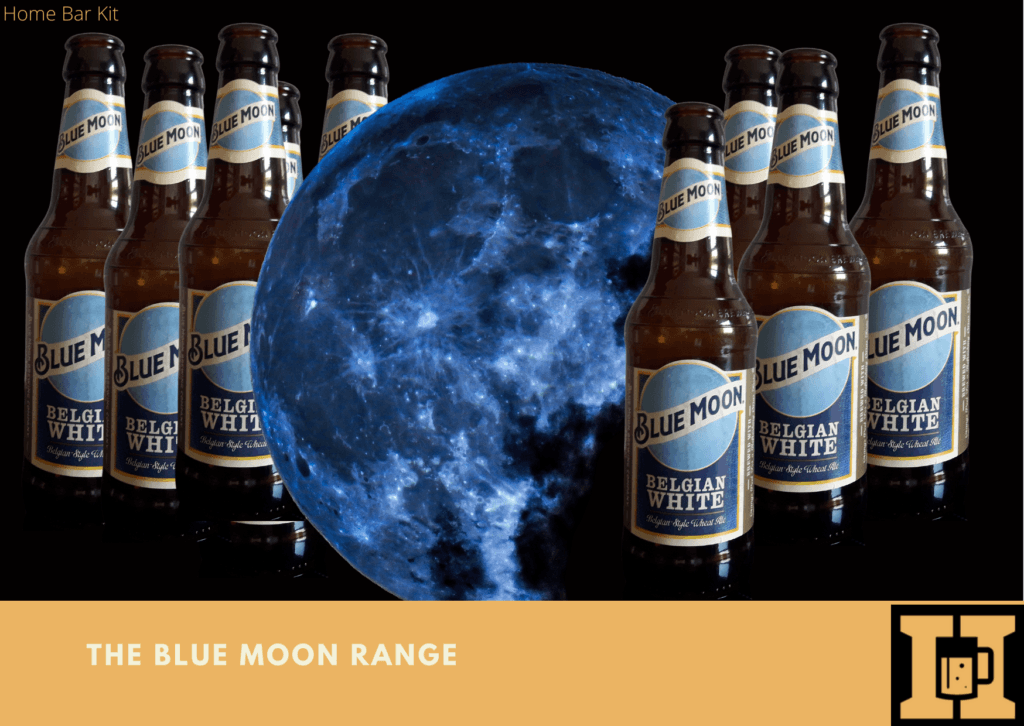 This is the point where I normally feature a few other beers in a breweries range. These tend to go on my hit list of beers to look out for and try. It's a pretty long list now and there are so many other beer distractions.
Anyway, I am not featuring any other Blue Moon beers today. Not because I don't want to, but because I can't find any.
The Belgian White seems to be their only core beer. I am sure they did brew a few others, but stopped to concentrate on the popular Belgian White.
Having said that, they do brew seasonal beers and limited releases. Also they do boast a 20 tap beer offering at their premises which include favorites and experimental beers. But you will have to visit them in the RiNo District of Denver.
You lucky locals.
Final Thoughts
It is a shame most of us can't get hold of their other beers, I might ask M'Lady if she fancies a trip to Denver. We will just have to be content with Blue Moon Belgian White, I can cope with that, its a great beer.
But what do you think? If you have tried this beer, then share your thoughts on what you thought of it. And if you are one of the lucky ones that have tried their other brews, I would love to know what they are like too.