If you like a hoppy IPA loaded with a citrus hit. Then there is nothing better than a beer that uses the popular Citra hops. Well this one does, and I am excited to see if the Green One Citra Session IPA is a decent beer.
It comes from a micro brewery located in Wrexham, North Wales. Housed in old dairy buildings that were the old Plassey Brewery which is the oldest micro brewery in North Wales founded in 1985. Anyway back to the beer.
Is Green One Citra Session IPA A Decent Beer?
It is a decent beer, its quite a light crisp beer for an IPA, but its okay. It pours a light clear gold with a generous foamy white top. The nose is moderate with a mild citrus hit of grapefruit, lemon and lime. Take a sip and a hoppy citrus front provides flavours of grapefruit, lemon and peach. A slight malt base evens things out, but there is not much bitterness on the finish. It gets a rate my beer score of 3.9 – 5.0.
IPA's come in many guises these days, and this one is light and crisp with a smooth mouthfeel.
Magic Dragon Brewing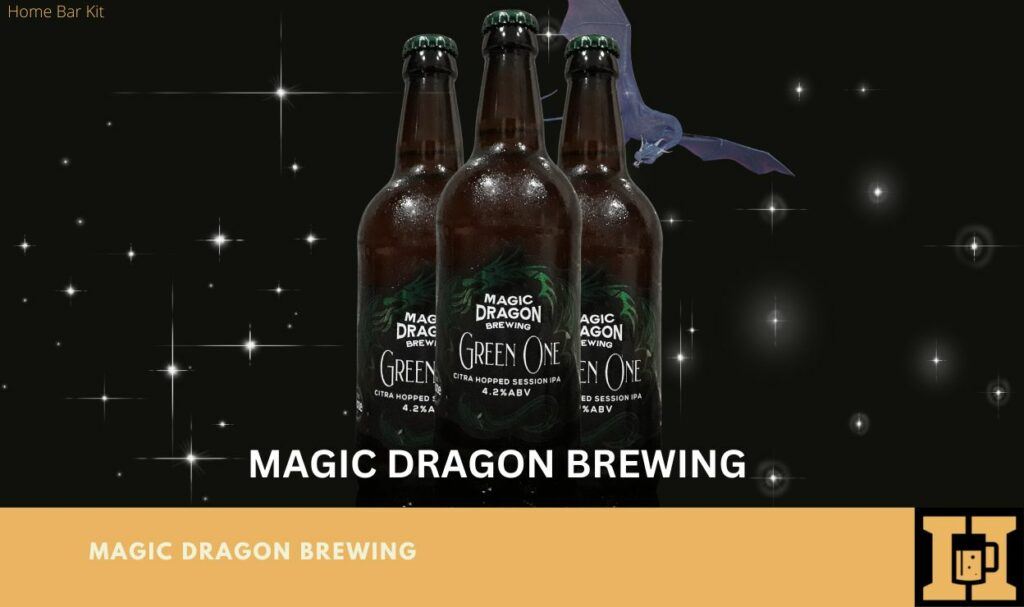 The brewery was founded in 2017 by husband and wife team Richard and Liz Lever. It is located in the building that was Plassey Brewery and is on the site of the Plassey Holiday Park.
Being a small brewery they produce a small core range of beers as well as some seasonal specials. There is a brewery shop on site where they sell their bottled beers as well as mini kegs and merchandise.
In 2019 Magic Dragon opened the Brewery Tap just up the road in Wrexham. Here they obviously serve their own range of beers on tap, as well as other breweries beer too.
Is Green One IPA A Decent Beer?
I was excited when I picked this beer up from a craft beer pub as a take out. A great label design draws you in with a Green Dragon wrapping around the labels text.
Coming from a brewery called Magic Dragon, it was always coming home with me. However it reminds me of a similar beer Citra Session IPA, which impressed me a lot. So it has stiff competition, can it hold its own against such a good beer?
Drinking Green One IPA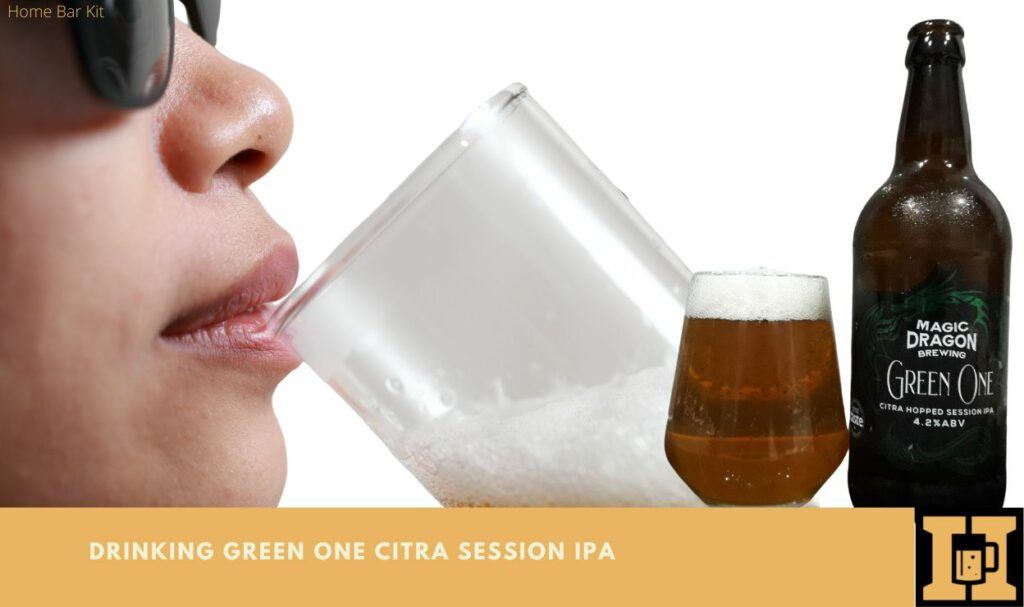 Once you crack the bottle and pour it settles a nice light clear gold with a pure white foamy lid. This does fade by half, but sticks around for the duration.
The nose is not as powerful as I expected, but there is the unmistakable citrus notes carrying a lemon and lime aroma.
Again the taste is not as powerful as I thought, however its all there just not as in your face as I was hoping for. A hoppy citrus front brings out flavours of grapefruit, lemon and a little peach too. Underneath there is the slightest of toffee malt.
It is clean and crisp with a medium carbonation and a smooth mouthfeel. However for me it lacks in bitterness, but that's just me.
At 4.2% Vol it is a decent little Citra session IPA, but it does lack a little oomph. I score it a solid 3.9 – 5.0. Lou got more malt than me with a hint of lemon a grapefruit. Slightly less impressed with a rate my beer score of 3.8 – 5.0.
Magic Dragon Beer Range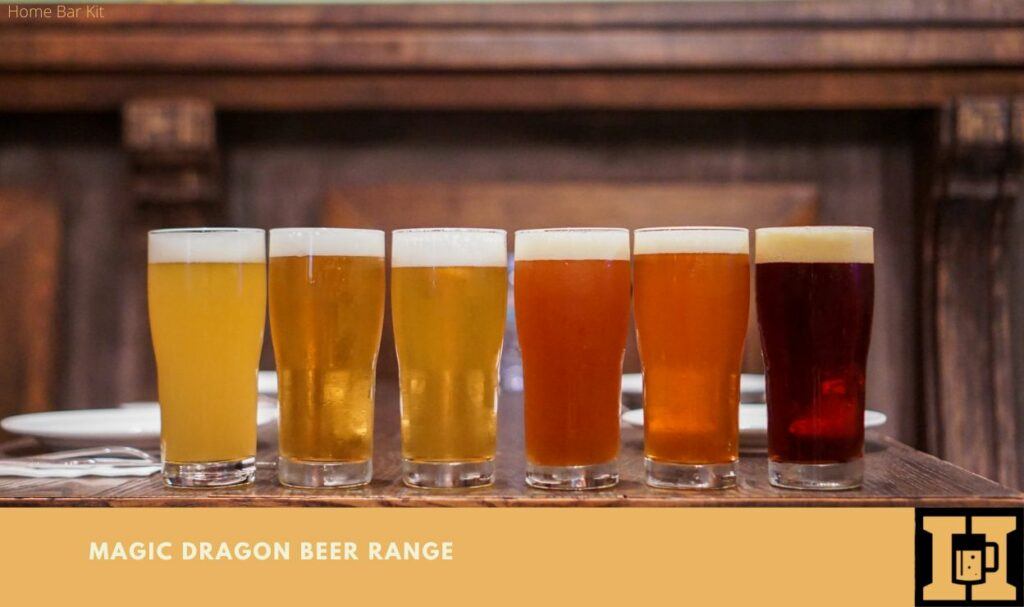 Magic Dragon has a small range of beers, with six core beers showing on their online shop. There are two IPA's including Green One, as well as a Golden Ale, a Best Bitter, a Dark Mild and a Welsh Stout.
All of this core range are session beers, all under 5.0% vol. But remember they do also brew some seasonal specials too. Here a few of their other beers.
Eyton Gold
Eyton Gold is what the name suggests, a Golden Ale brewed with Cascade and Golding Hops. It's a well balanced and easy drinking ale at just 4.0% ABV.
Honey and floral notes on the nose with a rich caramel malt base and a subtle bitterness on the end. Sounds like a good beer, I shall have to investigate.
Border Bitter
Border Bitter is a traditional style Best Bitter with a 4.2% Vol session strength. A deep amber colour and a malty nose laced with fruit.
A hoppy flavour built on a sweet malty base and a delicate bitter finish. It could be a little light for a best bitter, but still worth looking at.
Obsidian
Obsidian is a Welsh Stout and just the thought sound delicious. As you may expect there are aromas of chocolate and coffee. I guess a malt base will carry chocolate and coffee flavours, but there is a nice smoky bitter finish.
Sounds delightful and one I will definitely be trying in the future. Again it is light on strength and comes in at 4.2% Vol, so more than one is a breeze.
Final Thoughts
Magic Dragon brewing then is a small brewery with a solid base. Going by the beer I have tried, Green One and the descriptions of their other beers. My conclusion is they are all well rounded and balanced beers.
Beers that don't push the boundaries or slap you in the face with their outlandish tastes and characters. I admire that, because you know what you are getting, sensible easy drinking beers.
I look forward to trying their complete range, and I am especially looking forward to the Welsh Stout.
If you have tried any of the Magic Dragon beers, then do share your thoughts below, and give them your own rating too.