Piraat Triple Hop beer comes out of the Belgian brewery Brouwerij Van Steenberge dating back 1784. Apparently they are the brewery behind the top beers, well that is according to them. Piraat is a strong beer, but what is it like?
Who doesn't like a Belgian beer, they are always good quality, so I have high hopes for this one. A beer inspired by the IPA culture in the US.
Piraat Triple Hop Beer, What Is It Like?
Piraat is a little disappointing in my opinion, maybe I was expecting too much. It pours a hazy light gold with a one finger head. On the nose is extremely hoppy with a malt base and a banana aroma. In the mouth the hops hit with purpose over a caramel malt base. A little banana is laced with spice giving a little bitter edge and a dry finish. It gets a rate my beer score of 3.5 – 5.0.
When I like a beer it doesn't hang around long, but this one lingered for a while.
Brouwerij Van Steenberge
The Van Steenberge Brewery was founded in 1874 by John Baptist De Bruin on his farm. Like many farms of the time who brewed beer for their own consumption.
So beer was probably brewed on the farm before the founding date when the brewery was set up in Ertvelde, Belgium. The brewery back then was called Brouwerij De Peer, The Pear Brewery.
After the death of John his widow Angelina Schelfout carried the brewery forward. She then passed it onto her nephew Jozef.
The brewery is now in its sixth generation and produces some well know Belgian beers. Including the Augustiner Monks beer who passed on their recipe to the brewery to brew it under license.
Still an independent brewery it exports its beers around the world sharing the Belgian experience.
Piraat Triple Hop Beer
Piraat is a wolf in sheep's clothing sitting in its dumpy little bottle. The label doesn't say much but you know what you are getting. A pirate ship sits in the middle over its name, the words triple hop and the 10.5% ABV explain the whole thing.
It sits on the shelf like a Pitbull daring you to have a go, and when you do it hits you like a hammer. There is no holding back with this beer, it is complex in flavour and oozes strength.
It ferments in the bottle compounding its strength, so expect some sediment, which there is a lot of.
So how does it go down?
Drinking Piraat Triple Hop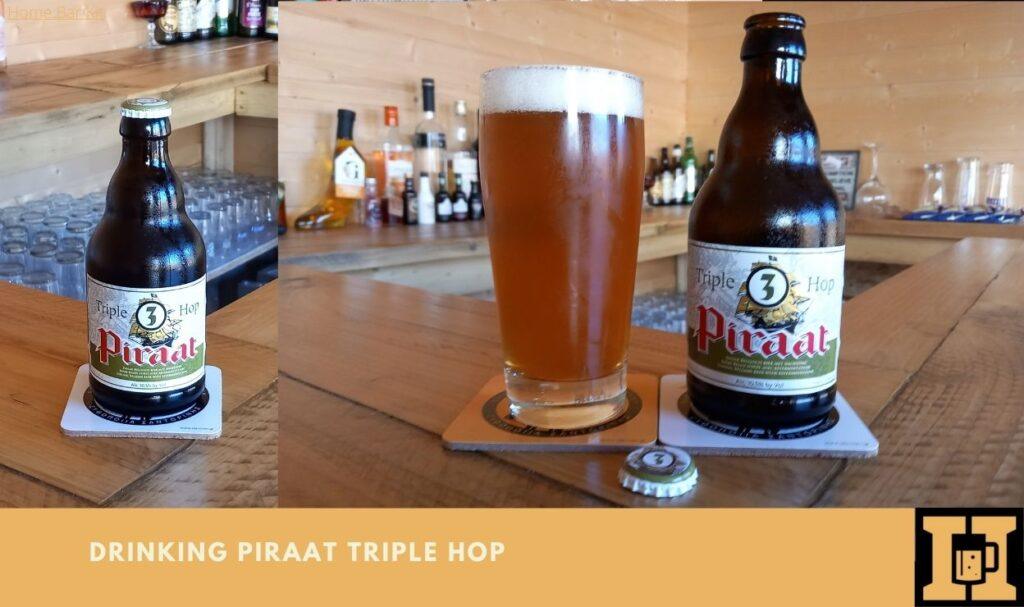 It goes down slowly, which is just a well at 10.5% Vol. The pour is lively and settles to a hazy light gold beer with a moderate foamy white head.
The head does fade to a thin cover but then sticks around and laces the glass nicely.
On the nose there is a lot going on with a burst of hops and yeast that are stronger than Popeye. A slight malt aroma hardly gets a look in over the citrus from the hops. however while all this is going on there is a distinct whiff of banana too.
Take a sip and you get a big hit of hops fighting the strong yeast while Mr malt just manages to let his presence known. There is a burnt sugar taste that gives way to a spiced banana lending a slight bitterness to proceedings.
It's a dry finish which is fine, but to be honest there is just too much going on. The yeast is overpowering and just fights with the powerful hops for the lead position. You know you are drinking a strong beer because its in your face like a slap.
This is not a beer I will lookout for again and can only rate it 3.5 – 5.0.
M'Lady isn't keen either saying "It tastes like a banana has been soaked in alcohol and blended, not a beer I can choose to drink." Lou scores it at 3.3 – 5.0.
Van Steenberge Beer Range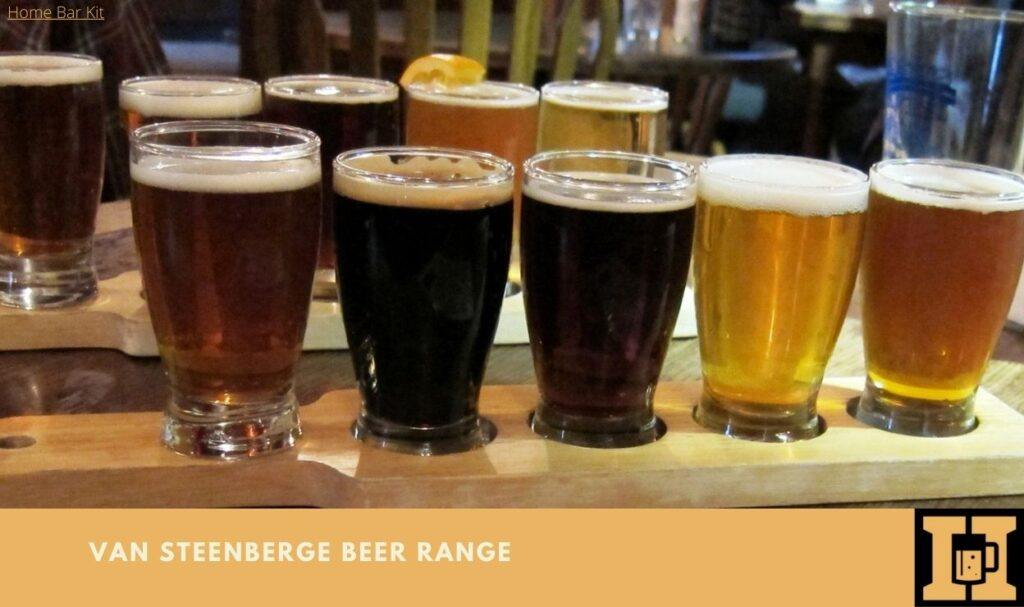 So I might not be keen on Piraat Triple Hop but that doesn't stop me wanting to try more of Van Steenberge's beers. What have they got to offer among their top beers.
Having a look through their range, I have picked a few out that I will hunt down and try. However there is quite a few to go through with ranges within ranges if you know what I mean.
Augustijn Dark
Augustijn Dark is one of three in the Augustijn range. A dark beer with aromas of fruit and a slightly smoked edge. It is mild yet full bodied with flavours of raisins and chocolate and a slightly bitter finish.
At 8.0% Vol it still packs a punch and is definitely not a session beer. Sounds like a delight to me. There is also Augustijn Blond, a fruity beer that weighs in at 7.0% Vol. And Augustijn Grand Cru, a unique tripel weighing it at 9.0% Vol.
All need to be sampled, but the dark is on the priority list.
Baptist White
Baptist White is a refreshing wheat beer with hints of coriander and orange peel and a mild bitter finish. Sounds like a winner and weighs in at just 5.0% vol sitting on the fence of session.
There are another three beers in the Baptist range. Baptist Blonde a malty and spicy clear beer with a 5.0% ABV. Baptist Saison described as a pleasantly bitter beer with a dry aftertaste that hits a higher 6.5% ABV.
Finally there is Baptist IPA a hoppy bitter beer as you would expect. It weighs in at 6.7% Vol.
I like the sound of the Baptist range of beers and all need to be investigated.
1784 Schelfaut Export
1784 Schelfaut export is described as a thirst quenching beer with a soft taste and a bitter finish. The 1784 represents the founding of the brewery. Schelfaut is a tribute to Marie Schelfaut who managed to keep the brewery independent in 1919.
It is a session beer that comes in at 4.8% Vol and sounds like an all rounder for a an anytime beer.
Final Thoughts
Van Steenberge is an interesting brewery with a rich history and still independent to this day. They brew a good selection of beers and although I am not a fan of Piraat Triple Hop, I am looking forward to trying more of what's on offer.
The others I have featured will be the first I look for, but I will aim to go through the lot over time. Monks Café is the least I am looking forward to as it is a sour, not keen on sour beers.
If you have indulged in any of Van Steenberge's beers then do share your thoughts below. What do you think of Piraat Triple Hop, let me know and give it your own rating.